When Apple released iOS 16.1 on October 24, 2022, it introduced a new feature called Clean Energy Charging. Available only in the U.S., the entirely optional feature seeks to reduce the environmental impact of your iPhone by charging it when the electricity sources for your area are "greener," since energy sources tend to fluctuate.
When Clean Energy Charging is enabled, your iPhone gets a forecast of future carbon emissions for your local energy grid and attempts to adjust the charging to times when there is cleaner energy production. That means when you plug in your iPhone, it might not fully charge if your previous charging habits indicate you won't need to use your iPhone for a while (usually while sleeping). It's not hurting your iPhone's battery or purposefully keeping your iPhone's charge below usable levels.
Even when turned on, however, Clean Energy Charging won't automatically limit your charging. It works together with Optimized Battery Charging and Location Services to learn your usage and charging habits to ensure that you're never left stranded without a charge when you need it. For example, it won't turn on if you're traveling, and as Apple explains, several settings need to be enabled for the feature to work:
Battery > Battery Health & Charging and make sure that Clean Energy Charging is on.
Privacy & Security > Location Services and make sure that Location Services is on.
Privacy & Security > Location Services > System Services and make sure that System Customization is on.
Privacy & Security > Location Services > System Services > Significant Locations and make sure that Significant Locations is on.
All of those settings are turned on by default, but if you've tweaked your iPhone's settings over time, you'll want to check to see if they're all enabled for Clean Energy Charging to work.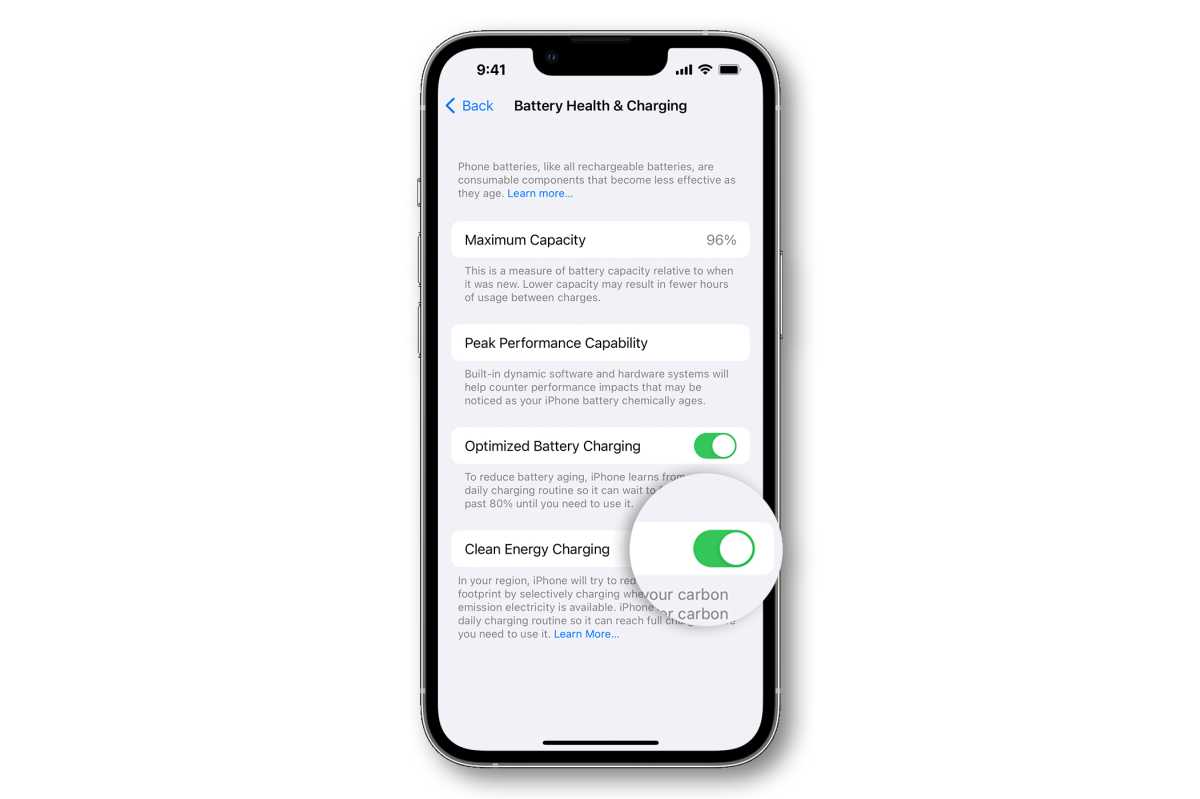 Apple
Clean Energy Charging: How it works
Throughout a typical day, electricity demand fluctuates, often making it necessary to increase power from on-demand sources such as natural gas power plants. Energy sources such as solar and wind produce variable amounts of power depending on the time of day and weather. Hydroelectric power often changes with the seasons.
But this is all predictable if you have the data. As an example, let's say you plug in your iPhone at 10 p.m. before you go to bed every night. Over time, Clean Energy Charging will detect that, based on your past usage history and the current charge, it can wait a few hours until the gas peaker plants ramp down and most of your electricity is from hydroelectric sources. Then your phone will begin charging several hours later and still make sure it's at 100 percent charge when you wake.
Apple hasn't disclosed how it gets information about "lower carbon emission electricity," but our best guess is Apple is probably partnering to get data from electric grid managers that shows the mix of energy sources powering the grid (for example, see the California ISO supply trend page), or with a third-party source like Watttime that seeks to measure when the electricity you use is powered by cleaner sources.
Clean Energy Charging: How to turn it off
Clean Energy Charging is turned on by default. If you want to turn it off, you can head over to Settings, select Battery, then Battery Health & Charging, and turn off the Clean Energy Charging toggle.