With AMD's new V-Cache-infused Ryzen 9 7950X3D and 7900X3D processors now formally on sale, the company's "best of both worlds" design is creating confusion.
Both Ryzen 9 X3D chips ship with two dies inside. One die comes stacked with V-Cache on top to speed up gaming, while the other non-cache-laden die can hit higher clock speeds. AMD said it made this decision—rather than topping both dies with V-Cache—because many applications don't care about the additional 64MB of cache and benefit from higher clock speeds instead.
Unfortunately, we've seen a lot of misconceptions of AMD's approach on the Internet, with some enthusiasts outright calling the CPU a "scam," and others wishcasting for the 12-core 7900X3D to be constructed in a manner the company has never done before. In the interest of spreading good information rather than bad information, we're debunking a few of the misconceptions out there that we're seeing.
Further reading: Ryzen 7950X3D review: AMD's monster gaming CPU works like a pro, too
The Ryzen 9 7950X3D's 2nd die is "disabled" or a "scam"
One common misconception we're seeing often deals with how AMD is managing where applications run on its dual-die approach. These allege that the second die is "disabled," "is a scam," and that you cannot access it while gaming—effectively turning your 16-core CPU into an 8-core CPU. This simply is not true.
Without access to a fancy Thread Director technology similar to Intel's implementation in 12th- and 13th-gen Core chips, AMD relies largely on the operating system being able to identify games. Once a game is identified as being the focused application in the foreground, the system tells the second die to "park." Parking does not mean permanently shut off or disabled, as it was with AMD's original Threadripper. That CPU did indeed shut off a die, which could only be turned back on after a reboot.
With the Ryzen 9 7950X3D, parking the 2nd die basically redirects all threads from the the game to the first die, keeping all of the game's threads on the cached or stacked die. In our experience, it's a pretty blunt instrument and everything is then shunted to that die when under a certain threshold.
It does not, however, mean the second die is "disabled." Think of it more as on standby to work if there is actually work to be done.

IDG
For example, we played a game in the foreground with Google Chrome running a benchmark (a very lightly-threaded task) as well as Cinebench R23 running on four threads, then switched back to the game. The vast majority of the game as well as Google Chrome and Cinebench would mostly stay on the stacked die's 16 available threads.
We then tasked Cinebench R23 with running 16 threads—consuming a full die's worth of cores—in addition to the game in the foreground and Google Chrome running a benchmark. Under this condition, both dies would be awake and working even though a game was being run.
So no, Internet, you are not being "scammed" out of that second core.
Ryzen 9 7900X3D will feature an 8-core die and 4-core die!
Adam Patrick Murray / IDG
We're not sure where this rumor started from but it's continually bubbled up in recent weeks as the Ryzen X3D launch has approached. Despite the fact that AMD has never made an 8+4 chip in any of its 12-core Ryzen chips, somehow it continually has been whispered that the 12-core 7900X3D would use an 8-core and 4-core design.
That isn't true, according to AMD. As expected, the design for the Ryzen 9 7900X3D will feature the expected 6-core plus 6-core design as previous ones have, with one of the dies being stacked with V-Cache. So why the wishcasting for an 8+4? We suspect some hoped the chip would bias toward giving the CPU the advantage of a full 8-core die that would benefit over having "only" a 6-core CCD with V-cache.
And yes Internet, the Ryzen 7 7800X3D will also feature a single 8-core design too—not a 4+4 dual-core design as some have also floated as well.
Ryzen 9 7950X3D requires a "huge check list" to make it even work.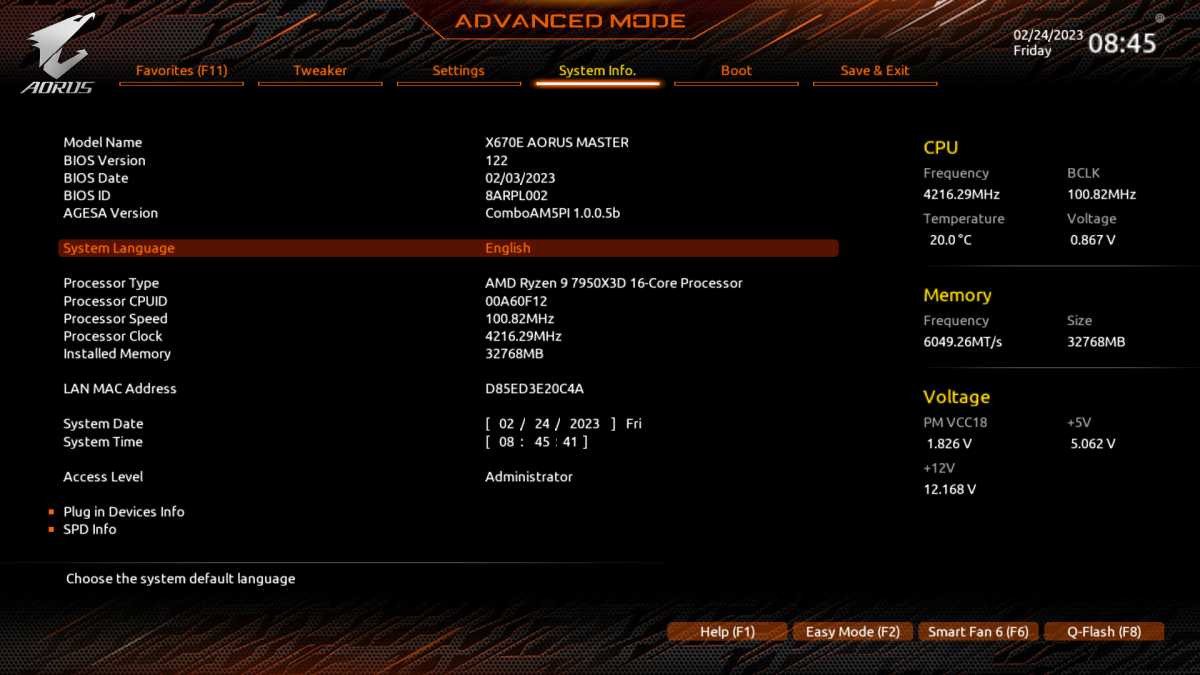 IDG
This last misconception is largely based on a document provided to reviewers (and we suspect software and hardware developers) to ensure their dual-die Ryzen 7000 X3D systems were functioning correctly. The document provides 47 pages of step-by-step instructions. Some people took that to mean consumers might have to take the same steps for full functionality. That is not true, according to AMD. The company says all a consumer needs to do is make sure the BIOS is updated to the latest one (which adds support for the Ryzen 7000 X3D parts) and load the latest available Ryzen drivers. The third step will be to make sure the Microsoft Xbox Game Bar is updated through the Windows store, as it's in charge of assigning games to the V-Cache-equipped dies. 
Put down your pitchforks
Despite these misconceptions, there are definitely still many, many open questions about AMD's new Ryzen 7000 X3D chips moving forward.
It is, obviously, a different approach to building a CPU than we've seen before. Could AMD have benefited from less confusion, or relying on the operating system to do much of the heavy lifting like Intel's Thread Director approach? Perhaps. Taking a longer-term view, it also becomes more clear that as processor companies mix different chips inside with different performance capabilities, managing how the OS and less sophisticated games and applications use those assets is going to be increasingly important too.
For now, AMD's approach "mostly" works. We found in our testing that it gives us the expected high boost clocks on par with the Ryzen 9 7950X under light loads, slightly less performance under all core-loads (due to its slightly lower clock speeds), and very impressive gaming gains where the cache matters. But there were times when we wished we could assign some games to the non-stacked die rather than have all games being simply pushed to the stacked die.