At a glance
Expert's Rating
Pros
Excellent mechanical keyboard
Class-leading Mini-LED display
Incredible CPU and GPU performance
2TB of solid state storage with PCIe Gen5 support
Cons
Uninspired design 
Short battery life
Our Verdict
The MSI Titan GT77 HX 13V isn't a practical choice—but if you want the ultimate in performance, don't hesitate.
The term "next-gen" isn't often applied to laptops but this year it feels appropriate. New PC gaming laptops will deploy three big upgrades: new processors from Intel and AMD, new RTX 40-series graphics hardware from Nvidia, and new PCIe Gen5 solid state drives. The MSI Titan GT77 HX 13V has all three and, together, they give gaming laptops a real kick in the pants.
For more options, check out our roundup of the best gaming laptops.
MSI Titan GT77 HX 13V: Specs and features
The Titan's specifications can be summed up with ease. It has the best of everything. 
MSI crams in the latest Intel Core i9 processor, top-tier Nvidia RTX 4090 graphics, 64GB of RAM, and a 2TB PCIe Gen5 solid state drive. The only obvious weak spot is the webcam which, for some reason, remains stuck at 720p (but at least includes an IR camera for biometric login)
CPU: Intel Core i9-13980HX
Memory: 64GB DDR5
Graphics/GPU: Nvidia RTX 4090
Display: 3,840 x 2,160 144Hz IPS Mini-LED
Storage: 2TB PCIe Gen5 M.2 solid state drive
Webcam: 720p with IR
Connectivity: 2x Thunderbolt 4 / USB-C with DisplayPort Alternate Mode, 3x USB 3.2 Type-A, 1x SDXC card reader, 1x HDMI 2.1, 1x Mini-DisplayPort, 1x RJ-45 (Ethernet)
Networking: Wi-Fi 6E, Bluetooth 5.2
Biometrics: None
Battery capacity: 99 watt-hours
Dimensions: 15.6 x 13 x 0.9 inches
Weight: 7.3 pounds
MSRP: $5,299.99
Of course, there's one other item on this list worth considering… the price. The Titan's $5,299.99 MSRP will immediately take it out of contention for most people. Still, its sheer audacity holds a certain appeal—and there's no denying the Titan can stomp any benchmark that dares to stand in its way.
MSI Titan GT77 HX 13V: Design and build quality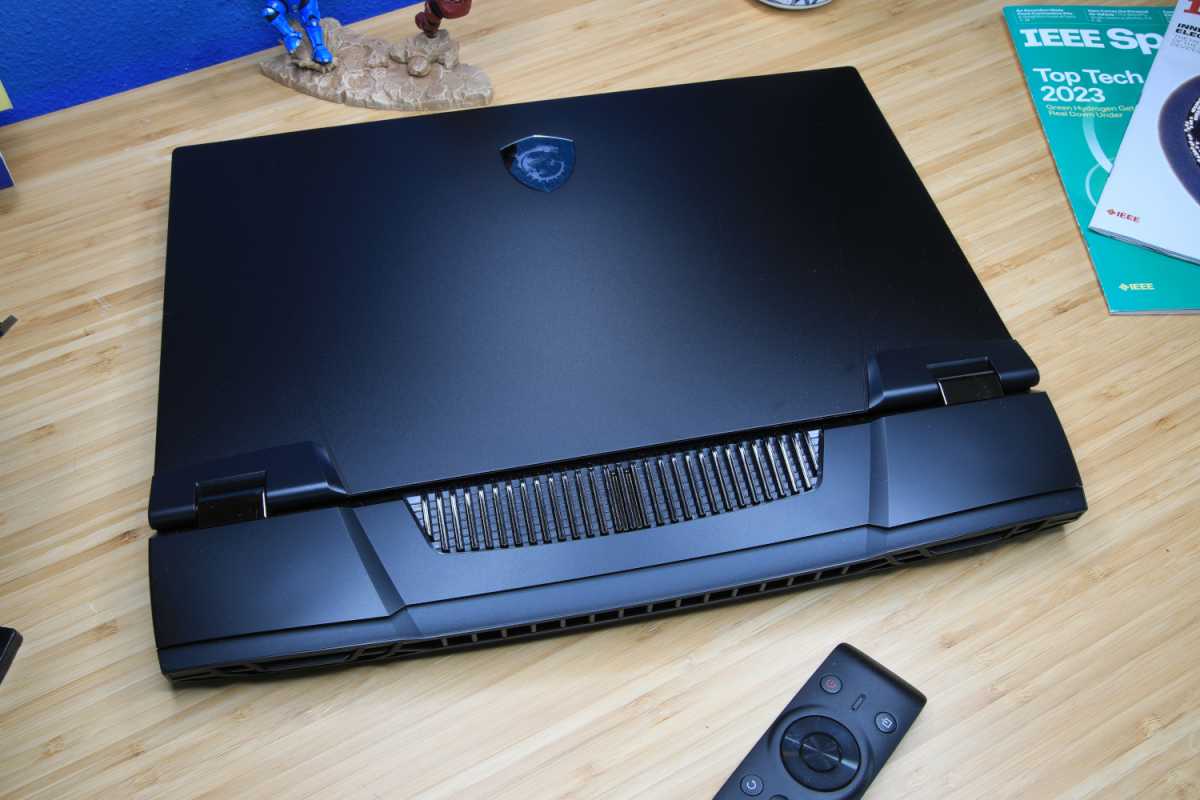 IDG / Matthew Smith
It's reasonable to expect the expensive MSI Titan GT77 HX 13V to deliver a garish, overwrought design. On the contrary, MSI keeps it simple. Perhaps too simple. At a glance, the Titan's thick, matte black body could be easily mistaken for any high-end gaming laptop produced in the last decade. A series of RGB lights dotting the rear fans adds some flair when used in a dark room, at least.
Build quality is unremarkable. The lower chassis feels solid, but the materials cladding the laptop seem the same as those found on those sold for thousands less. Picking up the laptop from one side creates noticeable flex throughout the machine. The same is true of the display, which warps and wavers when it's opened. Most gaming laptops have these issues—but those hoping the Titan's price tag might buy a dash of luxury will be disappointed. The alternatives from Alienware and Razer feel more durable.
The Titan weighs in at 7.3 pounds. That's heavy, but not surprising. Most 17-inch laptops land between six and eight pounds. The laptop's weight is obvious when stowed in a bag. And you'll need a big bag. At 15.6 inches wide, and 13 inches deep, the Titan won't fit in most backpacks and messenger bags with a laptop compartment.
MSI Titan GT77 HX 13V: Keyboard and trackpad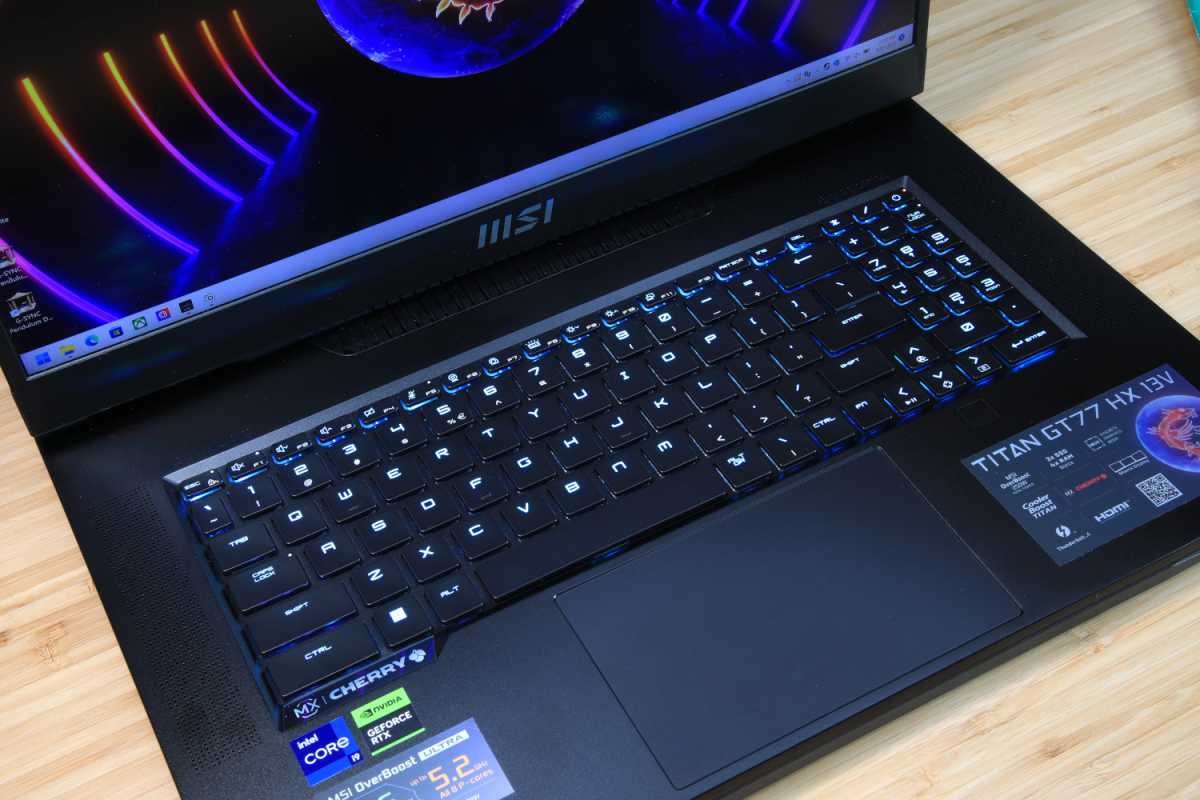 IDG / Matthew Smith
The MSI Titan GT77 HX 13V has a Steelseries-branded mechanical keyboard with Cherry MX switches. It's an excellent typing experience, with long key travel and a crisp, taut bottoming action that provides tactile feedback. Keystrokes are audible, but not annoying, so the Titan (probably) won't drive everyone nearby batty. 
Whether this matters in games is debatable. Personally, I didn't find the Titan's keyboard any more responsive than most, but I'm not on the "path to pro." My love of the keyboard—and, to be clear, it's great—is rooted in simple day-to-day use. It's a great keyboard for writing or browsing the web, yet also ideal for gaming.
The keyboard is backlit with RGB LED lighting that can be customized per-key. Backlight customization is handled through the Steelseries GG app instead of an app from MSI. This is a perk. The Steelseries GG app is rather good, with easy to understand controls and a very wide range of customization options. The app can also be used to customize keyboard functions, which is handy if you want to make your own keyboard shortcuts for gamers or productivity apps.
While I adore the keyboard, it does have one flaw. The numpad is too small. It offers only half-sized keys crammed into the keyboard's right side. A laptop of this size could provide a full-sized numpad, but MSI instead uses the space for user-facing speakers. 
The touchpad is good, too. It's large, measuring five inches wide by 3.25 inches deep, and provides a smooth, responsive surface. Windows' multitouch gestures are easy to activate, mostly thanks to the touchpad's large surface. Physical, clicky left and right-mouse buttons are available and work well. The touchpad also accepts mouse input by tapping its surface.
MSI Titan GT77 HX 13V: Display, audio
IDG / Matthew Smith
The MSI Titan GT77 HX 13V's has a 4K IPS Mini-LED display with a 144Hz refresh rate. Apple's MacBook Pro 14 and Pro 16 get the credit for bringing Mini-LED to laptops in 2021, MSI actually introduced the first Mini-LED laptop display back in 2020. MSI has experience with the technology, and it shows.
Brightness is extremely high even in SDR content, reaching a maximum of 585 nits. That's the highest brightness I have on record for any laptop in SDR. The display also delivers a wonderful contrast ratio of 19440:1. That's not as good as OLED (which usually reaches an effectively infinite contrast ratio when tested with my SpyderX colorimeter), but it's a huge step up from a typical IPS display. The MSI Sword, for example, offers a contrast ratio of 1220:1.
Color gamut is also excellent, covering 100 percent of sRGB and 97 percent of DCI-P3. OLED laptops will often perform better. The Acer Predator Triton, for example, covers 100 percent of both color gamuts. The Titan's performance is still excellent, though, and delivers a vibrant, punchy image. 
HDR is supported, and turning it on ups the ante. I measured a maximum sustained full screen brightness of 947 nits. I was pleasantly surprised to see the laptop has few problems handling SDR content when HDR is turned on in Windows 11. Colors remain fairly accurate and content still appears to have the proper luminance. HDR does shift the color temperature noticeably, however, and appears rather warm and reddish.
Whether the Titan's Mini-LED display defeats OLED depends on your priorities. It's much better in HDR content, due to its added brightness. The display also has a non-gloss coat which, paired with the display's high brightness, makes the laptop easy to use in rooms where glare can be an issue. OLED displays technically deliver better color performance, however, and will still appear darker and richer when displaying dark content, especially when viewed in a dark room. 
Motion clarity is excellent thanks to the IPS panel's low response times and 144Hz refresh rates. Test images of League of Legends and DOTA 2 showed character silhouettes and heath bars were easy to see while scrolling. Character names were hard to make out, though, which is typical for even the best 144Hz displays. Fast camera pans in 3D games will show plenty of detail, with only small elements obscured. 
Audio is delivered by a pair of 2-watt speakers and a pair of 2-watt woofers. These offer good sound quality with a clear mid-range, plenty of separation between high and lows, and some oomph to bass. I didn't notice any rattle, distortion, or other unwanted issues when listening to bass-heavy tracks. Maximum volume is a bit low, which may disappoint if you want the Titan to double as a boom box, but it's an enjoyable audio experience overall.
MSI Titan GT77 HX 13V: Webcam, microphone, biometrics
The MSI Titan GT77 HX 13V, despite its high price, makes do with an old-school 720p webcam. It's not great. The image appears softy and grainy and color reproduction isn't accurate, with a notable shift towards green in my testing. Streamers looking for an all-in-one streaming laptop won't find it here. The microphone is also mundane: it sounds clear and offers good volume, but audio seems tinny and distant. 
Though the primary webcam falls short, MSI does offer an IR camera that enables Microsoft Windows Hello facial recognition login. It worked well in my testing, as it does on every laptop that supports this feature. It's a great alternative to logging in with a password or PIN.
MSI Titan GT77 HX 13V: Connectivity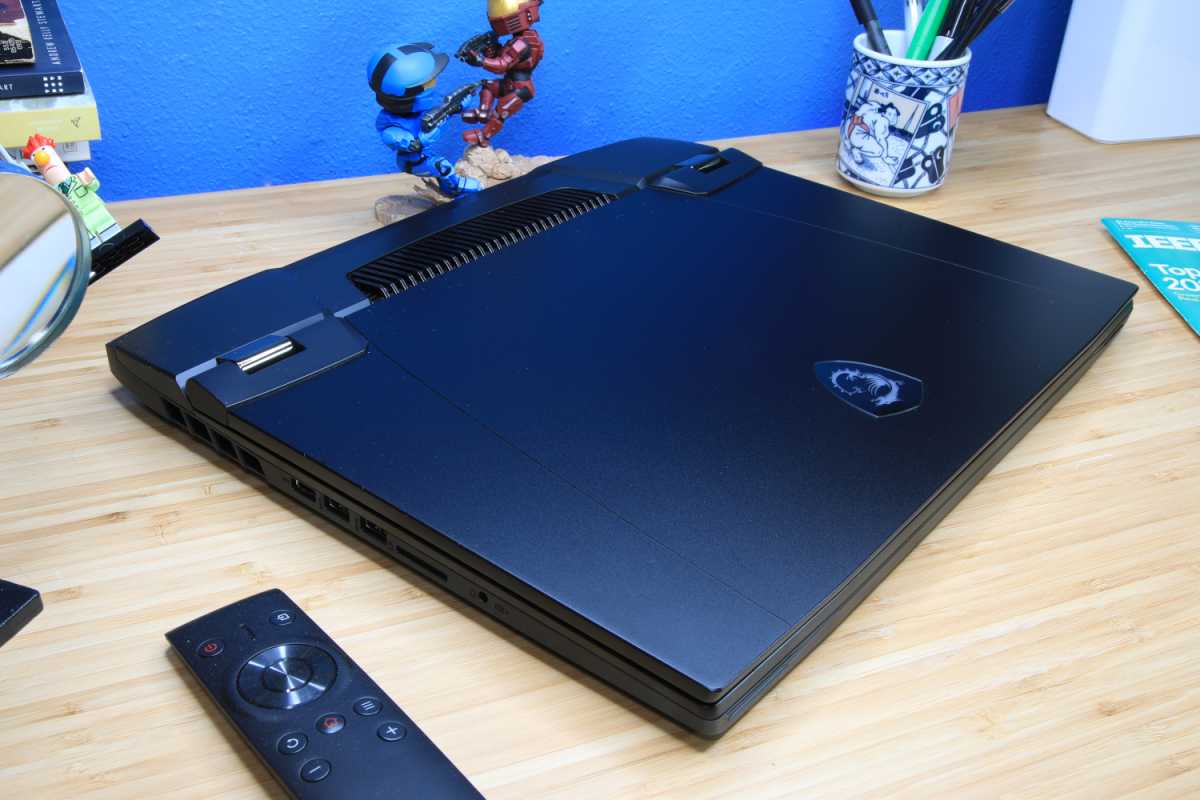 IDG / Matthew Smith
A healthy selection of ports line the MSI Titan GT77 HX 13V's flanks, but the laptop doesn't go above and beyond.
MSI includes two Thunderbolt 4 / USB-C ports. Both support DisplayPort Alternate Mode, so they can be used to output video. One of the two ports also provides up to 100 watts of USB-C power delivery. That's not enough to handle the laptop under load, but does provide a backup option in case you forget the massive 330-watt power brick (or don't feel like packing it). Additional video connectivity is provided by HDMI 2.1 and Mini-DisplayPort.
The laptop has three USB-A 3.2 ports, an SDXC card reader, and a 3.5mm audio jack. This is adequate but not special. The Titan's price sets high expectations, so I would have liked to see multiple audio jacks and another USB-A port. 
MSI does upgrade the RJ-45 port, to its credit, providing 2.5Gbps Ethernet speeds. Wireless connectivity is also top-notch with support for Wi-Fi 6E and Bluetooth 5.2. Wi-Fi performance was excellent in my testing with a Wi-Fi 6 router, hitting maximum speeds of just over 900 Mbps even when two rooms away from my router. This is roughly the maximum speed I can access through my home's Gigabit Internet connection.
MSI Titan GT77 HX 13V: Performance
The MSI Titan GT77 HX 13V has all the latest hardware. The processor is Intel's Core i9-13980HX with 24 cores (eight performance cores and 16 efficient cores) and a maximum turbo frequency of 5.6GHz. That's joined by Nvidia's new RTX 4090 mobile graphics. 64GB of DDR5 memory and a 2TB PCIe Gen5 solid state drive round out this powerhouse.
So, how does it handle benchmarks? Let's get into it.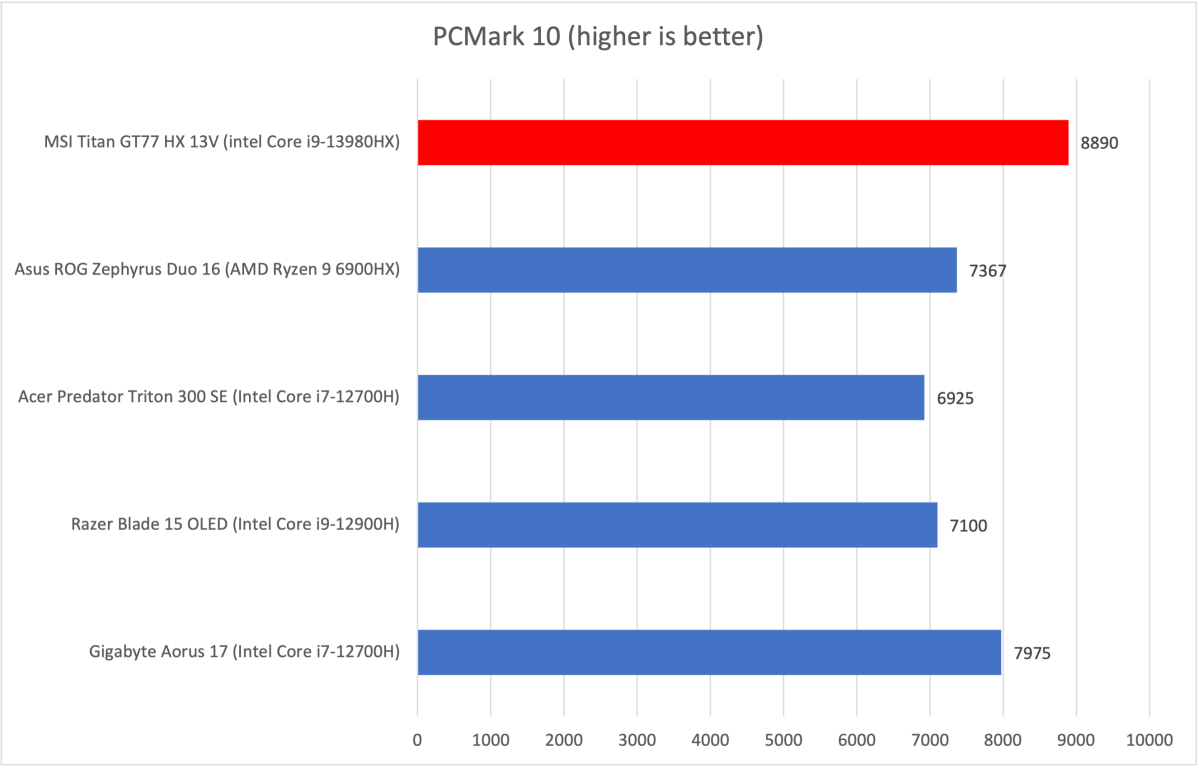 IDG / Matthew Smith
MSI comes out swinging with a score of 8890 in PCMark 10, the highest Online News 72h as recorded from a laptop. This isn't shocking. It's normal for a new generation of hardware to deliver improved performance. Still, it's clear the Titan lives up to its name, as it delivers strong results in all of PCMark 10's subcategories. 
IDG / Matthew Smith
Cinebench R15 delivers an even more impressive result, as the Titan races to a score of 4,971. Nothing else we've recently tested comes close.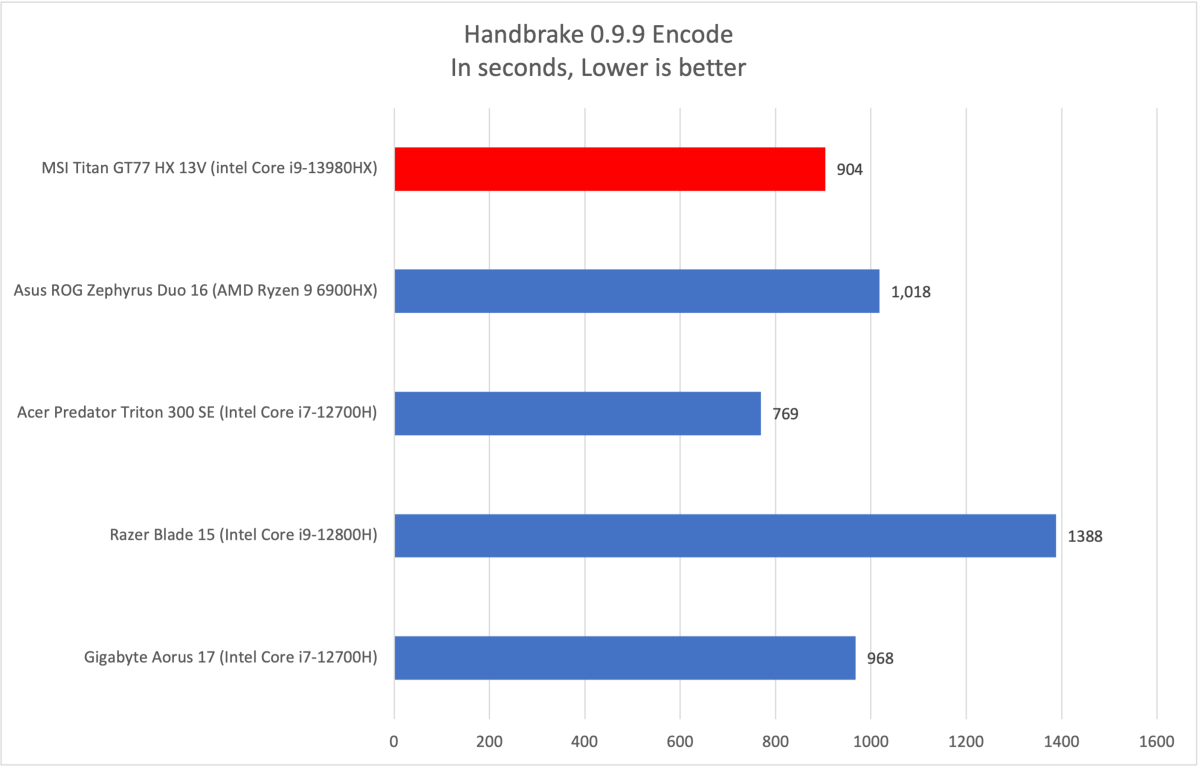 IDG / Matthew Smith
Handbrake is the odd duck here, delivering a good but not spectacular result of 904. I'm left a bit puzzled by this, but did note that Handbrake did not appear to fully saturate the processor's 24 cores. The Core i9-13980HX, though impressive, does rely heavily on core count to thump its competitors, so any situation that doesn't tax all cores will eat into its margins.
Processor benchmarks are only half the story, of course, and arguably the lesser half. The MSI Titan GT77 HX 13V also delivers Nvidia's RTX 4090 graphics with 16GB of GDDR6 memory and a maximum graphics power of 175 watts.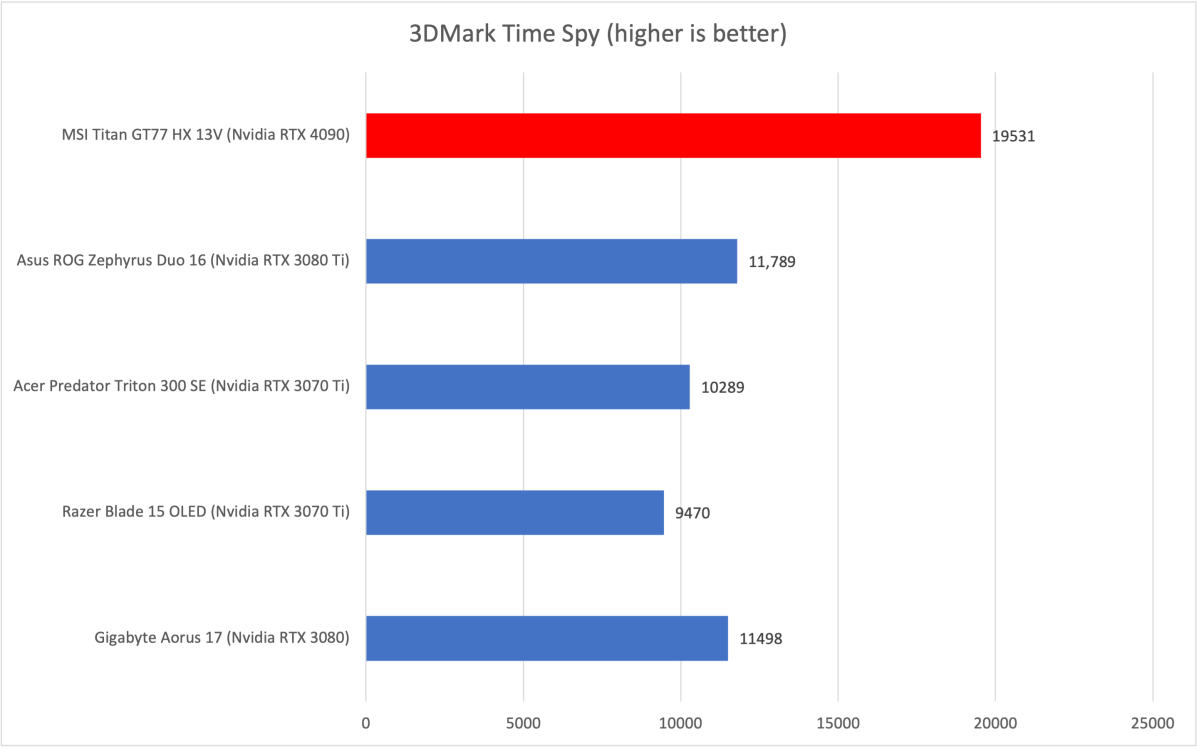 IDG / Matthew Smith
Anyone curious if the new generation of RTX 4090 mobile hardware would deliver an uplift similar to its desktop peer (which, for the record, is significantly more powerful than the mobile RTX 4090) should now have their doubts squashed. The Titan's score of 19531 flat slaps, leaving even the RTX 3080 Ti begging for mercy.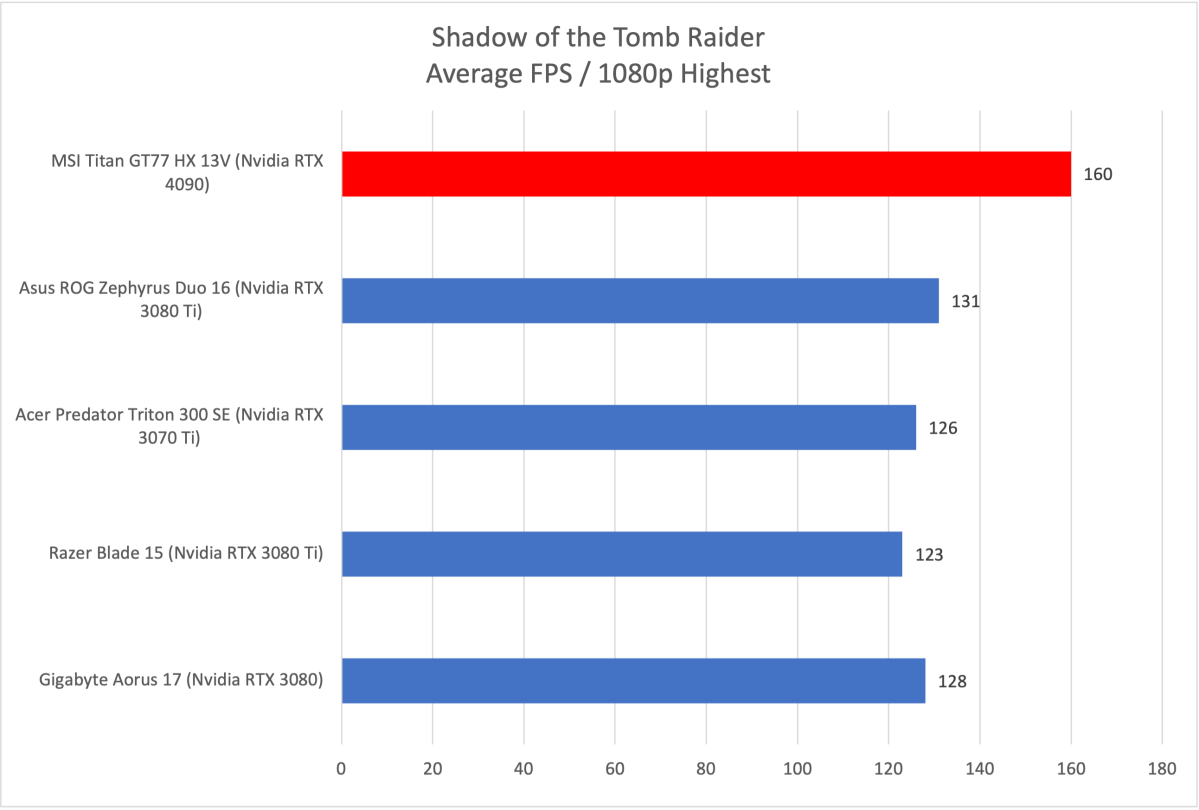 IDG / Matthew Smith
Shadow of the Tomb Raider is a bit less embarrassing for the RTX 30-series laptops, but still shows a big lead for the RTX 4090. It delivers roughly 35 additional frames-per-second, on average, at 1080p with detail settings at Highest.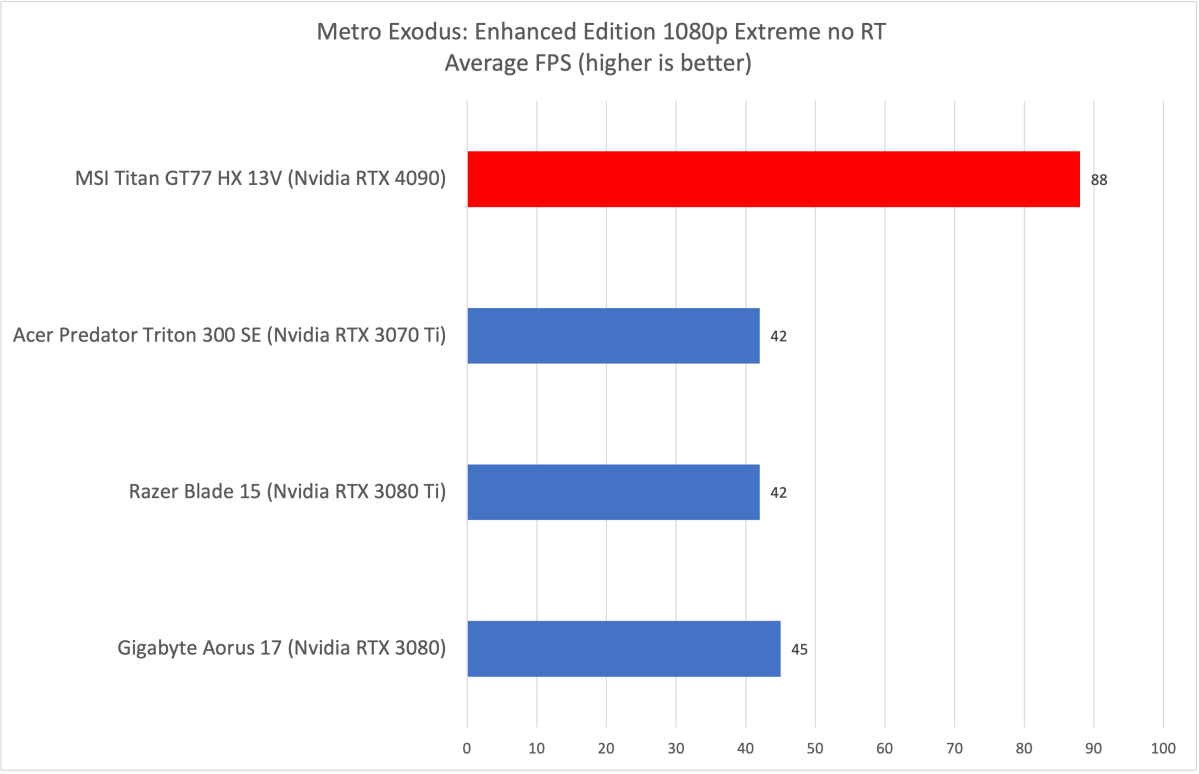 IDG / Matthew Smith
Firing up Metro Exodus gives the Titan another chance to eat last year's cream-of-the-crop for lunch. An average score of 88 frames-per-second at 1080p and Extreme detail is frankly unprecedented. Nvidia's RTX 4090 mobile redefines high-end laptop performance in this title. 
To give the Titan a more worthy challenge, I popped into Cyberpunk 2077 and ran the game at 4K resolution with Ultra detail settings and ray-tracing on, with ray-traced lighting set to Ultra. DLSS was turned off. The Titan averaged 41 frames-per-second, which is excellent. These settings tend to dip even the stoutest laptops under 30 FPS. Turning on DLSS 3 roughly doubles this performance to 88 frames-per-second.
Honestly, I find it almost hard to believe that a laptop can achieve this level of performance. Cyberpunk 2077 was considered a real system-thrasher upon its release in 2020 and, with ray-tracing turned on, it remains among the most technically demanding games available. Yet the Titan cruises through it, providing an enjoyable experience even at 4K and very high detail settings. This is good news for the laptop's potential in the future. Ray tracing is still a somewhat niche feature, but finally starting to go mainstream thanks in part to games like Cyberpunk 2077.
MSI Titan GT77 HX 13V: Battery life
The MSI Titan GT77 HX 13V is a power-hungry laptop that ships with a huge 330-watt power brick that's difficult to pack and impractical to bust out at a coffee shop. Fortunately, the Titan also has a 99 watt-hour battery that holds up well on the road.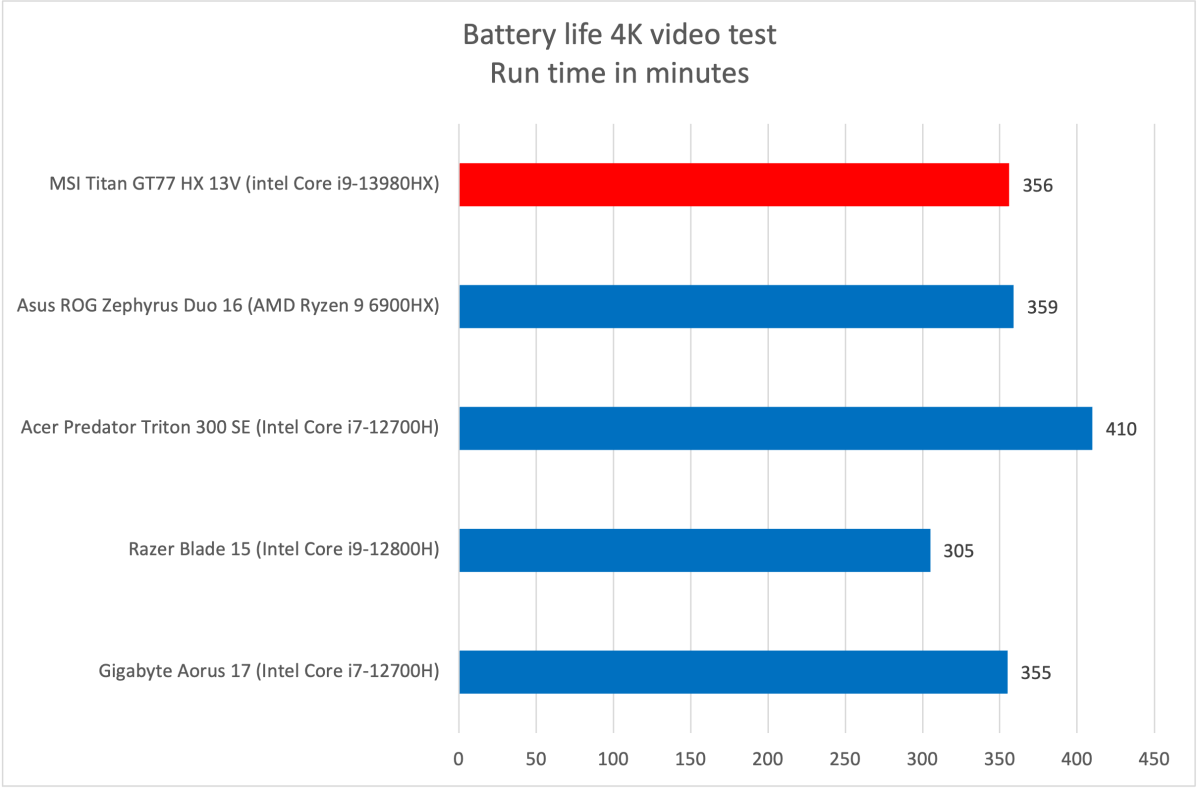 IDG / Matthew Smith
I recorded five hours and 56 minutes of endurance from the Titan in our standard battery life test, which loops a 4K clip of the short film Tears of Steel. That's a good result for a large, power-hungry gaming laptop.
Be warned. Because it's so powerful, the Titan can drain the battery much more quickly. 3D gaming and intense workloads, like encoding video, can drain the battery in two hours or less. Still, the Titan can handle about a bit more than a half-day of work if you stick to less demanding applications. 
MSI Titan GT77 HX 13V: Conclusion
First, my practical advice: Don't buy the MSI Titan GT77 HX 13V. It's big, heavy, loud, and terribly expensive. You'll need a huge backpack to haul it and it barely fits on some coffee shop desks, never mind an airplane's seat-back tray. It's an impractical showpiece for people with more money than sense.
But you still want it, don't you? So do I. The Titan successfully sets a new definition of high-end laptop performance that rivals many desktop computers and renders last-generation hardware irrelevant. That alone would be noteworthy, but MSI goes the extra mile with a class-leading Mini-LED display that delivers eye-searing brightness and outstanding contrast. 
No, the Titan isn't a practical choice—but if you want the ultimate in performance, and have the cash, don't hesitate. This is the hard-charging, benchmark-obliterating laptop you crave.