At a glance
Expert's Rating
Pros
Attractive, simple design
Lighter than most budget gaming laptops
RTX 3060 can handle most modern games
Competitive pricing
Cons
Mediocre keyboard and small touchpad
Dim display with narrow color gamut
CPU and GPU performance slightly behind competitors
Webcam and connectivity don't impress
Our Verdict
The MSI Sword 15 A12UE is a fine gaming laptop, but lackluster features and several minor flaws keep it a step behind its competition.
Gamers looking for a mid-range laptop have a lot of choice and, with mid-range RTX 40-series hardware presumably arriving later in 2023, it's an excellent time to snag a deal on outgoing 30-series laptops. The MSI Sword 15 A12UE is a reasonably priced offering that shows promise in performance tests. Its design and features, however, could use improvement.
Note: See our roundup of the best gaming laptops under $1,000 to learn about competing products, what to look for in a budget gaming laptop, and buying recommendations.
MSI Sword 15 A12UEL: Specs and features
The MSI Sword 15 A12UE is a 15.6-inch gaming laptop with an Intel Core i7-12650H processor, 16GB DDR5 memory, and an Nvidia RTX 3060 GPU. It also has a 1920×1080 144Hz display and a 1TB PCIe Gen4 M.2 solid state drive
CPU: Intel Core i7-12650H
Memory: 16GB DDR5
Graphics/GPU: Nvidia RTX 3060
Display: 1920×1080 144Hz IPS
Storage: 1TB PCIe Gen4 M.2 solid state drive
Webcam: 720p
Connectivity: 1x USB-C, 3x USB-A, 1x HDMI, 1x Ethernet, 1x 3.5mm combo audio, 1x AC barrel plug
Networking: Wi-Fi 6, Bluetooth 5.2
Biometrics: None
Battery capacity: 53 watt-hours
Dimensions: 14.13 x 10.20 x 0.98 inches
Weight: 4.96 pounds
MSRP: $1,299.99
The laptop's specifications are otherwise unremarkable. It offers a decent array of ports, but nothing beyond the norm, and supports the usual Wi-Fi standards. The webcam sticks to 720p and biometric login isn't included. 
MSI Sword 15 A12UEL: Design and build quality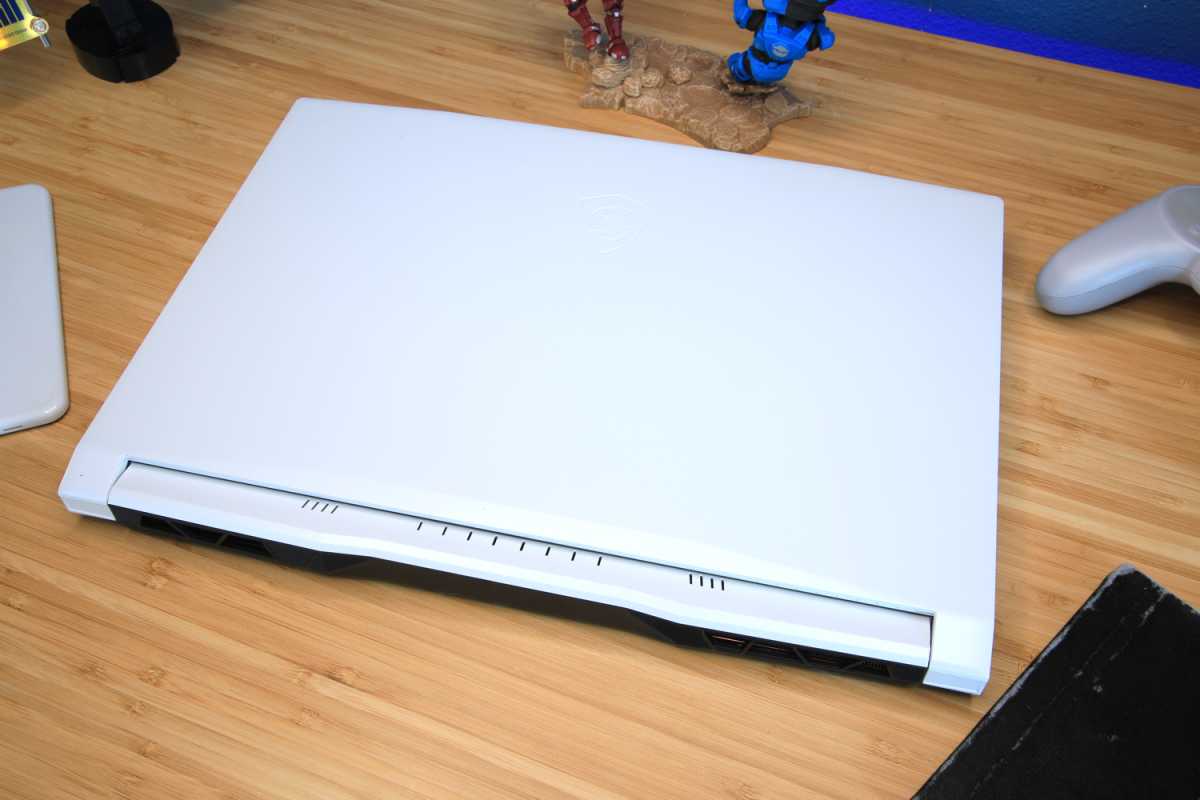 IDG / Matthew Smith
The MSI Sword 15 A12UE's chassis is nearly identical to the MSI Katana, with one important exception: the color. Sword models come in white with black accents and a blue keyboard backlight, while Katana models are black with red accents and a red keyboard backlight. Personally, I prefer the Sword's design. It looks like a budget Alienware R15. 
Build quality is good, but not outstanding. MSI's choice of plastics leans towards sleek, slippery surfaces without much sense of texture or substance. Despite this, the laptop's rigidity is good, allowing minimal flex across most surfaces. It's a cut above the least expensive Acer Nitro and Asus TUF laptops and more similar to competitors like the Dell G7 and Lenovo Legion 5.
It's light for a budget gaming laptop, weighing in at just 4.96 pounds. Most alternatives weigh around 5.5 pounds. This difference is noticeable when handling the laptop. Dropping a few ounces doesn't make the laptop much more portable, though. It's still close to an inch thick and over 14 inches wide. The Lenovo Legion 5i, Dell G7 15, and HP Victus 15 are similar in size. 
MSI Sword 15 A12UEL: Keyboard and trackpad
IDG / Matthew Smith
MSI's Sword has a conventional keyboard layout with numpad, although the numpad's half-sized keys may be uncomfortable for frequent use. The keyboard's size is comparable to other budget laptops but some space remains on either side that could be better utilized.
The keyboard is sure to disappoint gamers who prefer a tactile experience. Key travel is long, but key feel is vague and springy, which makes high-speed typing or gameplay feel less precise. The typing experience is similar to other budget gaming laptops including the Dell G7 and Asus TUF series, but the Lenovo Legion 5 and Acer Nitro 5 perform better.
Keyboard backlighting comes standard and is only available in blue, with three brightness levels to choose from. 
The touchpad, unlike the keyboard, is cramped. It measures just 4 inches wide and 2.5 inches across. The lack of touchpad surface makes multitouch gestures annoying to use. This is a common problem among many budget gaming laptops though, once again, Lenovo's Legion 5 leap ahead. It has a more spacious touchpad measuring five inches wide and three inches deep.
MSI Sword 15 A12UEL: Display, audio
IDG / Matthew Smith
The MSI Sword 15 A12UE comes equipped with a 15.6-inch 1080p IPS display featuring a 144Hz refresh rate. A few more expensive configurations have a 1080p 240Hz panel instead. Unfortunately, the 144Hz display's performance is disappointing.
The issues begin with brightness. At only 266 nits, the display isn't bright enough for comfortable use in a well-lit room. Lackluster brightness saps vibrance from the image. It often appears a bit dull and dim, especially if you choose to turn the display even a couple notches down from its maximum brightness setting.
Contrast is better, reaching a maximum ratio of 1210:1. That's a decent showing for a budget gaming laptop and on par with some more expensive alternatives, like the Acer Predator Helios 300. The Sword's contrast ratio is enough to offer a sense of depth and dimensionality in many situations, but darker areas of the screen will look hazy when the laptop is viewed in a dark room.
Color performance, on the other hand, is a major problem. The 1080p 144Hz display covers just 70 percent of the sRGB color gamut and 53 percent of DCI-P3. That's about as low as you'll find on any modern laptop or standalone monitor. Colors often appear faded, as if the image was left out in the sun for a few years.
The display's 144Hz refresh rate offers good, but not great, motion performance. Fast-moving objects show slight motion blur and small details are obscured, but there's clear improvement in motion clarity compared to the laptop with a 60Hz panel. The laptop doesn't support G-Sync, so gamers must rely on V-Sync or play with the framerate uncapped. 
While the display's performance is disappointing, it's common among budget gaming laptops. Many competitors, such as the HP Victus 15 and Acer Nitro 5, offer similar displays, while Lenovo's Legion 5i offers a slightly better 165Hz display with 300 nits of brightness in its entry-level configuration.
The built-in speakers are modest but respectable. Spoken dialogue, podcasts, and YouTube videos are enjoyable, but music and games lack oomph. The sound stage is rarely distorted or muddy, at least, which places the Sword's speakers a peg above most budget gaming laptops.
MSI Sword 15 A12UEL: Webcam, microphone, biometrics
The MSI Sword 15 A12UE has a 720p webcam that performs poorly. The image appears soft with muted, faded colors, and the webcam struggles to adjust to changes in lighting. A video conference over Zoom or Google Meet will look ok (these generally restrict video quality to 720p or below, anyway), but the camera's limitations are obvious when attempting to stream at higher resolutions or record video.
Microphone quality is acceptable, effectively capturing my voice while minimizing background noise. Recorded audio sounds thin and metallic, but this is a common problem for all laptop microphones. Laptops in this price range won't offer a better experience.
Biometric login isn't supported by any MSI Sword configuration.
MSI Sword 15 A12UEL: Connectivity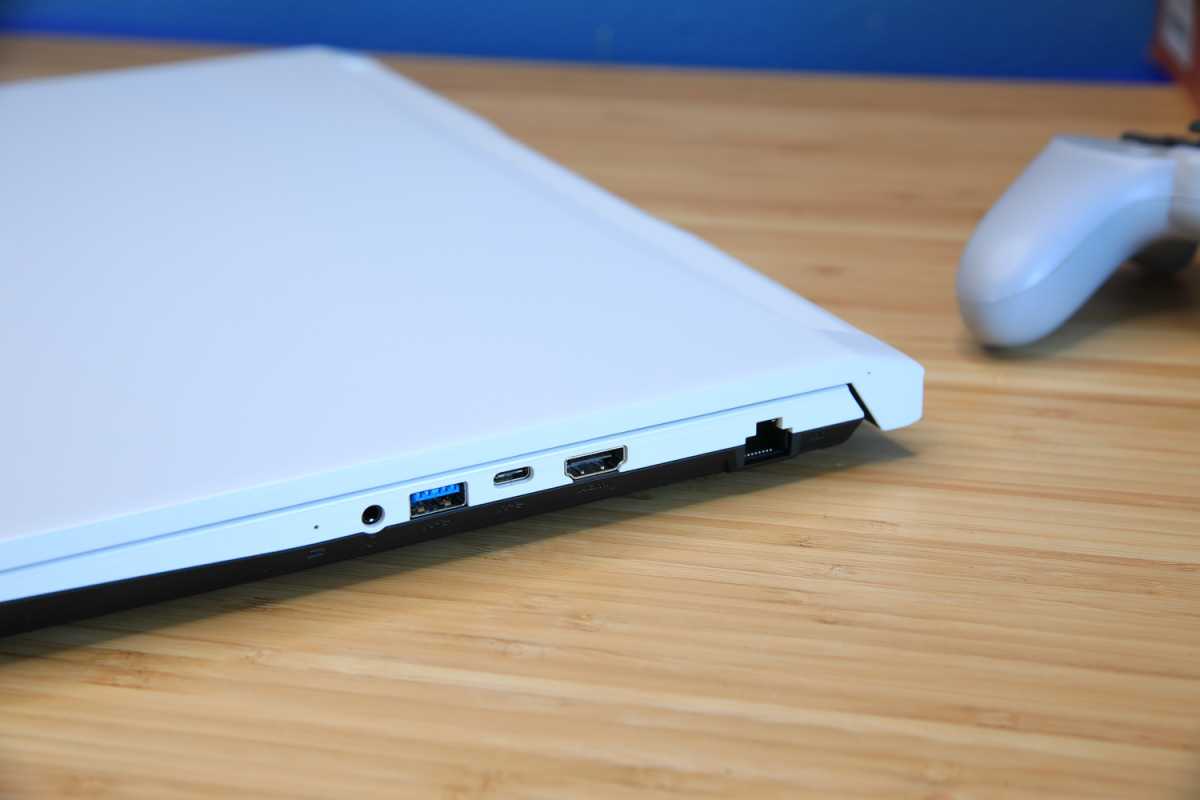 IDG / Matthew Smith
A variety of USB-C and USB-A connectivity lines the Sword 15's flanks. It has one USB-C port and three USB-A ports (two of which are USB 3.2). These are joined by HDMI, Ethernet, and a 3.5mm combo audio jack.
The USB-C port is limited, however. It can't support DisplayPort video or charge the laptop. This was confirmed through testing with a USB-C monitor that provides Power Delivery and a USB-C power brick. That's disappointing news. The Dell G7 15 has a USB-C port with DisplayPort Alternate Mode, and the newest Lenovo Legion 5 laptops offer that plus up to 135 watts of USB Power Delivery.
Wireless connectivity spans Wi-Fi 6 and Bluetooth 5.2. I'd prefer to see the latest Wi-Fi 6E standard, but a Wi-Fi 6E router is required to take advantage of its added performance. Most homes have yet to make that upgrade.
MSI Sword 15 A12UEL: Performance
The MSI Sword 15 A12UE comes equipped with an Intel Core i7-12650H processor, 16GB of RAM, and a 1TB NVMe PCIe Gen4 solid state drive. Graphics are provided by Nvidia's RTX 3060 with 6GB of GDDR6 memory and a maximum graphics power of 105 watts. This is typical hardware for the price.
MSI provides several different power modes. The company requested the laptop be tested in Extreme Performance mode, but this ramps the fan speed up to maximum and keeps it there—an annoying experience, to say the least. I'm presenting results from testing in the Balanced performance mode instead. The Extreme Performance mode provides small gains to performance, but rarely greater than five percent when compared to the Balanced mode..
Let's dive into the results. 
IDG / Matthew Smith
PCMark 10 is a complete system benchmark, though it does tend to lean more heavily towards processor performance. The MSI Sword 15 A12UE may seem a bit under-powered here, due to its Core i7-12650H (instead of the Core i7-12700H, which is available at this price point), but it makes a good showing. The Lenovo Legion 5i, the quickest laptop in this competitive set, only beats the Sword by a few hundred points.
IDG / Matthew Smith
The gap widens a bit in Cinebench R15, but the relative position of laptops is almost identical, with MSI's Katana and Sword are nearly tied. It's clear the Lenovo Legion 5i has an advantage in this benchmark, and I'd expect the same to be true of any laptop with a Core i7-12700H. Still, the gap is small enough for the Sword to remain competitive.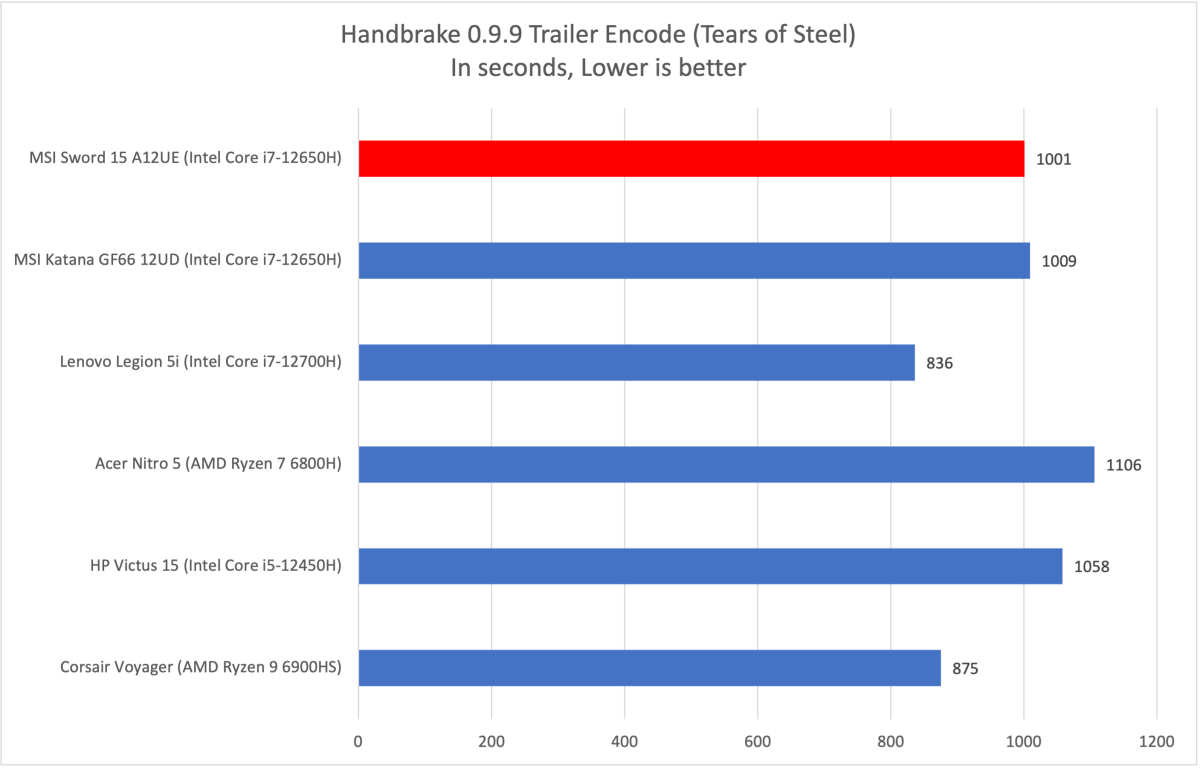 IDG / Matthew Smith
Handbrake remains on trend. The MSI Sword performs similarly to the Katana, which was tested with the same Core i7-12650H processor. The AMD Ryzen 9 6900HS and Intel Core i7-12700H run ahead of the Sword by a more significant margin than before, however. 
Now we come to the star of the show: the GPU. The MSI Sword 15 A12UE, like most gaming laptops priced a few hundred above $1,000, selects Nvidia's GTX 3060 for its graphics grunt. Its performance is respectable but slightly lags some competitors.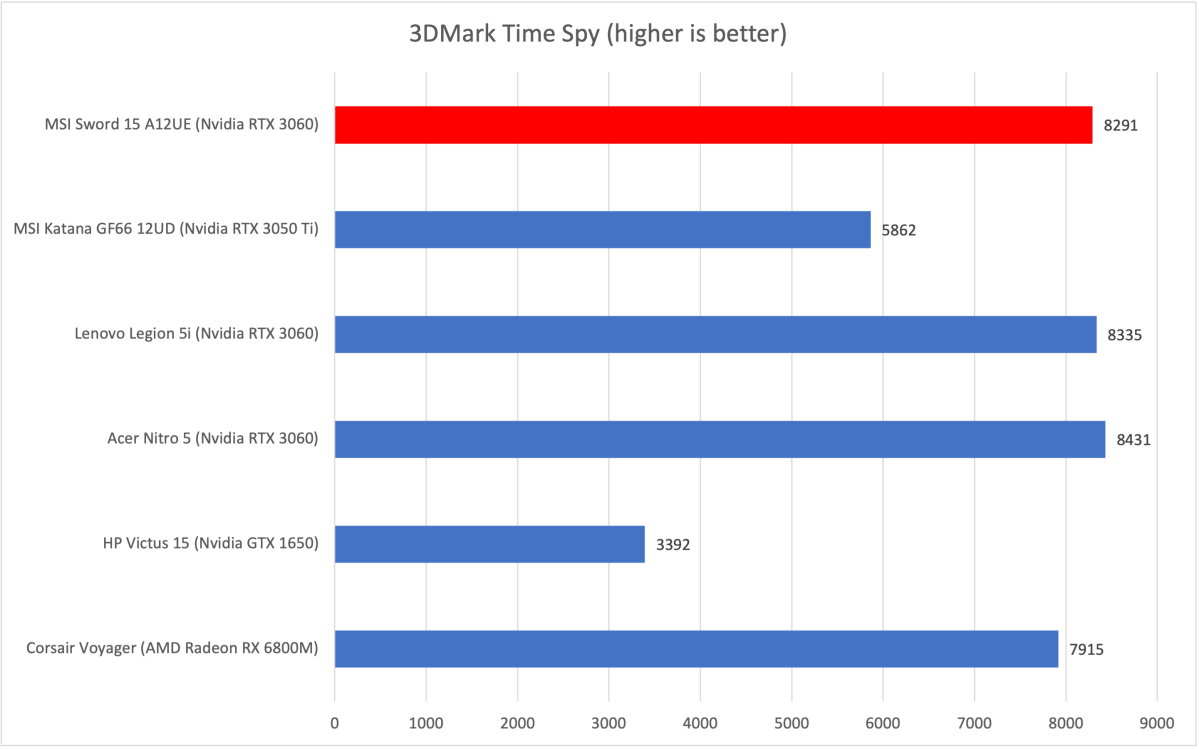 IDG / Matthew Smith
3DMark Time Spy gives the Sword a strong start with a score of 8,291. This falls behind the Lenovo Legion 5i and Acer Nitro 5 with Nvidia's RTX 3060, but the gap is so small that it's basically a tie. All three laptops provide healthy performance for the price and will generally outperform thinner laptops (like the Dell XPS 15) with the same GPU.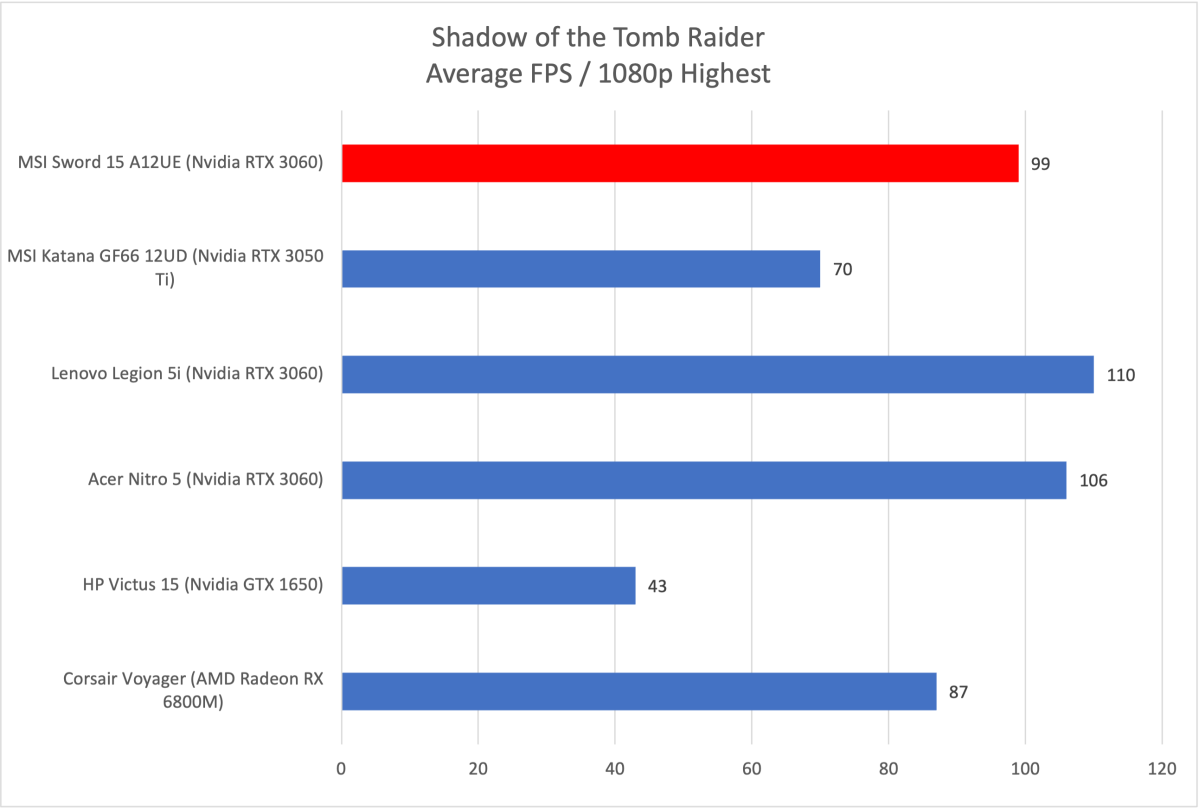 IDG / Matthew Smith
Shadow of the Tomb Raider starts to separate the pack. The MSI Sword turns in an average of 99 frames-per-second. That's seven less than the Acer Nitro 5 and 11 less than the Lenovo Legion 5i. It's still not a massive gap, but the Sword is starting to fall behind.
IDG / Matthew Smith
Metro Exodus is a demanding title. The Sword offers a playable average of 35 frames-per-second, but falls several frames behind the Acer Nitro 5 and Lenovo Legion 5i. A performance gap of this size isn't easy to notice in real-world gameplay, but it's hard to accept even a slight dip in performance when all three laptops hover around the same $1,300 price point.
I also benchmarked the Sword in Cyberpunk 2077 with ray-tracing turned on. It averaged 26 frames-per-second at 1080p resolution with Ultra ray tracing settings—exactly the same as the Lenovo Legion 5i. Performance improved to an average of 44 frames-per-second at Medium ray tracing settings with DLSS in Performance mode, which is playable, if not smooth.
What about the Extreme Performance mode? It offers a minor bump: Shadow of the Tomb Raider increased from an average of 99 FPS to 105 FPS, while Metro Exodus nudged up from 35 FPS to 36 FPS. That's not enough to beat the Acer Nitro 5 or Lenovo Legion 5i.
While the Sword isn't as quick as some competitors, I wouldn't call it a dealbreaker. A performance deficit this small is hard to notice in real world use. A slight discount to the Sword's price relative to the competition will put it back into contention. 
MSI Sword 15 A12UEL: Battery life
The MSI Sword 15 A12UE has a 53.3 watt-hour battery. This isn't a large battery for a gaming laptop, but also not unusual for gaming laptops sold at or near $1,000. The lack of juice leaves the Sword out of breath after a few hours.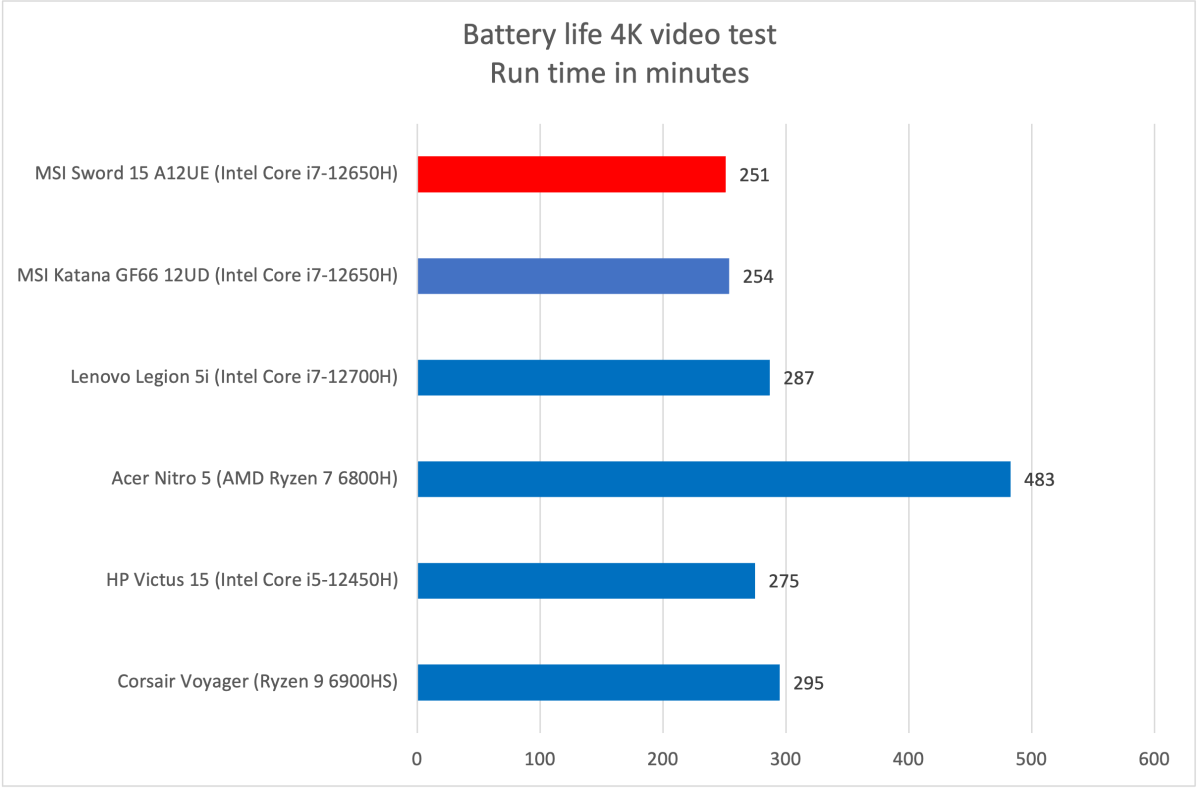 IDG / Matthew Smith
Battery life comes in at four hours and 11 minutes—enough for a short flight or half-day at a coffee shop, but that's it. I'll also mention that our test, which loops a 4K clip of the short film Tears of Steel, is not demanding. Expect a significant cut to battery life if you play games while on battery power.
Should you buy the MSI Sword 15 A12UEL?
The MSI Sword 15 A12UE delivers good performance at a reasonable price. Older games are playable at 60 FPS or better. Even the most demanding games can achieve 30 FPS with only a few settings turned down from their maximum.
It's the details, not game performance, which blunt the Sword's edge. The keyboard is merely okay, the touchpad is small, and the USB-C port doesn't support video or charging. Display quality also falls short. The Lenovo Legion 5i and Acer Nitro 5 are a better choice when equal in price.
None of the Sword's flaws are dealbreakers, though, and it's worth considering when its MSRP is slashed. MSI often makes such cuts. Currently, a Sword 15 model with an RTX 3070 Ti is available on Best Buy for just $1,199.99.