At a glance
Expert's Rating
Pros
The styling is very appealing
The 40mm drivers produce a very natural sound
The cans are very soft and comfortable
Cons
Some of the moving parts feel a bit tight
Leatherette in the cups can get sweaty on hot days
Battery life is decent but not excellent
Our Verdict
The Logitech G Astro A30 Wireless looks superb and sounds just as fine. A ton of connectivity options means you can feast on a smorgasbord of games across your different devices without unnecessary fuss.
Best Prices Today: Logitech G Astro A30 Wireless
When gaming headsets look as good as this, it can often be a big tease. They rarely sound as good as they look and even when they do, they can often lack the kind of connectivity gamers crave.
The A30 Wireless, however, is the complete package, with cutting-edge design and styling, formidable sound quality, and impressive multi-device connectivity that will undoubtedly prove invaluable for gamers who like to access a smorgasbord of games across their devices.
Note: See our roundup of the best wireless gaming headsets to learn about competing products, what to look for in a wireless gaming headset, and buying recommendations.
Astro A30 Wireless: Design
The A30 Wireless has a familiar look, resembling its very popular cousin the Astro A50 Wireless, which also features square earcups instead of round ones. It's an aesthetic that doesn't always work, but it totally does this time.
The difference is the A30 Wireless is just that much more hipster, like a pair of limited-edition basketball shoes. Here's a headset, if ever I saw one, that's made to be a fashion statement. A lot of that has to do with its compact size. While sets with squarish designs often have large, gaudy cups, the A30's are much smaller and more elegant.
That by no means comes at the expense of comfort; the earcups also feature plush leatherette coverings over a cushy memory foam layer, so they always feel soft against your head.
But it's the more superficial styling that really elevates this headset above others. Both navy and white color options come with swappable magnetic speaker tags that you can either change out for pre-made designs from the Logitech website or personalize to sync with your own style.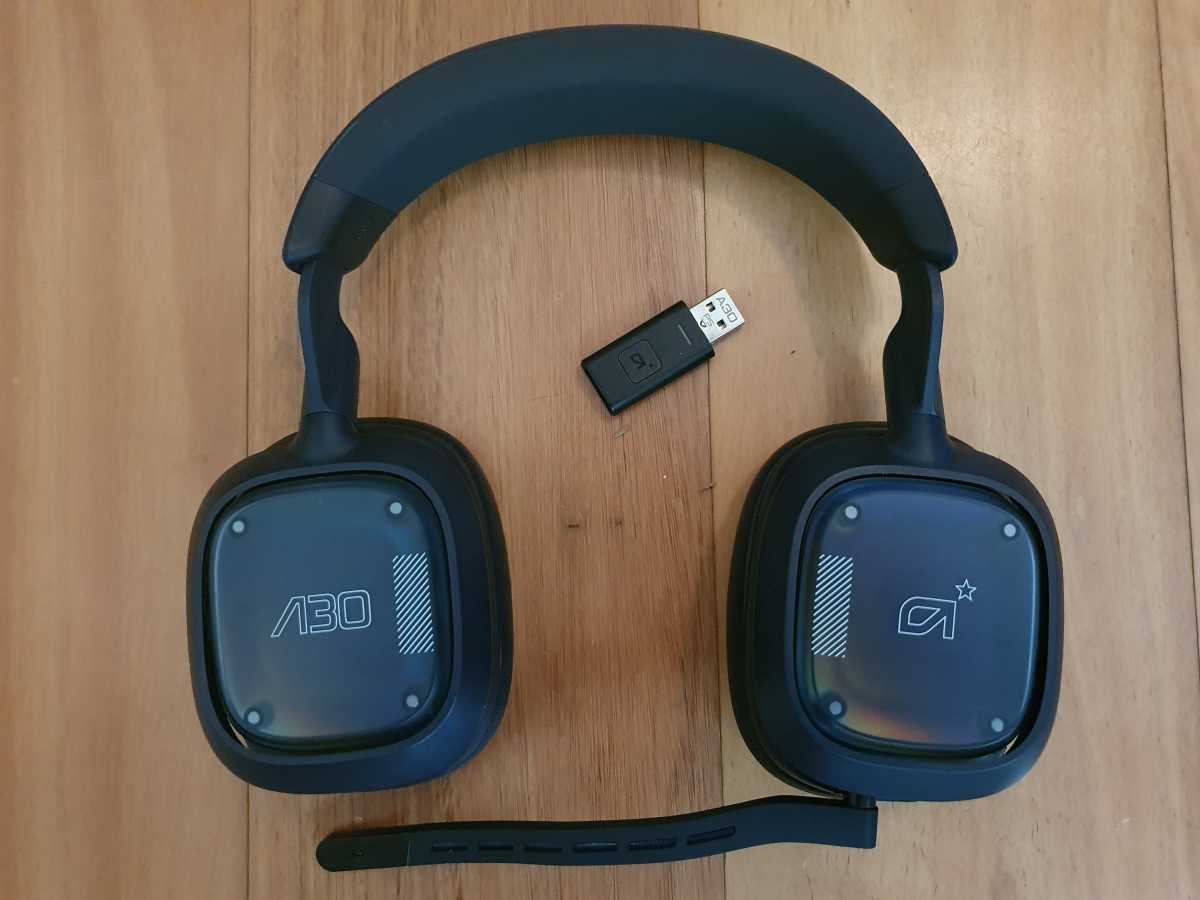 Dominic Bayley / IDG
There's also a Mandalorian Edition that comes with a cool silhouette of the Star Wars bounty hunter and a Beskar Steel finish—which by merely existing, speaks volumes about how Logitech is really on trend with this device.
Personally, though, I was happy with my navy unit; its brilliant multi-coloured tags glared spectacularly when light hit them, contrasting superbly against the darker band and cups.
Functionally the A30 is similarly impressive. Its metal band is both strong and flexible, and there's an extra soft cushion on top to rest against your head. The cups, too, are very well made, and swivel 180 degrees so you can easily rest them flat between games; and they tilt up a little to give you some lateral movement too.
Not discounting those pluses, it was kind of surprising to discover some parts of the A30 were a little tight to move. That made complete sense for the adjustable headband, but the tightness in the swiveling cups did make me wonder if my head had sufficient wiggle room.
Still, that's but a small nit-pick that only meant I felt a little snugger than I'm used to. Note that I say snugger, not uncomfortable, because they never felt too tight. In fact, the clamp force was just right, and the whole headset was light enough to be no burden on my head or neck at all.
Astro A30 Wireless: Audio
The A30 currently costs $230, which makes it $20 cheaper than the Razer Barracuda Pro and a full $120 cheaper than the SteelSeries Arctis Nova Pro Wireless. That's great value considering it features multi-platform compatibility, connecting to a PC, PlayStation 5, Xbox X/S, Mac, and a host of other devices.
This cross-compatibility of the A30 Wireless fit into my lifestyle perfectly. It meant I could feast on a smorgasbord of games on different devices, without any fussy to-ing and fro-ing.
One minute my ears were filled with the squawks of a dragon in the PC game Colossal Cave, and the next the subtle forest sounds of The Legend of Zelda: Breath of the Wild on my Nintendo Switch—which simply involved changing out the 2.4GHz Wi-Fi dongle and plugging the 3.5mm cable into my console's auxiliary port.
Logitech G
If you intend on just using wireless connectivity, you can be even more nimble between your devices, staying connected and simply changing audio sources with the touch of a button on the headset itself. The Bluetooth works simultaneously with Wi-Fi too, so that you can take phone calls, blast music, or chat with your teammates, all while missing absolutely none of your gaming audio.
Additionally, it's super easy on the A30 Wireless to balance your different sound sources. By just pushing the joystick on the control either left or right, I could easily prioritize either my game audio over my voice audio or vice versa.
In the box, you also get a lengthy USB-C to USB-A charge cable which Logitech says charges the device for up to 27 hours of playtime, and a convenient slim case which takes up hardly any room in your bag.
A boom microphone is also provided as a fully detachable part that slots into place on the left-side cup. It's made from a flexible material that allows you to position it wherever you like. This mic proved perfect for my Discord chats where it picked up the sound of my voice perfectly without any kind of distortion, so I was very happy with it.
Astro A30 Wireless: Performance
Logitech has opted for 40mm audio drivers for the A30. These seem like the perfect choice, providing the high-fidelity sound you'd expect in a high-end gaming headset, but still fitting neatly into compact cups. I've got to say too, they delivered an extremely impressive sound quality that I put right up there with the best I've heard in the past 12 months.
In Colossal Cave on PC, for example, the A30 immediately showed off its clean, crisp sound profile. It separated out tones extremely well through the mids and highs, culminating in very natural-sounding orchestral music and very guttural monster sounds that made creeping through the dark spaces of the cave a tense but exhilarating experience.
Dominic Bayley / IDG
What's more, atmospheric sounds like birds' chirps and rushing water were bounced very precisely between earcups, thereby providing a strong sense of location for all these sounds, such that I got a real sense of depth in my games that I rarely get—even from headsets that promise true spatial audio support.
Switching to the FPS Call of Duty: Modern Warfare II, and the A30 Wireless proved it could handle a more complex soundscape equally as well. Here, sounds like the thunking of explosions and of whizzing of bullets took on a life of their own, making me pause for a while and just admire the sound of dirt particles raining down around me and the realism of the projectiles.
The A30 was excellent at differentiating far-away sounds like the cracks of gunfire and explosions as clear and separate from closer sounds, like my footsteps. But if you really want to go one step further and make any of these sounds even more pronounced, Logitech's G app is an excellent and very easy-to-use companion app that makes changing EQ a cinch.
Should you buy the Astro A30 Wireless?
The Astro A30 Wireless doesn't just meet gamer needs, it far exceeds them, providing a veritable cocktail of high-fidelity audio paired with cross-platform connectivity that opens up a world of possibilities for gamers to play with their devices when and how they choose.
This offering could have been packaged up in a ho-hum headset design, but the Astro A30 Wireless is about as stylish as headsets come, saying as much about you as your playstyle or choice of games.
Albeit you'll need to shell out $230 for a pair, but considering the A30 Wireless costs less than two of the best gaming headsets you can get these days, it's most likely the current best value high-end headset in town.