At a glance
Expert's Rating
Pros
16-inch 16:10 screen perfect for productivity
Great keyboard with full numpad
Decent battery life
Fast performance
Cons
Middling webcam
Weak stereo speakers
Jumpy trackpad
Our Verdict
The Lenovo ThinkPad T16 Gen 1 is a great option for business professionals thanks to its spacious keyboard, enormous screen, and zippy performance.
Sometimes all you need is a gigantic screen. Whether it's to get a better look at a PowerPoint slide or blow up a dense Excel spreadsheet, it's easier to get a lot of work done when you've got a larger canvas. In years past, that might have meant springing for a bulky 17-inch class laptop. Thanks to narrow bezels, Lenovo's ThinkPad T16 Gen 1 has managed to cram a 16-inch display into a frame that would've housed a 15-inch just a few short years ago. With ultrabook thinness, plenty of ports, and a meaty Intel i7 chip, this business laptop is plenty productive even without external screens or desktop docks.
Lenovo ThinkPad T16: Specifications and features
Our review unit features an Intel Core i7-1270P CPU, Intel Iris Xe graphics, 16GB of DDR4 RAM, and 512GB of NVMe PCIe SSD storage. For more details, check out the specifications list below:
CPU: Intel Core i7-1270P (12 cores, 16 threads: 4 performance, 8 efficiency) with vPro
Memory: 16 GB DDR4 3200 MHz RAM soldered (up to 48 GB with additional SODIMM)
Graphics/GPU: Intel Iris Xe Graphics (Nvidia GeForce MX550 also available with i7-1260P)
Display: 16-inch 16×10 WUXGA (1920×1200) matte IPS LCD
Storage: 512 GB M.2 2280 NVMe PCIe solid state drive
Webcam: 1080p with physical shutter
Connectivity:  2x Thunderbolt 4, 1x 3.5mm combo audio, 2x USB-A 3.2 Gen 1, 1x HDMI
Networking: Wi-Fi 6E, Bluetooth, 5G WWAN (optional)
Biometrics: Windows Hello facial recognition and fingerprint reader
Battery capacity: 86Wh
Dimensions: 14.25 W x 10.06 L x 0.81 H inches
Weight: 3.9 pounds, 4.95 pounds with AC adapter
Price: $1,458.72
Lenovo ThinkPad T16: Design and build quality
IDG / Brendan Nystedt
If we can give Lenovo points for anything, it's consistency. If you get a ThinkPad, it acts like a ThinkPad. Rarely does a slinky, fashionable computer get the ThinkPad badge but instead these are computers with few frills intended for years of use. The ThinkPad T16 Gen 1 embodies this no-nonsense, function-over-form design. Its most distinctive features are its big screen and wide keyboard, both of which make this big machine perfect for an all-in-one workstation.
Just about everything else about this big, slim wedge is made for getting down to your spreadsheets, emails, and Word docs. Its lightly textured plastic gives it a durable feeling, like it'd be able to sustain some bumps and jostles during its service lifetime. Since it is such an expansive laptop, it has a little bit of flex, but very little of that matters once you place the T16 where you'd likely use it–on a desk. With its rubber feet sitting stably on a work surface, the T16 stays planted very nicely. In an office setting, I can see this working well on its own, or in a hotdesking scenario hooked up to external screens with a Thunderbolt hub.
While I found it to be a bit big for a café table (and you probably won't be using it on an airplane's tray table), the slim profile makes it easy to fit into a bag meant for a 15-inch laptop. If you've ever thought about getting a portable USB-C powered display for your small ultrabook, you actually might be better off toting one of these big-screened workstations instead.
Lenovo ThinkPad T16: Connectivity
IDG / Brendan Nystedt
Although it's as thin as a smaller ultrabook, the Lenovo ThinkPad T16 manages to fit the ports you'd want in 2023. It has not one but two Thunderbolt 4 ports, a full-size USB 3 port, a full-size HDMI port, a 3.5mm headset jack, and even a full-size RJ45 ethernet jack all along the left side of the device. On the right side, there's a well-placed USB 3 port, perfect for a corded mouse if you're righthanded. Overall, for a device in 2023, it represents a wide variety of options, meaning if you have few enough peripherals the T16 might even be suited for desk duty without a dock or dongle.
Wireless connectivity is exactly what we'd expect from a modern, Intel-based laptop featuring WiFi 6E and Bluetooth 5.1. As some organizations might want mobile wireless as well, Lenovo offers up cellular, although our model didn't come with 4G or 5G. Finally, if your org uses smart cards, there's a spot for an optional smart card reader as well.
Lenovo ThinkPad T16: Keyboard and trackpad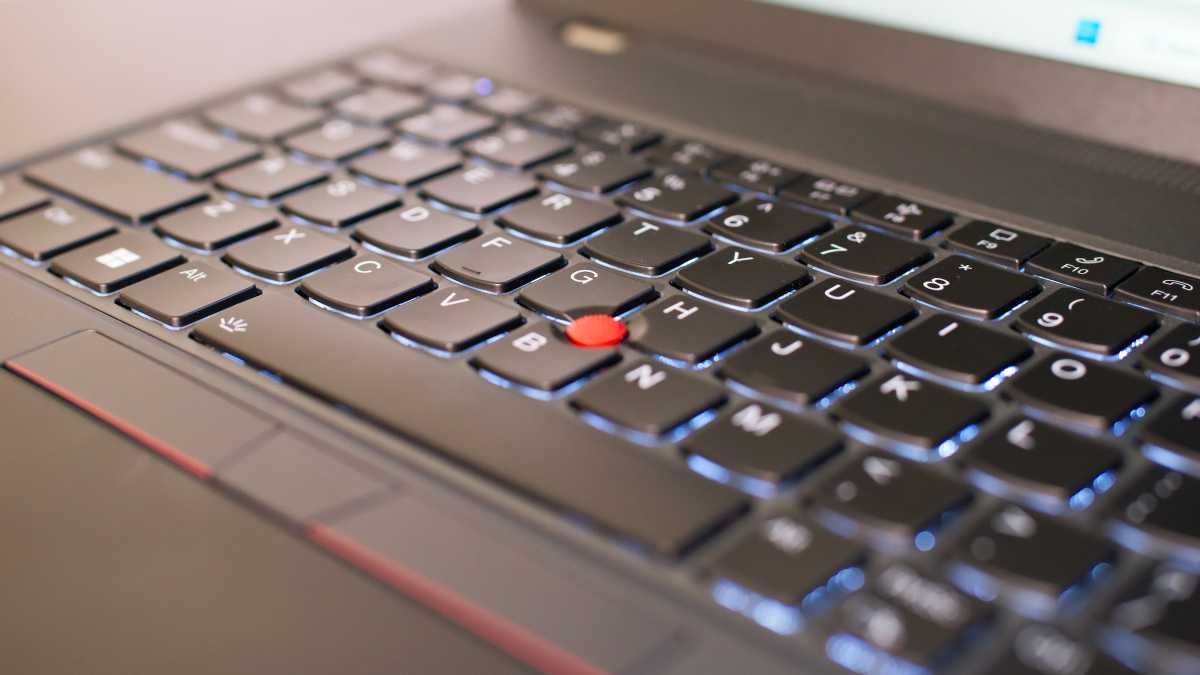 IDG / Brendan Nystedt
Keyboard quality is a hallmark of the ThinkPad brand and the T16 is no exception. It has a light-but-precise-feeling keyboard with comfortable keycaps and I was happy to write the majority of this review on it. Given the big, 16-inch display inside the T16, there's extra space on the right side of the keyboard that's given over to a numpad. While I've seen some laptop keypads crammed into smaller laptops with uncomfortable narrow buttons, the numpad on the T16 looks and works like a natural extension of the keyboard.
The big touchpad is perhaps less up to par here, and I found it to be overly sensitive and often hijacked my cursor while I was trying to work. The palm detection in particular wasn't well-tuned by default and since the trackpad takes up a good portion of the wrist rest, it's an issue I ran into frequently. Its surface is supposedly made from a slippery mylar, which feels fine but it's a definite downgrade from a glass material.
Real ones know that ThinkPads also come with an alternative to the trackpad, which is called a TrackPoint. This red nub in the middle of the keyboard lets you use the mouse without moving your hands down to the trackpad. It's an acquired taste, but the TrackPoint is pretty awesome once you've mastered it. With three buttons (the middle lets you scroll when held down), it's a far better option for high-precision mouse use.
Lenovo ThinkPad T16: Display, speakers, and webcam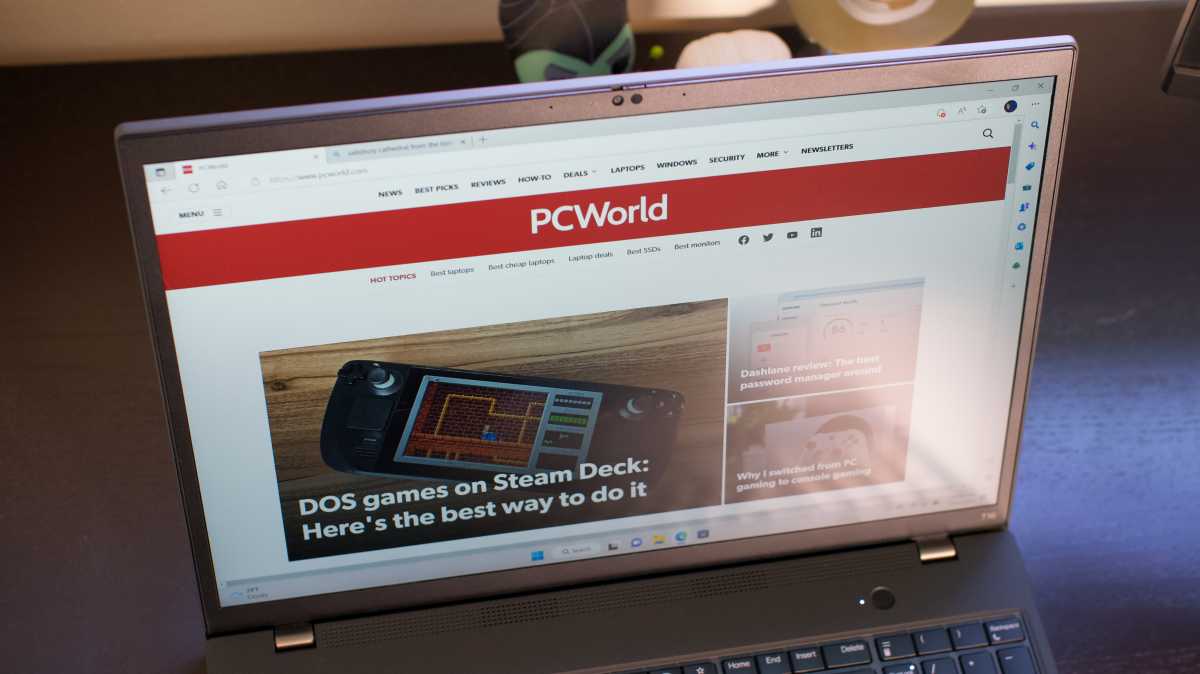 IDG / Brendan Nystedt
The star of the show here is the ThinkPad T16's honkin' huge 16-inch widescreen IPS LCD. Although it's not 4K or any other bananas high-resolution, at 1920×1200 and with a usefully-tall 16:10 aspect ratio, it's still an excellent default option. The 300-nit peak brightness of this matte-finished panel was also just right, making glare a non-issue in every location. Assuming you're tackling ordinary business tasks and not video editing or graphic design jobs, the T16's big screen feels so much more expansive than a usual ultrabook than the extra 2 or 3 inches on paper may suggest.
While I was hoping for impressive audio performance from the ThinkPad T16 Gen 1, I came away disappointed. While the twin 2W speakers are fine, they're blown away by other, smaller laptops packing twice the speakers with a offering far "bigger" sound. It's workable if you're mostly listening to meetings on Microsoft Teams, but if you like to crank up some jams while you get down to business you might want to grab a nice pair of headphones instead.
The webcam is another mixed bag. Although I loved that it has a physical shutter and supports Windows Hello face login, it's not particularly great at making faces look their best or sharpest (it has a maximum resolution of 1920×1080, and looks rather noisy). I found that in a café involving mixed warm indoor and cool outdoor lighting, it was unable to make me look like anything but a ghost. Compared to other cameras I've tried lately, this is passable but not ideal.
Lenovo ThinkPad T16: Performance
In terms of performance, the ThinkPad T16 Gen 1 is a bit of a sleeper. Although it's a plain-looking business workstation, it's quiet and powerful. The 12 core, 16 thread Intel Core i7-1270P has a 28W TDP, and the bigger laptop body means it's kept cool and quiet even at full tilt. We put the T16 through its paces with our suite of benchmarks and found it to be competent and capable of ripping through typical business tasks, but probably not graphically intense chores like 3D games or creative work.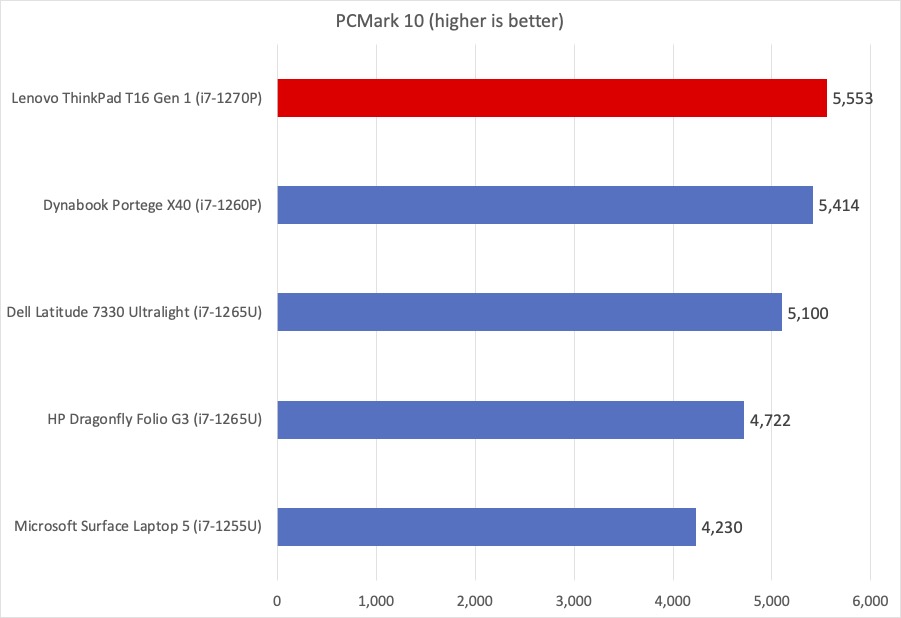 IDG / Brendan Nystedt
We use the PCMark 10 benchmark to get a repeatable, comparable look at a laptop's abilities in a range of normal tasks. With all its cores, the ThinkPad T16 Gen 1 handily beat other thin business notebooks, and bested many of its smaller business rivals. There's little doubt that for complex analysis work, you shouldn't end up waiting long at all.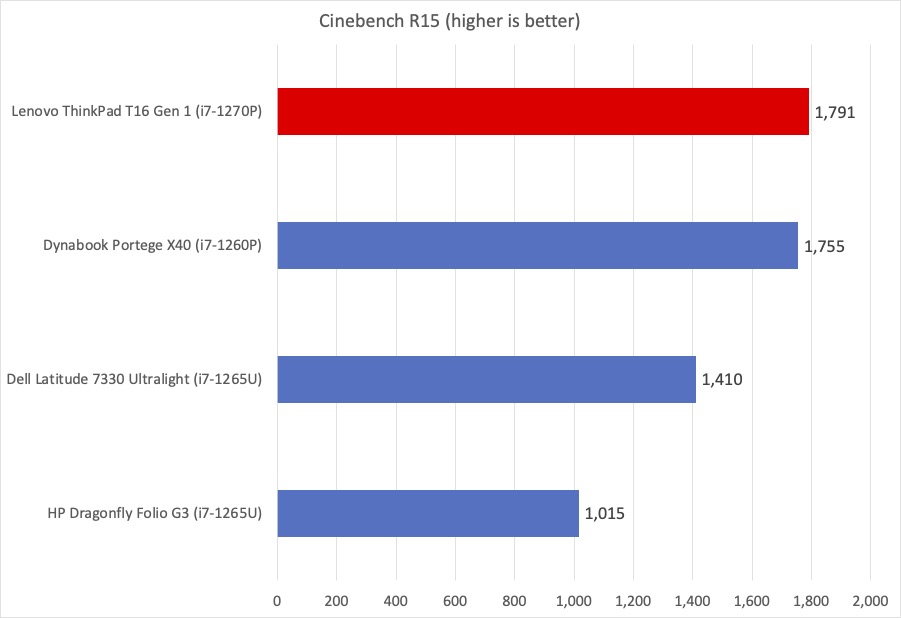 IDG / Brendan Nystedt
In this performance test, we use Cinebench R15 to get a sense for how well all a laptop's processors work together to render 3D graphics. With its dozen cores, the ThinkPad T16 held up quite well. It's clear that the extra threads as well as the bonus performance cores in the Intel P chips make a difference in these types of scenarios.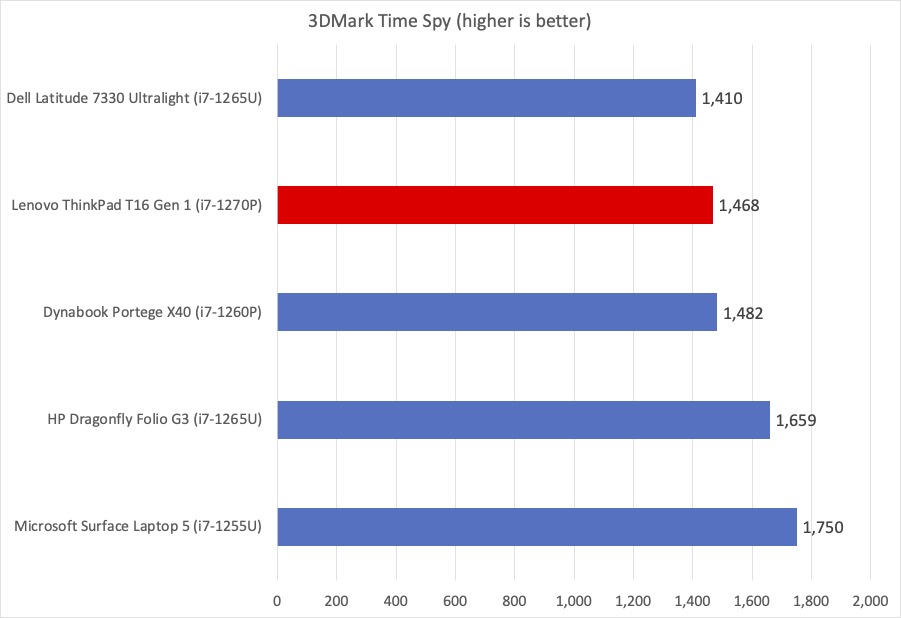 IDG / Brendan Nystedt
Your boss would love knowing that you have a ThinkPad T16 simply because it's rather mediocre at graphically-challenging tasks like gaming. The i7 chip inside has Intel's latest Xe Graphics onboard, but tested behind some other models with more graphics cores when we threw an the 3DMark Time Spy test at it. Rest assured that if you aren't planning to secretly play Halo Infinite at work, the T16 should handle business-oriented tasks without struggle.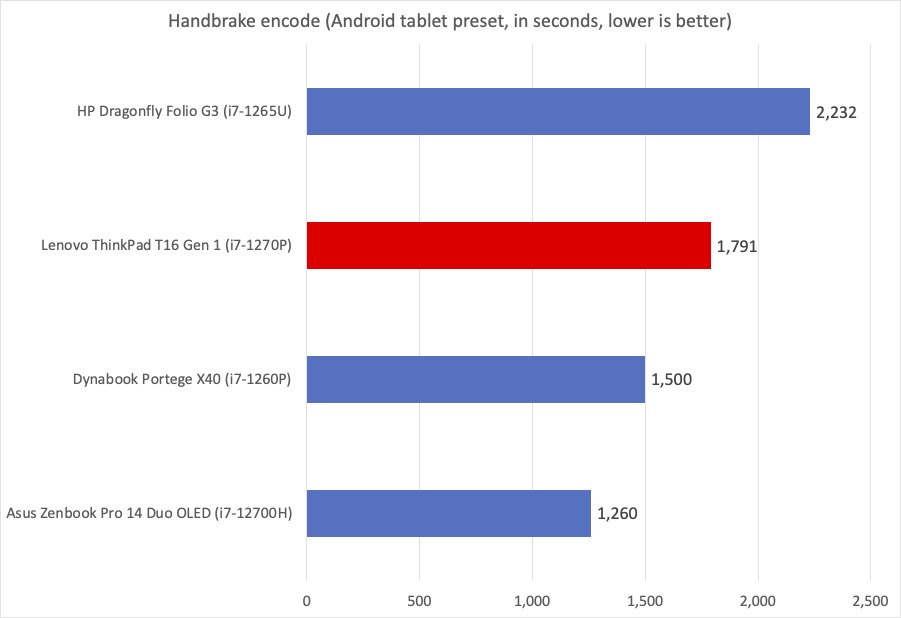 IDG / Brendan Nystedt
Our last performance comparison takes a look at video encoding, using a high-definition file ripped from a Blu-ray disk. Using Handbrake, we time how long it takes to turn the movie into a tablet-friendly file that's heavily compressed. In this test, the T16 was crushed by the high-powered Asus Zenbook Pro 14 Duo with its powerful i7-12700H chip, but bested the U-class processor seen in machines like the HP Dragonfly Folio G3.
Lenovo ThinkPad T16: Battery Life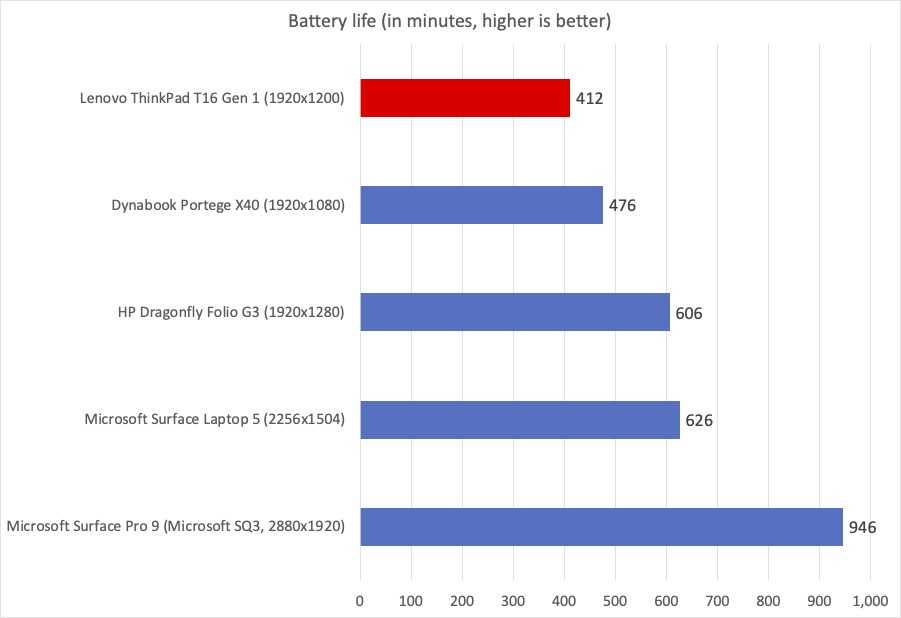 IDG / Brendan Nystedt
Even though it's a slim notebook, the ThinkPad T16 Gen 1 has a fairly large battery inside, clocking in at 86Wh. In our looping video test, we measured just under seven hours of runtime.
This means it can last a decent amount of time while away from a charger, although its big screen and higher performance P-class chip seem to suck down more battery. ARM-based like the Surface Pro 9, with the SQ3 chip, continue to offer the best battery life around, but we do wonder if there will ever be a big-screened laptop with that kind of processor inside.
Lenovo ThinkPad T16: Conclusion
It isn't surprising that the Lenovo ThinkPad T16 Gen 1 is a capable workhorse. After all, the ThinkPad name still stands for something and that something is getting work done. While I wouldn't recommend it for heavy graphics tasks or intensive editing in Adobe Premiere, this is a single machine that bridges the worlds of office desktop and laptop roles with aplomb and as little nonsense as possible.
If you're considering the T16 for yourself or people in your organization, you'll appreciate the quality keyboard, full-sized numpad, capable processor, and big display. For people who manage databases, tackle a ton of email, or hardcore spreadsheet jockeying, this is the portable, powerful work laptop that can help you stay in the zone at a desk or on the jobsite.