At a glance
Expert's Rating
Pros
Very fast and precise 26,000 DPI sensor
Well-proportioned and very comfortable
The quickest buttons I've ever used
Cons
It would have been more convenient for the DPI button to be placed where the RGB button currently sits.
Mac users will have to wait on the software app
Finding the M3 at the biggest online retailers was hard
Our Verdict
The Keychron M3 redefines wireless gaming mice, being ultra-light, very powerful, and most importantly, extremely affordable, also coming with everything you will ever need for seamless connectivity right out of the box.
Best Prices Today: Keychron M3
In their quest to make gaming mice as unique as possible, companies are coming up with some fancy designs. But having an unusual design doesn't always translate into better performance. I mean, who really needs a mouse that looks like a Klingon mother ship, anyway?
Keychron, by comparison, has added straightforward, but stylish devices to its most recent peripherals lineup, championing practicality over flamboyancy and it's excellent news for gamers. In fact, by homing in on the timeless basics, those undeniably winning features that make every gamer perform better, Keychron's gear is really flaming-hot right now.
Take the Keychron M3, for example: It dispenses with a schmancy design, instead showing off a streamlined, lightweight, and comfortable body, stellar finger grips, and quick and responsive buttons—things I actually care about. It also sports a flawless 26, 000 DPI optical sensor, thereby adding a very respectable level of power—and all for just $49.
Keychron M3: Design
Wireless gaming mice can suffer "heavy-mouse prejudice," since all that useful wireless gadgetry can weigh them down substantially over their wired counterparts—and every competitive gamer knows it.
In fact, some gamers will avoid them altogether, equating any extra weight to worse performance—especially for FPS games where speed is of the utmost importance. The Keycron M3, however, smashes that stereotype with its 79 grams feeling disarmingly light and quick—especially given it has the full gamut of connectivity options: 2.4GHz low-latency Wi-Fi connectivity as well as Bluetooth 5.1 and wired connectivity via its USB cable.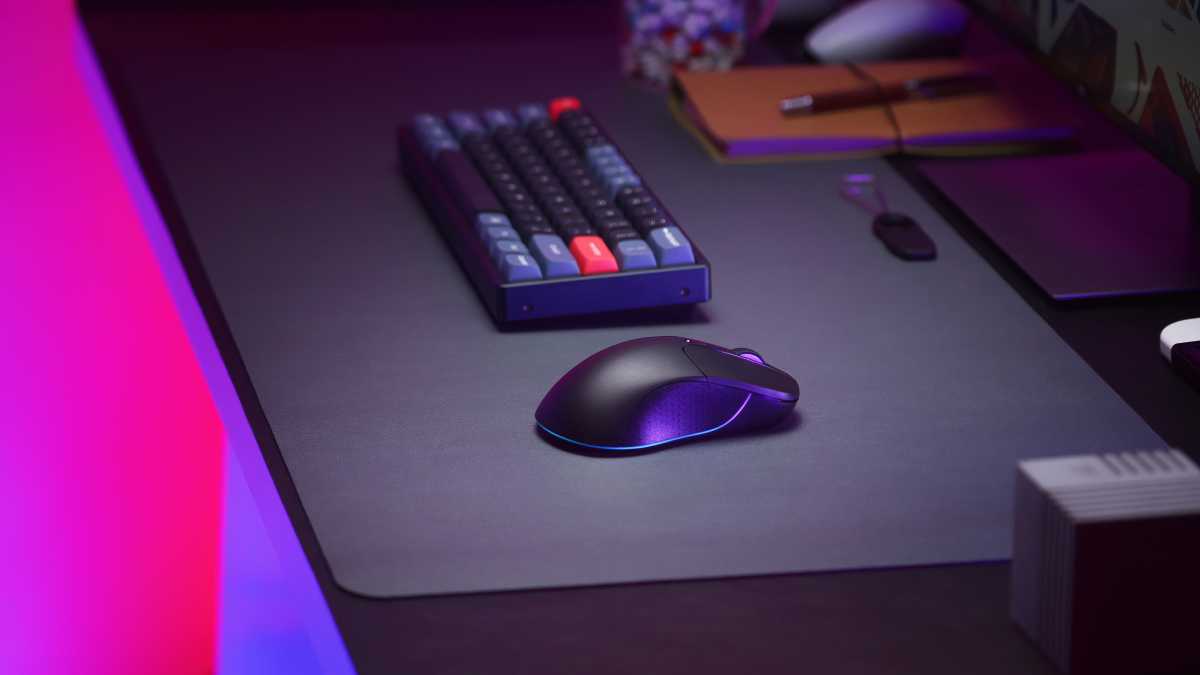 Keychron
This one factor alone makes this mouse worth buying, but if you need other reasons, there are plenty. The M3's proportions are another big one, being just perfect for any kind of precision movement you care to do. It measures a well-proportioned 4.9 x 2.7 x 1.6 inches. While this won't mean much unless you have your ruler handy, check out how well it fits my hand in the image below…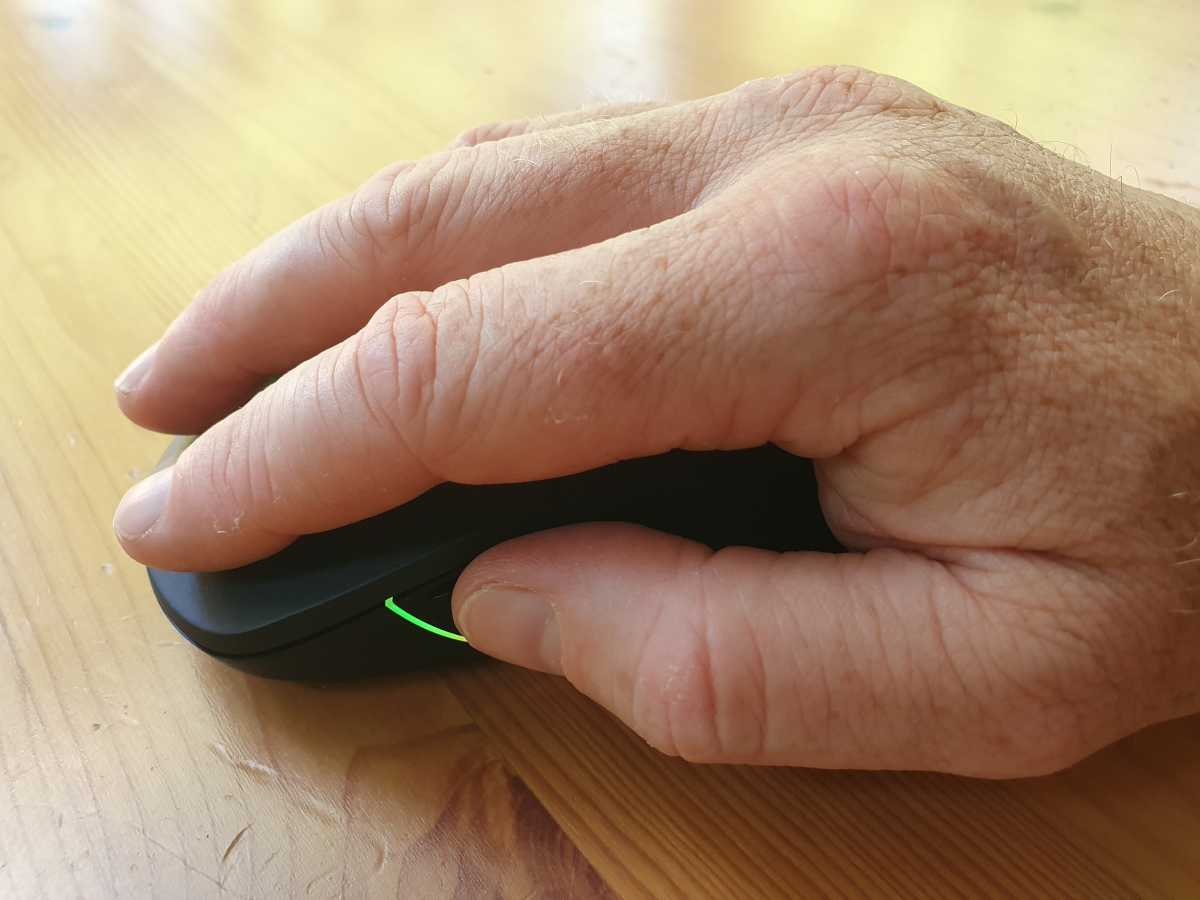 Dominic Bayley / IDG
I found there was no overhang at the front, so I never felt too squashed or cramped. Up top, too, my digits weren't too spaced apart that I lost any of my mechanical leverage or trigger speed. Additionally, all six buttons on the top were always within my reach, including the two left-side buttons that can be awkwardly positioned in some mice.
The top is noticeably tall, which is just ideal if you want to get down and tango in firefights with foes at long range. It nestled nicely into the palm of my hand, giving me really fine control of movement down the centerline rather than from my wrist—so targeting was very accurate and there was also little chance of me developing any painful RSI.
Then there are the grips and the customizable RGB lighting, both of which deserve praise. The RGB forms a ring around the base and inside the mouse wheel adding a nice touch of flair, while the grips are some of the most sensible, I've used. They seem to stick your fingers like glue, really heightening your sense of control. Plus, I'm not going to lie, putting on my own grips out of the box can be as fiddly as hell, so it was a real relief knowing they came molded into the device, right out of the box.
Keychron M3: The buttons
Apart from the two left-side buttons, on top you get two main clicks, a sturdy mouse wheel, and an RGB button for switching RGB profiles just behind it. It's a familiar setup that will do well for most of your gaming needs.
If I could change one thing, I would have switched the placement of the RGB toggle button with the DPI toggle button on the mouse's underside. Both are great to have, but being able to switch DPI settings without lifting the mouse is far more valuable than changing up how your mouse looks, when performance depends on it.
Still, thanks to these two buttons and an additional polling and connectivity mode buttons underneath, you can change almost all the settings you need without having to go into the Keychron Engine companion software app—which means you can stay gaming for longer.
Dominic Bayley / IDG
That said, Engine M3 is great little app that lets you assign all of the M3's buttons and make changes to more specialized settings like your mouse's lift off distance—so it's well worth a visit between games, when you do feel like taking a breather. A Windows 10/11 version of the software is currently available; however, Mac users will have to sit tight for a Mac version to arrive, which Keychron says will likely be in June 2023.
Keychron M3: Performance
The M3 boasts a PAW3395, a flawless PixArt-branded sensor that you'll commonly find discussed on Reddit, and in other corners of gaming forums, as one the best around. A quick glimpse of its specifications shows why. I've got to admit, I was super eager to try it out.
To summarize, it has a maximum resolution of 26,000 DPI and a tracking speed of 650 IPS (inches per second). A top-level acceleration of 50g, polling rate of 1,000ms, and adjustable lift-off distance of 1 to 2mm round out the drool-worthy attributes that gamers will love.
All things considered, I found it to be a killer performer, smoother and less labored than sensors like the PixArt PAW3370 and PAW3335. It's without a doubt going to make your precision gaming even tighter if you pride yourself on hitting small targets. From spinning around to catch foes behind my position, to zipping my cursor up to catch snipers dug into the peskiest camping spots, it handled just about every movement I tried on it without a hint of lag.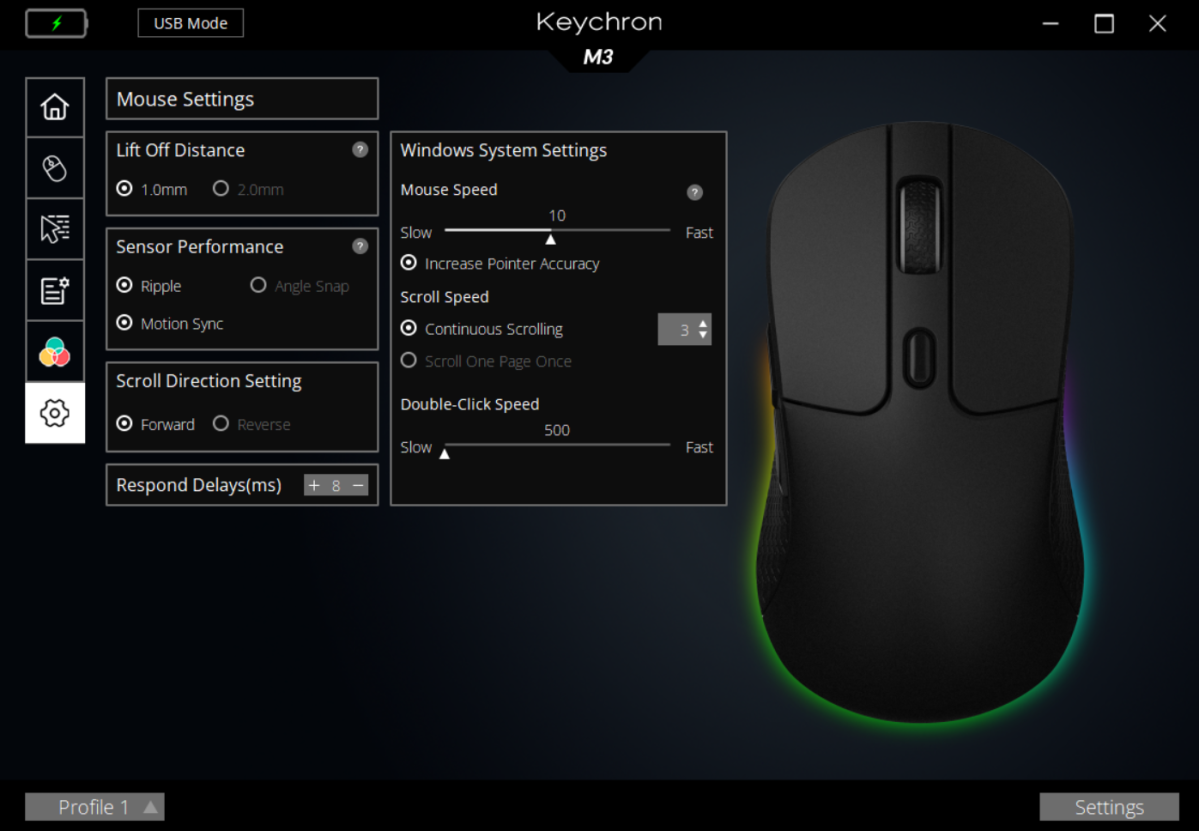 Dominic Bayley / IDG
In fact, it's so quick it feels like your crosshairs arrive long before your brain has time to register what the heck you're doing, which means there's plenty of scope to improve your responsiveness—especially in games like Fortnite and Call of Duty: Modern Warfare II, where microseconds can make a big difference to your play.
The buttons, too, feel very light and frighteningly fast. They'll equally challenge your reflexes for speed, seemingly only limited by how fast you can trigger them. They feature Kailh G Master 8.0 Micro Switches, which are rated up to a maximum of 80 million clicks—here's a mouse that will last you a very long time, no matter how much gaming you do per day.
Should I buy the Keychron M3?
At just $49 the Keychron M3 already seems astronomically cheap for a 79 gram, RGB gaming mouse with a 26,000 DPI sensor and dual wireless / wired connectivity. But what you get in the box should seal the deal if you're still teetering on the brink of deciding.
While some gaming mice offer just a single dongle or wired USB cable with adapter, with the M3 you also get an extra dongle thrown in—so you get both USB-C and USB-A dongles, plus a USB-C cable with a USB-A adapter and extension adapter. For $49 this is fantastic value and another reason the Keychron M3 will undoubtedly just zoom off retailers' shelves this year, so it might be worth snapping one up before they do.