Arriving today, Microsoft's latest Windows 11 feature update grants access to Bing AI Chat within the OS; lets you quickly record a video snapshot of your screen; can help lower your power bill; and will eventually let you control your iPhone directly from your PC.
The Windows 11 February 2023 feature update is actually more of a "Moment," the name given to the small feature updates Microsoft tacked on to the Windows 11 2022 Update or 22H2. Microsoft called the October 2022 release of a new tabbed File Explorer and other features a new "experience," but has called this release "an update." You'll probably still see the winver command refer to it as "22H2."
Either way, there are several new features to talk about. Keep in mind, though, that new Windows 11 features are delivered in two ways: Integrated Windows additions as well as apps. The former updates include the updated Bing AI Chat, controls for Windows Studio Effects, and more usable UI for tablets and 2-in-1 PCs. However, the manufacturer is also providing new or updated apps for Phone Link (with the new iPhone support as well as improved Android interactivity), an updated Chat app, and a redesigned Widgets and Quick Assist app.
How to get Windows 11's February 2023 update
A preview of this new Moment 2, released to the Windows Insider Release Preview Channel last week, was still labeled as "22H2" within Windows. (It didn't include the new, integrated Bing Chat.) You don't need to be in the Windows Insider program to access the new update, however.
To access the new update, Microsoft recommends that you open the Windows 11 Settings menu and go to Windows Update. Click the "Check for updates" button. You may see the new updates immediately or your device may have to wait. If you don't initially receive the update, it will be delivered as part of the March 2023 security release, Microsoft said.
Remember, Microsoft also updates individual apps via the Microsoft Store app. Open the Store app, navigate to the Library icon down in the bottom left-hand corner, and then click the "Get updates" button in the upper right-hand corner.
Edit 8:45 AM: Instead of using Windows Update to manage the update, update the Store apps first. The Windows update appears to be pushed via the Windows Web Experience Pack, and you should see the update after updating that app and rebooting your PC.
What's new in the Windows 11 February 2023 update
Bing Chat
The February 2023 update to Windows 11 is most noteworthy for its integration of Bing Chat, the AI-powered chatbot that Microsoft launched on Feb. 9. Though Bing Chat has traversed a whirlwind arc since then, providing unpredictable responses including racist slurs, unexpected creativity, and even vague threats before Microsoft limited Bing's interactivity and dialed down its personality, the controversy has helped interest in Microsoft's new chatbot surge.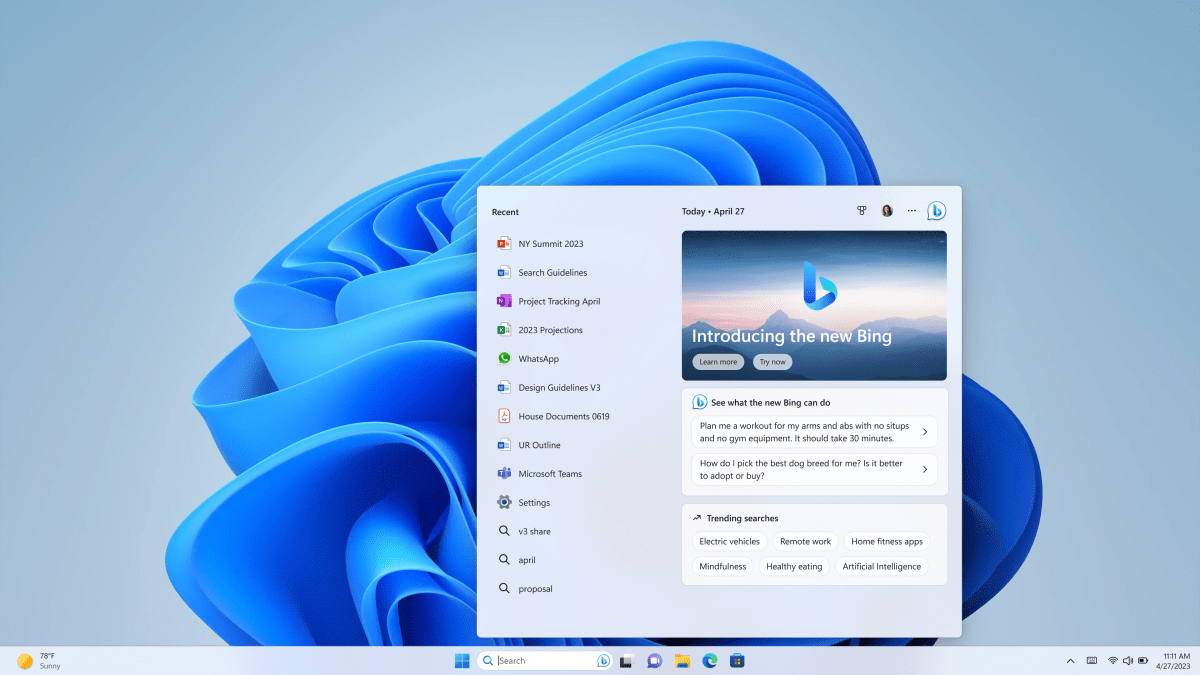 Microsoft
Microsoft's latest Windows 11 preview tweaks the Search box on the taskbar, allowing you to type into the search box itself, like Windows 10. The actual update will allow you to translate that search term into a chat, much like you can do with the search box on Bing.com or in some versions of Microsoft Edge. What the update will not do is open the Bing Chat waitlist to all; you'll still need to wait until your virtual number is called. (You can already run Bing Chat or ChatGPT as a Windows app, provided you have access.)
Entering terms in the search box appears to open the Windows 11 Search box, which includes recent documents and apps, and allows you to enter your full query. It appears, however, that Windows and Bing will answer your response in a Web browser rather than within Windows itself. (It's unclear whether Microsoft will enforce using Edge to hold chats with Bing, but it seems likely—Microsoft encouraged users to make Bing and Edge their default search engine and browser, respectively to help boost them up the Bing Chat waitlist. But Yusuf Mehdi, Microsoft's chief consumer marketing officer, has also said that "over time we intend to bring it to all browsers.")
An updated Phone Link for iOS and Android
Microsoft is also updating Phone Link, its app to connect your phone and your PC. Updates for Android phones will arrive with the February update, though Microsoft is characterizing the iPhone update as a "preview," and it's only available for members of the Windows Insider program right now. (We would expect that the iPhone update will roll out soon, however.)
Tweaking Phone Link (formerly known as Your Phone) to accommodate iPhones is an unexpected addition, though you'll probably notice a key limitation right away. On Android, Your Phone allows to manage and control your Android phone via a Windows app on your Windows desktop. Not only can you place phone calls from your PC, but you can also send and receive texts, see notifications, and even interact with apps on your phone.
Unfortunately, the preview version of Phone Link for the iPhone only allows some basic functionality. You can place calls, access contacts, and send and receive texts, with Windows notifications popping up whenever appropriate. Connecting your iPhone to your PC takes place via Bluetooth.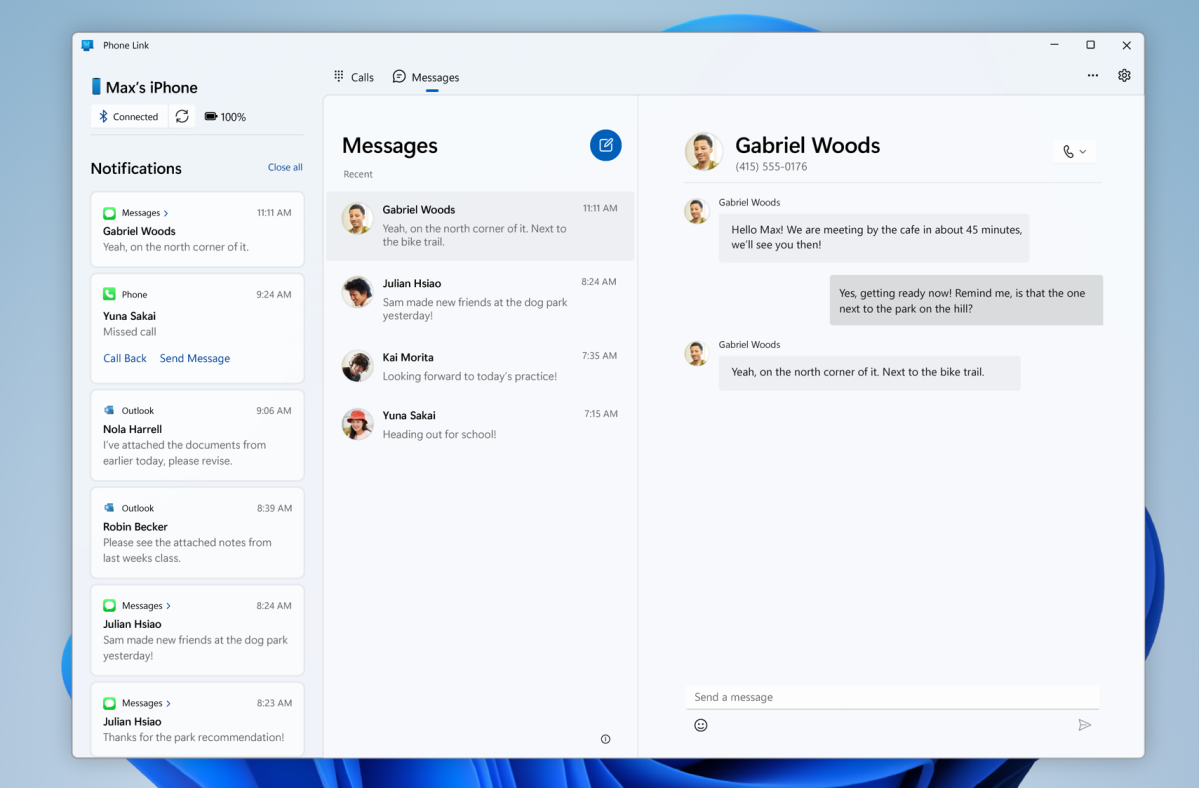 Microsoft
However, that's all you can do, for now. Apple iPhone users will immediately recognize that only texts are supported, not iMessage. (For this, you'll need Intel's Unison app instead.) You won't be able to respond to any group texts, nor send media, either. Those are serious limitations for iPhone users, but hey, it's a start.
Android users, however, will enjoy a richer experience, but remember, Microsoft has a weird love affair with Samsung in that owners of Galaxy and other Samsung-branded Android phones enjoy more features than other Android phones do. In this case, the update adds the ability to turn on your phone's hotspot feature via your PC, and continue where you left off, the website that you were browsing on your phone can now be accessed via your PC.
Built-in screen recording with Snipping Tool
Users have a number of ways to record what they're doing within Windows, but they almost always require a separate app—Clipchamp, a Windows Web app that offers the ability to record your screen, is one exception.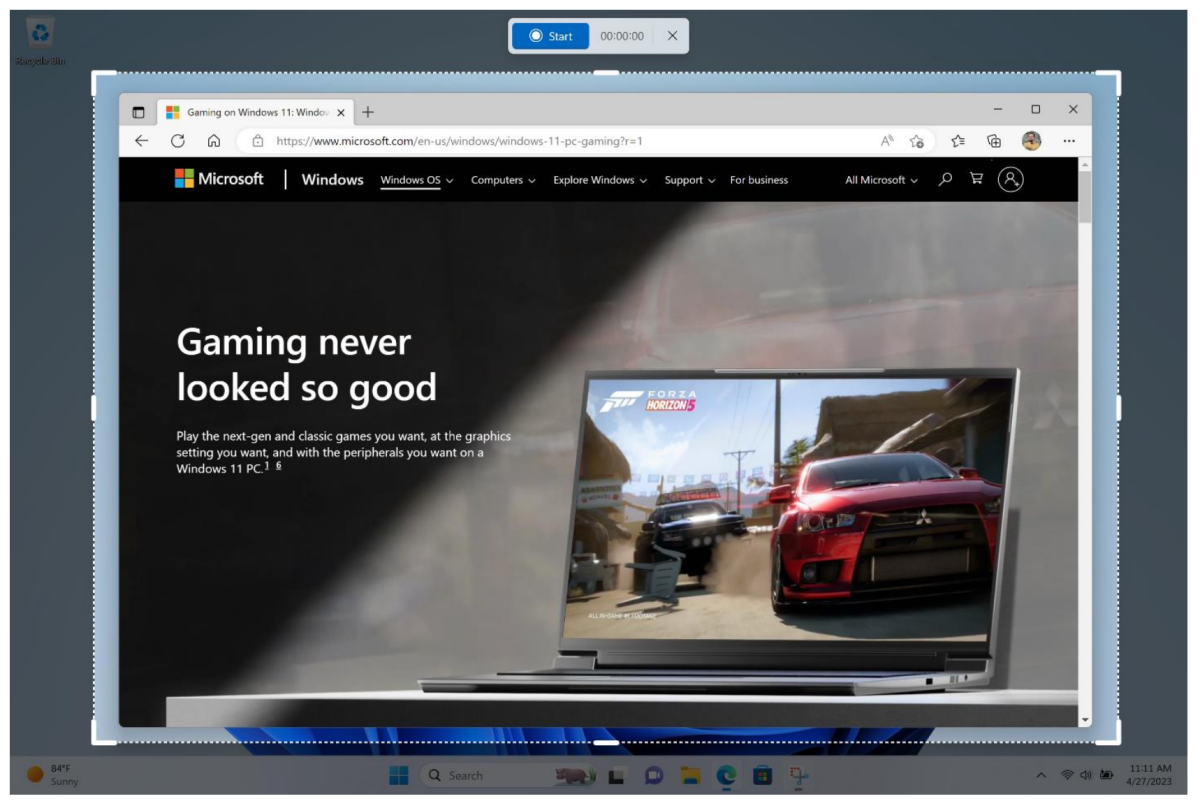 Microsoft
Of course, you've always been able to use the ancient "Print Screen" function, the Xbox app, or the more modern Snipping Tool app to take a snapshot of a PC's screen. What you haven't been able to do is record how you're actually using your PC. (Outside of an Xbox game, that is.) That's what the new Snipping Tool screen recorder does. All you have to do is click it to start recording and click it again to stop. Voila! You now have a quick clip to share with friends.
An AI-powered Start Menu and File Explorer
Windows Pro users, rejoice! AI will begin (actually) recommending files in the Start menu and in File Explorer. Remember, the "recommended" files within Start are the most recent files you've used. Now, a Windows 11 Pro user who is joined to an Azure domain (aka, a business user) should find that Windows is recommending files that would be useful for your next meeting.
Likewise, Microsoft is also promising that File Explorer will start promoting recommended files as well. It's also promising faster search, though it's not clear whether that's simply through advanced indexing or trying to anticipate which files you'll soon be searching for.
Use Windows to help lower your power bill
Windows now includes a new "Energy recommendations" (Settings > Power & battery > Energy recommendations) to help mitigate the impact your PC has on your power bill. Remember, even a laptop can use dozens to hundreds of watts, and a powerful desktop can use even more. The new recommendations include everything from turning off your screensaver (turn off your screen instead!) to managing display brightness and color to putting your device to sleep quickly when not in use.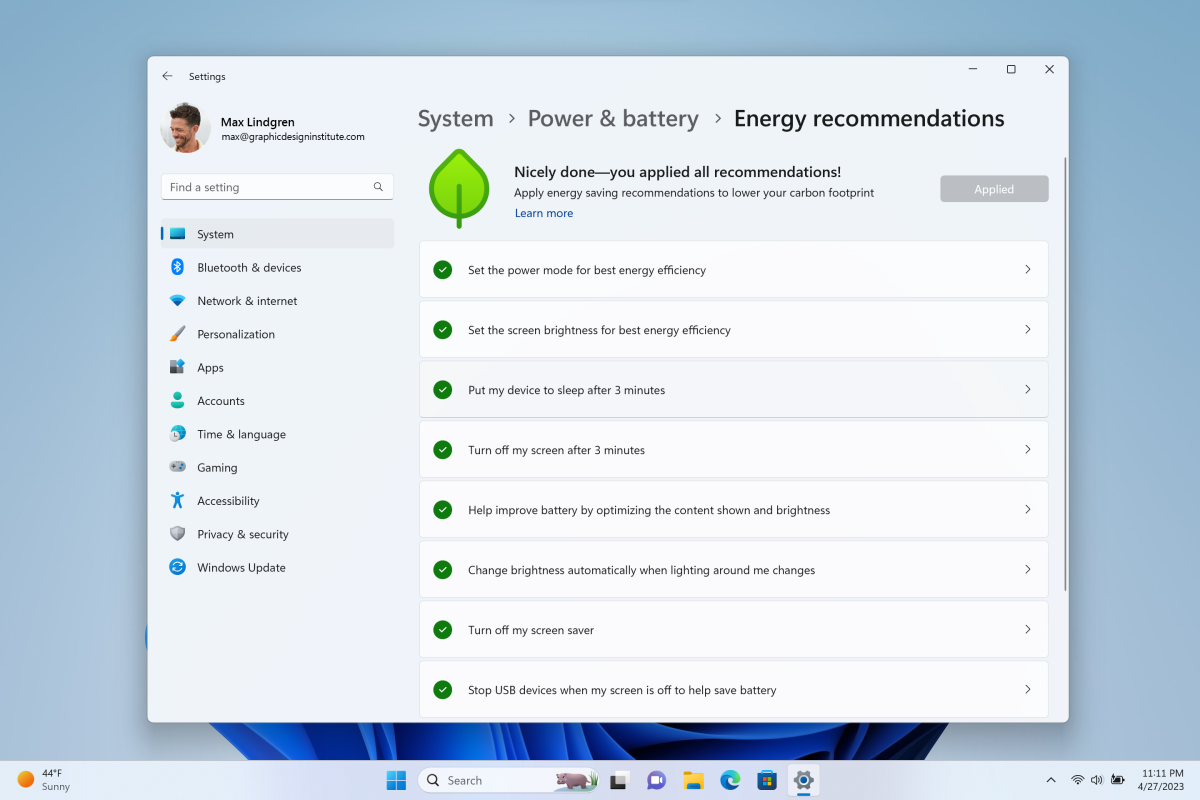 Microsoft
Remember, Windows Hello and SSDs should mean your PC resumes almost instantly, so there's no reason to keep your PC powered on if it doesn't need to be.
Widgets now support Facebook
We've been wondering when Widgets would integrate your social feed. A new look for Widgets—the hodgepodge of sports scores, weather forecasts, stock prices, and gossipy —now supports more content including Meta (Facebook) and Spotify. It's not clear what adding your Facebook feed will entail, since Facebook has traditionally used its site to gather its own data on your habits. From an example screenshot, however, it appears that Widgets supports Facebook Messenger, but not the full Facebook feed.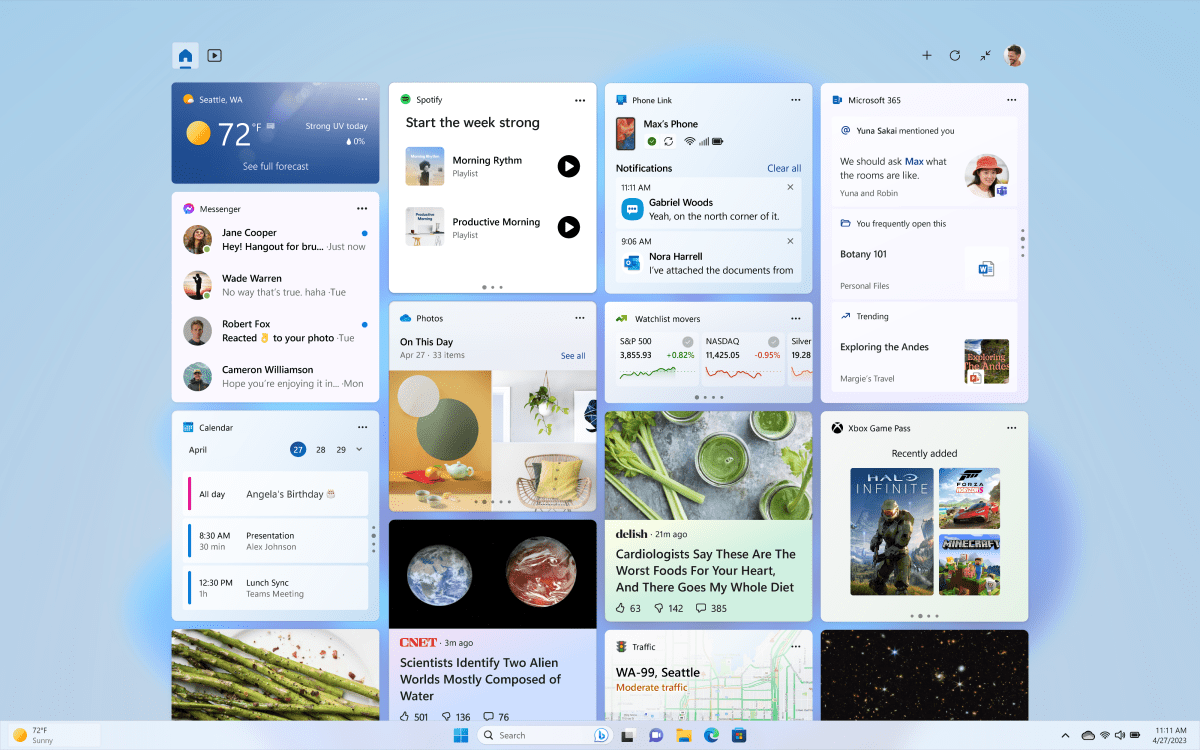 Microsoft
You'll also be allowed to add Widgets that include content from Xbox Game Pass and Phone Link, too, Microsoft says. Otherwise, you can always hide Widgets from view.
Improved Voice Access and Braille support
Voice Access was an intriguing introduction to Windows 11's 2022 Update (22H2). It's a way to orally control your PC beyond just mere dictation. The February update promises a "more flexible and enhanced solution," with improved scrolling support and support from apps from Word to File Explorer.
Microsoft is also promising improved Braille support, complete with three new "Designed for Surface" displays from HumanWare. These new displays will make switching between Narrator and other screen readers a "seamless experience," Microsoft says.
Quick Assist is now part of the Windows apps collection
You may not have had occasion to use Quick Assist, but chances are that you've helped out a friend or family member who are having troubles with their PC. With Quick Assist, you can do so without leaving your desk.
Quick Assist isn't new: a version of it has existed for years, dating back to Windows 10. But the premise is simple enough. If you're the tech guru, you can ask your friend or relative to let you take control of their PC, supplying them a code to authenticate that you're originating the interaction. Conversely, you can offer control of your PC to a friend or relative, letting them remotely diagnose a problem from afar. Obviously, you'll want to make sure that both sides trust one another.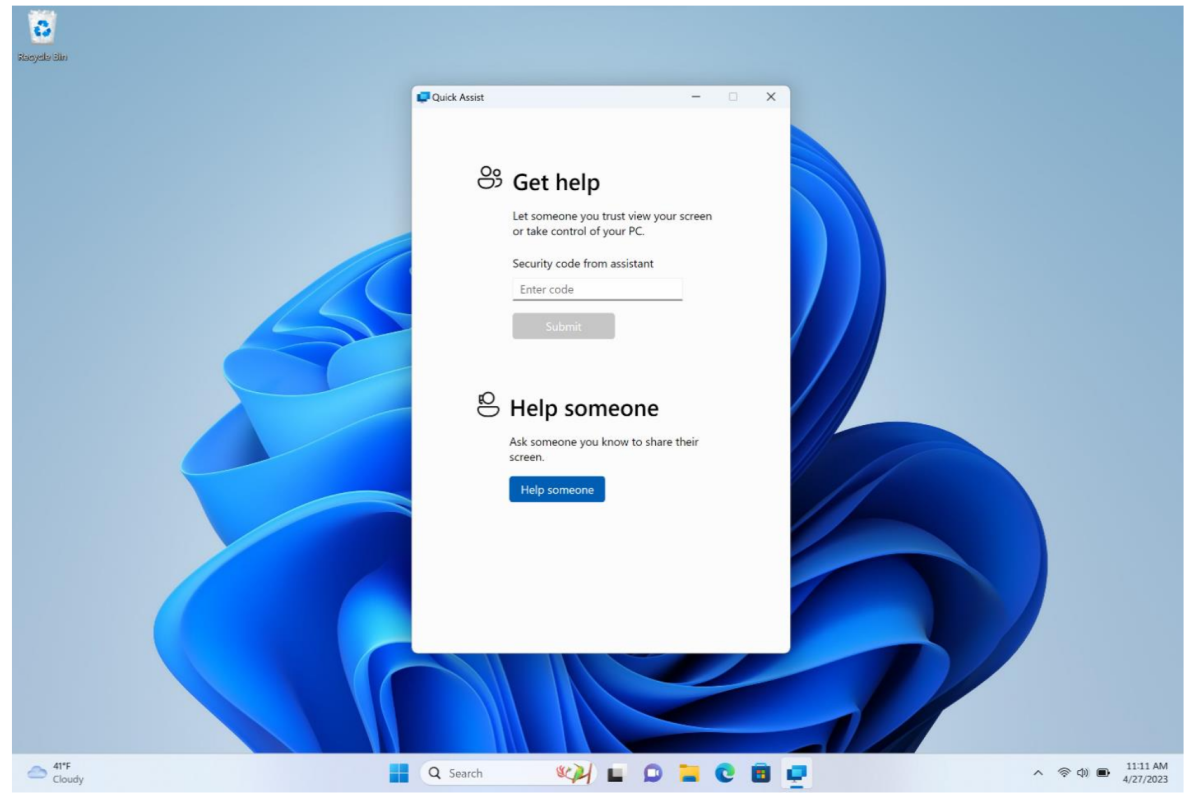 Microsoft
As long as the connection remains active, though, one party can "drive" the other's PC, taking care of whatever's needed. What's new is that the two parties can either share their screen or give up total control. There's also a new "laser pointer" that a user can use to highlight a control or button that the other can access.
A tweaked tablet interface
Microsoft already revamped the tablet interface for Windows 11 (in Windows 10, swiping in from the left opens the Task View; in Wndows 11 it opens Widgets) and it's tweaking it yet again. If you have a device like a Surface Pro 8 and detach the Surface keyboard, the Windows taskbar will now vanish automatically, instead of spacing out the icons. To see it again, you'll need to swipe up.
Smaller additions
Tabbed Notepad is here: Remember the tabbed version of Notepad that debuted in the Windows 11 betas this past January? It's now rolling out within Windows.
Windows Chat has a new interface: We didn't think you'd see much need for Windows Chat when Windows 11 first launched and we still don't—there are just too many other ways to connect with your friends. Windows Chat uses the consumer version of Microsoft Teams and only a devoted Microsoft fan will use it to connect to friends outside of work hours. However, Microsoft says that the Chat interface has been revamped and now makes it easier than ever to preview video before joining a call.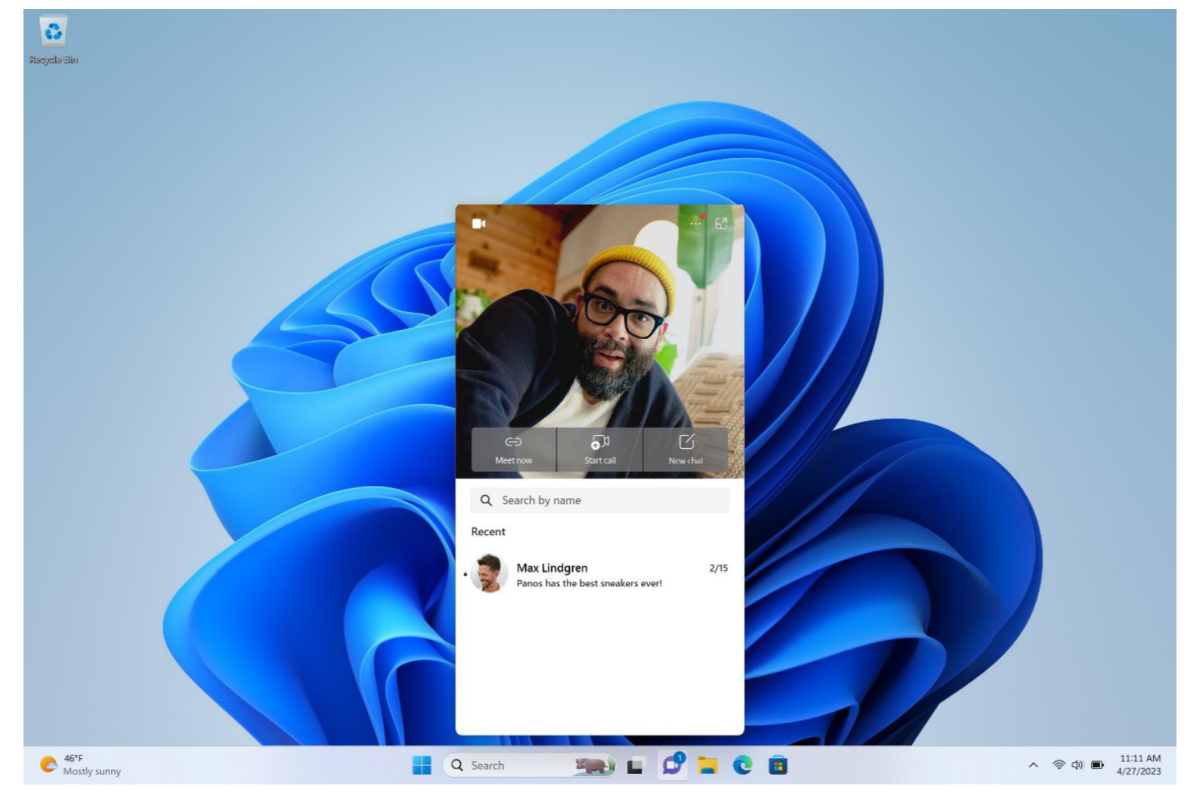 Microsoft
Windows Studio Effects join Quick Settings: This isn't that big of a deal now, but it may be in a year or two. Windows Studio Effects tap dedicated AI functions in processors like the Qualcomm Snapdragon processors for PCs as well as some 12th-gen Intel Core processors. They provide AI-powered enhancements for video calls such as background blur, noise filtering, and some unique camera auto-panning features as well as Eye Contact. (See our reviews of the Microsoft Surface Pro 9 (5G) and Samsung Galaxy Book3 Pro 360 for more.) Intel has already said that future processor generations will include dedicated AI blocks and AMD is expected to follow suit.
All Microsoft is doing is hauling out the Windows Studio Effects controls and placing them in the taskbar's Quick Settings, setting the stage for the future.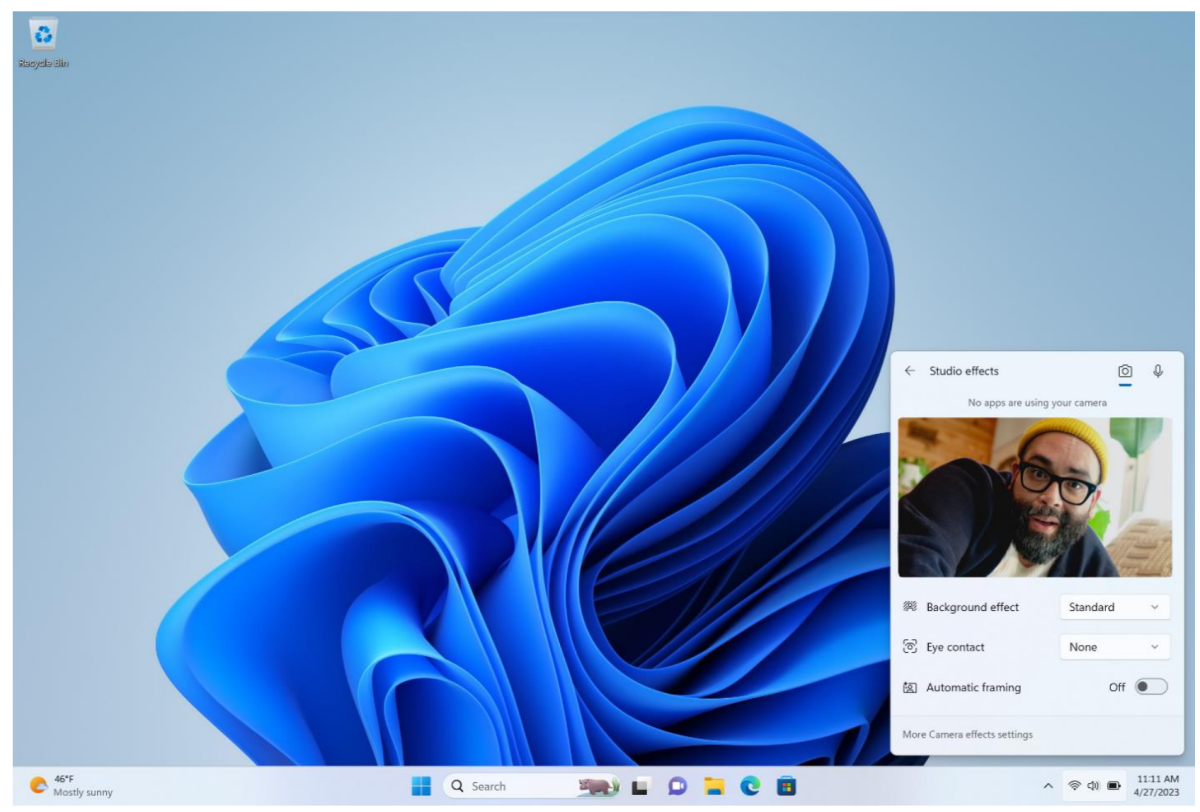 Microsoft
Windows 365 app now accesses a Cloud PC: If you have a Windows PC, we doubt you're also using a Cloud PC, unless it's for work. But now you can use the new Windows 365 app to manage your PC-in-the-cloud as well.
This story was updated at 8:47 AM with additional details.