If you're like me, you switched to using chipped payment cards and Apple Pay whenever possible for all your in-person, phone order, and online purchases. Apple Pay requires that you enroll credit and debit cards, and the backend infrastructure handles the whole security part for you. Safari for macOS can relay to an iPhone, iPad, or Watch for Apple Pay authorization if the Mac lacks Touch ID (built-in or enabled through a Magic Keyboard with Touch ID).
However, you can also manually enter card information into Safari. In macOS, that's via Safari > Preferences/Settings > Autofill by clicking Edit next to "Credit cards." In iOS/iPadOS, go to Settings > Safari > Credit Cards. You provide your name as it appears on the card, its number, its expiration, and the verification code found printed on the card. This information syncs via iCloud Keychain if you have that enabled.
When you use autofill to enter a credit card, Safari draws from its local data store:
If you enter the verification code (most frequently labeled a CVV or CVC) in Safari's autofill settings, Safari will fill it if it recognizes the field after you use Touch ID, Face ID, or your device password.
If you don't enter it in Safari's card preferences, you can reserve this as an extra step for yourself–another bar to avoid accidentally spending or give yourself more time!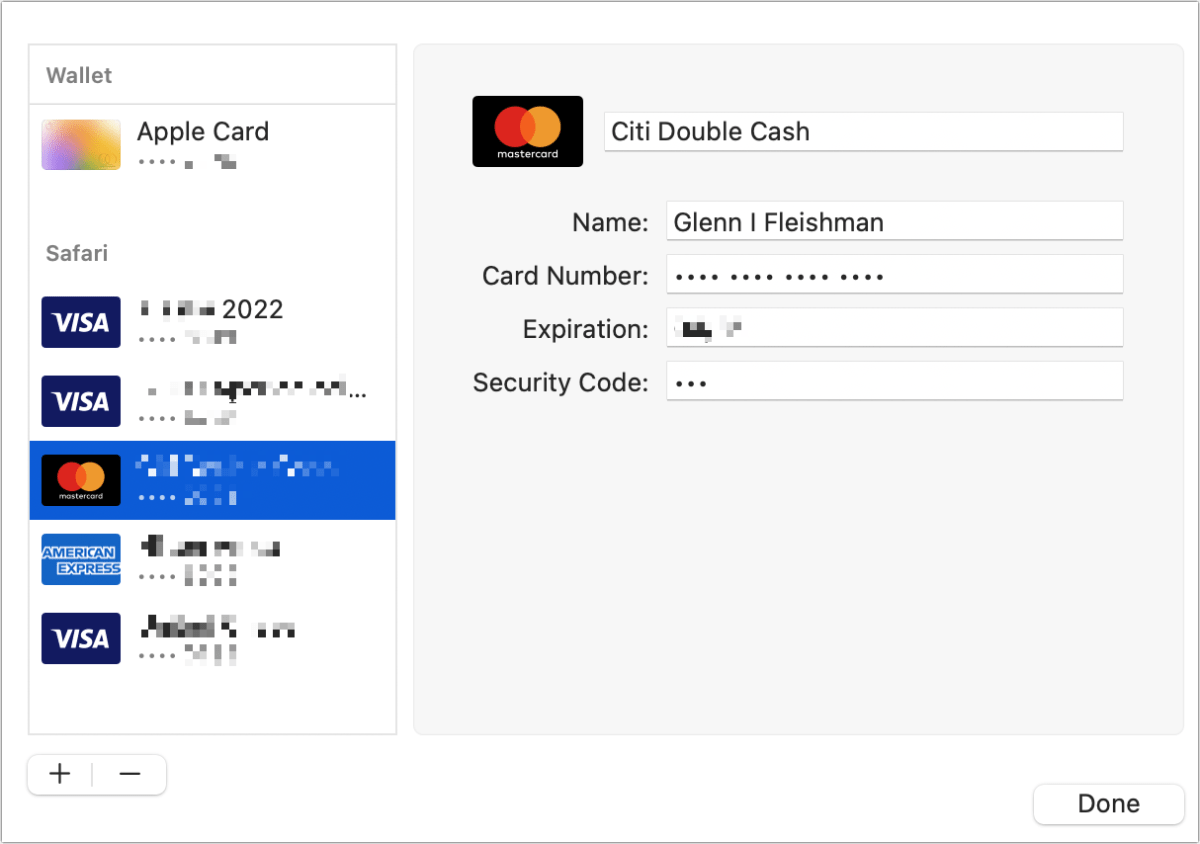 Some sites do engineer their forms to prevent automatic verification code filling. In that case, you can:
Look it up on your card to enter.
Pull it up from a password manager, like 1Password, if you store it there.
Go to Safari settings (easier on a Mac) and click or tap the Security Code field to reveal the number.
Ask Mac 911
We've compiled a list of the questions we get asked most frequently, along with answers and links to columns: read our super FAQ to see if your question is covered. If not, we're always looking for new problems to solve! Email yours to mac911@macworld.com, including screen captures as appropriate and whether you want your full name used. Not every question will be answered, we don't reply to email, and we cannot provide direct troubleshooting advice.