At a Glance
Expert's Rating
Pros
Effective antivirus protection
Cons
Charges an annual subscription for basic malware protection with no other features
Our Verdict
ClamXAV for Mac offers solid antivirus protection. But for a product that requires an annual subscription, it's lacking in advanced features.
Some security programs offer a wide range of tools and advanced features to not only combat malware but to protect you from ransomware, phishing attacks, suspicious websites, intrusive online ads, identity theft, and more. Others focus solely on antivirus defense, offering basic AV protection but little else. As designed for macOS, ClamXAV is a product that falls into the latter category.
See our complete round up of the best antivirus software for Mac.
Installation
Installing ClamXAV is quick and easy. Browse to the ClamXAV website and click the Free Trial button, and the installation file is automatically downloaded. The trial version is fully functional and lasts for 30 days. After the guided installation, you're prompted to click the Free Trial button to try before you buy or the Purchase button ($29.95/£24 a year) if you want to start your subscription right off the bat.
The software then takes you through the necessary steps to grant it permission to your Downloads folder and modify your security settings so that it can scan certain folders for malware. The malware database is also automatically updated, ready to tackle the latest strains of malware.
After the initial setup, you're placed at the main screen, which is well-designed and easy to navigate.
Features
Following the setup or anytime thereafter, you can run a manual scan on your Mac. Here, ClamXAV offers several options. Running a quick scan checks only system files and other areas on your Mac. Selecting your hard drive runs a scan on all folders and files on the disk. Dragging and dropping a single folder or file onto the scanning pane checks it for malware. You can select an external drive or connected USB stick for scanning. And the scanning pane displays several key folders—your user folder, recents, documents, desktop, and downloads—so you can scan a specific area.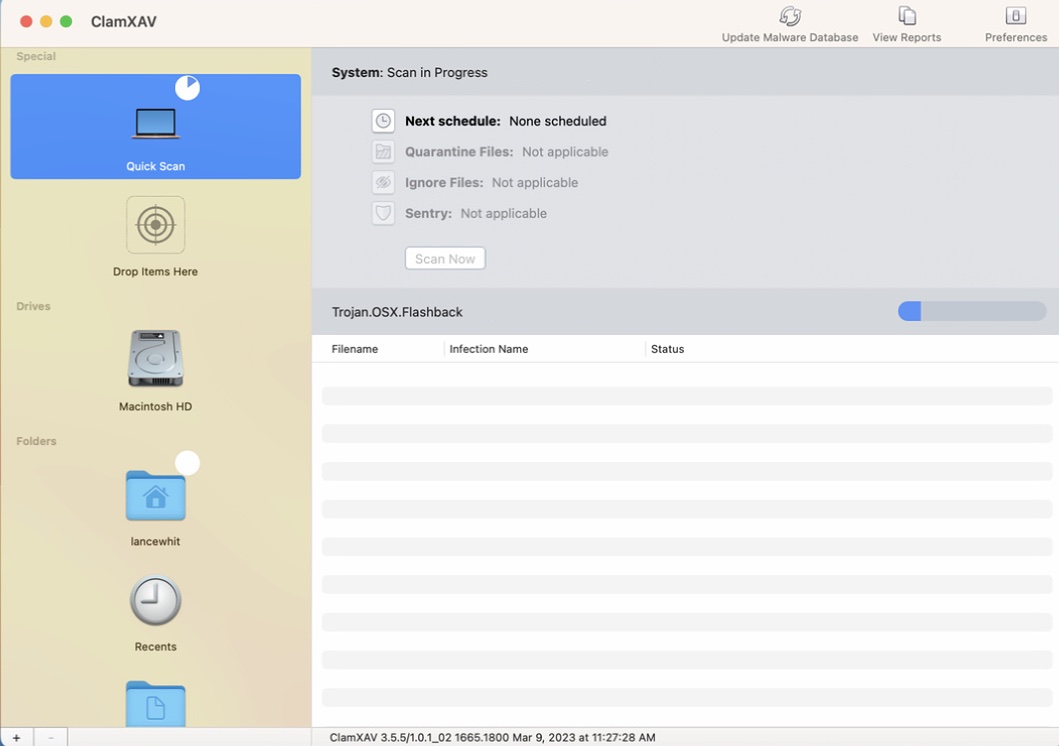 Foundry
Each type of scan lets you tweak certain options. For example, you can schedule any type of scan to run on specific days and times, weekends, weekdays, or every day. You can decide whether or not to quarantine infected files. And with some scans, you're able to ignore specific files, such as images and PDFs as well as files that match a certain pattern.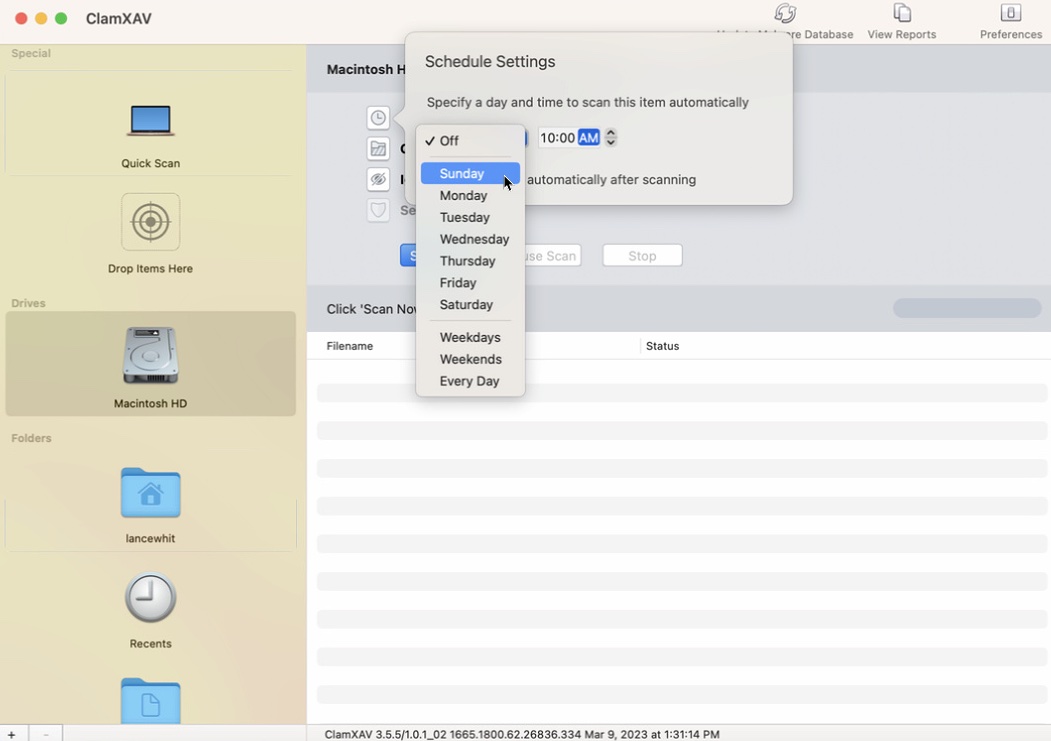 Foundry
Naturally, there's also a real-time scanning component. Known as Sentry, this feature stays on guard for malware from downloaded files and other sources and automatically checks any disks or external drives that you connect.
By default, any malicious files are automatically quarantined. By going through the Preferences menu, you can open the quarantine folder to see what files were caught. A reports screen keeps track of every scan you run and every update to the definitions database, so you can review the history.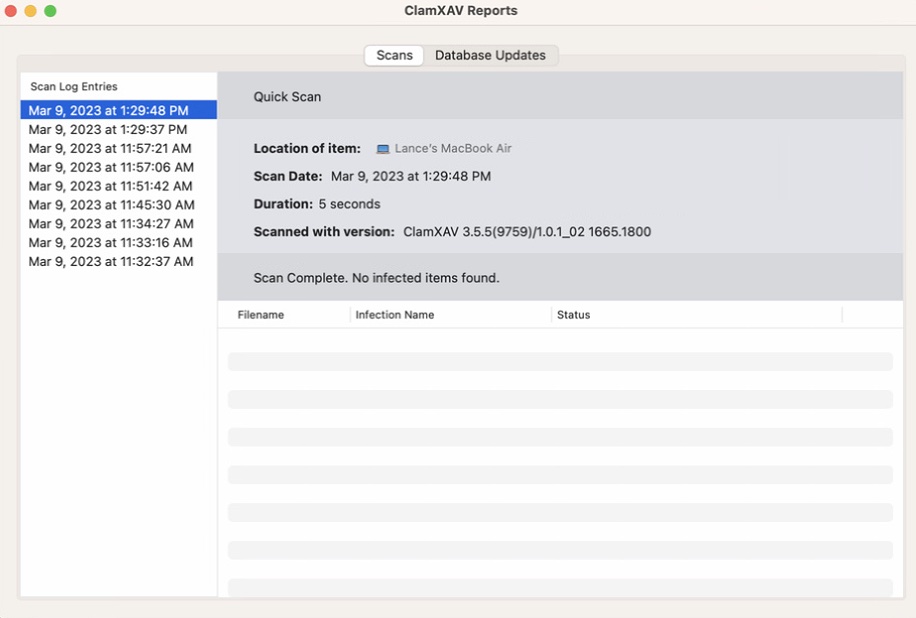 Foundry
Next, you're able to tweak certain settings. You can enable or disable alerts in response to certain events, such as malware detections and completed scans, choose how often the definitions database is updated, and allow the software to detect non-Mac malware. Otherwise, there's nothing more to the program beyond the basic antivirus scanning and options.
Performance
ClamXAV proved effective at detecting and stopping test malware files. It caught and quarantined the four different EICAR test files I attempted to download, including the eicar.com file, eicar text file, and the two eicar.zip files. A June 2022 review by AV-Test gave ClamXAV top grades for protection, performance, and usability.
Bottom line
ClamXAV is certainly effective at virus scanning. But that's a capability found in many free and equally effective security products for the Mac. By charging an annual subscription (even one as low as $29.95), ClamXAV should offer more than just the basics. For that reason, you're better off turning to a free antivirus program or looking at other paid programs if you want more advanced features.