At a glance
Expert's Rating
Pros
Simple but complete feature set (WiFi, DDR5, etc.)  
Minimal design aesthetic without feeling cheap   
Some PCIe Gen 5, support for AM5 Ryzen 7000 
$239 MSRP is good in a sea of more expensive options
Cons
Only three M.2 slots (one being PCIe Gen 5)
Gamer-heavy design and feature set (content creators may want more I/O, USB, etc.)
Our Verdict
The Asus TUF Gaming B650-Plus WiFi is a no-frills motherboard with a surprisingly complete set of features such as Wi-Fi, DDR5, and more. The muted design makes it feel a bit spartan, but you can't argue with the price and gamers especially will find it a good value.
Best Prices Today: Asus TUF Gaming B650-Plus WiFi
$239.99
$239.99
AMD's next-generation AM5 Ryzen 7000 CPUs carry some breakneck speeds for your PC. While some of the initial rollout was slowed down by the higher platform costs, the introduction of the B650 chipset is bringing zippy performance to more affordable motherboards.  
One "TUF" option that looks to break the ice is the Asus TUF Gaming B650-Plus WiFi. Slotted right below the company's popular ROG lineup, this series of motherboards is streamlined to give you good value-to-performance. It's targeted squarely at gamers, as the name implies. 
The motherboard packs some cool looks, and an even cooler $239 MSRP. Let's take a look at its specs, features, design, and performance. Does this motherboard provide the right stuff for the dollar—or are you better off looking elsewhere? Let's find out!
Asus TUF Gaming B650-Plus WiFi: Specs and features
Thiago Trevisan
ATX form factor 
Support AMD AM5 Ryzen 7000 CPUs 
12+2 Power Stages rated at 60A
DDR5 RAM, dual channel up to 4 DIMMs (up to 128GB)
3x onboard M.2 slots (1x PCIe Gen 5)
1x PCIe 16x slot (CPU)
1x PCIe16x slot (chipset)
2x PCIe 4.0 1x slots 
DisplayPort and HDMI
8x USB ports on back 
Realtek 2.5GbE LAN
Wi-Fi 6E 
RGB headers for Aura Sync
4 SATA 6Gb/s ports 
7 fan headers (CPU, AIO, chassis) 
BIOS Flashback button
Preinstalled I/O shield 
Realtek 7.1 audio codec
MSRP $239.99
The Asus TUF Gaming B650-Plus WiFi packs an MSRP of $239, bringing a more affordable motherboard to gamers looking at Ryzen 7000. 
It's built on the foundation of the B650 chipset—which is a slimmed down version of X670E. You're also getting big price savings, as many features found on the X670E are overkill for most users (extra USB and SATA ports, more PCIe Gen 5 lanes, etc.). B650 gives you more than enough for most users, however.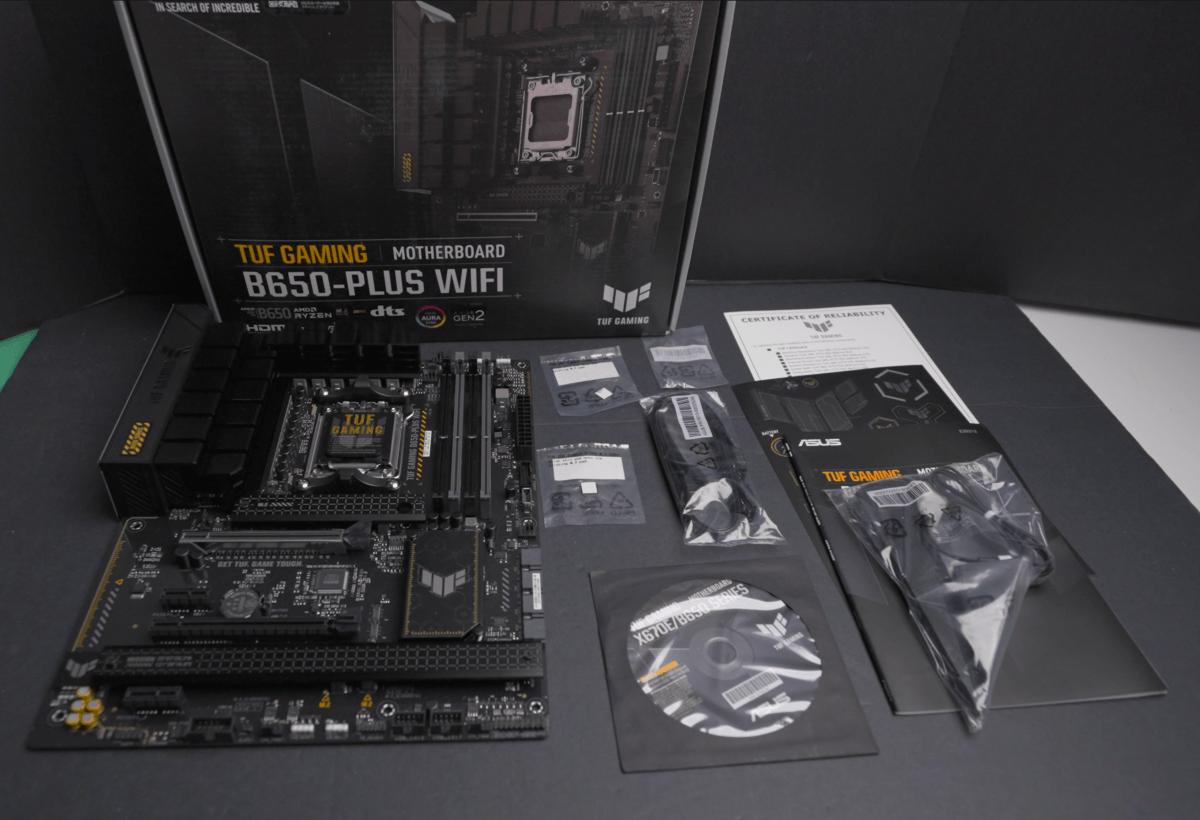 Thiago Trevisan
You'll get the typical accessories such as Wi-Fi antenna, driver CD, and SATA cables within the box. We'd love to see USB driver drives on every motherboard in the future instead! 
Let's go over the features and why they matter for those who will use it day to day.
CPU choice 
Want to slap in the mighty Ryzen 9 7950X? You'll be able to do that here, as all new Ryzen 7000 CPUs are supported. The non-X variants work, and so will the upcoming "X3D" models, such as the Ryzen 7800X3D. For a gaming motherboard at this pricing tier, it's most sensible to pair it with CPUs such as the Ryzen 5 7600X or Ryzen 7 7700X for best "bang for the buck." AM5 should also have longevity going for it, with other supported CPUs in the future.
DDR5 RAM and PCIe Gen 5
You're getting DDR5 RAM here with great speeds compared to DDR4. Prices for DDR5 have been going down, so they're more and more accessible. AMD does not offer DDR4 on AM5 unlike what Intel has done with Z790 chipset, however. 
While you also get PCIe Gen 5, it's only on a single M.2 slot. Theoretically it's faster than PCIe Gen 4, but there isn't yet hardware right now to fully take advantage of this. Your PCIe slots will be Gen 4, which is more than capable of tackling even the latest GPUs such as the Nvidia RTX 4090. 
Storage
NVMe drives are all the rage—and you'll have three available slots on this motherboard. This is the perfect number for gamers wanting fast performance now and future expandability later. Content creators may find they require a couple more, but they'll also have access to the four SATA ports for their plain-ol' hard drives, too. Power users likely will find this insufficient, so they'll need to up their budget. 
USB ports 
With eight rear USB ports, including USB-C, you'll have plenty for the average gaming build. At this price point, you're not getting USB4's speedy prowess, or any Thunderbolt 4. Creators needing those specs will have to shell out more cash for pricier options unfortunately. 
You do get USB4 support via the Thunderbolt 4 header on the motherboard itself, but not on the rear natively. 
One great feature of Ryzen 7000 CPUs is the built-in "iGPU," allowing you to diagnose your system without a discreet GPU attached. You'll have both DisplayPort and HDMI out here, which can come in handy.
Networking
Connectivity options are good, with Realtek 2.5Gb ethernet. As expected, 10Gb LAN is only available on top motherboards, but you'll also get Wi-Fi 6E. The network suite here is typically exactly what most gamers will need to get connected in a speedy manner.  
Audio
Audio is Realtek's 7.1 surround sound, with plenty of audio jacks available on the back. This will be more than enough for most users—and those picky about audio can always use an external solution.
Other interesting features
Even with the cheaper price point, Asus includes some great features found on higher-end motherboards: Q-Latch for M.2 drives, Q-LED debug codes, and the integrated I/O shield. This makes for a much more trouble-free building experience! It'd be great to see the PCIe Q-Release button for GPUs in the future, too. 
With both BIOS Flashback and Q-LED, it's much easier to find and recover from problems—adding features that used to only be on higher-end boards. 
Overall, it's a focused feature set that is targeted at the important basics that gamers will utilize, without much unnecessary additions to up the price. 
Asus TUF Gaming B650-Plus WiFi: Design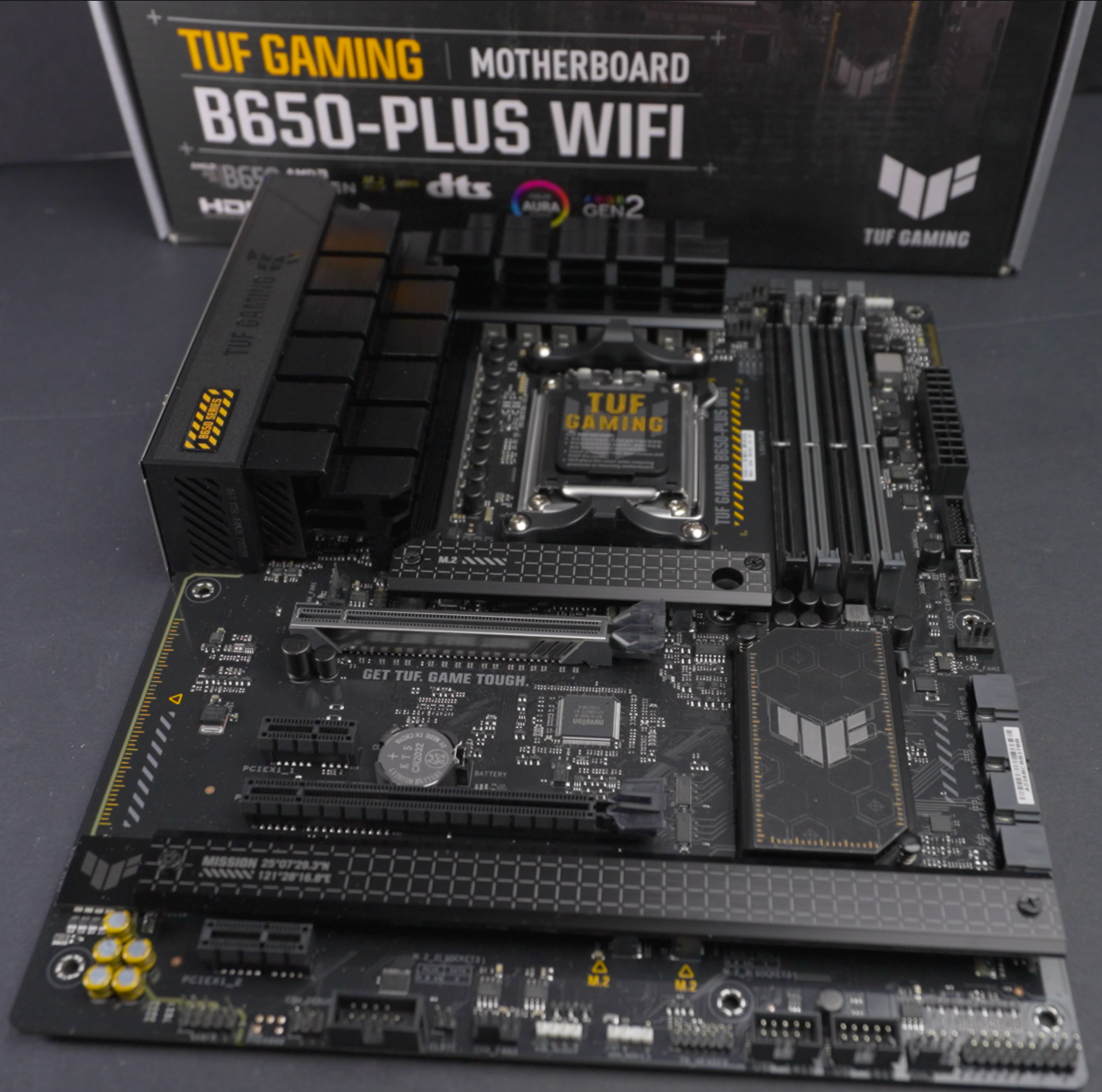 Thiago Trevisan
The Asus TUF Gaming B650-Plus WiFi is minimalist and simple. It has a very attention-grabbing aesthetic, without feeling cheap. It achieves this using simple, darker colors, accented only by the occasional yellow. 
This simplicity continues with the I/O and VRM areas, highly angular designs that almost look stealthy. It gives this motherboard Call of Duty vibes. DDR5 RAM slots are nicely visible with alternating black and grey.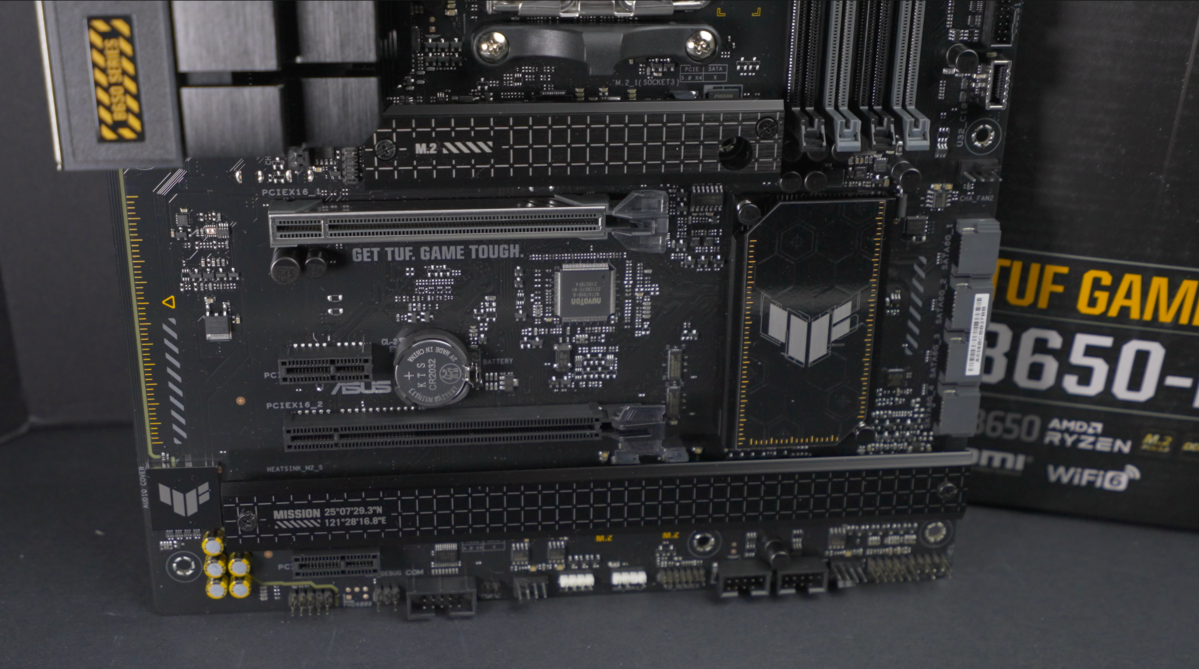 Thiago Trevisan
As we take a gander at the bottom half of the motherboard, it's considerably sparser. While on some motherboards this could make it look unfinished or cheap, here it works nicely with the overall aesthetic.
Instead of leaving the M.2 slots uncovered, Asus has added some nicely designed thermal covers to them. This serves both aesthetics and function—it keeps those drives cool!
The rear and I/O shield area continue with similar straightforwardness. A TUF logo is mostly all that adorns the area, which has a key feature: integrated I/O shield! No more "forgetting" that one last piece while building—a truly welcomed design choice here.
Overall, you'll be happy with the build quality and choice of materials here. For the price, you're still getting a purpose driven motherboard that does not look cheap—but feels highly focused. 
Asus TUF Gaming B650-Plus WiFi: Performance, software, and BIOS
The Asus TUF Gaming B650-Plus WiFi presents itself as your "mission" companion.  In the heat of a game, it will serve any of Ryzen 7000 CPUs well. While something like the content-creator focused Ryzen 9 7950X will do fine, it's really priced for the gamer-friendly mid-level Ryzen CPUs such as the Ryzen 5 7600X. 
The 12+2 power stages can handle gaming workloads like a seasoned pro—and even some overclocking. Similarly, DDR5 support gives you some of the fastest speeds on the market currently—reducing any potential bottlenecks in your performance pipeline. 
While you don't have an abundance of PCIe Gen 5 lanes here—only a single one for the M.2—Gen 4 is more than sufficient for performance across the board. This means your GPU will still hit its max potential, and the only performance you're theoretically missing is when PCIe Gen 5 M.2 drives finally land. (And some limitations you may have by having "less" PCIe lane bandwidth compared to X670E.) 
Are there motherboards that will allow you to clock your CPU or RAM a few insignificant points higher? Sure, but you'll also have to pay much more—cementing the B650-Plus Gaming WiFi as a great value. 
The BIOS is where you'd do this mad scientist work and it's built Asus "TUF." It has plenty of robust adjustment options for tinkerers. Easily change parameters for RAM, CPU, hard drives, and plenty of other options. For those seeking a more streamlined approach, you can simply pop on the "Expo" profile for your DDR5 RAM and call it a day. 
It can also do various automatic and "Ai" overclocking if you'd want it to, even reflecting off your cooling solution capability. AMD's PBO, or Performance Boost Overdrive, auto overclocking is also here to give you an extra boost (remember, it may also up power draw and heat).
If you prefer to leave the BIOS alone after setting your Expo DDR5 profile, Asus "Armoury Crate" software has in-Windows tunability. This expansive motherboard software suite can do it all. Update your drivers automatically? Check. Set fan profiles with Fan Xpert? Check. Configure your RGB Aura Sync settings? Double check.
Overall, the TUF Gaming B650-Plus WiFi packs most of the essential performance—all for a "TUF" price (as in: cheaper!).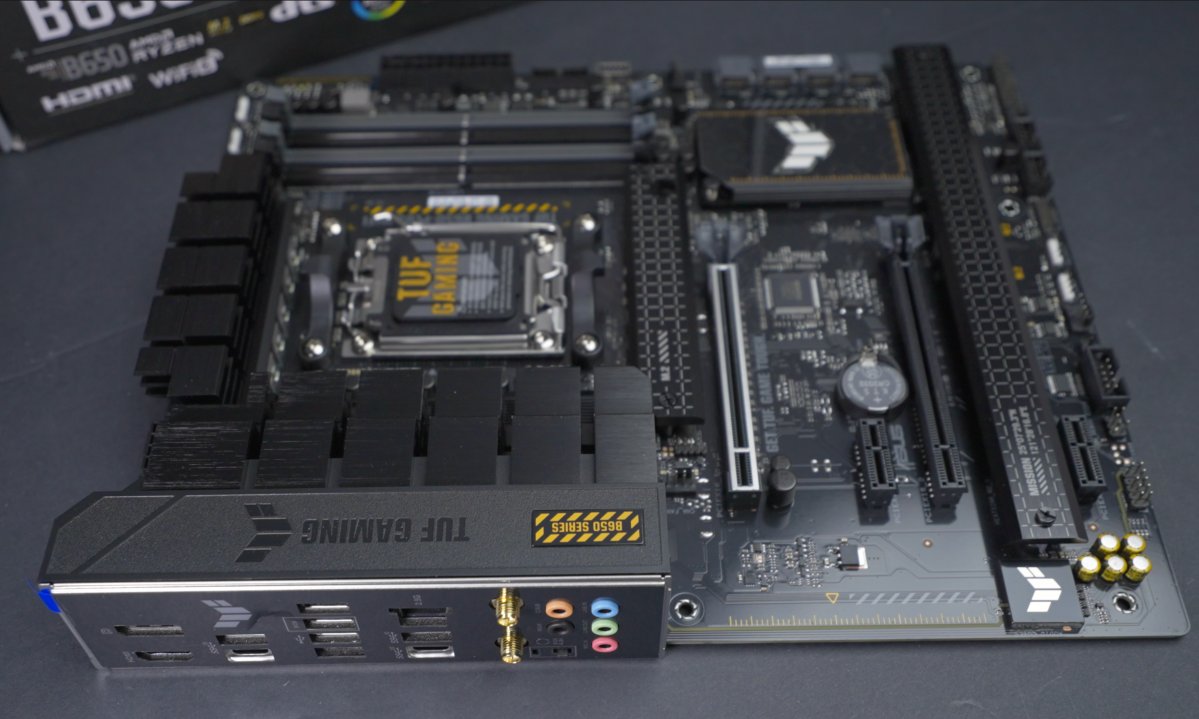 Thiago Trevisan
Should you buy the Asus TUF Gaming B650-Plus WiFi?
The Asus TUF Gaming B650-Plus WiFi's $239 MSRP finally brings down the average motherboard price in this generation. It does so by providing just the right features a gamer needs, sensibly and with stability. 
While the serious, almost military design means you're not getting huge OLED screens or massive PCB heatsinks, it also means a cheaper cost. It does this stealthily without appearing to cut corners—by presenting a no-frills design language that works. 
For the gamer who doesn't want to break the bank, but still wants features and charm, this board is a good value. Enthusiast users who need the larger feature set such as USB4 or more NVMe slots will need to look at higher-priced options.