At a glance
Expert's Rating
Pros
Excellent HDR brightness
Crisp motion clarity
Lots of connectivity
Cons
Stand is too large
Sharpness could be improved
Mini-LED backlight needs more dimming zones
Our Verdict
The AOC Agon Pro AG274QZM is a Mini-LED monitor with excellent HDR brightness that often limbos under $1,000. It's not affordable, to be sure, but a good value if you want attractive HDR on a PC.
Best Prices Today: AOC Agon Pro AG274QZM
$1,099.99
It's happening. Mini-LED backlights, once reserved for monitors priced at $3,000 or more, have finally come to monitors with more palatable price tags. AOC's Agon Pro AG274QZM is an example of this new breed. Though not inexpensive, it successfully ducks under $1,000 without compromising on HDR performance.
Note: See our roundup of the best monitors to learn more about competing products, what to look for in a monitor, and buying recommendations.
AOC Agon Pro AG274QZM: The specs
The AOC Agon Pro AG274QZM's specifications are certain to appeal to gamers. It's a 27-inch monitor with a native resolution of 2560×1440 and an IPS panel with Mini-LED backlight technology. It also has a refresh rate of 240Hz and supports Nvidia G-Sync.
Display size: 27-inch
Native resolution: 2560×1440
Panel type: IPS monitor with Mini-LED backlight
Refresh rate: 240Hz
Adaptive Sync: Yes, Nvidia G-Sync 
HDR: Yes, VESA DisplayHDR 1000 certified
Ports: 2x HDMI 2.1, 1x DisplayPort 1.4, 1x USB-C 3.2 with DisplayPort Alternate Mode and 65 watts Power Delivery, 1x USB-B upstream, 4x USB-A downstream, 3.5mm audio-out
Stand adjustment: Height, tilt, swivel, pivot
VESA mount: Yes, 100mm x 100mm
Speakers: Yes, 2x 5-watt speakers
Price: $899.99
AOC packs in the latest connectivity. This includes two HDMI 2.1 ports and a USB-C 3.2 port with DisplayPort Alternate Mode and 65 watts Power Delivery. The USB-C port connects to four additional USB-A ports. That's good to see on a gaming monitor—though, at $899.99, such extras might be expected.
AOC Agon Pro AG274QZM: Design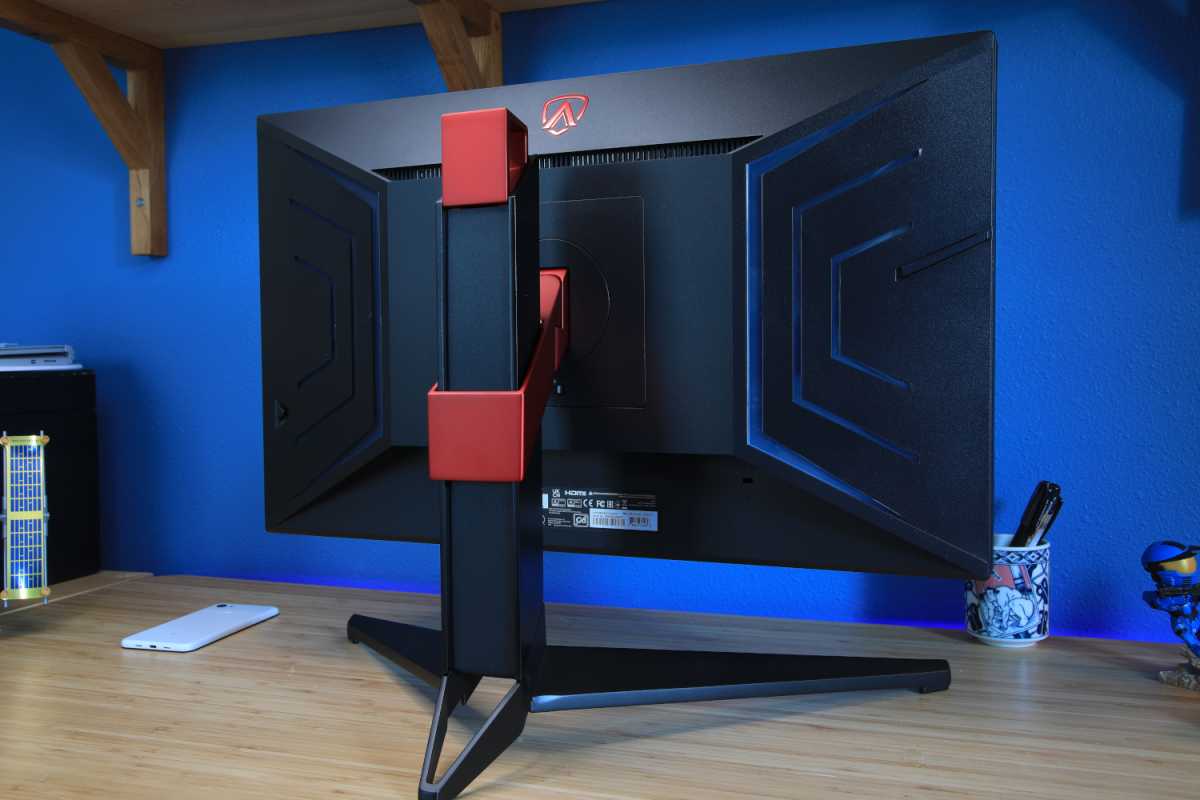 Matt Smith
The AOC Agon Pro AG274QZM has an aggressive design with red chrome accents and RGB lighting. It's an in-your-face look that's better suited to a gamer's desk than a home office. I admire it, though, for doing a few things differently: The RGB light bar along the chin is a nice touch, and the red chrome badging adds an over-the-top, supercar feel.
Build quality is not as nice as monitors from Alienware or the Asus Republic of Gamers line, as the design is not as cohesive and doesn't gel around a recognizable brand identity. It's close, though, and AOC deserves credit for delivering a handsome piece of kit for the price. The AG274QZM is among the least expensive Mini-LED monitors on the market today, yet feels nearly as premium as competitors sold for hundreds more. 
The monitor includes a sturdy stand that offers ergonomic adjustments such as height, tilt, swivel, and pivot (rotate) for use in landscape orientation. The stand is too wide, however, and also too deep, so it takes up more desk space than it should. That could prove annoying if your desk is small or narrow. A 100x100mm VESA mount is available for third-party monitor stands and arms.
AOC Agon Pro AG274QZM: Features and menus 
The AOC Agon Pro AG274QZM offers excellent connectivity for a gaming monitor.
One USB-C port is available, and includes both DisplayPort Alternate Mode and up to 65 watts of USB Power Delivery. The USB-C port also serves as a USB-C hub driving four USB-A ports.This is still rare among gaming monitors, though it's starting to become more common. Gamers are unlikely to use the USB-C port, even with gaming laptops, because it doesn't deliver enough power to charge a gaming laptop. Still, it's a useful inclusion for PC gamers who have a gaming desktop and a less powerful laptop with USB-C ports (such as a MacBook Air or Dell XPS 13).
A USB-B upstream port is also available, making the USB hub available to devices without USB-C.
Video connectivity includes two HDMI 2.1 inputs and two DisplayPort inputs, one of which is handled over USB-C. All of the monitor's ports can handle the monitor's native 1440p resolution at its maximum refresh rate of 240Hz. 
A 3.5mm audio-out is available for passing audio through to speakers or a headset. The monitor also has speakers built-in, but they're weak and deliver a lackluster experience with any content more complex than a podcast.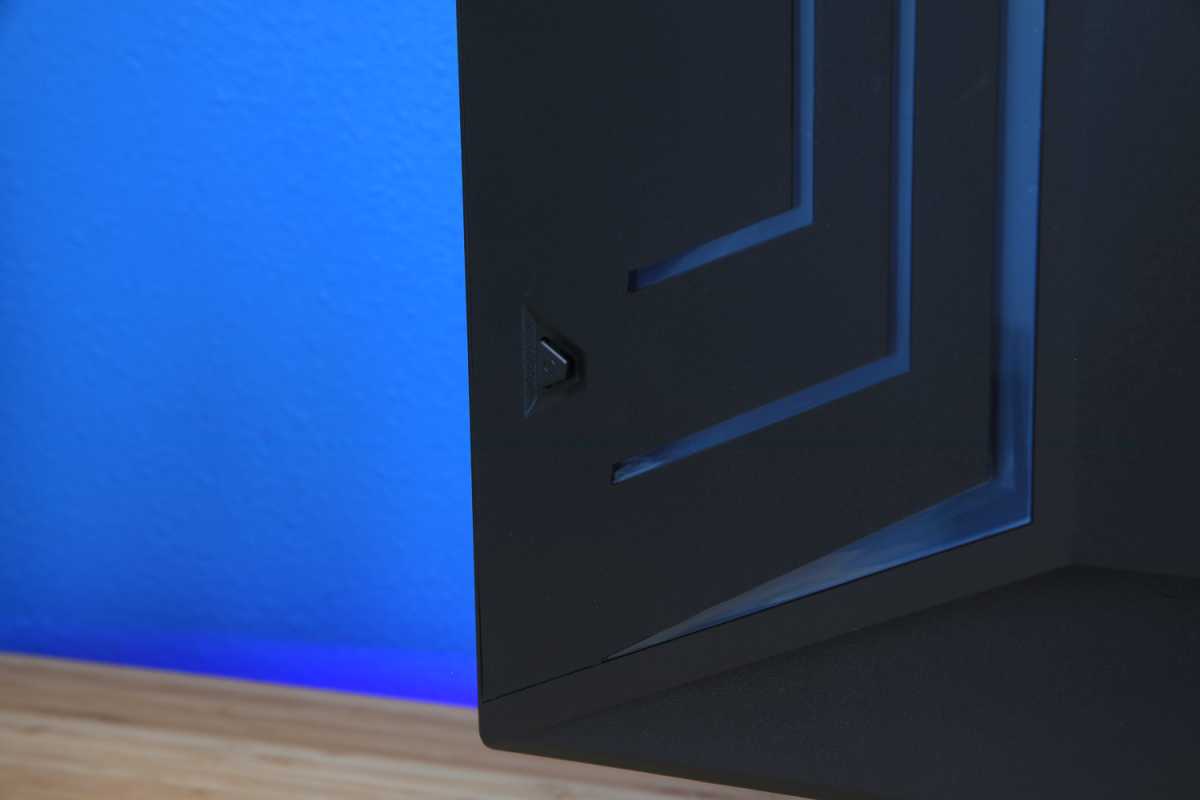 Matt Smith
The monitor's menu system is controlled with a joystick on its right rear flank. AOC's menu system is attractive, but a bit more confusing than those used by Dell, BenQ, and Viewsonic, among others. Most menu options are nested, with no previews of what's inside a menu, and some menu labels aren't ideal. The menus are speedy and responsive, though, so accidentally opening the wrong item isn't much hassle.
Image-quality options are a bit limited. The monitor has several gamma modes, but none promise a particular gamma curve. It's a similar story with color temperature. Color customization is only available in the custom color temperature mode, and this offers only three-way color adjustment. There's no sRGB or DCI-P3 mode, either (there is an sRGB color temperature mode, but seems to only adjust color, not brightness or gamma).
I'd prefer to see a wider range of image-quality options, as those available on the AG274QZM will fall short for most serious content creators, and may also cause problems for anyone looking to precisely calibrate the monitor. Some less expensive monitors, like the Gigabyte M27Q X and NZXT Canvas 27Q, do better.
AOC Agon Pro AG274QZM: SDR image quality
The AOC Agon Pro AG27QZM promises excellent HDR performance, but SDR performance remains important. Most content you'll view when browsing the web or writing in Word will be in SDR. The AG274QZM is no slouch here, but doesn't always impress.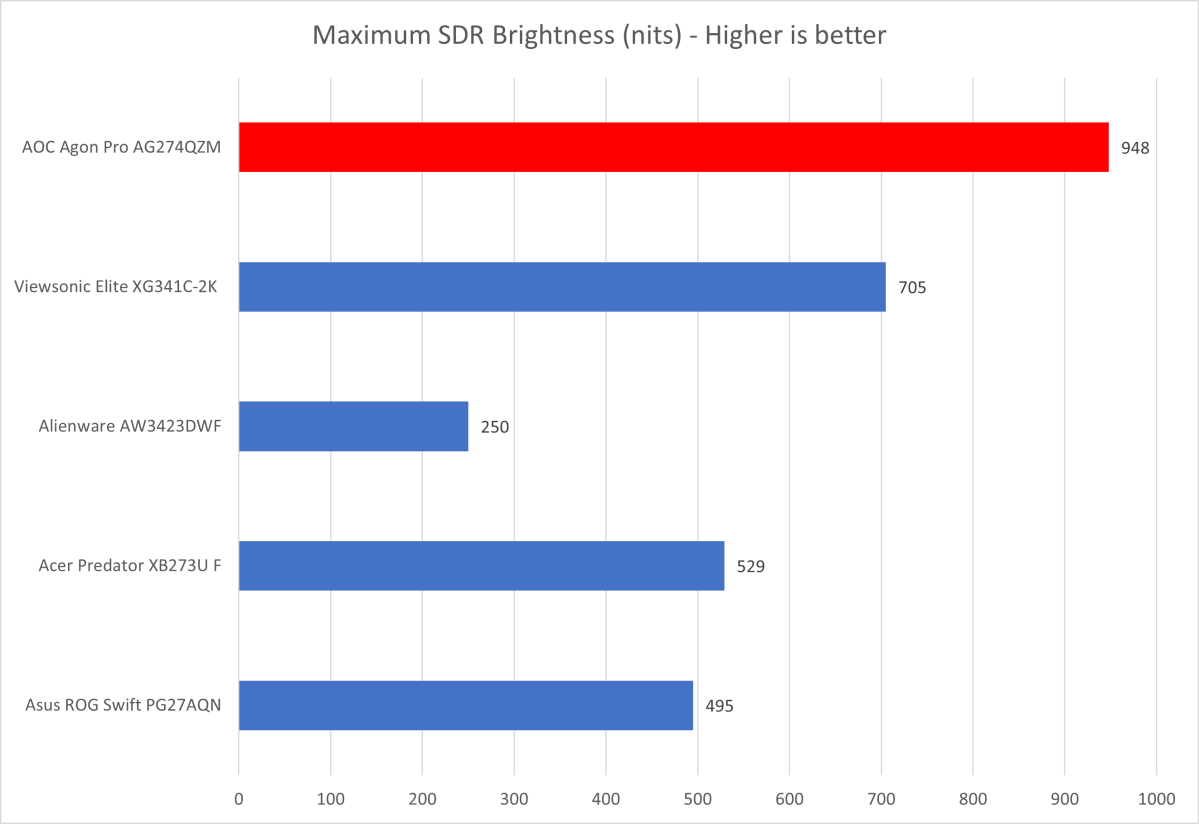 Matt Smith
Brightness starts off strong with a maximum SDR brightness of 602 nits. That's an excellent result for a monitor and, as the graph shows, generally superior to the competition. This level of brightness is enough for use in nearly any situation, including a room lit by multiple large, sunlit floor-to-ceiling windows.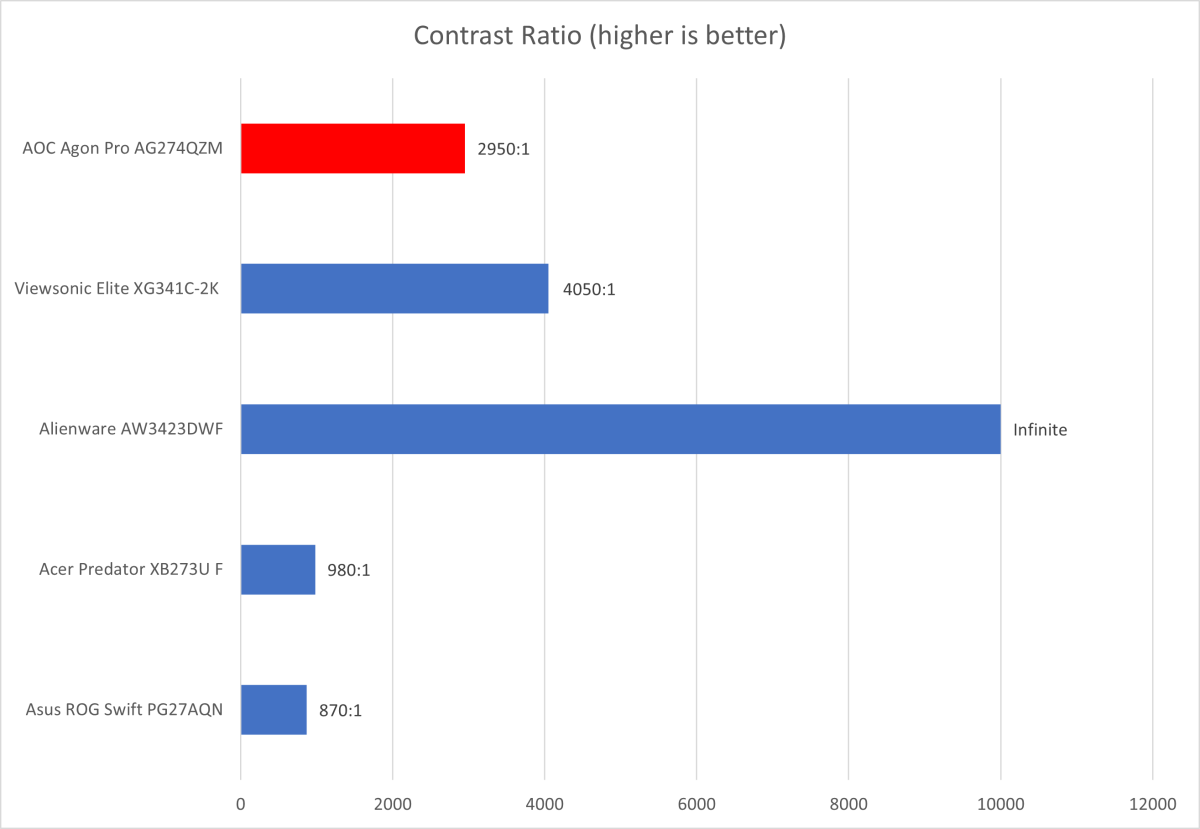 Matt Smith
The maximum contrast ratio came in at 2,950:1. That's a good result compared to an IPS monitor without a Mini-LED backlight system, yet also behind top-tier competitors such as the Alienware AW3423DWF. Make no mistake: OLED still has a big advantage when it comes to contrast.
Still, the AOC Agon Pro AG274QZM's performance delivers an obvious boost over most monitors on the market. Images have an excellent sense of depth and dimensionality, with many appearing to leap out of the screen. The monitor achieves a dark, convincing black level in dark scenes, though it may still seem ever-so-slightly hazy when viewed in a pitch-black room.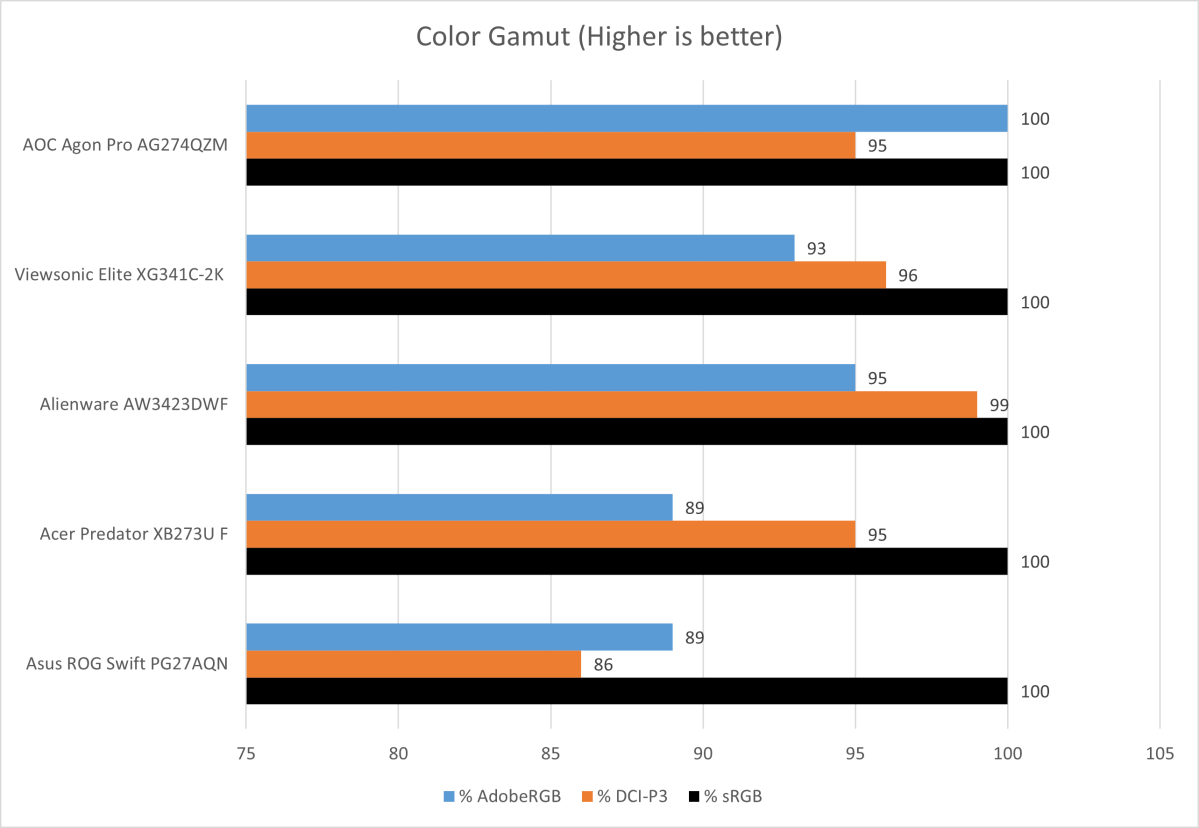 Matt Smith
Color gamut is a major strength, as the AOC Agon Pro AG274QZM delivers 100 percent of sRGB, which is common, and 100 percent of AdobeRGB, which is extremely rare even among top-tier OLED and IPS monitors with Quantum Dots panels. The monitor handles 95 percent of DCI-P3. It has a 10-bit panel, as well, which means color banding is rarely visible due to the extreme number of colors available.
These results add up to one simple conclusion: The AG274QZM can deliver a spectacular range of color. It's a real knockout when displaying bright, vivid content like animated movies or punchy, vibrant games such as Overwatch 2. 
Matt Smith
Color accuracy is not as strong, but certainly more than adequate for nearly all situations. The monitor's color appears realistic and lifelike. As mentioned, though, the monitor doesn't have preset modes tailored to a particular color gamut, so colors may appear oversaturated depending on the content shown. 
The monitor's default color temperature came in at 6600K, which is slightly off the target of 6500K. This means the image is slightly cooler and more blue than the target, but it's close enough that the difference is tough to notice. The default gamma curve came in at gamma 2.3, off the target of 2.2, which means content is a bit darker than expected. Once again, this is close enough that the difference can be hard to notice.
Sharpness is a problem. The AG274QZM's native resolution of 1440p is reasonably sharp for a 27-inch monitor, providing a pixel density of 109 pixels per inch. Despite this, I noticed some color fringing and pixelation around small fonts and text. It's an unexpected result for a modern IPS monitor, and one that replicates the sub-pixel issues found in many OLED monitors including the Alienware AW3423DWF.
The Mini-LED backlight also has unique downsides. This monitor has 576 dimming zones, which is less than what's found in more expensive monitors like the Asus ROG Swift PG32UQX and Viewsonic Elite XG341C-2K. That's a fair number, but it can cause problems around high-contrast borders. When placing a bright, white Word document over a dark desktop background, for example, you may notice blooming (the light leaking into the dark areas of the image) or vignetting (the edges of the document not lighting as brightly as they should).
In short, SDR image quality can be excellent but also suffers some noticeable flaws. The AOC Agon Pro AG274QZM is a stellar performer in color gamut, delivering a huge range of colors with minimal banding. It's also extremely bright and offers a good contrast ratio. The monitor's sharpness issues are a disappointment, though, and some may find the Mini-LED backlight distracting, especially when using the monitor for basic desktop productivity. 
AOC Agon Pro AG274QZM: HDR image quality
The AOC Agon Pro AG274QZM supports HDR and is VESA DisplayHDR 1000 certified. It's generally a good HDR performer, and certainly far better than most monitors that lack a Mini-LED backlight. But it's not perfect. 
Let's start with brightness. I measured a maximum HDR brightness of 948 nits, which is very close to the promised maximum of 1,000 nits. The monitor delivered a slightly lower maximum brightness in a 10 percent window, with a maximum brightness of 814 nits. 
This level of brightness is excellent, and definitely enough to deliver a real punch in HDR. I also noticed the monitor's contrast ratio increased to 4,210:1 in HDR. This doesn't happen on most IPS monitors because any increase in brightness also increases the brightness of the entire display, including dark areas of the image. But with a Mini-LED monitor, such as the AG274QZM, only the bright areas need to be lit, while others can remain dark. It's a major upgrade.
You'll notice the benefits when viewing any HDR content, whether it's games, HDR movies, or even HDR clips on YouTube. A sunset will appear bright, crisp, and detailed, while a flashlight in a foggy midnight forest will appear as a spot of brilliance in an otherwise foreboding scene. 
Yet I said it wasn't perfect—and that's because the monitor's 576 dimming zones remain an issue. Notice, for example, that my tests show the monitor is brighter when displaying a full, white screen than when only 10 percent of the screen is lit. Usually, the situation is the opposite. In this case, it appears the monitor is slightly decreasing the brightness to limit how severely a brightly lit zone will bleed into other, darker areas of the screen. 
Still, the AOC Agon Pro AG274QZM is a good HDR performer, and certainly stands out when compared to most monitors in its price bracket. It's a tantalizing compromise for those who want super-bright HDR on their desktop PC but don't want to go broke obtaining it. 
AOC Agon Pro AG274QZM: Motion performance
Matt Smith
The AOC Agon Pro AG274QZM is a 240Hz display that promises a gray-to-gray response time as low as one millisecond. It also supports Adaptive Sync, with official support for Nvidia G-Sync. AMD FreeSync is not listed, but FreeSync functioned when the monitor was connected to an AMD Radeon RX 6600.
Motion performance is excellent. The AG274QZM delivers an extremely crisp image that's right on par with other excellent 240Hz monitors, such as the Gigabyte M27Q X and Sony InZone M3. Scrolling test images of DOTA 2 and League of Legends showed that most fine details, including character names and enemy health bars, were visible, and that character outlines were easy to make out. 
AOC includes three overdrive modes: Weak, Medium, and Strong. The feature is turned off by default. When turned on, overdrive doesn't cause distracting image quality problems. This is true even at the highest preset. Competitive gamers will be pleased to see a minor improvement in motion clarity with overdrive on, and that using this mode doesn't reduce image quality to an ugly mess. The monitor doesn't have a backlight strobing feature, though, so gamers who like that particular form of motion clarity enhancement will need to look elsewhere.
Should you buy the AOC Agon Pro AG274QZM?
The AOC Agon Pro AG274QZM is a solid choice if you want a good HDR experience on your PC but don't want to pay more than $1,000. OLED competitors have better contrast, but fall behind in brightness, while IPS monitors without a Mini-LED backlight are inferior in both. This makes the AG274QZM a practical compromise. It's rarely perfect, but often good enough. Throw in top-notch motion clarity and you've got a recipe for success.
Despite its strengths in HDR, the AG274QZM is a mediocre monitor for day-to-day productivity or content creation. It delivers on color performance but the monitor's sharpness is disappointing. The Mini-LED backlight's limited dimming zones are obvious in productivity, where high-contrast elements are extremely common.
These shortcomings limit the monitor's appeal—but if you want solid HDR in games and movies, and want to pay as little as possible, this AG274QZM is hard to beat.