I admit that I used to be one of those people who drove my vegetarian friends crazy with questions like, "But how do you get enough protein?" Like most of society, I carried around the belief that the only real way to get all the protein we need for optimal functioning was through animal products. But after years of digging deeper into the issue, my eyes have been opened to the fact that there are major benefits to eating a plant-based diet, both for our bodies and for the planet. That's why I've rounded up a few of my favorite high-protein vegetarian meals that are guaranteed to satisfy.
Featured image by Suruchi Avasthi.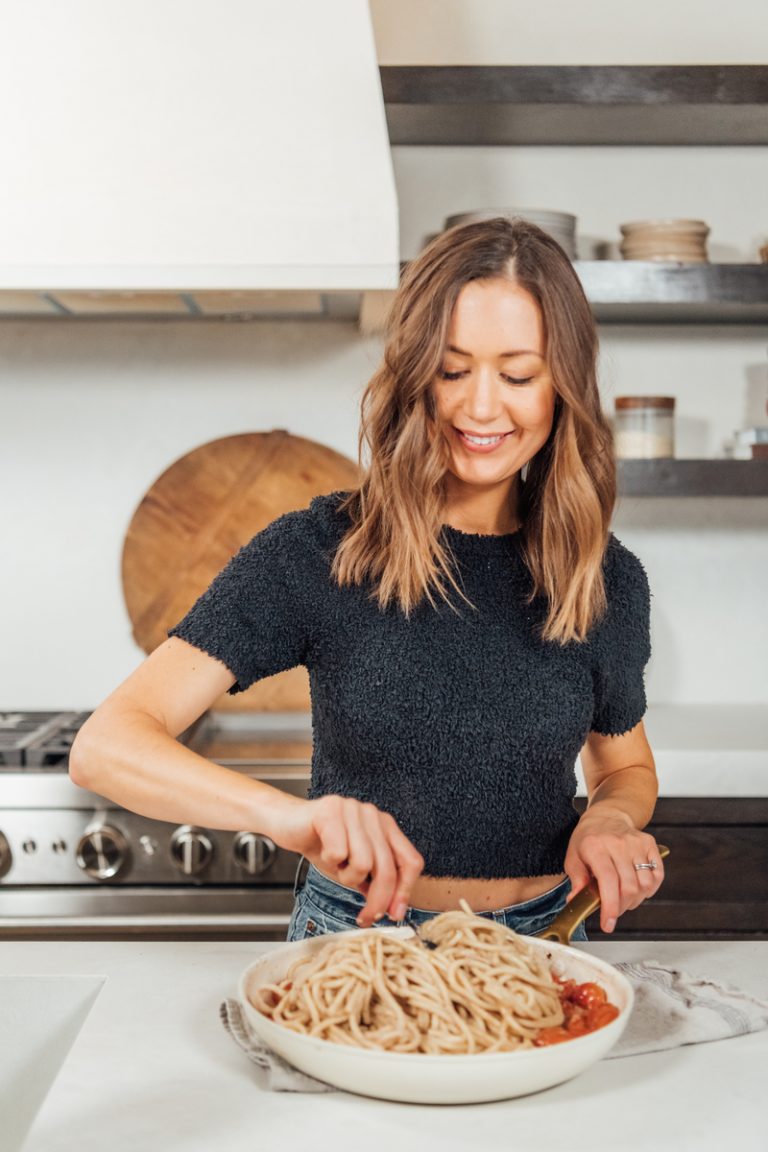 The Power of Plant-Based Protein
Through a diet rich in vegetables, legumes, good grains, seeds, and nuts, our bodies will easily get all the amino acids (which form a "complete" protein) it needs. Celebrity nutritionist Kimberly Snyder shared with us all the benefits of a plant-based diet. She also predicts the plant-based way of life will only continue to gain momentum, so the more we know, the better!
While I do incorporate small amounts of meat and fish into my diet a few times a week, many more of our meals these days are getting all their nutrients from plant-based sources.
If you'd like to learn more about the benefits of a plant-based diet, here are a few sources that I'd highly recommend: Forks Over Knives (the film), Eat Vegan Before 6:00, and The Beauty Detox Solution.
There are plenty of accessible foods that can be used to curate delicious high-protein vegetarian meals. Tofu—a soy product—is arguably the most popular source of protein, followed by chickpeas, lentils, quinoa, oatmeal, and a variety of nuts and seeds. Incorporating these ingredients into your weekly meals can help you meet your protein intake through simple, whole foods.
25 High-Protein Vegetarian Meals
Now for the best part: delicious, satisfying high-protein vegetarian meals. These plant-based plates are filled with plenty of protein-packed ingredients that keep things interesting and meat-free. Read on for the best high-protein vegetarian meals for every occasion!
Salads and Sides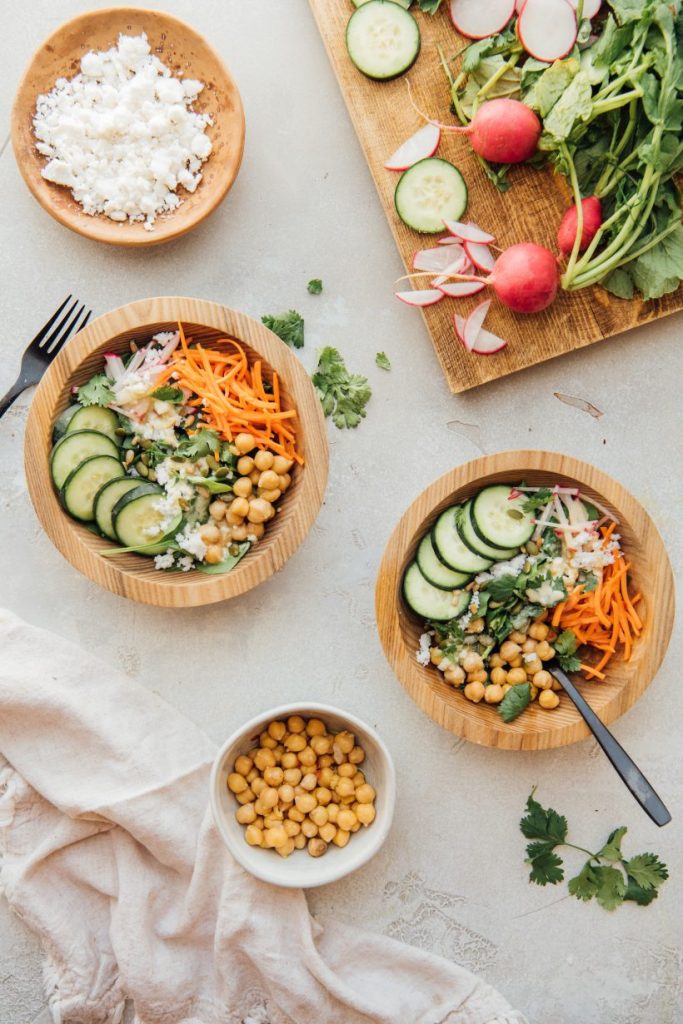 Why We Love It: This is one of my latest recipes, and it might be one of my favorites, too. It combines so many flavors, colors, and textures all in a single bowl. It's light while still feeling satisfying. The punchy, slightly sweet honey-shallot dressing sends it over the top.
Hero Ingredient: A pinch of chili flakes wraps your entire salad in the perfect amount of heat.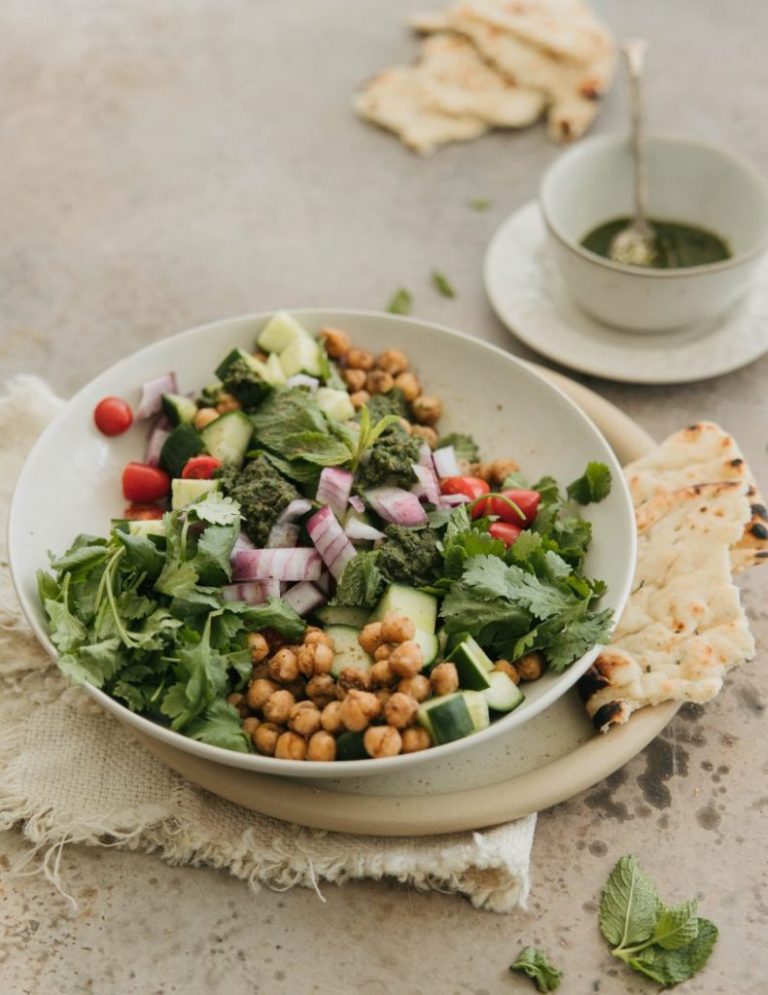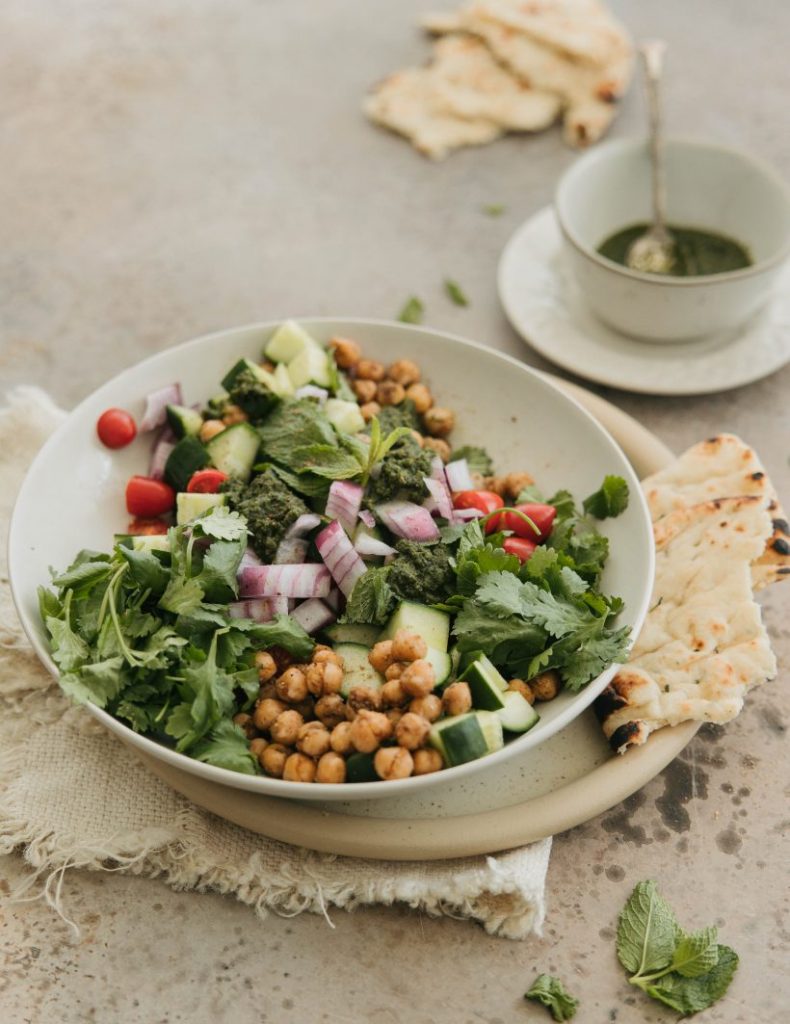 Why We Love It: Vegetarians are likely used to (and admittedly sick of), the fall-back of leaning on beans for protein. And while many restaurant or supermarket salads simply add beans straight from the can, when you're cooking at home, you have more control over how you build flavor. Case in point, this chickpea salad. The chickpeas are cooked on the stovetop in a mix of ghee, salt, pepper, garam masala, and freshly ground cumin seeds. Expect a burst of flavor in every bite.
Hero Ingredient: A few chopped mint leaves infuse this salad with freshness.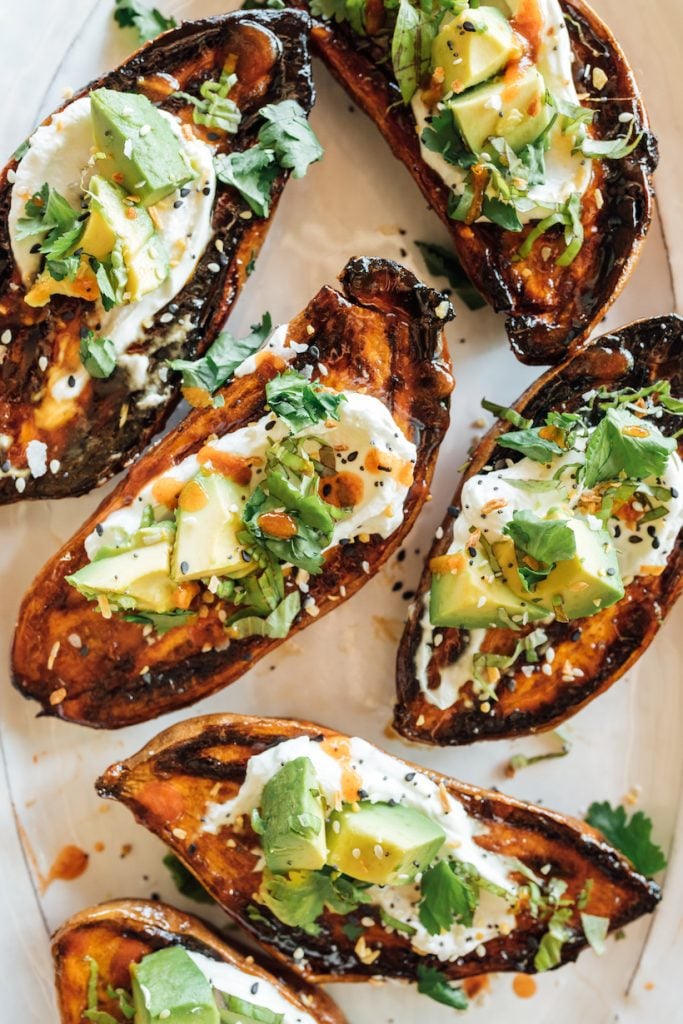 Why We Love It: I'll take any excuse I can find to enjoy sweet potatoes for every meal. This crispy, roasted version is the perfect foundation for all your favorite flavor combos, whether you lean savory or sweet. They're a staple in my dinner rotation: Quick and easy to make—they're as delicious as they are healthy and loaded with nutrients.
Hero Ingredient: I'll pick sweet potatoes every time.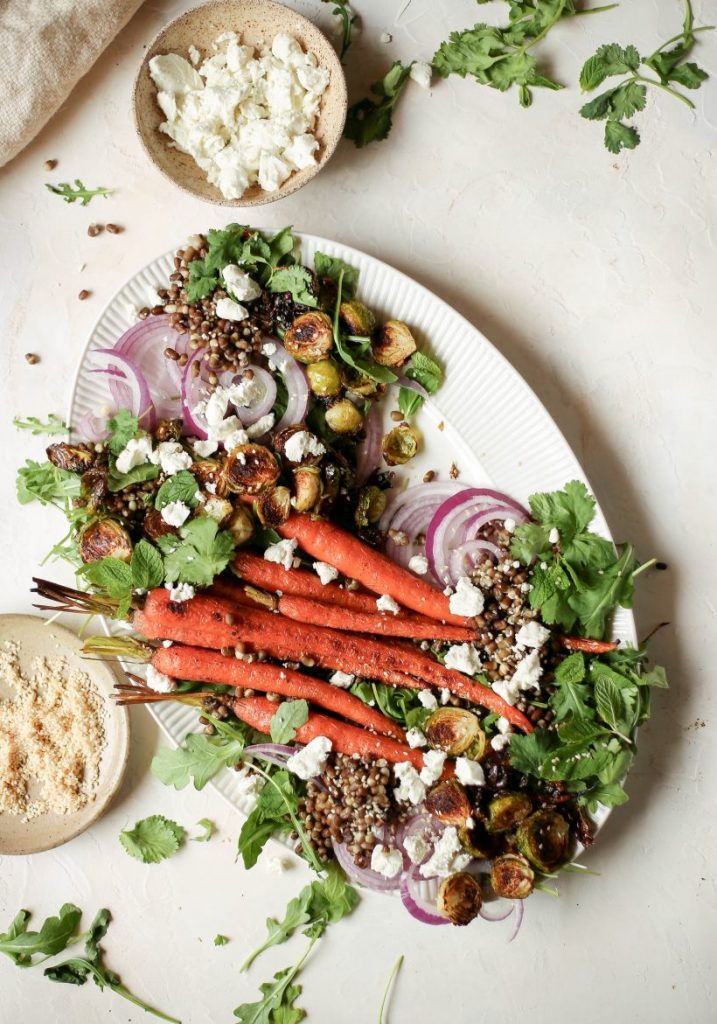 Why We Love It: This unique salad is a rainbow of both bright and muted fall colors. I also love that it utilizes both roasted and fresh veggies. The carrots and Brussels sprouts get coated with a drizzle of olive oil and honey to play up their caramelized sweetness. Toss with sliced red onion and spicy arugula, and you have a dish that's perfect for any table or appetite.
Hero Ingredient: Crumbled goat cheese adds a creamy element to the salad that's not to be missed.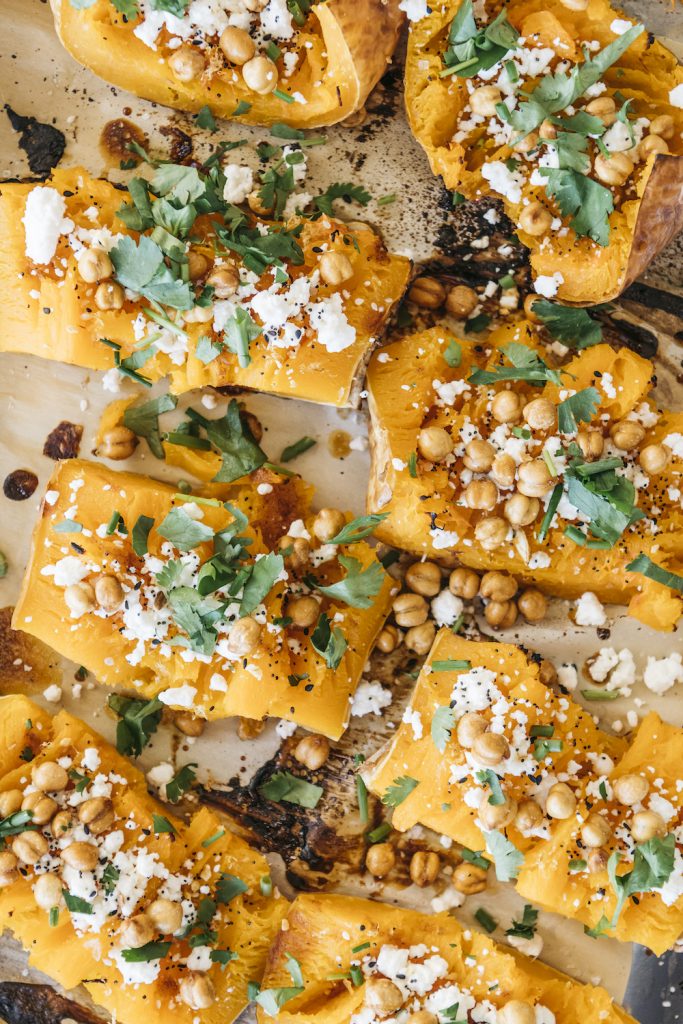 Why We Love It: A surprisingly filling dish, it's creamy, smoky, sweet, and filling enough to have as a whole meal and packs tons of flavor and texture thanks to the toppings. The best part? There's no peeling the butternut squash. Chop, de-seed, and throw the whole thing in the oven. Brilliant.
Hero Ingredient: When warmer weather starts to find its way out, I want to consume butternut squash on a weekly basis. This dish gets me one step closer to meeting my quota.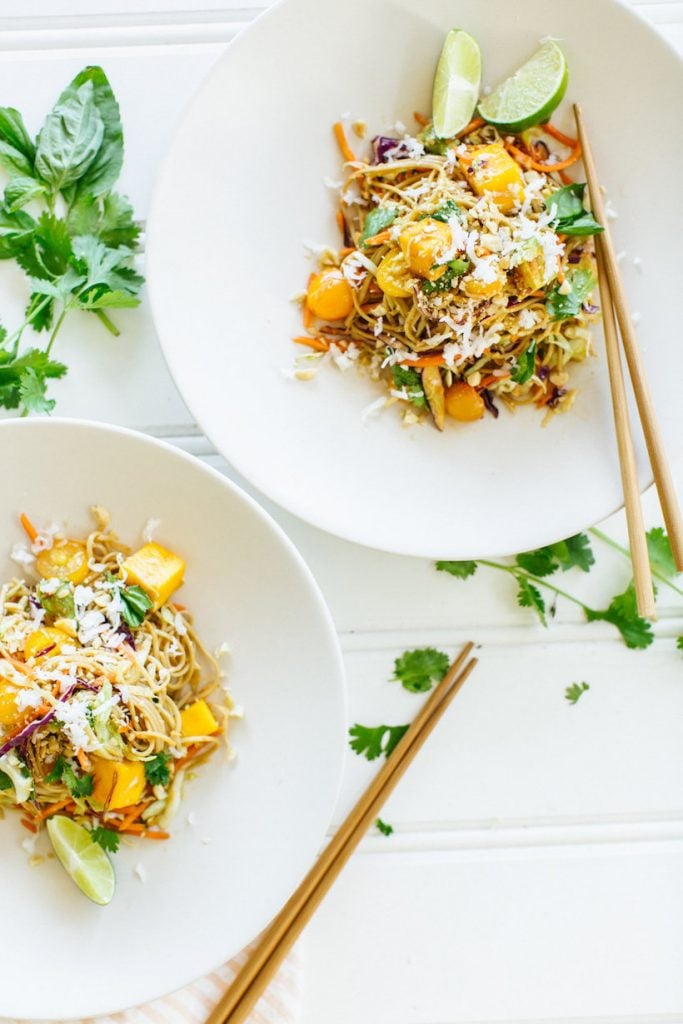 Why We Love It: The combo of mango and coconut may seem a bit out of the ordinary for a soba noodle salad, but believe me: you're going to be hooked. These fresh, light, and beautiful flavors are too good to be true.
Hero Ingredient: The honey-lime Thai dressing is the perfect balance of sweet and lip-puckeringly sour.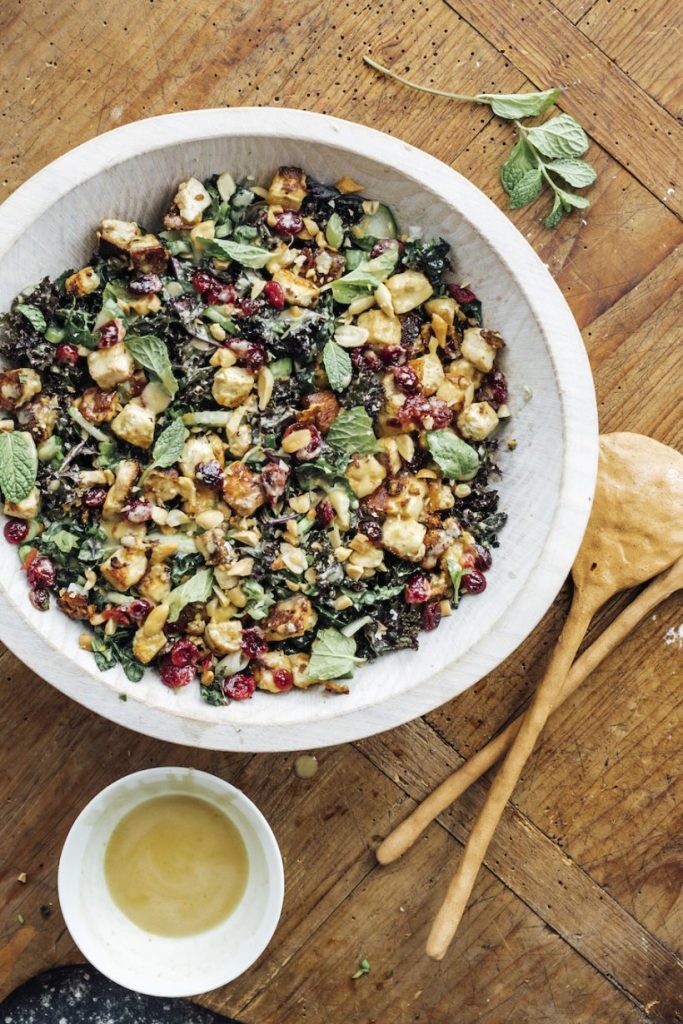 Why We Love It: This salad has it all. It's filling (not something you can say for all salads) and incredibly nourishing. It's packed with protein, healthy fats, carbs, minerals, and vitamins. Plus, it looks great served at any gathering.
Hero Ingredient: The crispiest tofu takes this from being a potentially boring kale salad to the best. Ever.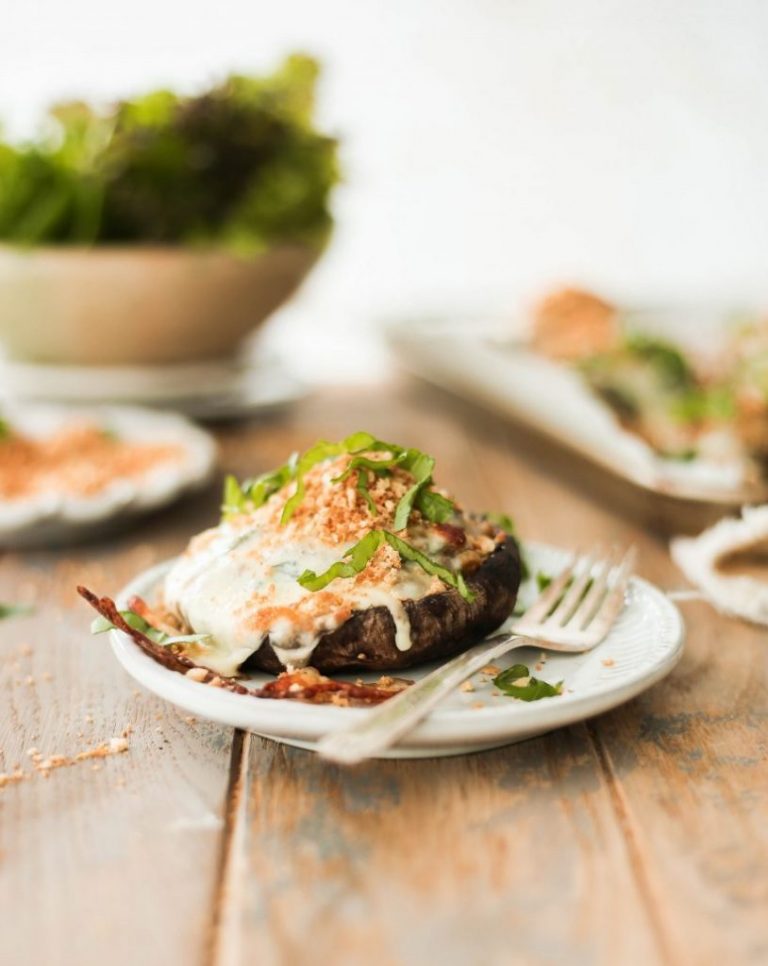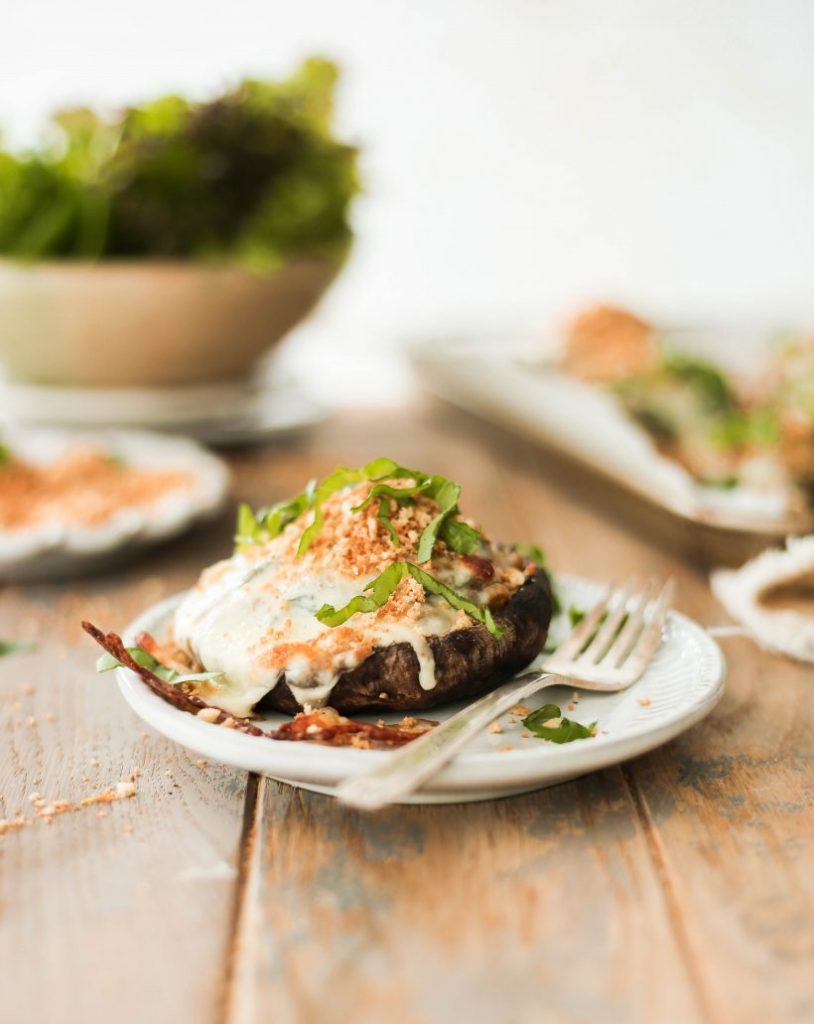 Why We Love It: This is such a fresh, healthy, and comforting high-protein vegetarian meal that will make even the pickiest meat-eaters obsessed. While stuffed portobello mushrooms have historically been known to lack flavor, these get the next-level treatment. Slowly-cooked caramelized onions and a sprinkling of parm and mozzarella is all it takes.
Hero Ingredient: A splash of vinegar added to your onions as they cook cuts the sweetness and brings a little acidity to the dish that's wonderfully unexpected.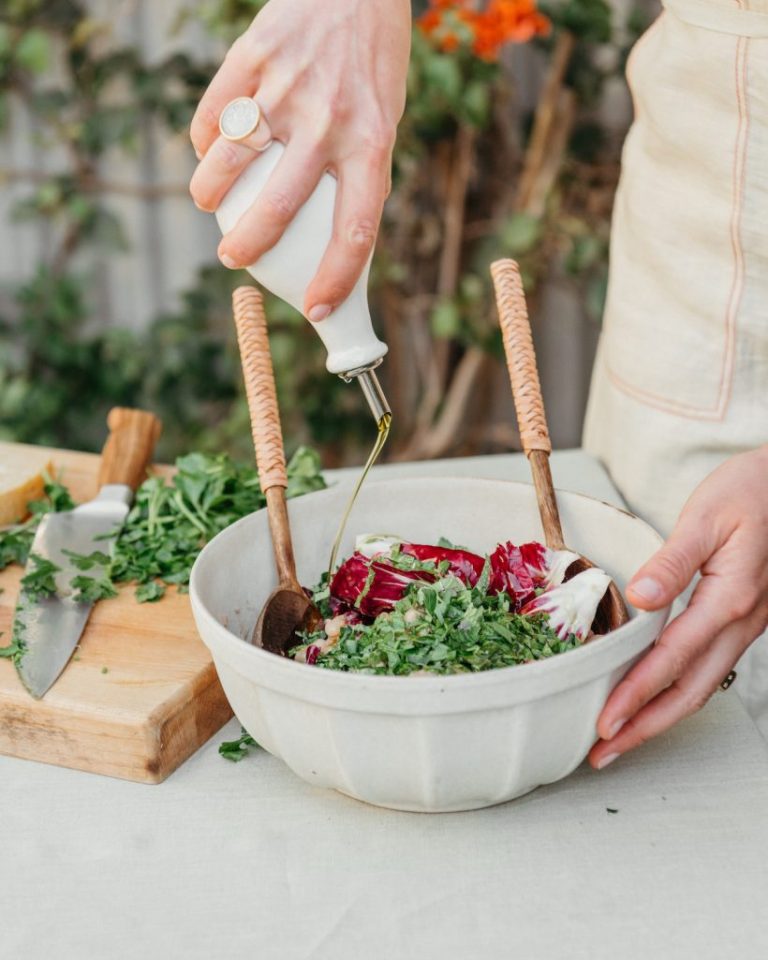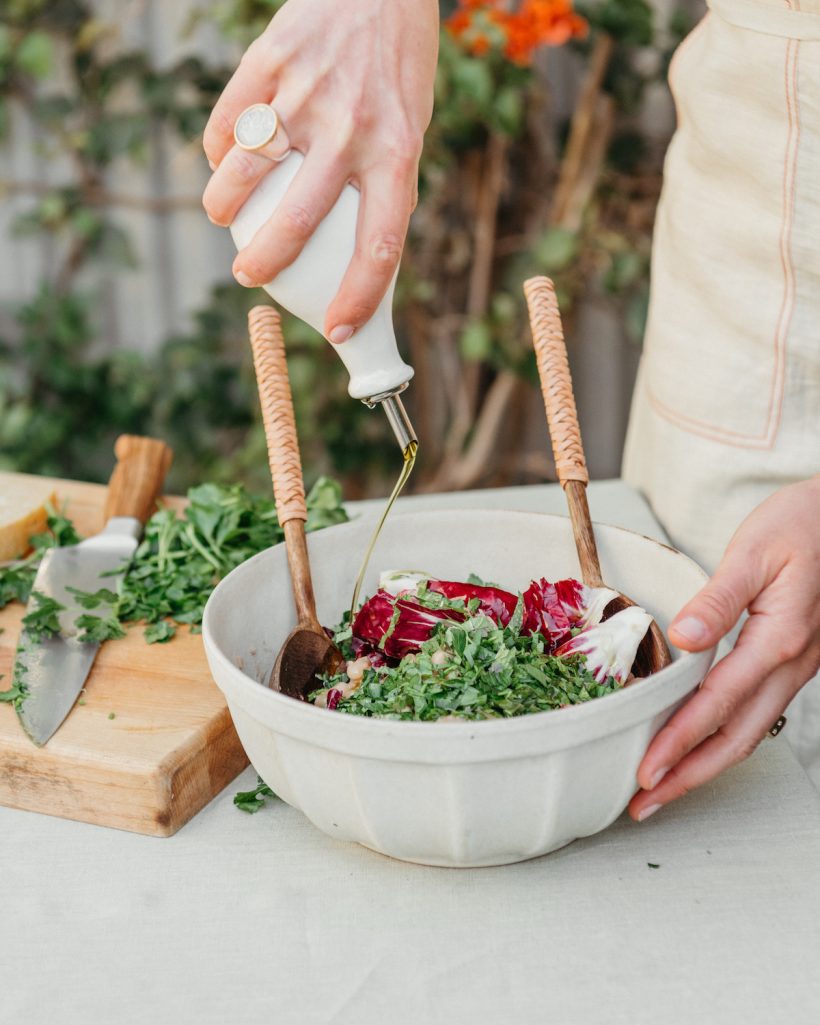 Why We Love It: Raddichio is a seriously underrated salad green. I love that it's sturdy, colorful, and just a little bit bitter, making it ideal for tossing with creamy cannellini beans and Parmigiano Reggiano. Simple, tasty, and absolutely perfect.
Hero Ingredient: Cannellini beans bring protein to this salad party.
Flatbreads, Toasts, and Pizzas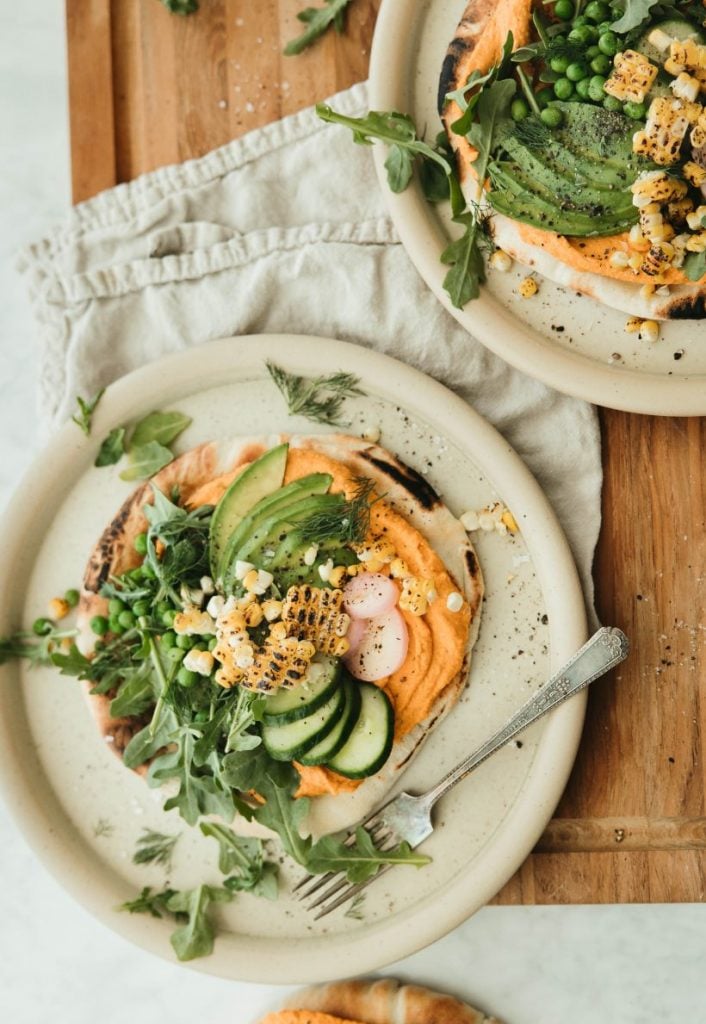 Why We Love It: My favorite high-protein vegetarian meals are those that let me clean out the fridge and use up my veggies before they go bad. And if they taste delicious and look gorgeous on the plate? Well, that's just an added bonus. This stunner of a flatbread checks all the boxes on what makes an incredible vegetarian meal. Layers of creamy, vibrant hummus get topped with a few favorite veggies for crunch and texture. It doesn't get better than that.
Hero Ingredient: When you find a hummus recipe that packs as many veggies as this one does and elevates it with gorgeous flavor, you bookmark it and vow never to let it go.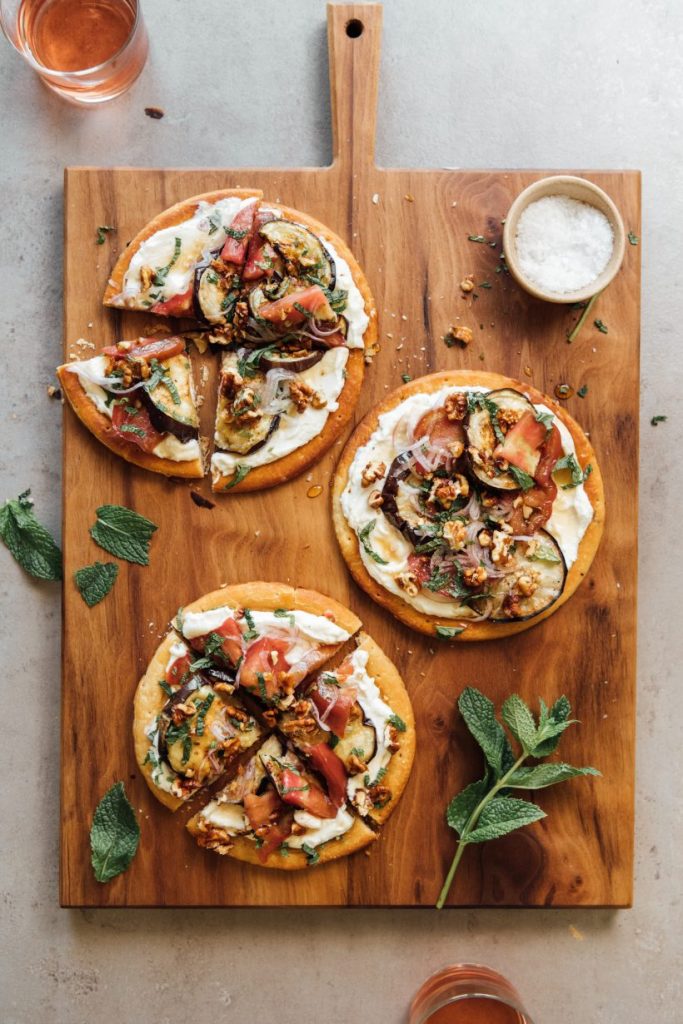 Why We Love It: I can practically smell these delicious veggies through the screen! Layers of eggplant and heirloom tomatoes melt into the ricotta-topped crust and are then topped with an absolutely stunning finish of fresh mint and toasted walnuts. Honey plus a sprinkle of flaky sea salt mark this pizza's gorgeous closing act.
Hero Ingredient: I've loved ricotta for as long as I can remember. A spoonful of its creamy, slightly sweet flavor is pure joy.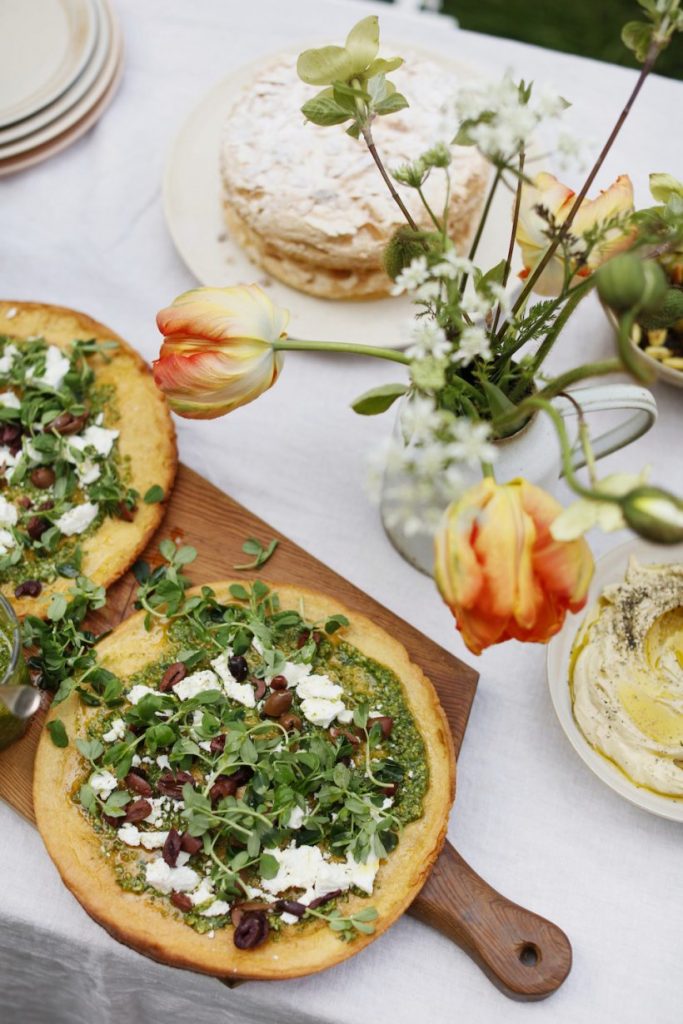 Why We Love It: Part pizza, part flatbread, and with all these veggies packed in, this farinata does it all. The chickpea flour flatbread is topped with jammy caramelized onions and an incredibly flavorful hazelnut-arugula pesto. It's divine.
Hero Ingredient: Caramelized onions are the elusive, humble, and wonderfully sweet addition that makes any dish or recipe a million times more delicious.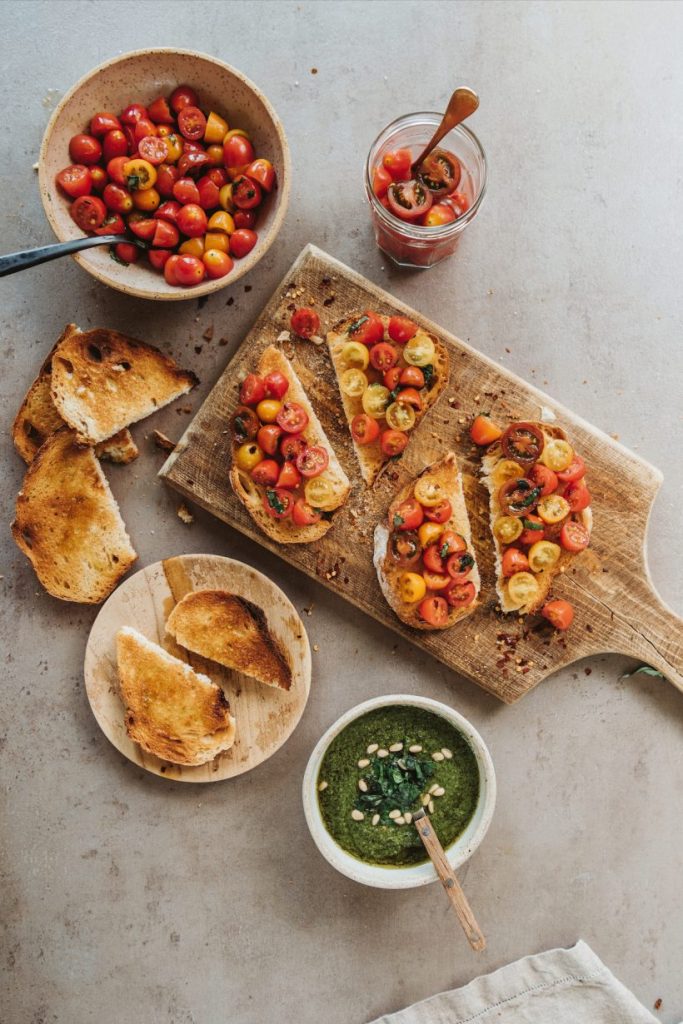 Why We Love It: Though I love a parmesan-flecked pesto, I've found myself craving something a little lighter. Good news: Not only is this spin packed with flavor and will prevent a post-pasta nap, but it also boasts an impressive amount of protein. Thanks to the blending of hemp seeds, pine nuts, and nutritional yeast, this is a pesto recipe that's sure to satisfy.
Hero Ingredient: Nutritional yeast is every vegan's go-to for packing a recipe with tons of dairy-free, cheesy flavor.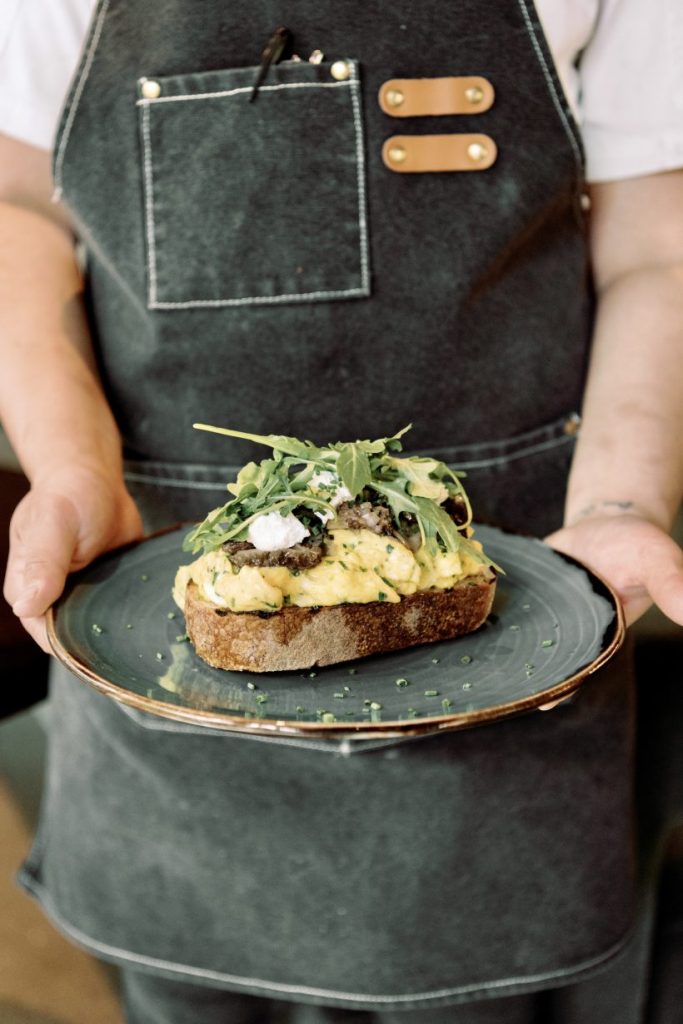 Why We Love It: An egg-and-mushroom toast might not seem like much, but when you give time, attention, and care to each of the individual components of this dish, magic is sure to ensue. And though we'd gladly enjoy a slice for brunch, it's an ideal breakfast-for-dinner solution that's a dream for weeknights.
Hero Ingredient: Good, crusty sourdough bread is your best option for topping. Otherwise, spring for your favorite loaf—just be sure you're reaching for the freshest you can find.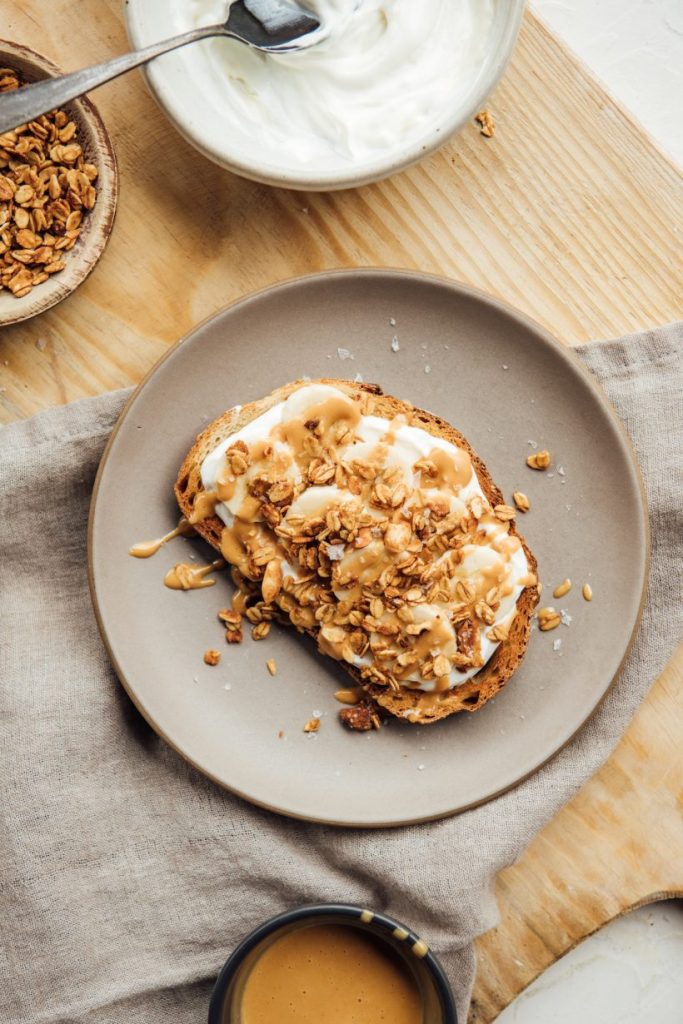 Why We Love It: While a variety of different toasts are trending, this pared-back version still has my heart. A thick, full-fat yogurt makes the topping taste almost custard-like. In many ways, it's akin to eating a healthier cake for breakfast—with the best frosting to boot.
Hero Ingredient: A drizzle of slightly-warmed peanut butter is always a winner.
Soups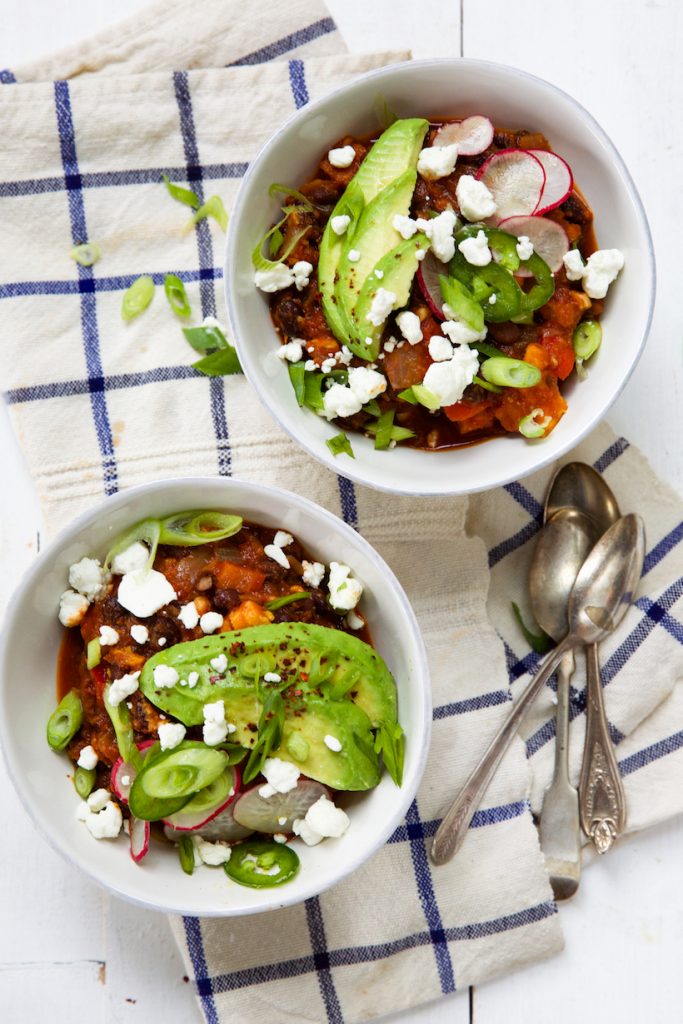 Why We Love It: This vegetarian and gluten-free recipe can be easily reheated, is packed with nutrients, fits a variety of dietary needs, and, most importantly, is incredibly delicious.
Hero Ingredient: Beans, beans, the magical fruit…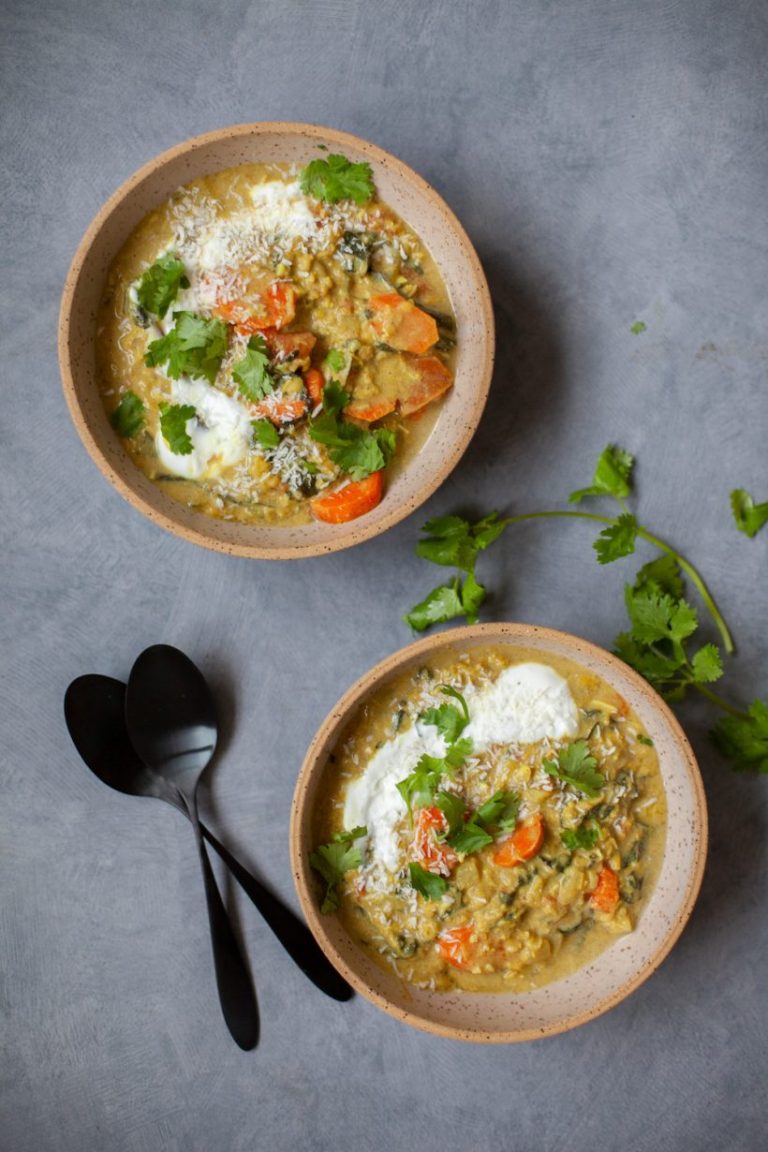 Why We Love It: When all you desire is snuggling up on the couch with a hearty bowl of soup, this recipe has you covered. It's more than enough to fill you up, thanks to the protein-packed lentils. Oh, and it tastes delicious!
Hero Ingredient: The kale and carrots. They keep this soup feeling like soup (and not like a big bowl of lentils).
Main Dishes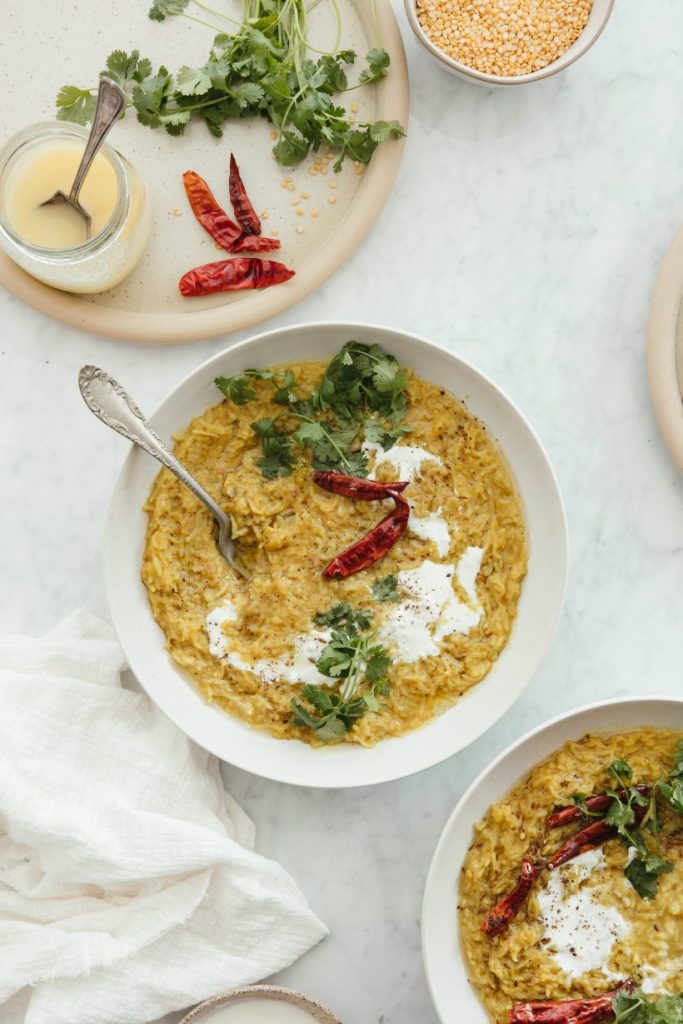 Why We Love It: Apart from kitchari being a stunner of a dish, its blend of warming spices will, without fail, cure what ails you. And as our food editor Suruchi writes, it's a "bowl that feels like a blanket." I don't know about you, but that's exactly what my cozy season self craves.
Hero Ingredient: A couple tablespoons of ghee gives this virtuous dish the slightest inkling of indulgence.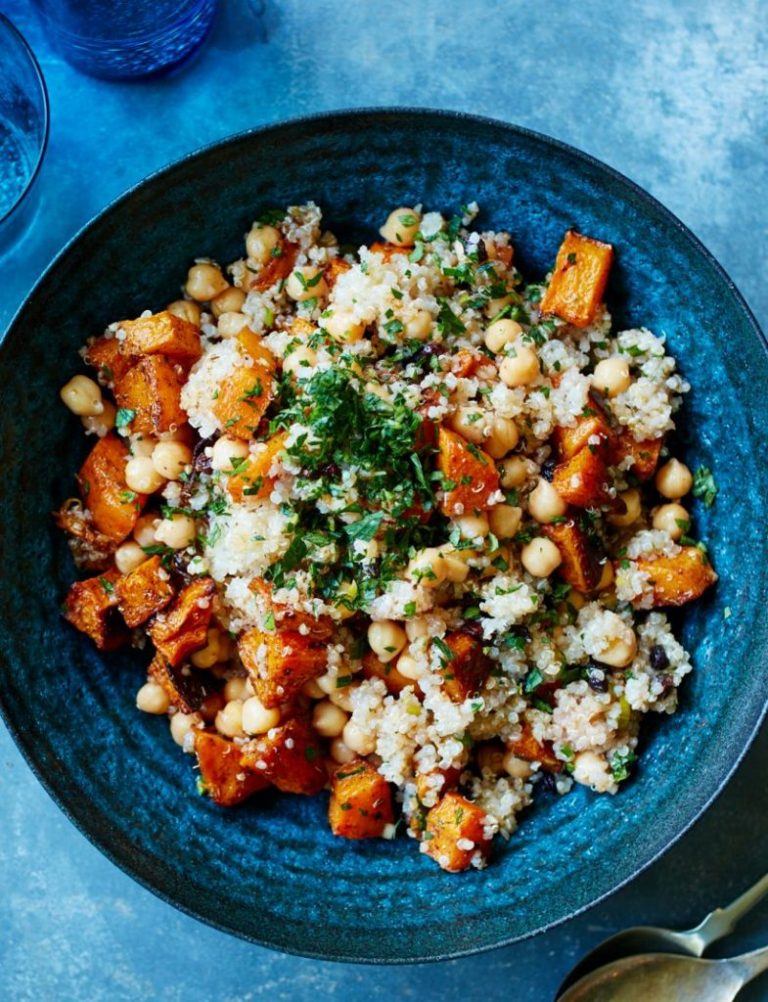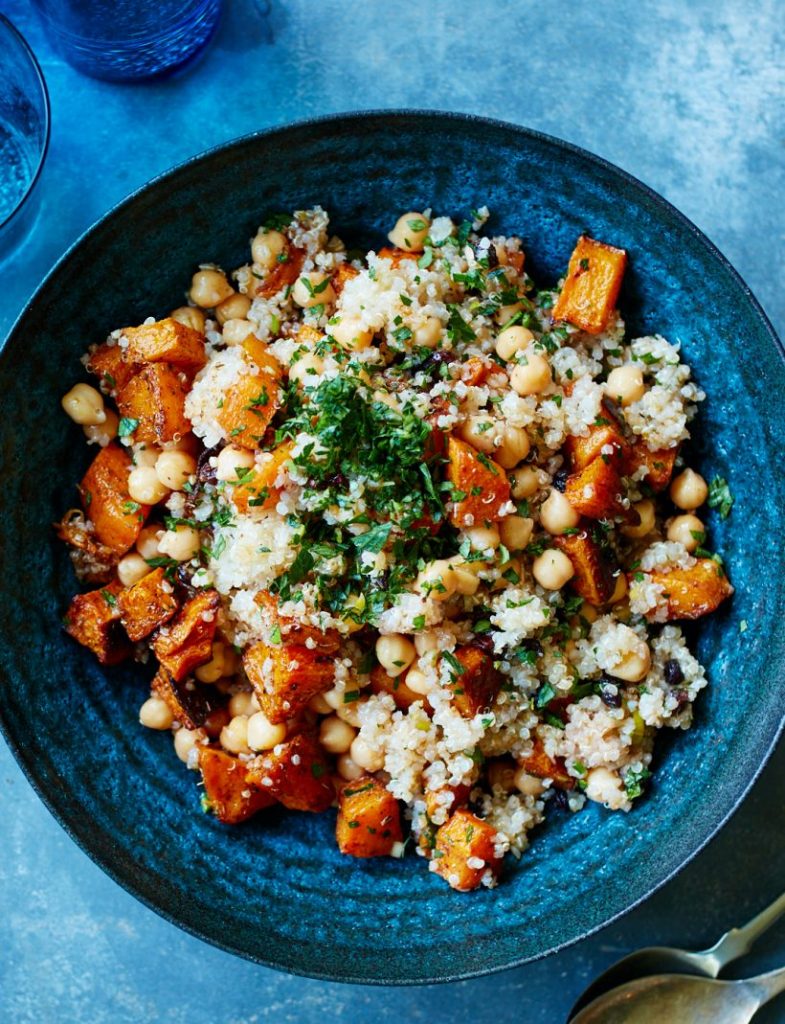 Why We Love It: This loaded quinoa bowl takes roasted butternut squash to the next level. Our go-to tip for making your squash super crispy? Arrange it in a single, even layer on the sheet pan. If you crowd the pan, your squash will steam instead of roast. It's the key to making this dish a weeknight showstopper.
Hero Ingredient: Don't knock currants until you've tried them. They're bright, slightly sour, and will make your mouth pucker—the perfect balance to the sweet squash.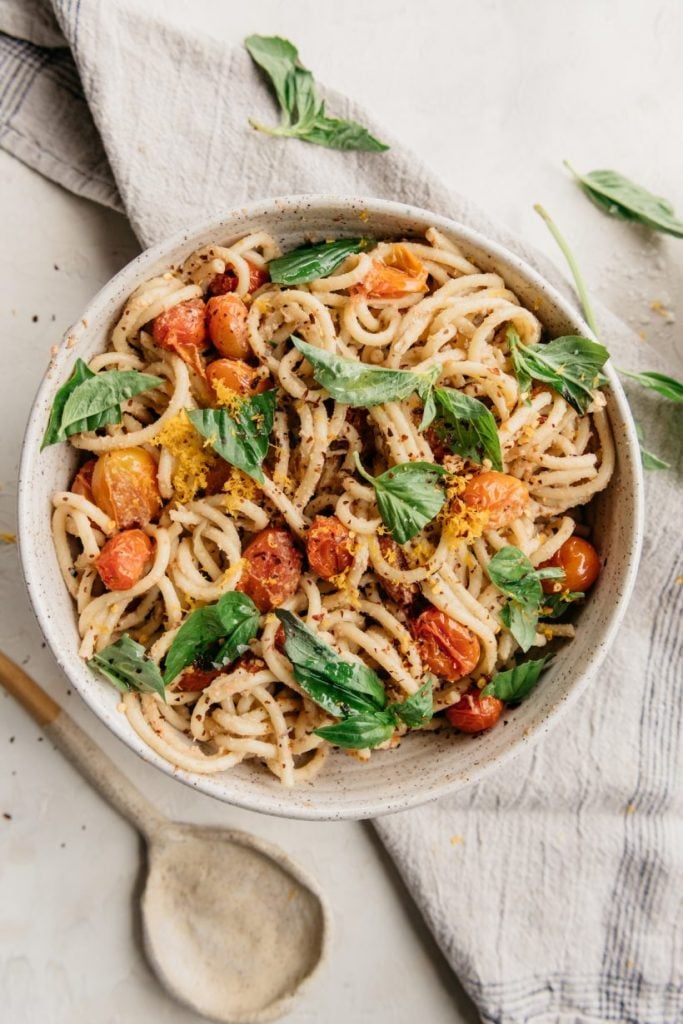 Why We Love It: This pasta is delicious, healthy, and can be easily whipped up in only 15 minutes, saving you any dinnertime stress. What's more, the creamy walnut sauce can be made and stored in the fridge for up to two weeks, so you'll always have a tasty option on hand.
Hero Ingredient: There's nothing quite like the sweet burst of cherry tomatoes cooked on the stovetop.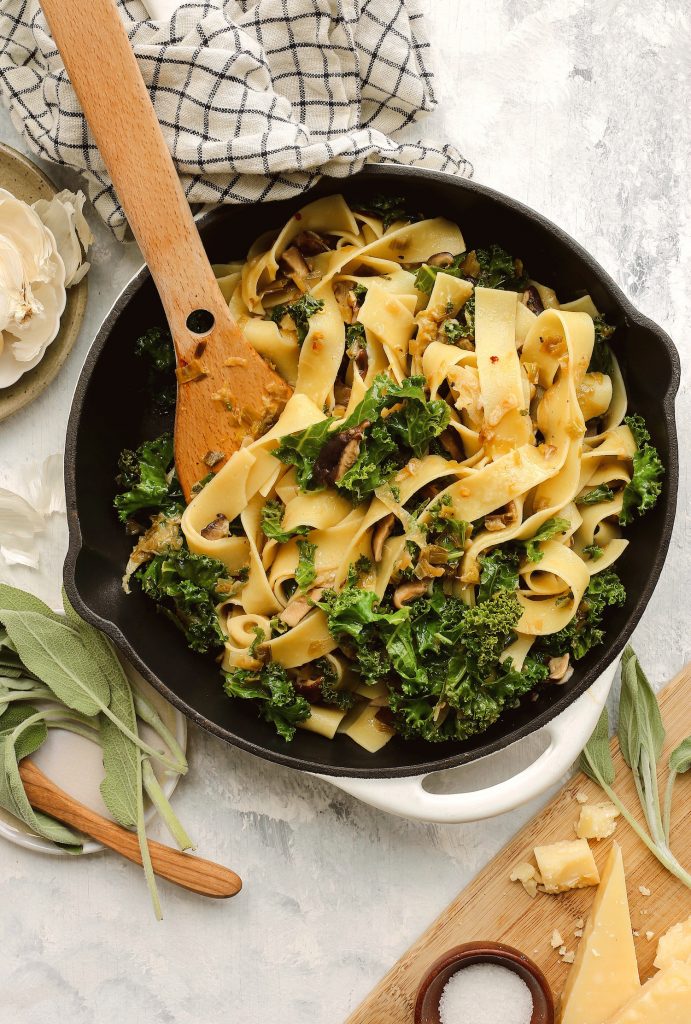 Why We Love It: When was the last time you had a truly delicious leek dish? You need to put this one on your list ASAP because it is elite. Nothing beats a high-protein vegetarian meal that includes pasta.
Hero Ingredient: And while leeks are an attention-grabber, it's the thick, chewy strands of pappardelle that have my heart.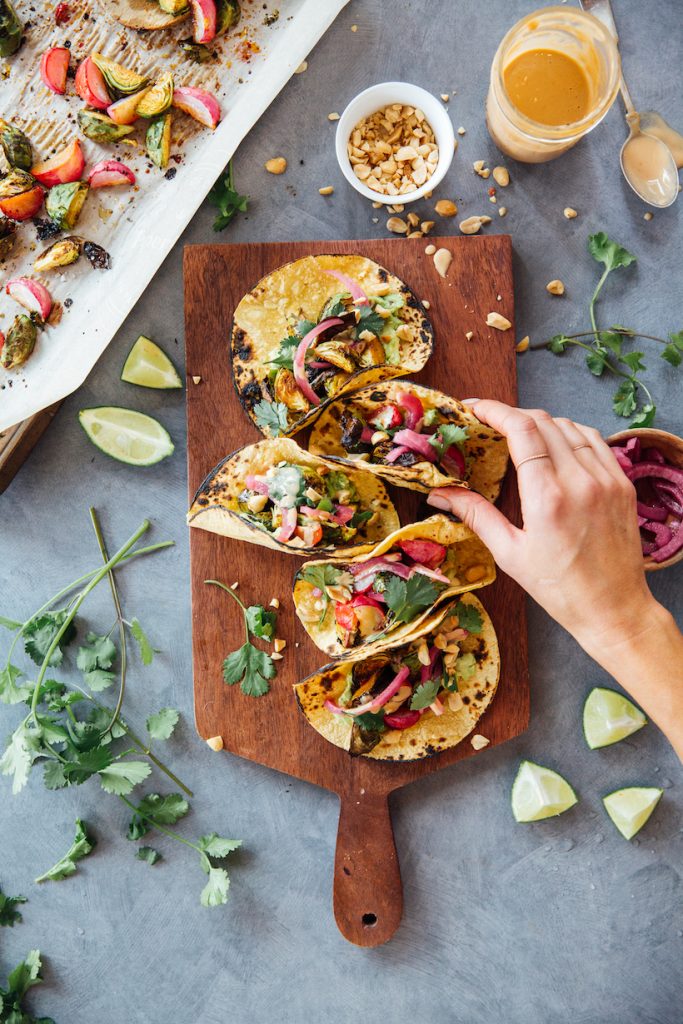 Why We Love It: The Brussels sprouts are the dish's main focus and get coated in the most delicious mix of spices and sweetness. A drizzle or two of the peanut sauce, and you'll be coming back for seconds. Maybe even thirds.
Hero Ingredient: Roasted Brussels sprouts elevate these warming, wholesome tacos into an elegant and delicious meal.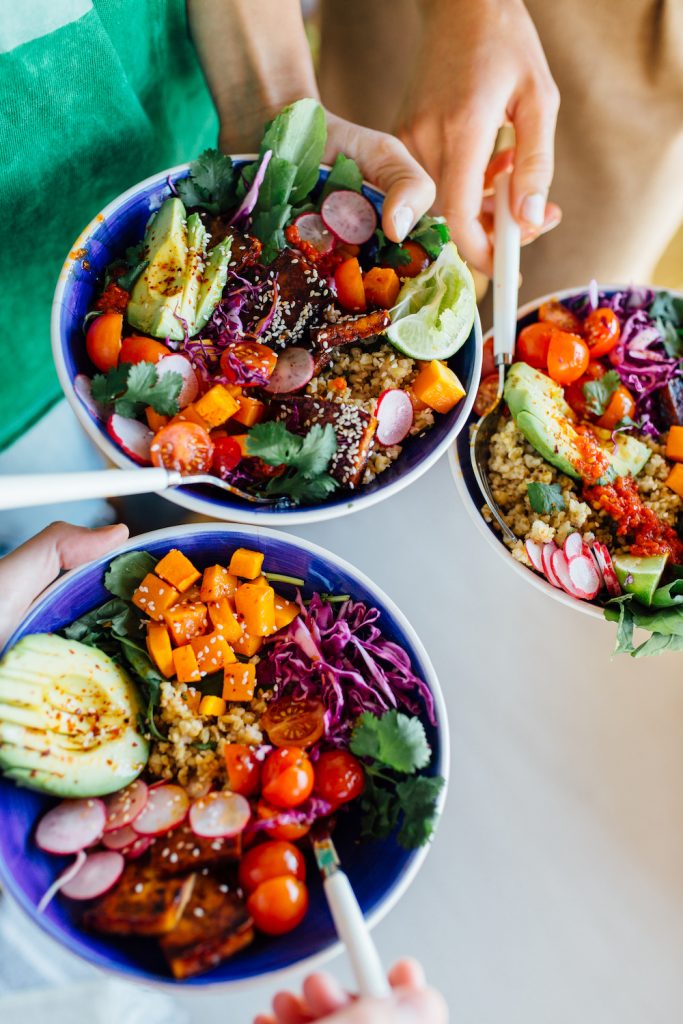 Why We Love It: Fresh, crunchy vegetables, protein-packed maple-tamari tofu, nutty freekeh, and a seriously yummy maple-harissa dressing. These grain bowls epitomize eating the rainbow and are a guaranteed crowd-pleaser.
Hero Ingredient: With so many colorful veggies and components to choose from, naming these bowls' hero ingredient is a tall order. But I'll opt for the avocado because nothing matches its addictingly creamy mouthfeel.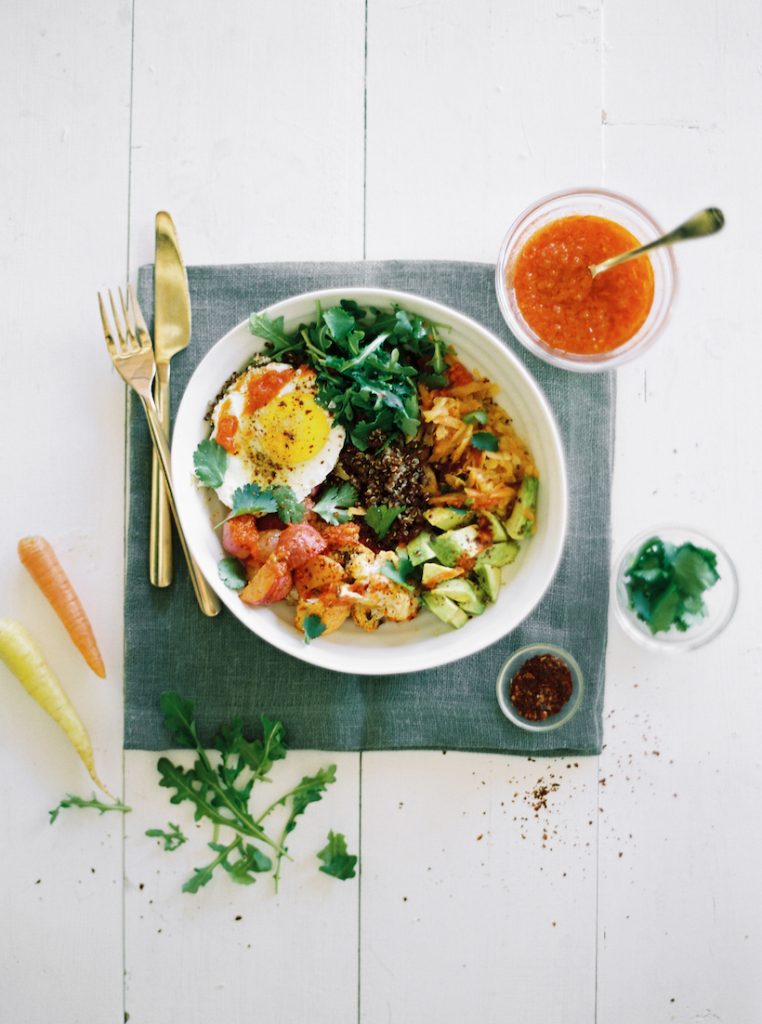 Why We Love It: This dish is easy to prep in advance, so you don't have to worry about throwing it together during a chaotic dinner hour. And isn't it gorgeous? You'll be shocked at how filling this vitamin-packed bowl is. It's as satisfying as it is a breeze to make.
Hero Ingredient: I'm always sliding fried eggs onto my favorite grain and veggies bowls. It's the secret to keeping things super satisfying.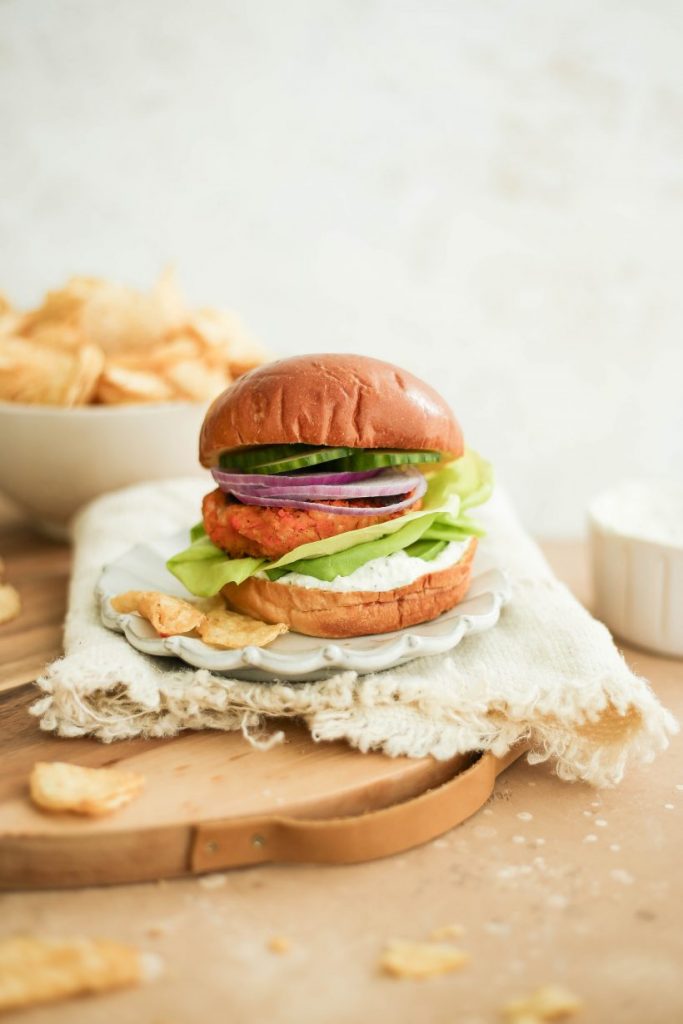 Why We Love It: These homemade, veggie-packed falafel burgers combine so much texture, flavor, and spice for a truly luscious, filling, colorful, and fun dinner. Add a side of sweet potato fries, and you have a real treat.
Hero Ingredient: Panko breadcrumbs add structure and texture to your veggie burger, mimicking meat versions perfectly.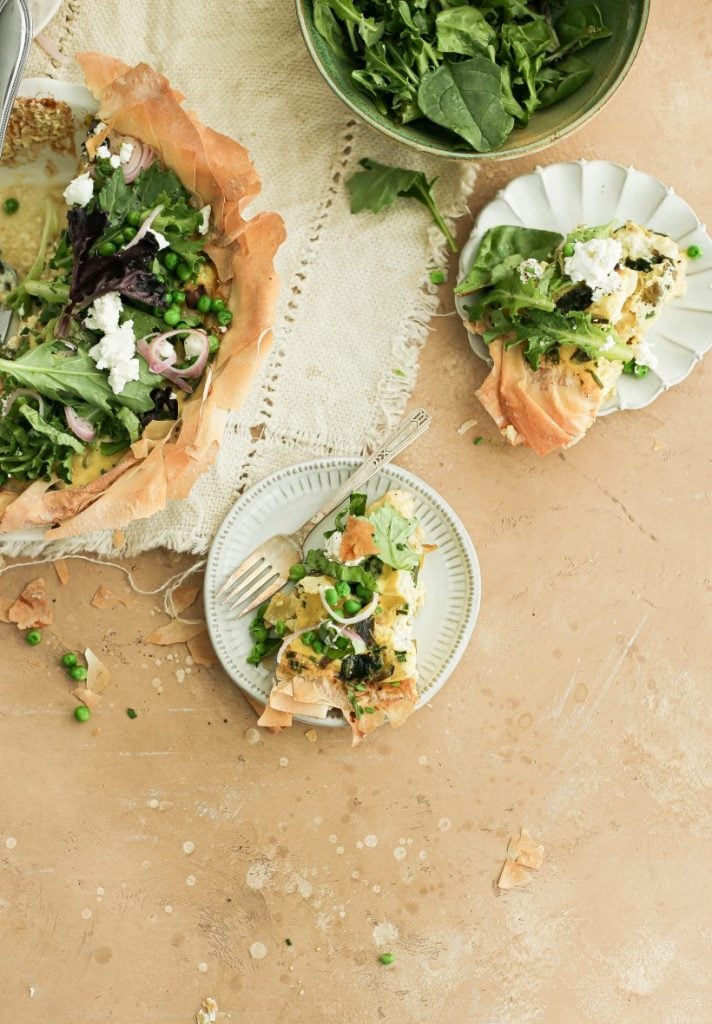 Why We Love It: This easy stunner of a quiche is the perfect foundational recipe for any and all of your favorite veggies. I love that it wraps nutrient-dense ingredients in parmesan, eggs, milk, and a crispy crust to help you enjoy their vibrant flavor and appeal all the more. While you might already have your favorite, tried-and-true quiche recipe, I encourage you to give this one a spin.
Hero Ingredient: Crumbled goat cheese delivers just the right amount of salty tang.
This post was originally published on June 9, 2020, and has since been updated.