It's official: eggs are in. My family and friends will laugh about it, but I'm a total egg phaser—as in, sometimes they're in, and sometimes they're WAY out. If they're in, I have about a week-long window to pack in as many as I can before—all of a sudden—the egg ick strikes. You never know when it'll hit. It could even be mid-bite. But every once in a while, eggs just don't do it for me. But that said, eggs totally have the green light right now and I'll be eating them for every meal until further notice. (And believe me, with the recent spike in egg prices, I've been making room in my grocery budget to satisfy the craving.) So, allow me to introduce you to one of my favorite recipe categories ever: egg recipes for dinner.
Featured image by Suruchi Avasthi.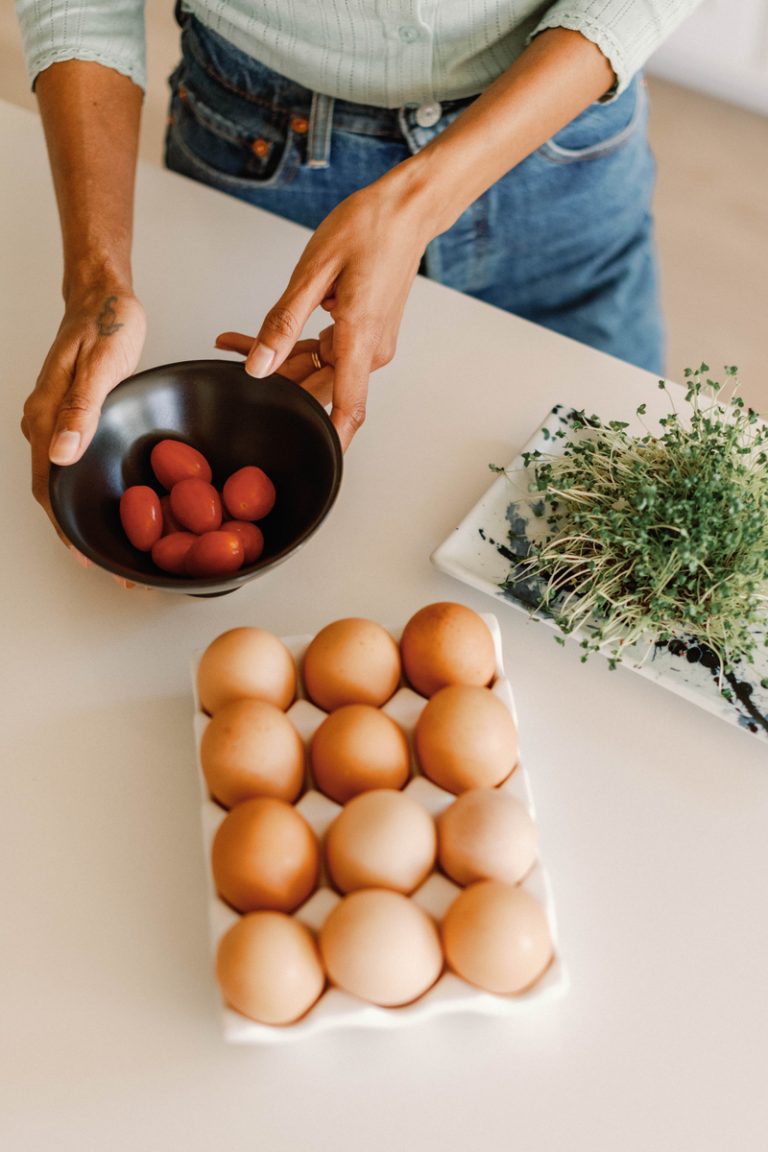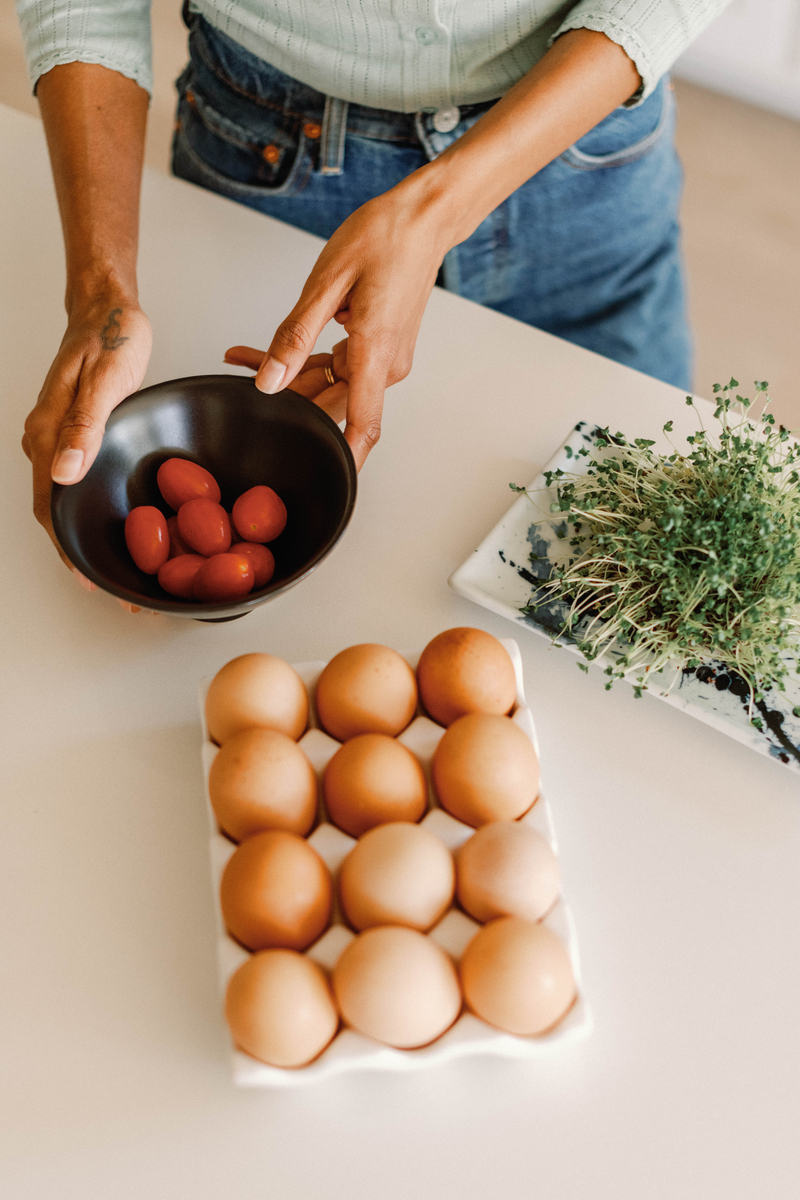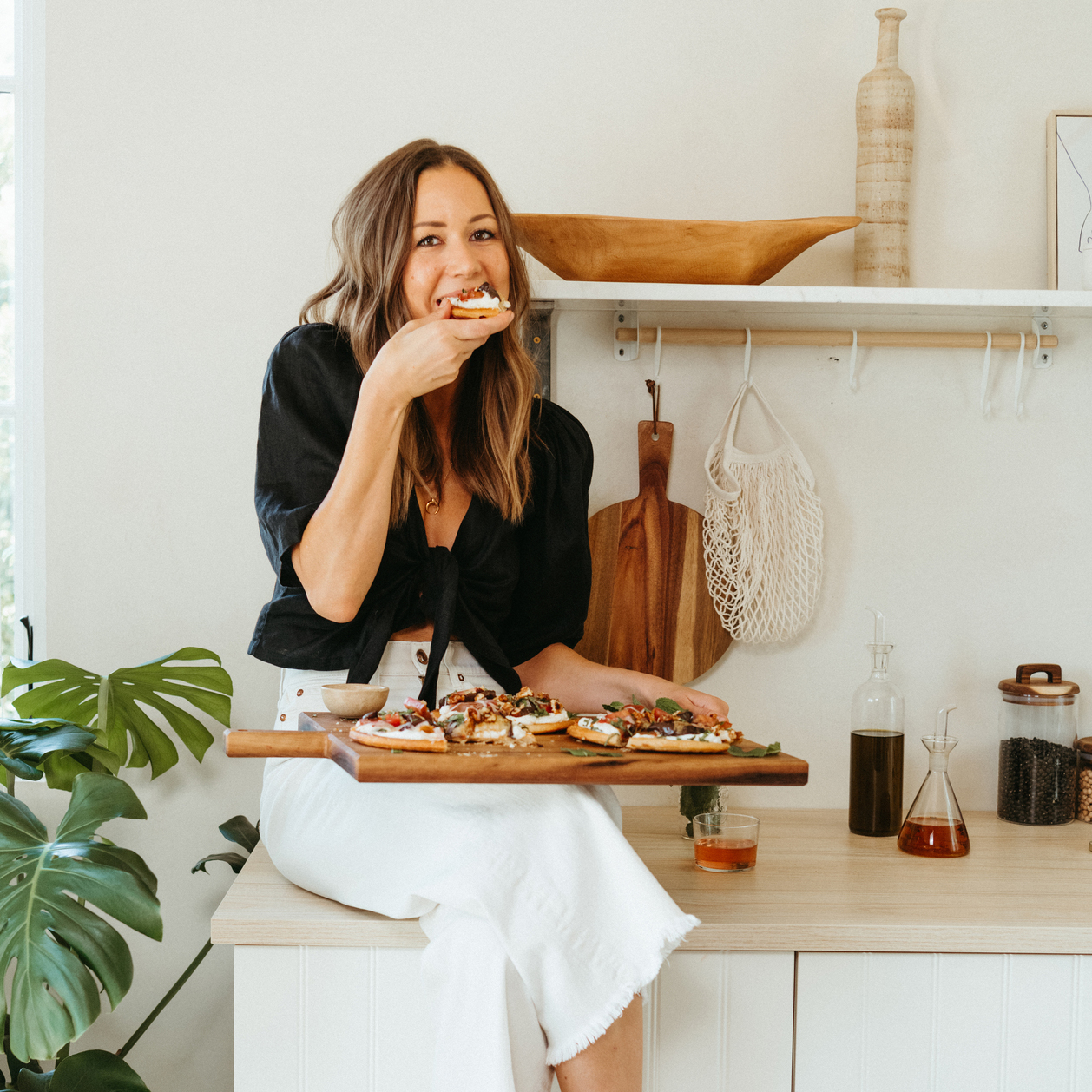 Subscribe
Our Top 10 Recipes
Sign up to receive a FREE E-BOOK of my top 10 most popular recipes of all time!
Thanks for Signing Up!
Oops!
Looks like you're already signed up or your email address is invalid.
Oops!
Looks like you unsubscribed before click here to resubscribe.
21 Egg Recipes for Dinner to Make Busy Weeknights a Breeze
If you've ever had breakfast for dinner (as I'm sure you all have), you're no stranger to the pure joy that it brings to the table. It's almost a bit taboo, which makes it all the more exciting to enjoy. My personal favorite lineup includes crispy bacon, scrambled eggs, toast with jelly, and—if I'm feeling adventurous—pancakes. It's a budget-friendly meal that feels celebratory at the same time, which is part of the magic of it all.
While we're at it, let's give a shout-out to the humble egg! It's a chameleon of the culinary world and we enjoy it as such. Whether in deviled eggs, on a brunch burger, in pasta, or in a breakfast burrito, eggs lend their golden yolks to so many delicious dishes. With that in mind, we've rounded up an assortment of egg recipes for dinner that pack in protein and flavor in a pinch.
Each egg recipe in this lineup ensures you're getting the nutrients you need to look and feel your best. And to avoid the egg ick, these egg recipes are intricately layered with textures and flavors that preserve the breakfast-for-dinner nostalgia while elevating them to nourishing dinner status.
Read on for our favorite egg recipes for dinner and get ready to savor the unexpected.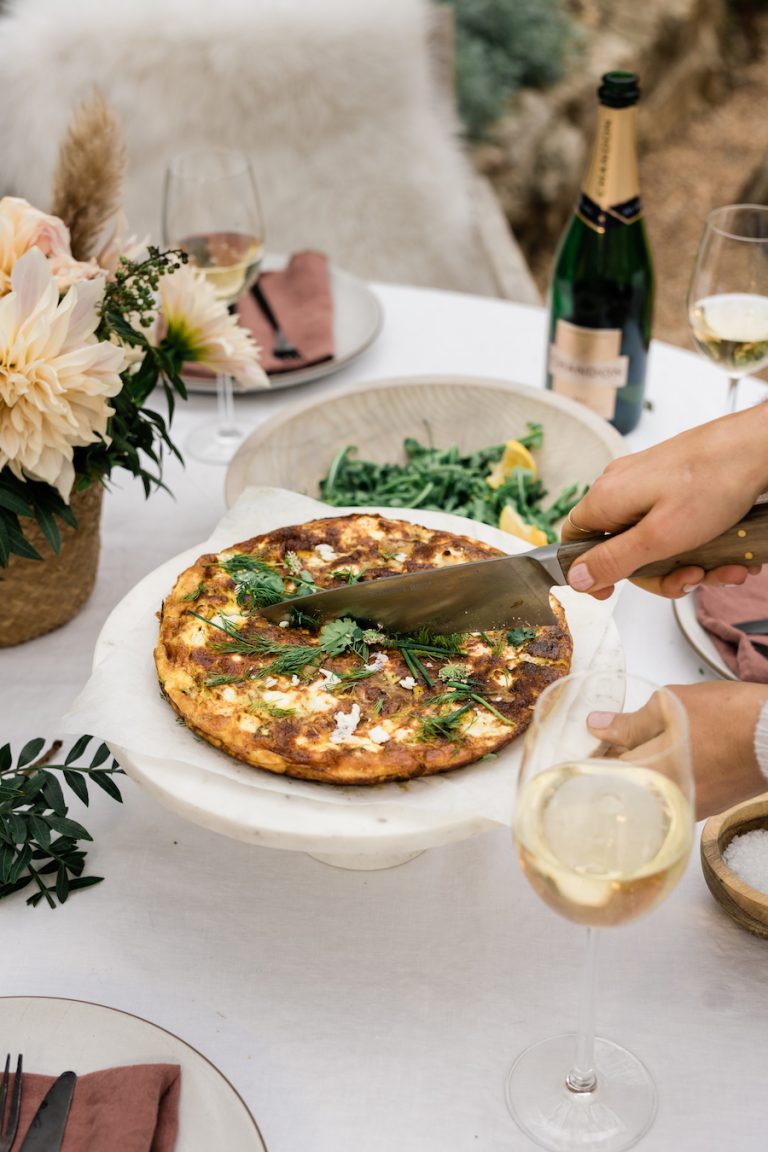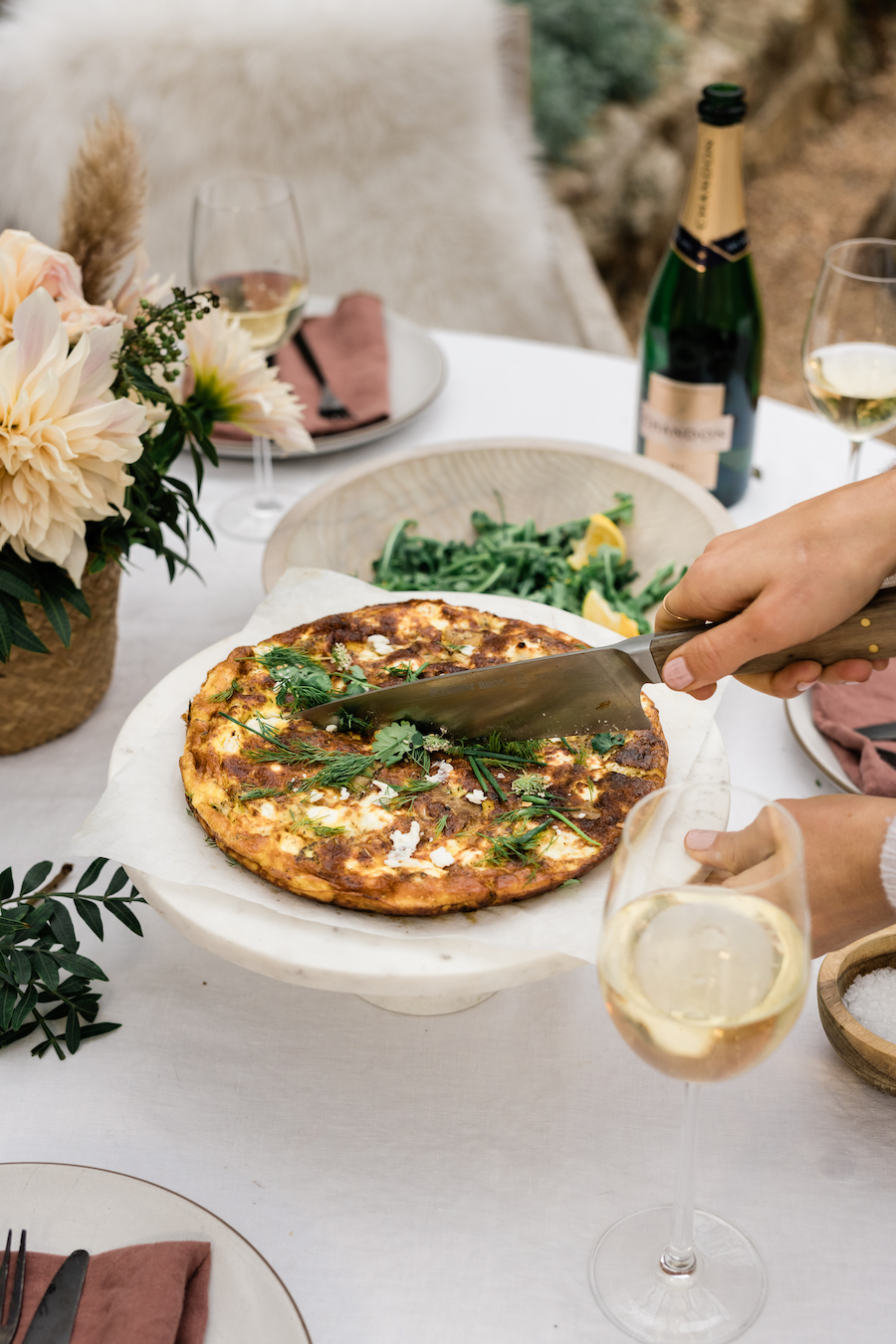 Why We Love It: A frittata is the perfect thing to make when you have a drawer full of vegetables that you don't know what to do with. That spinach that's been glaring at you from the drawer? Add her in. And those mushrooms that are bordering on going bad? They steal the spotlight here. It's simple, nourishing, and totally customizable to your tastes and inventory. Use up what you have and don't be afraid to add a "little something here" or a "dash of this there." It's all about creativity.
Hero Ingredient: Goat cheese will always take the cake for me. You can't beat the tang and creaminess it lends to the dish.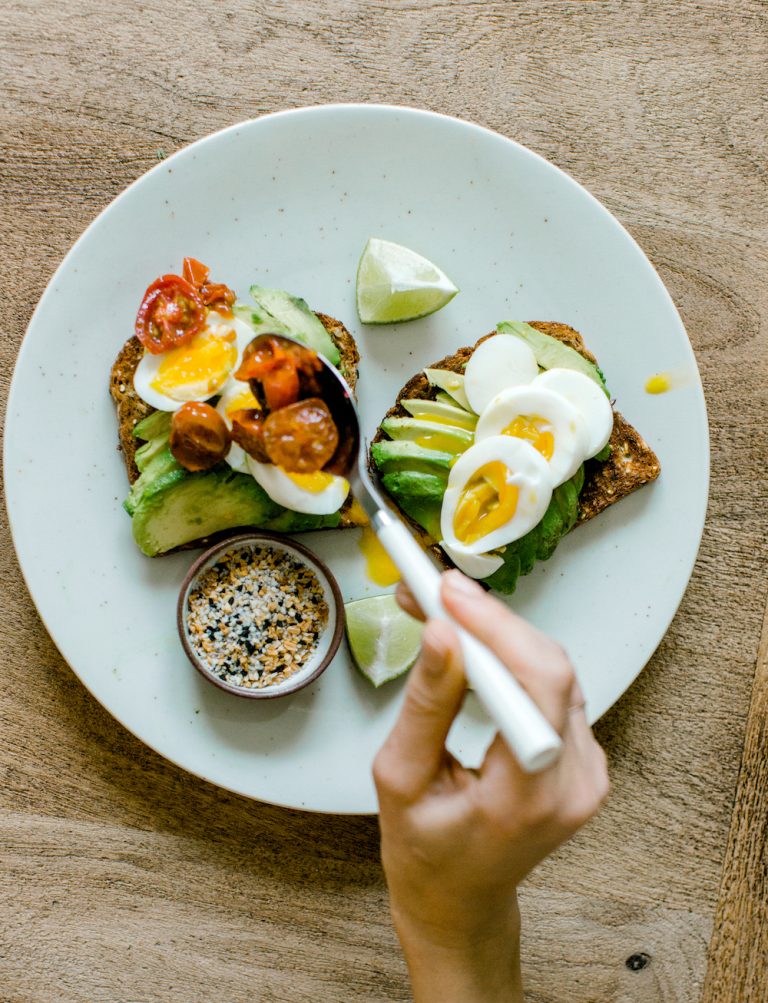 Why We Love It: Avocado toast entered the scene a decade ago and still hasn't left—and it's no mystery why. It's the ideal breakfast on the go, lunch when you're out of inspo, and lazy dinner recipe that doesn't take too much time out of your weeknight wind-down. In this variation, you're getting crunchy toast layered with creamy avocado, juicy roasted tomatoes, and the acclaimed eight-minute jammy egg. It's practically perfect in every way.
Hero Ingredient: A sprinkle of everything seasoning over top gives you a bit of crunch and a lot of delicious flavor.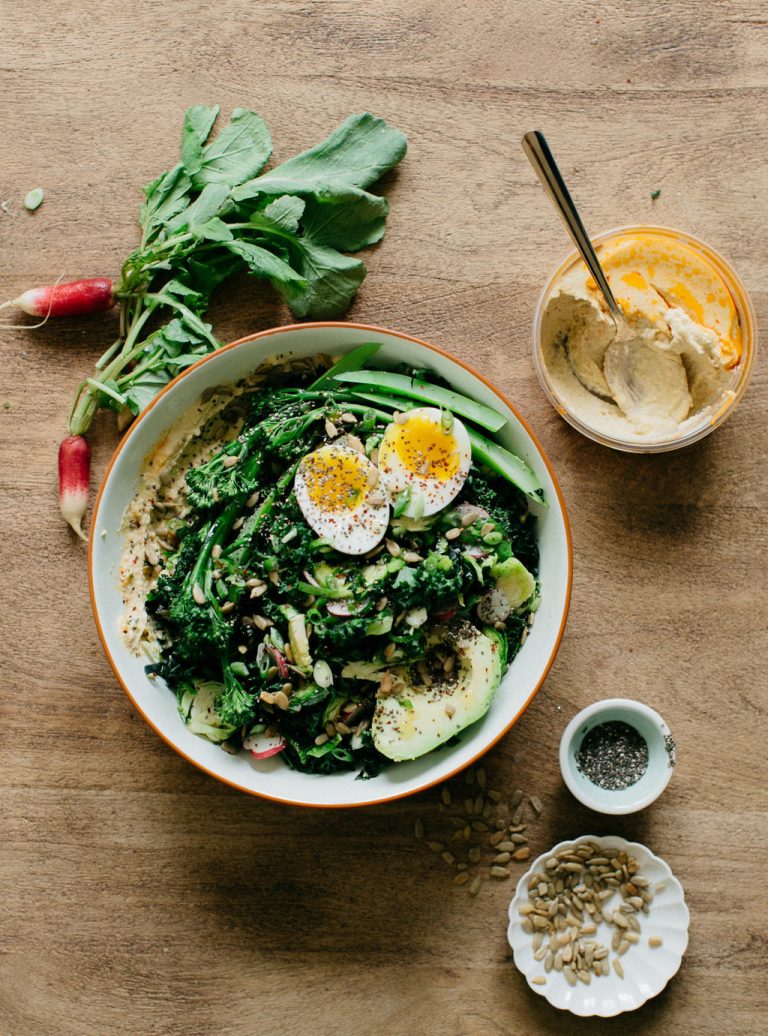 Why We Love It: Like avocado toast, bowls are definitely not going away any time soon. They're packed with nutrients, are totally customizable, and make it easy to throw together whatever you're craving and call it a meal. In this glowy creation, you're packing in all the healthy fats with a dose of protein from that gorgeous jammy egg and the hummus throne it sits on. It's just the right amount of satisfying that gives you the green light to eat it for lunch while still being able to power through your workday.
Hero Ingredient: Don't sleep on the broccolini. It gives the bowl a freshness and crunch that cuts through those yummy fats.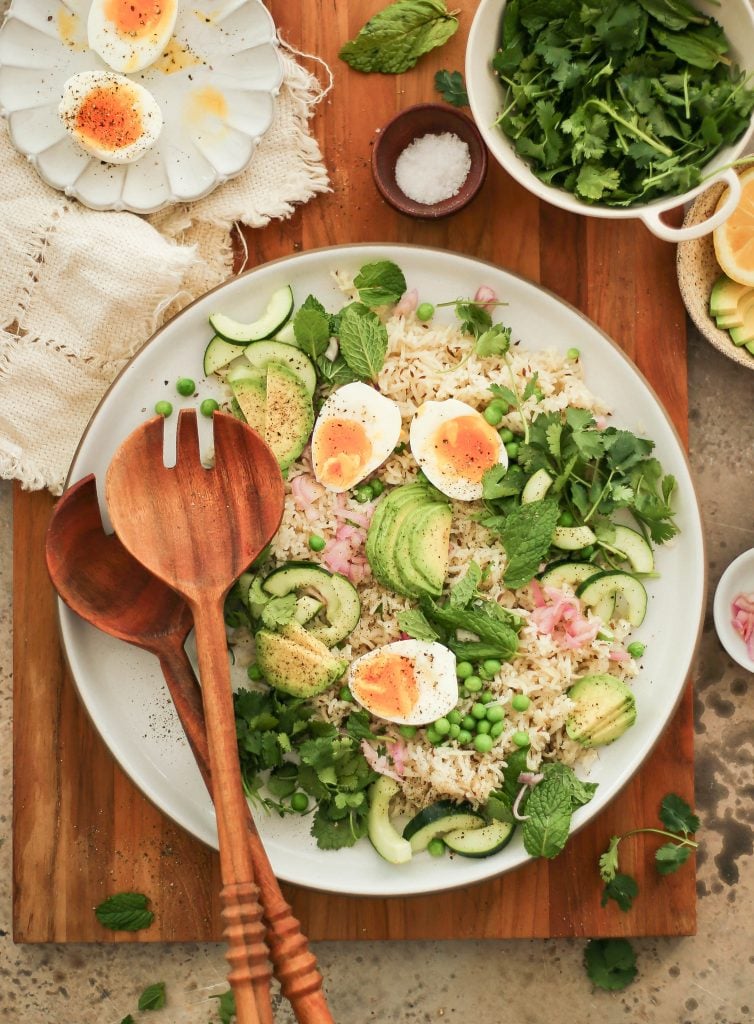 Why We Love It: Our food editor, Suruchi, claims this salad to be so addictive that she ate it for an entire week straight. If that testimony isn't enticing enough, let's break down what's inside. One of the best parts about this recipe is that it's a lot of pantry staples combined in harmony. As in, you might already have exactly what you need on hand—woohoo! Also, it's full of flavors and textures that you won't want to miss out on. And as always, you can absolutely customize this one to your inventory and tastes.
Hero Ingredient: Chili oil! ICYMI, it's all the rage right now and you can find it in lots of places. The Trader Joe's version is my personal fave.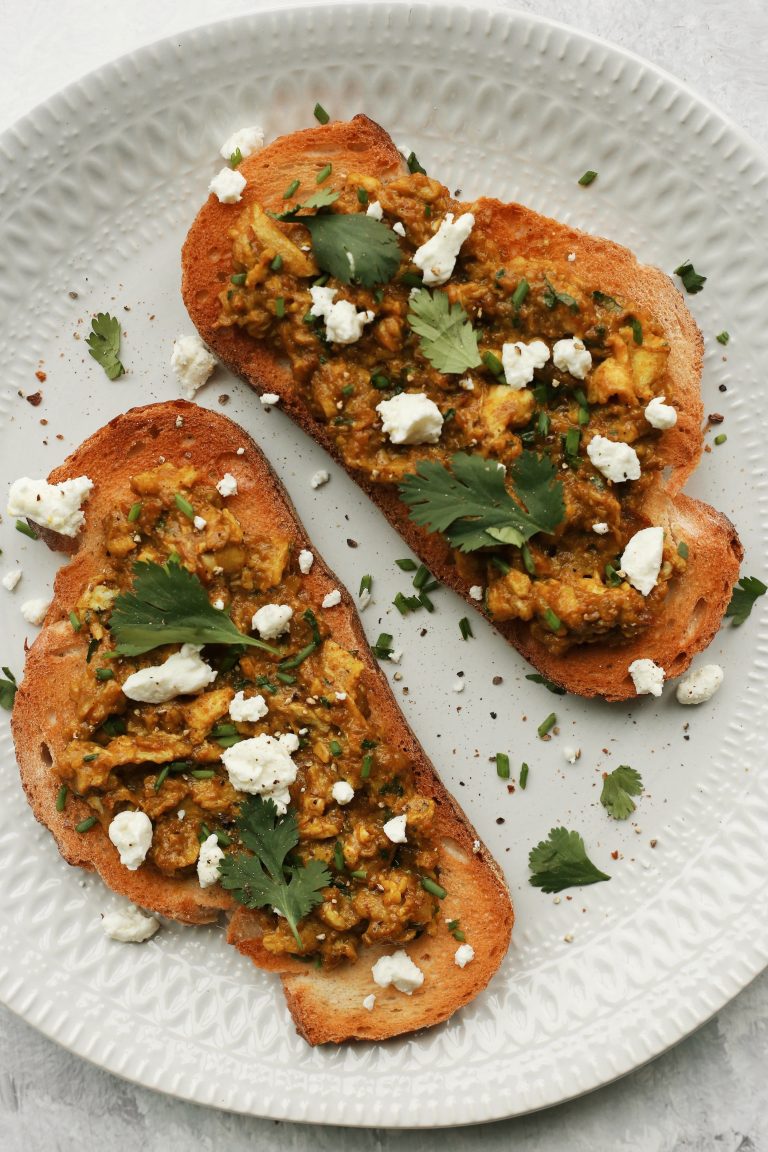 Why We Love It: Low and slow scrambled eggs laced with warming Indian spices are exactly the comforting dinner you need in your life—trust me. Garam masala, turmeric, chili powder, and more lend the eggs just the right amount of spice to keep things interesting. Combine that with a piece of crunchy sourdough? Dinner of our dreams.
Hero Ingredient: Sprinkle over all the fresh herbs you've got.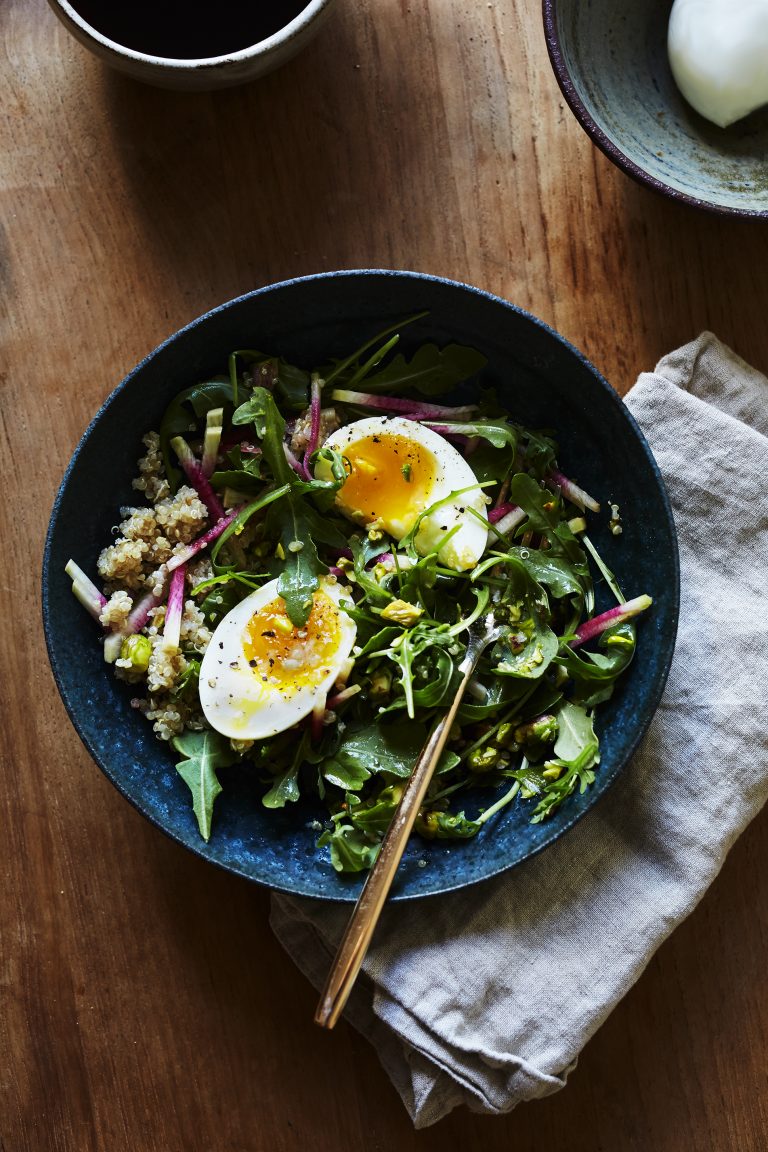 Why We Love It: We like breakfast for dinner, and salads for dinner, so how about a breakfast salad for dinner? With an egg, of course. This recipe was born out of a hunger for clean sustenance that leaves you feeling glowy on the inside and out. It's got greens, it's got grains, and it's got the all-important egg we praise so highly for dinner. Plus, it's just as easy to throw together as it is to enjoy.
Hero Ingredient: Like any respectable salad should have, the nutty crunch from the pistachios sprinkled over top is key.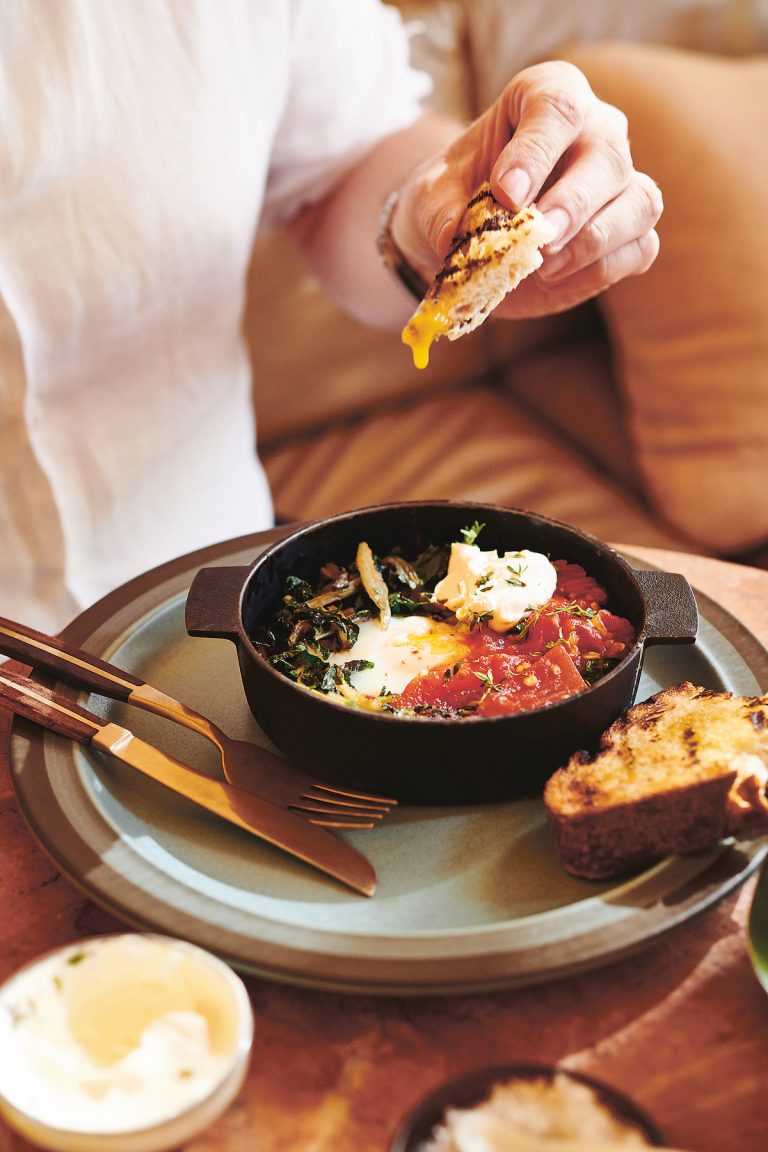 Why We Love It: This healthy and indulgent egg dipper is exactly what your cozy night in ordered. It's composed of jammy roasted tomatoes, leafy sautéed swiss chard, and soft-boiled eggs just waiting to coat your sourdough toasts. It's hearty, comforting, and totally manageable for even the busiest weeknights.
Hero Ingredient: A touch of cream reduced with lemon juice adds another layer of richness to this decadent dish.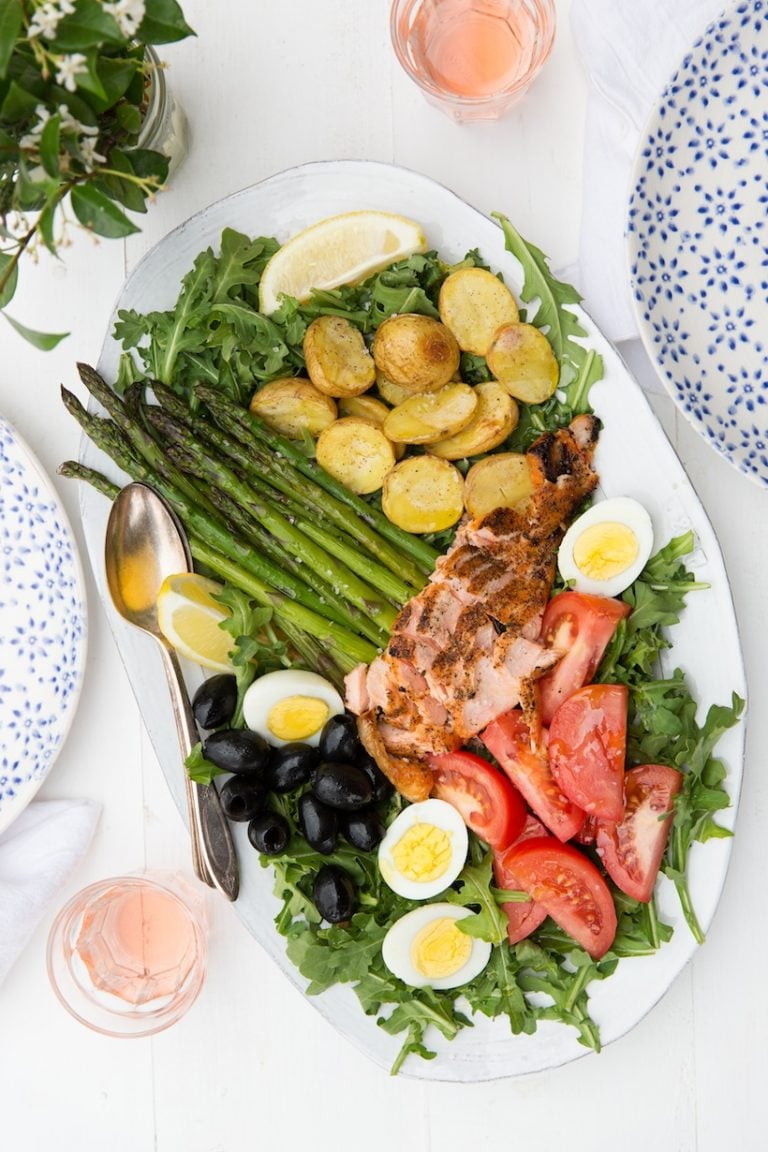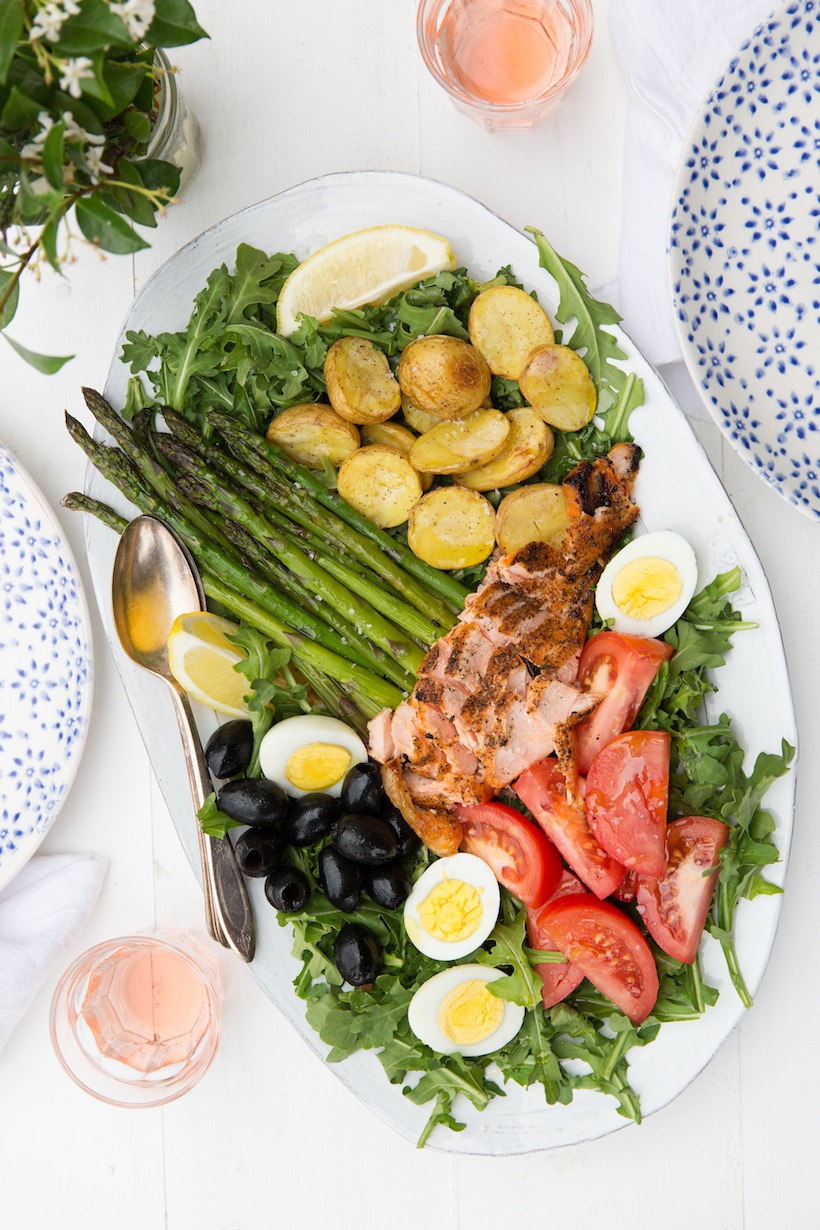 Why We Love It: Niçoise salad is a throwback recipe that, in my book, still holds weight today. It's layered with crisp asparagus, juicy heirloom tomatoes, hearty potatoes, and so much more goodness. It's simple, fresh, and exactly what the doctor ordered for a reset. When it comes to egg recipes for dinner, this one is definitely a fan favorite.
Hero Ingredient: Black niçoise olives bring the best bite of brine to the table.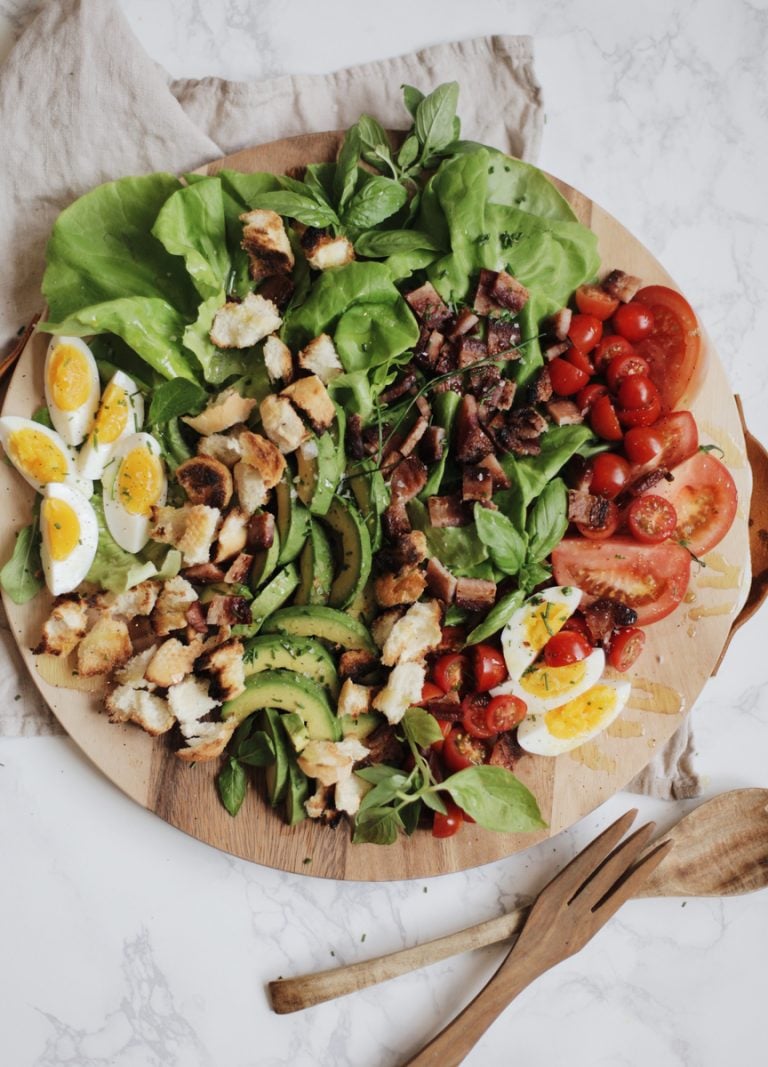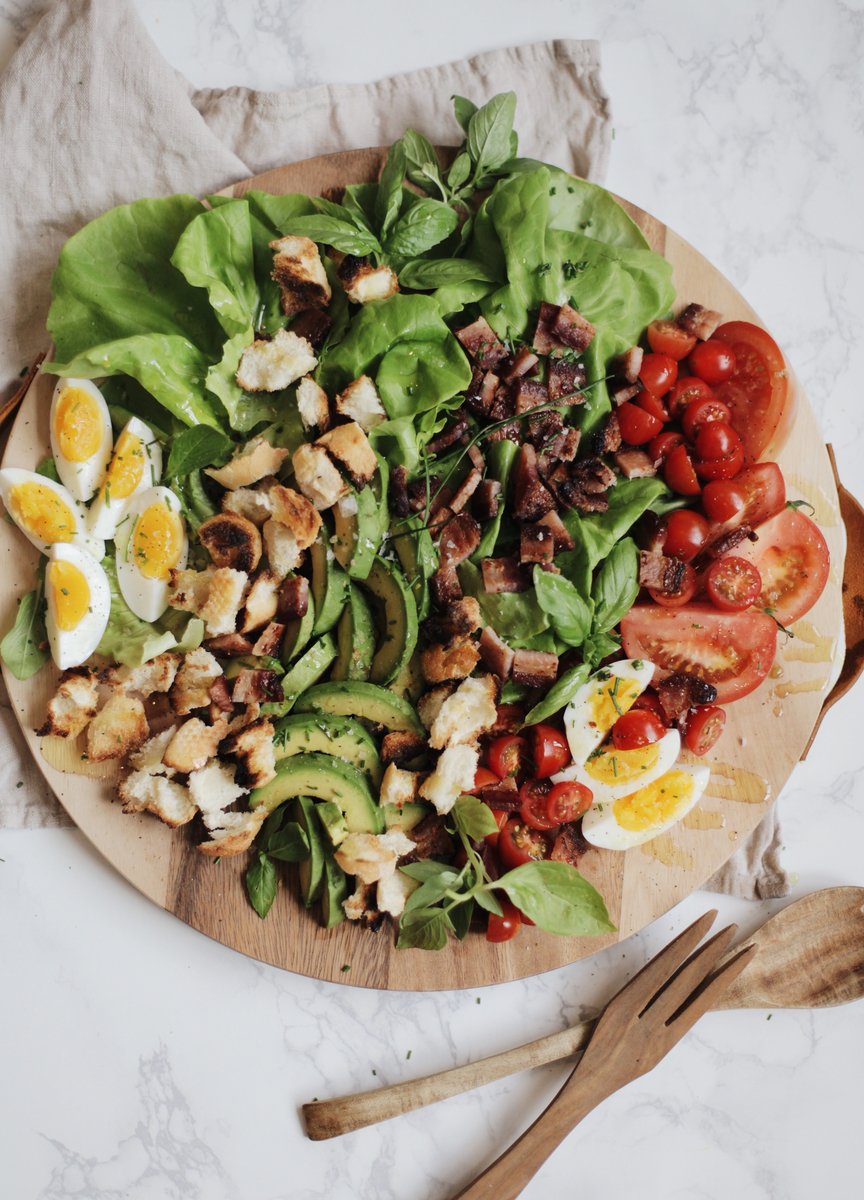 Why We Love It: Imagine all the things you love in a BLT, only in salad form. That's exactly what you're getting in this deliciously loaded salad packed with flavor and nutrients. Crispy bacon, creamy avocado, juicy tomatoes, and crunchy sourdough croutons are my personal dream team. Layer all that goodness over soft butter lettuce and you've got a winning dinner you'll want on repeat.
Hero Ingredient: Don't forget about those perfect eight-minute eggs. They're this salad's swan song.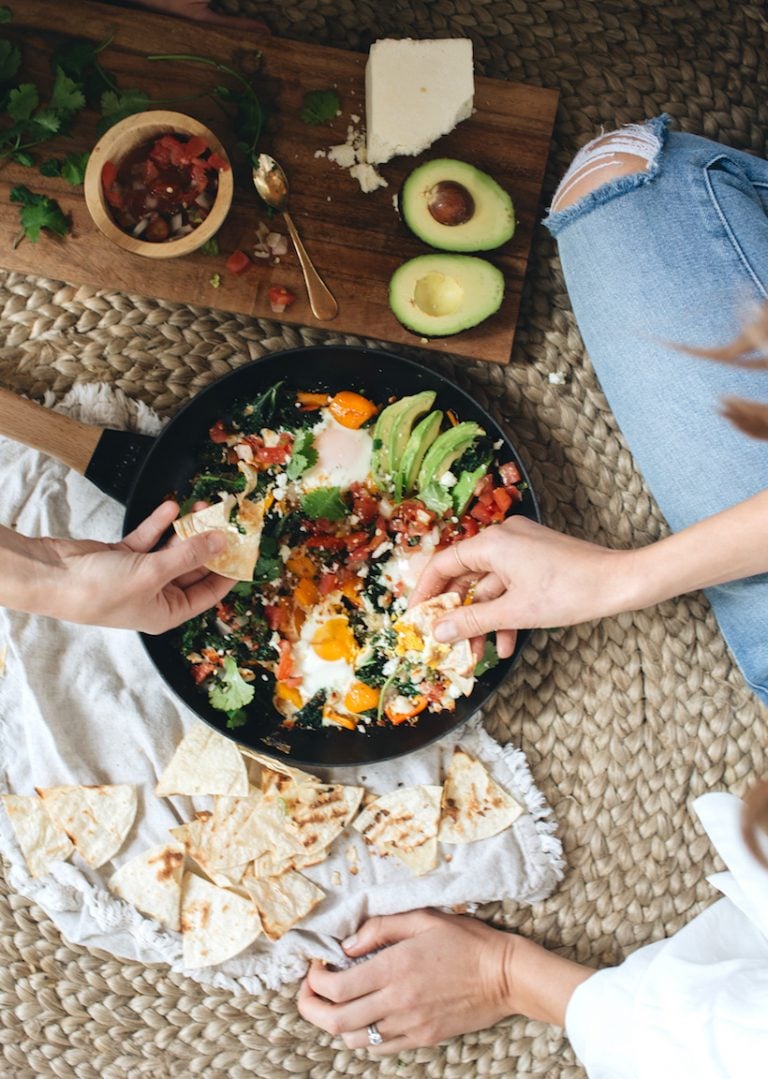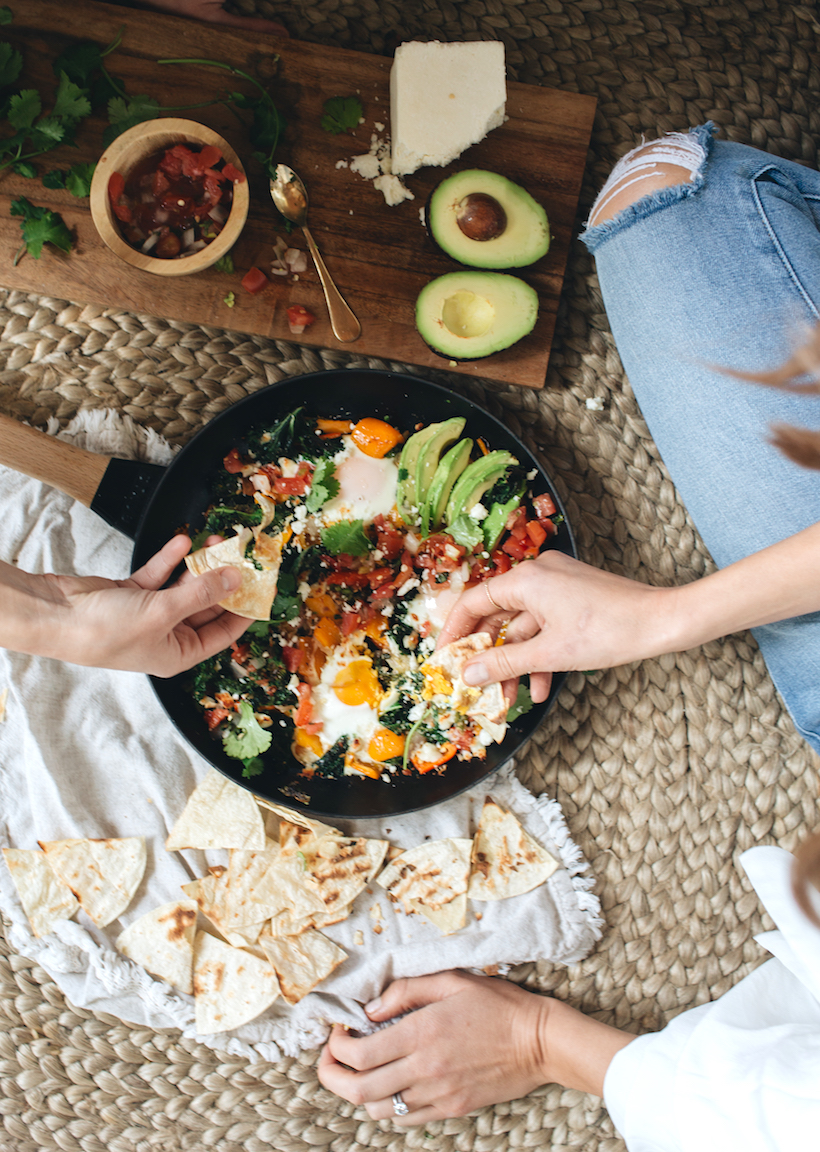 Why We Love It: Baked eggs are a treasure—especially when they're dropped into a skillet of Mexican-inspired ingredients. We're talking onions, bell peppers, pico, kale, and lots of crumbly cotija cheese for topping. For being so decadent, this recipe is surprisingly healthy so you can enjoy without the saturation that comes from, say, our favorite Tex-Mex restaurants (although we love them so). Serve with charred corn tortillas, tortilla chips, or dig your fork straight in.
Hero Ingredient: You better bet you're getting a dose of greens here.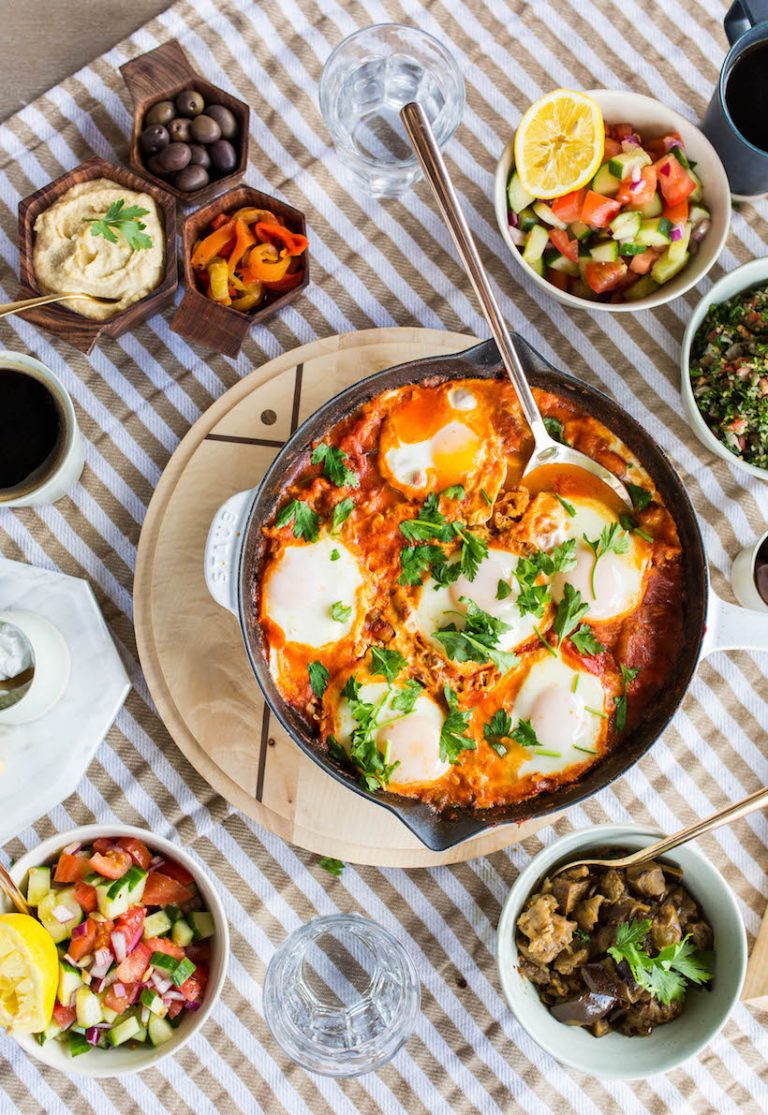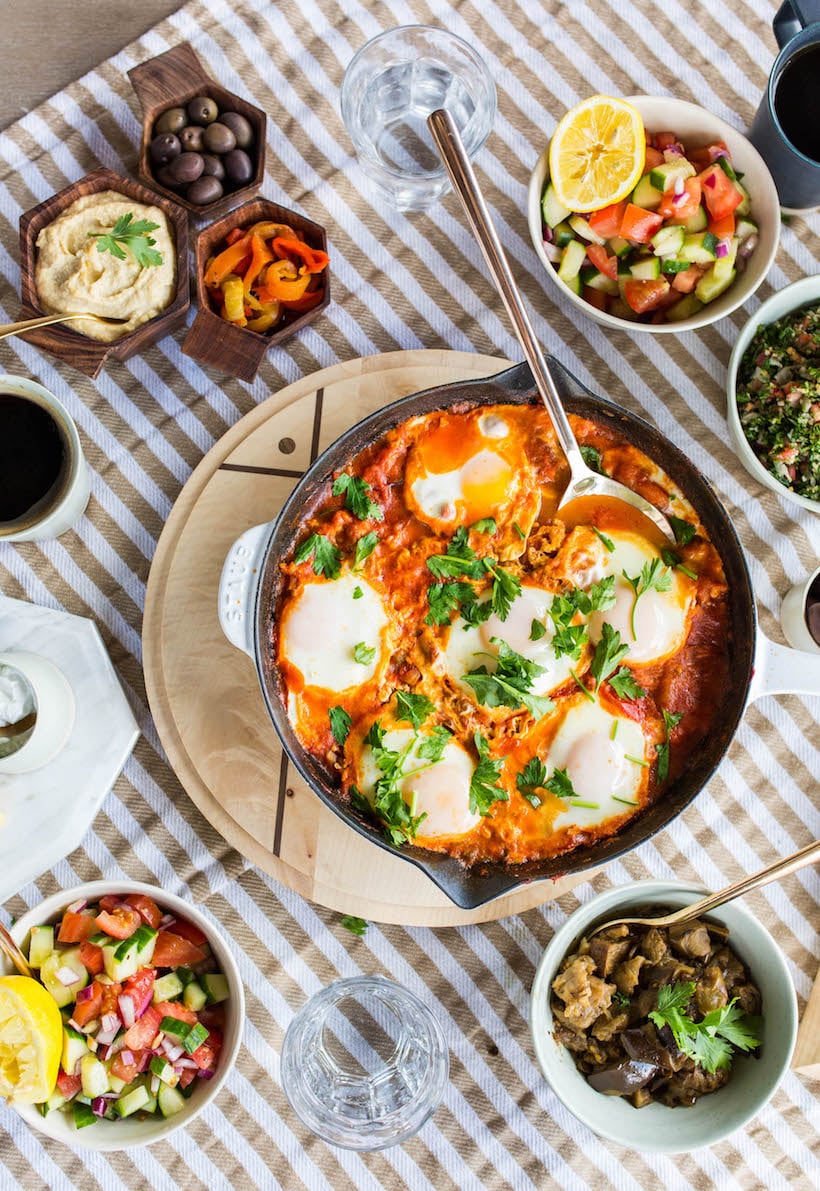 Why We Love It: Eggs poached in a savory tomato sauce? Sign me up. Shakshuka is another baked (ish) egg hero recipe that deliciously simple and oh-so-decadent. You can enjoy it on its own, with soft pita pieces, or crunchy pita chips. It's so perfectly full of spice and flavor that will keep you coming back for more. Like a hug in a bowl.
Hero Ingredient: You're getting a little heat from jalapeño here, which complements both the sauce and those soft eggs.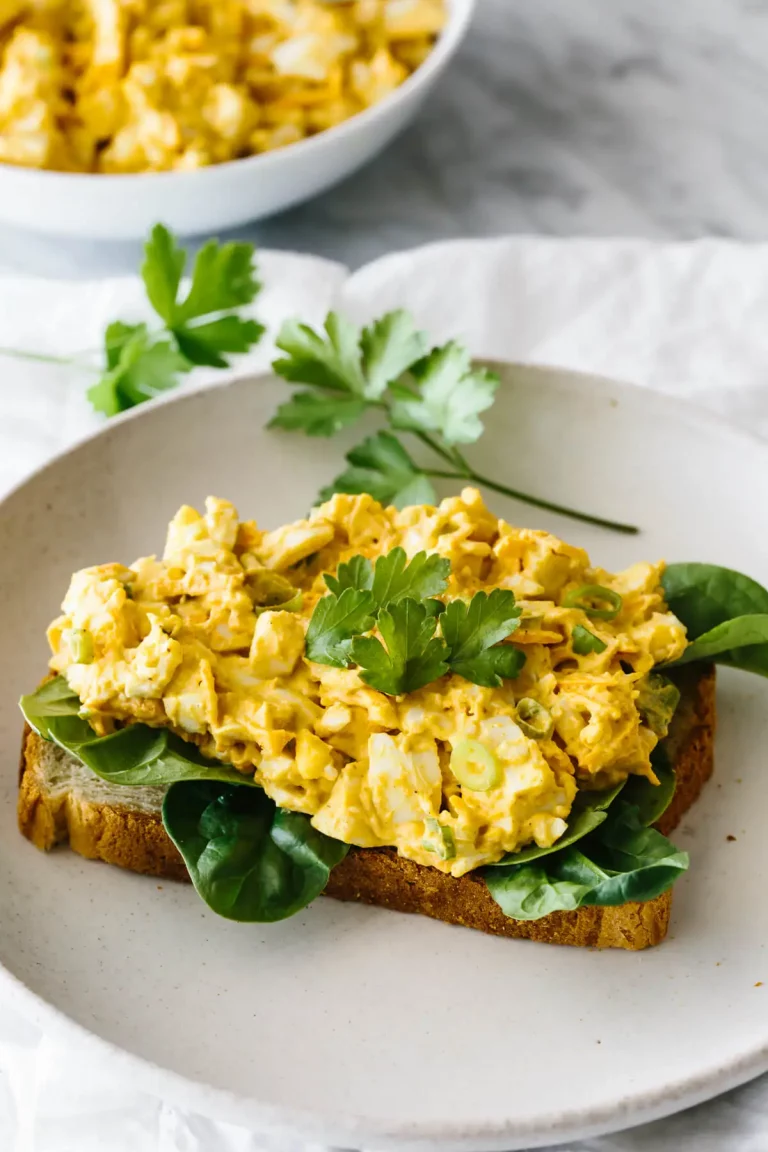 Why We Love It: Curried egg salad always reminds me of my mom because it's something she's made for potlucks, luncheons, and the occasional lunch when we're craving it. It's retro in the best way. This version takes a lighter approach by subbing yogurt in for some of the mayo and introduces lots of texture with sunflower seeds, dried apricots, and dried cranberries. It's a classic you just can't beat.
Hero Ingredient: Enjoy this egg salad on sandwiches, crackers, or on its own. Any way you slice it, this one is tasty.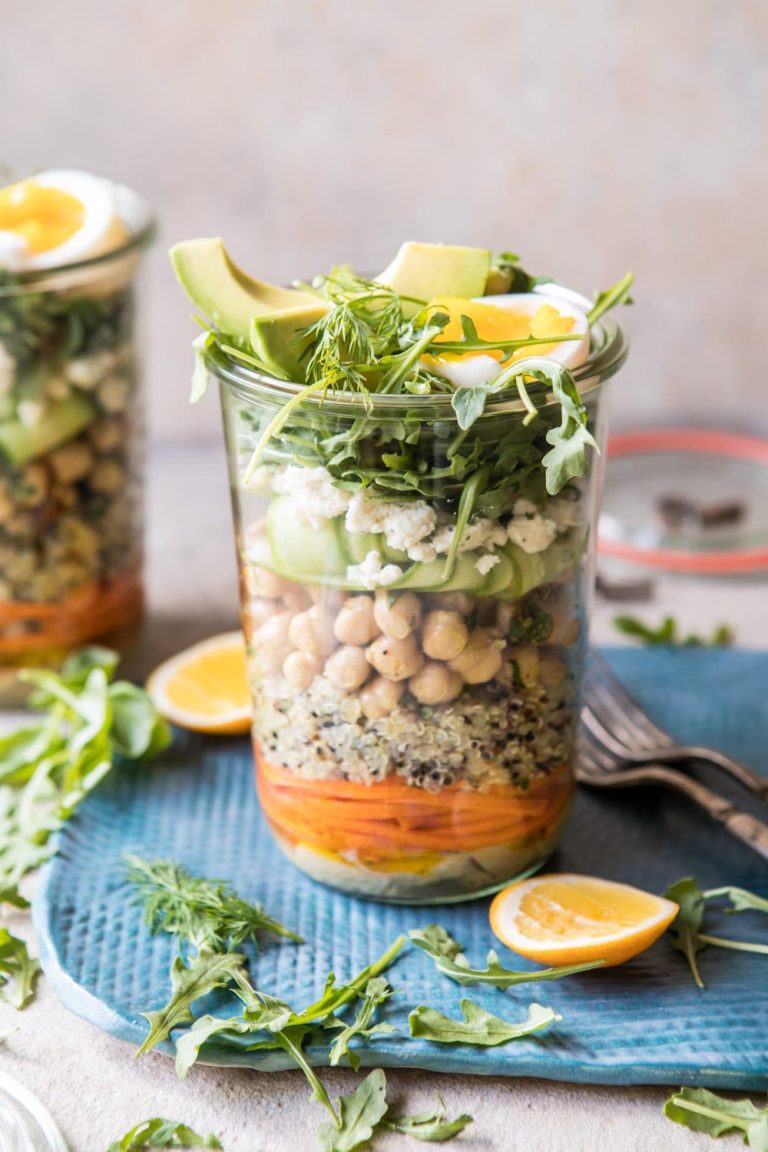 Why We Love It: Meal prepping is such a great way to ensure you're fueling your body throughout the week without having to sacrifice precious weeknight minutes. This salad in a jar is perfect for whipping up on a Sunday and enjoying during the week. It's healthy, colorful, and full of nutrient-dense ingredients that you can feel great about. The best part? Sunday prep only takes 30 minutes.
Hero Ingredient: If you're meal prepping, save the avocado slicing until you're ready to serve. That way, you don't have to worry about any browning.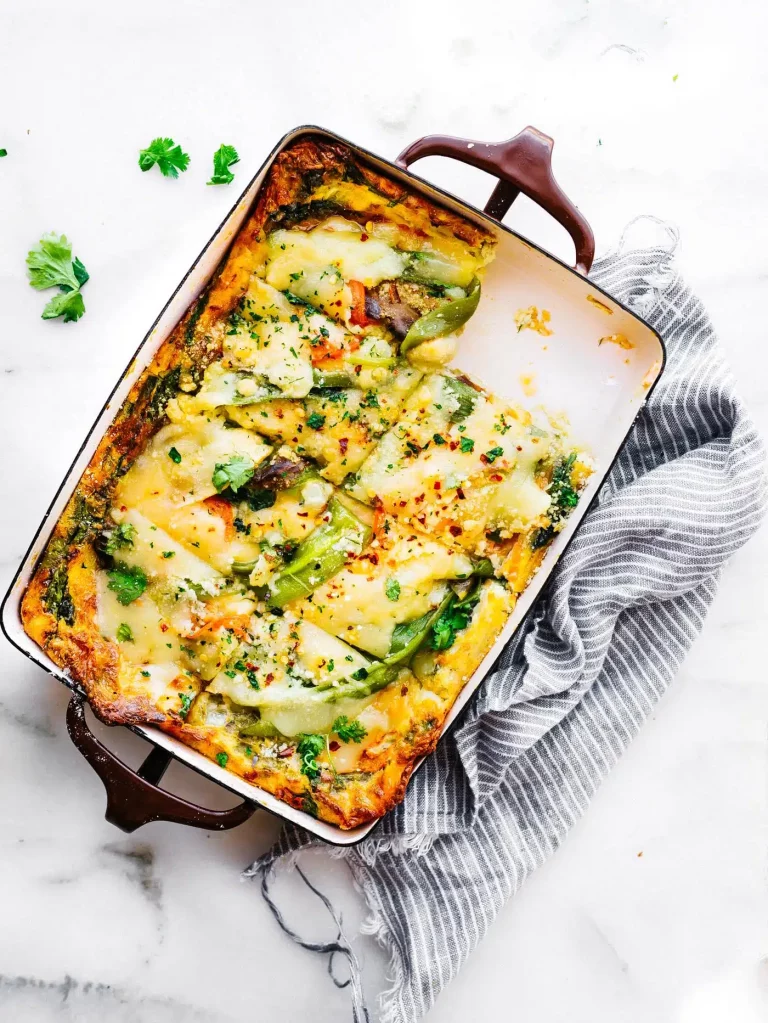 Why We Love It: The recipe may say breakfast, but I would happily eat this for any meal. There's nothing better than enjoying hatch green chile peppers cut by the richness of eggs. This dish definitely makes the most of their heat. What's more, this recipe is vegetarian, kid-friendly, and can even be made ahead of time. In the magical world of egg recipes for dinner, this one is a must-try.
Hero Ingredient: The possibilities are endless with two cans of chopped green chiles in your pantry.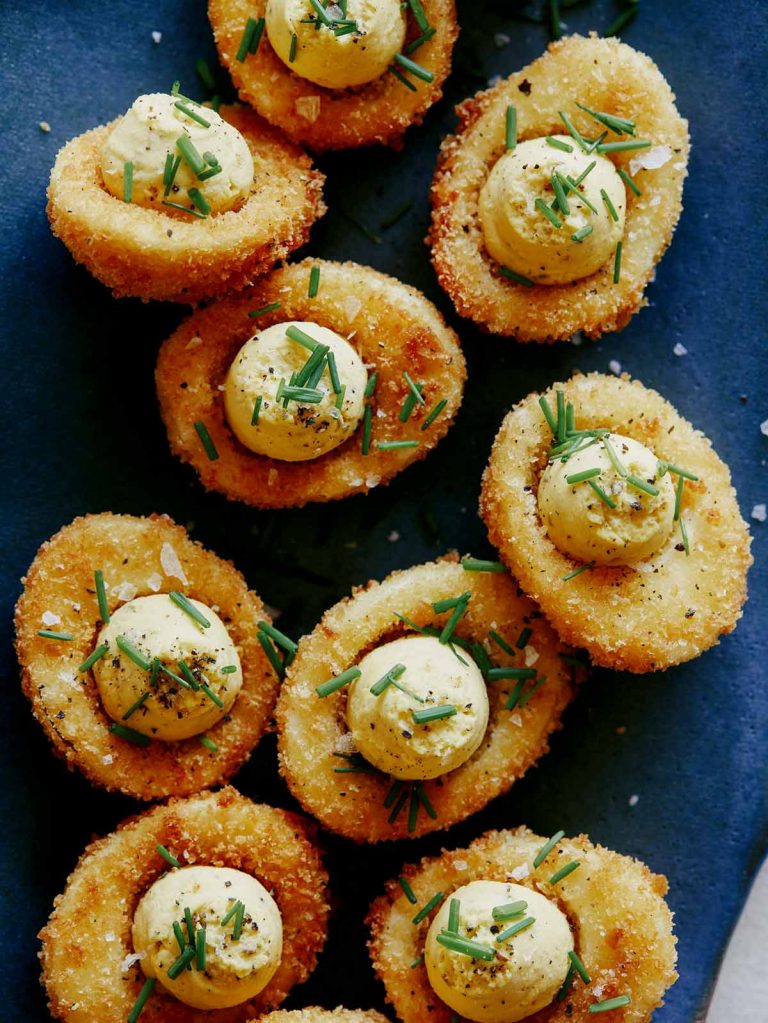 Why We Love It: Fried deviled eggs might seem crazy at face value, but stick with me here. The whites get coated in a mixture of flour, panko, and crushed crackers (we're putting on the Ritz, baby), then fried up until GBD. From there, the little pockets of deliciousness get their finishing touch of deviled egg filling. These are the unexpected, yet tasty, appetizer you should keep in mind for your next gathering. Seriously, you won't regret the rave reviews.
Hero Ingredient: In only this context, I'm a sucker for sweet pickle relish.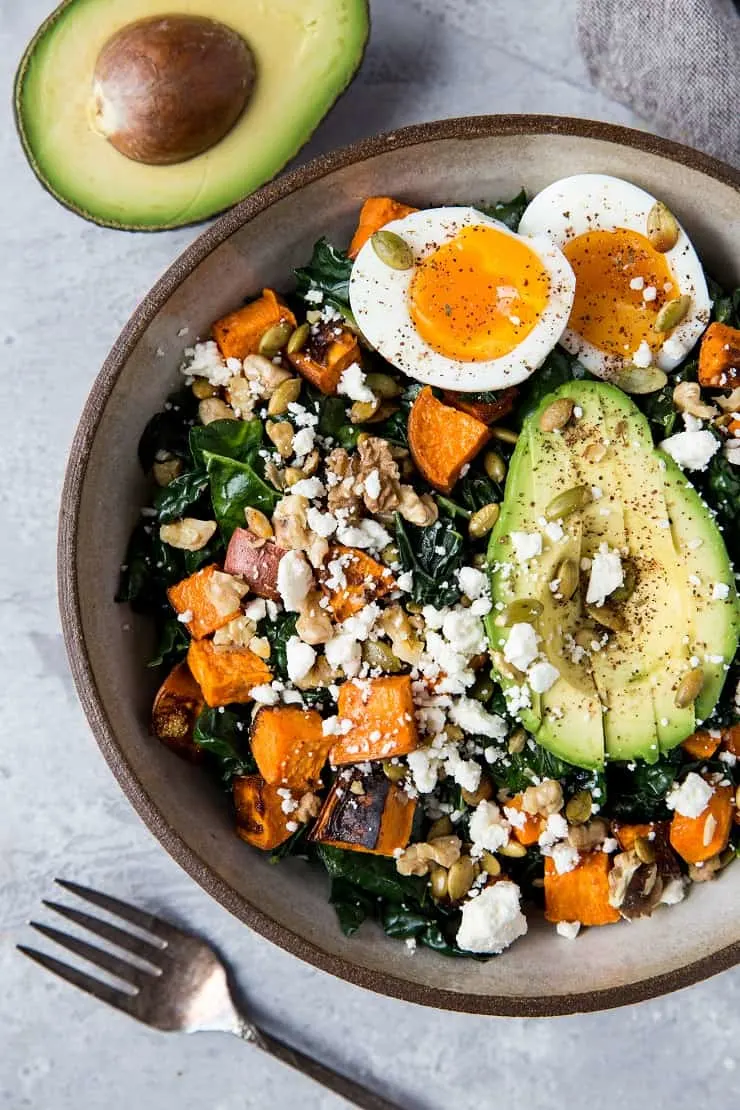 Why We Love It: This is a kale salad with all the goods. You're getting hearty sweet potato, creamy avo, crunchy pumpkin seeds and walnuts, and creamy feta cheese to top it all off. Plus, six-minute eggs that give you lots of spreadable yolk. It's so satisfying, full of nutrients, and—most importantly—easy to make. Toss this up for an easy weeknight dinner you'll be so glad you made.
Hero Ingredient: If you have the time and ingredients, double that lemon herb dressing. You can use it throughout the week for other salads or veggie dipping.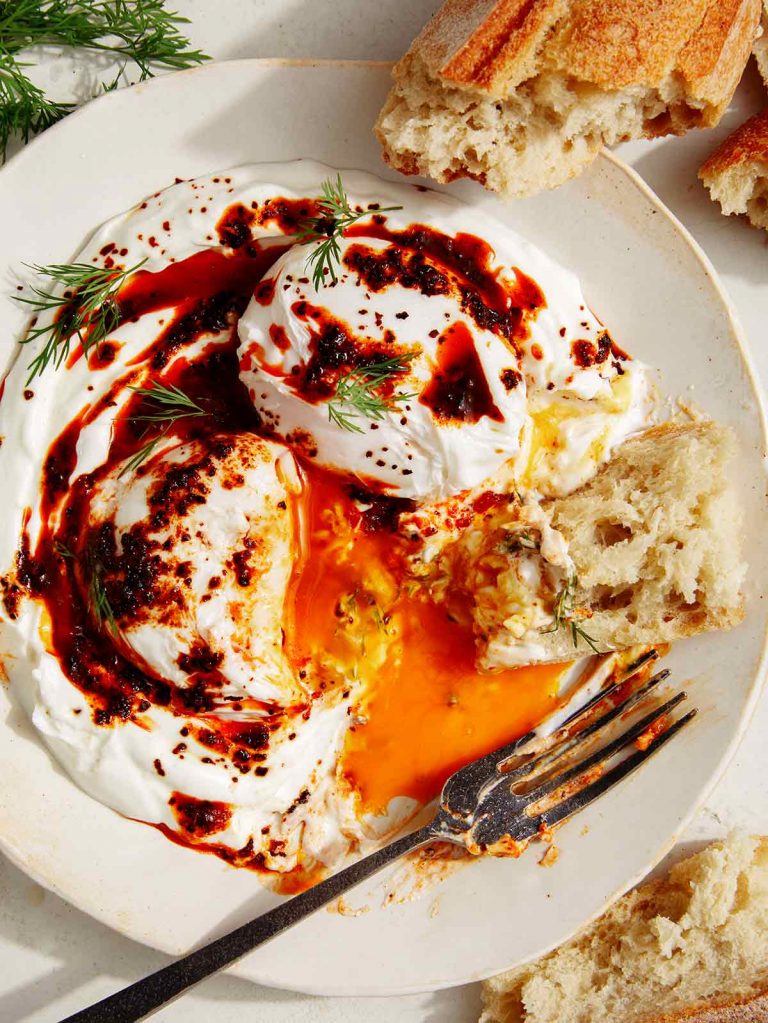 Why We Love It: Poached eggs over creamy garlic yogurt and topped with an aleppo pepper-infused butter sauce is just the egg recipe for dinner you need in your life. It's a Turkish dish that's full of satisfying flavors and dip-ability. Serve it up with a crusty baguette and enjoy the world of flavor.
Hero Ingredient: The aleppo pepper butter (or olive oil if you prefer) is insane.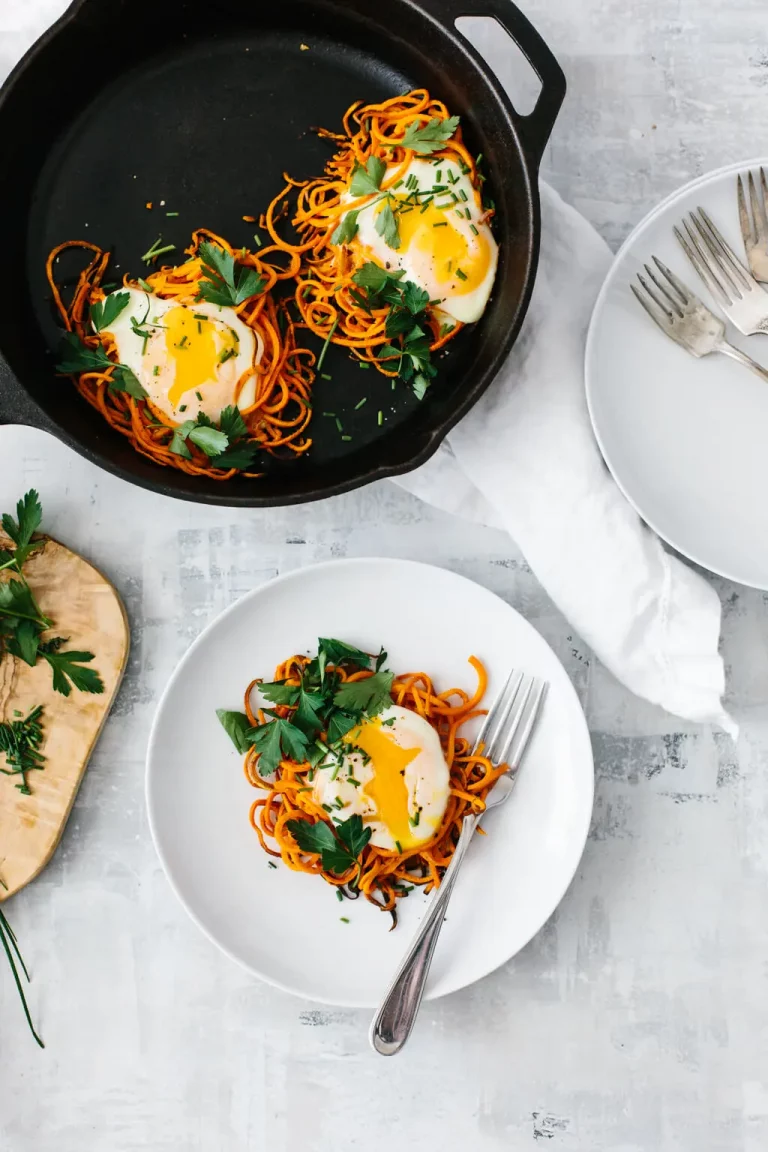 Why We Love It: Zucchini noodles, step aside. Spiralized sweet potato steals the show here and lays the foundation for perfectly poached eggs. From there, it's topped with your choice of fresh herbs, microgreens, red onion, seeds, and/or red pepper flakes. This one is perfect for our gluten-free friends and family members.
Hero Ingredient: Pro tip: everything seasoning would be amazing sprinkled over top.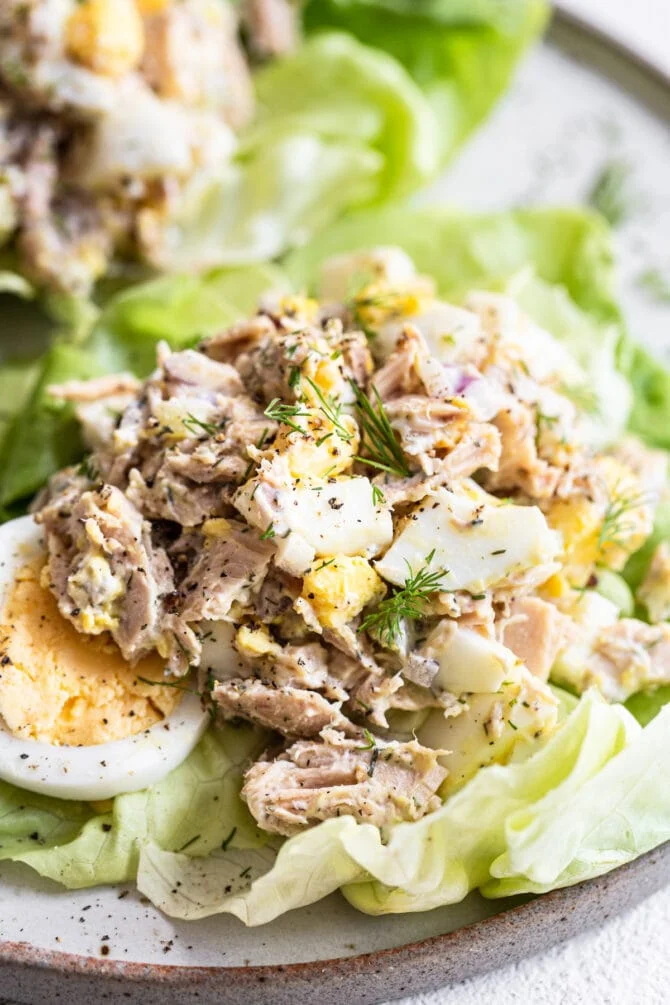 Why We Love It: Tuna salad is the OG protein-packed lunch or dinner that always satisfies. In this version, you're getting even more protein from hard-boiled eggs. The eggs also coat all that tuna to make it even more creamy without globs of mayo. All you have to do is combine tuna, hard-boiled eggs, Greek yogurt, red onion, dill pickle, dill weed, and salt and pepper and you're set for sandwiches, tuna salad crackers, or salads for dinner throughout the week.
Hero Ingredient: Definitely the dill pickle. It adds the best crunch and briney flavor.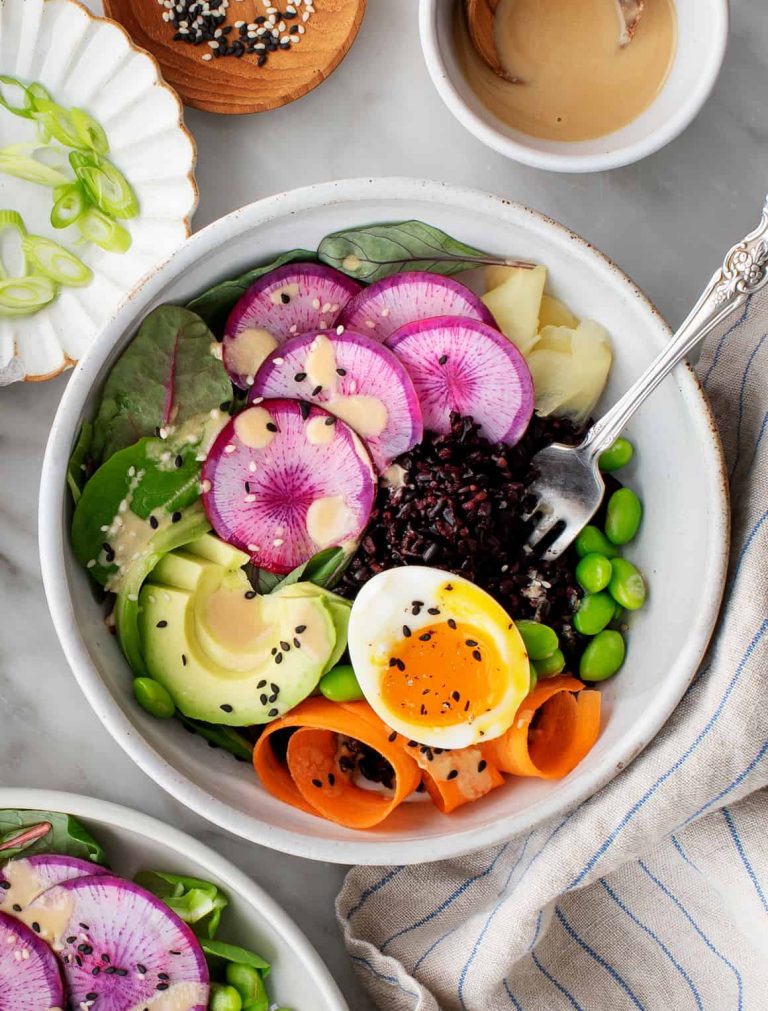 Why We Love It: Power bowls are a great way to pack in a lot of veggies to your dinner. In this bowl, you can brag about edamame, greens, radishes, carrots, avocado, and more. Plus, pickled ginger shines through with a sharpness that sets this one over the top. Combine all that under a creamy sesame ginger dressing and you're set for a healthy dinner you can feel great about.
Hero Ingredient: If you're feeling crazy, try pickling the carrots to introduce even more delicious brine to the bowl.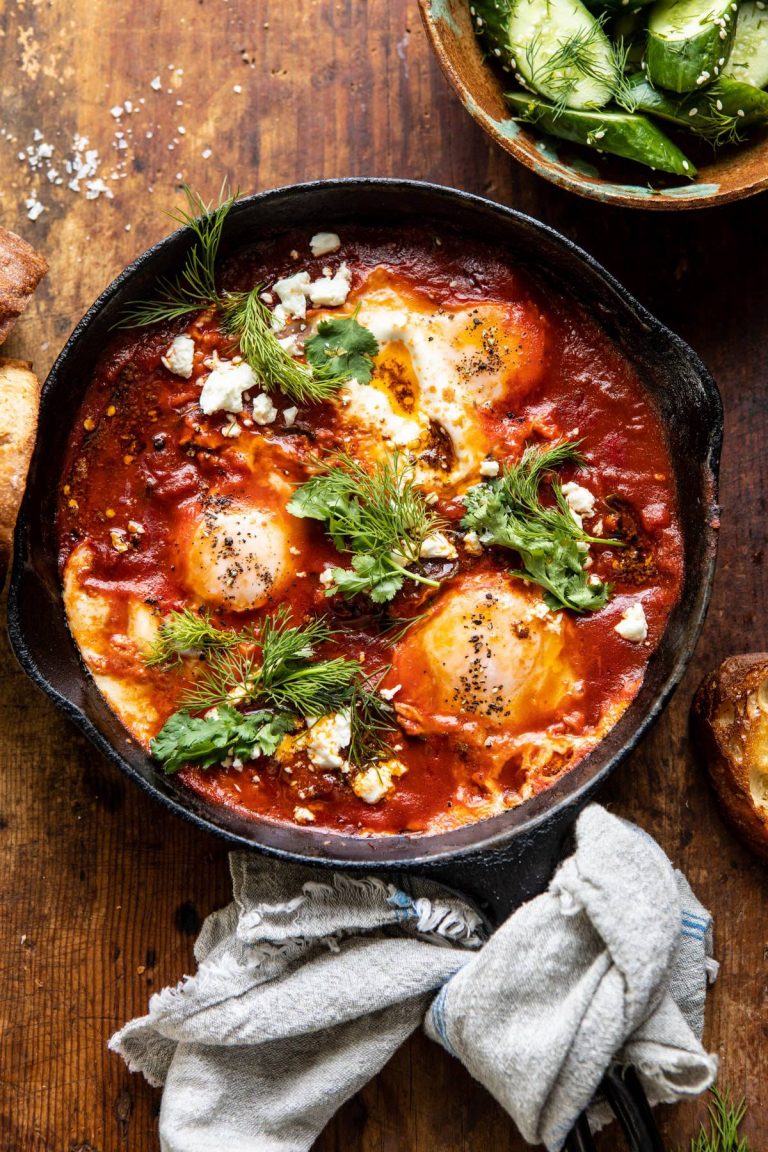 Why We Love It: Like shakshuka, eggs in purgatory poach in a simple, spicy tomato sauce flavored by garlic, herbs, and lemon. The eggs are perfectly soft and dippable, so be sure to serve this one with lots of crusty bread. It's a dinner you can whip up in under 30 minutes, which makes it taste all the better.
Hero Ingredient: Creamy feta sprinkled over top adds the most delicious tang to the party.