Lunchtime: that often overlooked, lackluster meal of the day—a sudden necessity when hanger comes knocking. If you (like many of us) willingly settle for a protein bar or random fridge scraps, you're not alone. But the truth is, lunch is a vital opportunity to recharge. In fact, your midday meal can make or break the dreaded afternoon slump. What better way to refuel than with a protein-rich, no-cook meal? Say hello to high-protein lunch ideas, a revolutionized lunch routine worth shouting from the rooftops (err, on Threads). These effortless meals deliver a much-need protein boost without sacrificing time. Prayers, answered.
Featured image by Michelle Nash.
[table_of_contents title="In this article"]
Fail to Plan, Plan to Fail
When it comes to lunchtime, failing to plan is, indeed, planning to fail. Between work tasks, shuttling kids to activities, and—let's be honest—the demands of everyday life, it's easy to fall into the convenience trap. And oftentimes, that looks like handfuls of crackers and hummus or DoorDashing an overpriced salad. Been there, done that.
Ultimately, when we neglect to plan our lunches, we inevitably compromise our energy, well-being, and in some cases, our bank account. Fortunately, a little bit of foresight goes a long way! It ensures we have nourishing, balanced meals readily available. Whether it's ingredient prepping on a Sunday, or jotting down a rough menu for the week, planning makes all the difference.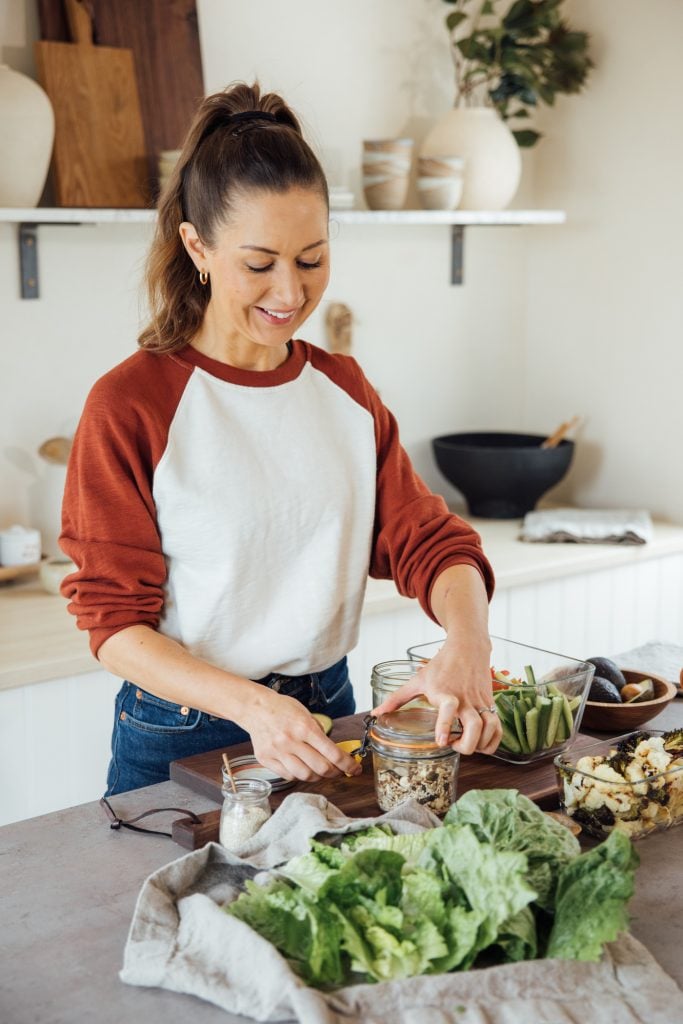 How to Make a Filling Lunch
Creating a lunch that fills you up—but doesn't weigh you down—is the goal, right? With that in mind, aim for a balanced combination of nutritious ingredients. Think: quality protein, healthy fats, fiber, and complex carbs. Below are a few tips to help you make a satisfying and filling lunch.
1. Prioritize Protein
No surprise! For ultimate satiation, include a high-quality source of protein in your lunch. A few favorites: hard-boiled eggs, cottage cheese, rotisserie chicken, canned salmon, tofu, beans, or lentils. Protein helps keep you fuller, longer and provides essential amino acids for muscle repair and maintenance.
2. Add Fiber For Fullness
Fiber adds bulk to your meals, helps balance blood sugar, and aids in digestion. Win, win, win. Incorporate fiber-rich foods like leafy greens, cauliflower, eggplant, seeds, whole grains, and low-glycemic fruits.
3. Incorporate Healthy Fats For Satiety
Add sources of healthy fats like avocado, nuts, seeds, full-fat cheese, or olive oil to your midday meal. Healthy fats contribute to satiety and provide nutrient absorption. If you want to get the most bang for your leafy green buck, add fat to your veggies!
4. Load Up On Veggies
Speaking of vegetables, make non-starchy veggies the star of your lunch. High in volume and nutrients, they're key to hormone health, glowing skin, and minimizing constipation. Include a variety of colorful vegetables, like tomatoes, carrots, and beets.
5. Make Smart Carb Choices
We need carbs for glucose (energy), but too much of a good thing can lead to a blood sugar crash. With that in mind, opt for complex carbohydrates like whole grains, sweet potatoes, quinoa, or brown rice. Compared to refined carbohydrates, they take longer to digest and provide sustained energy.
6. Hydrate
Don't forget to drink water throughout the day! Dehydration can sometimes be mistaken for hunger, so staying hydrated can help curb unnecessary snacking.
7. Satisfy Your Sweet Tooth
Yes, you read that right. Consider adding a sweet (but balanced!) snack, such as Greek yogurt with berries and shredded coconut, a handful of nuts and dark chocolate, or a wholesome chocolate chip cookie to your lunch. Honoring your cravings is an important piece of the puzzle!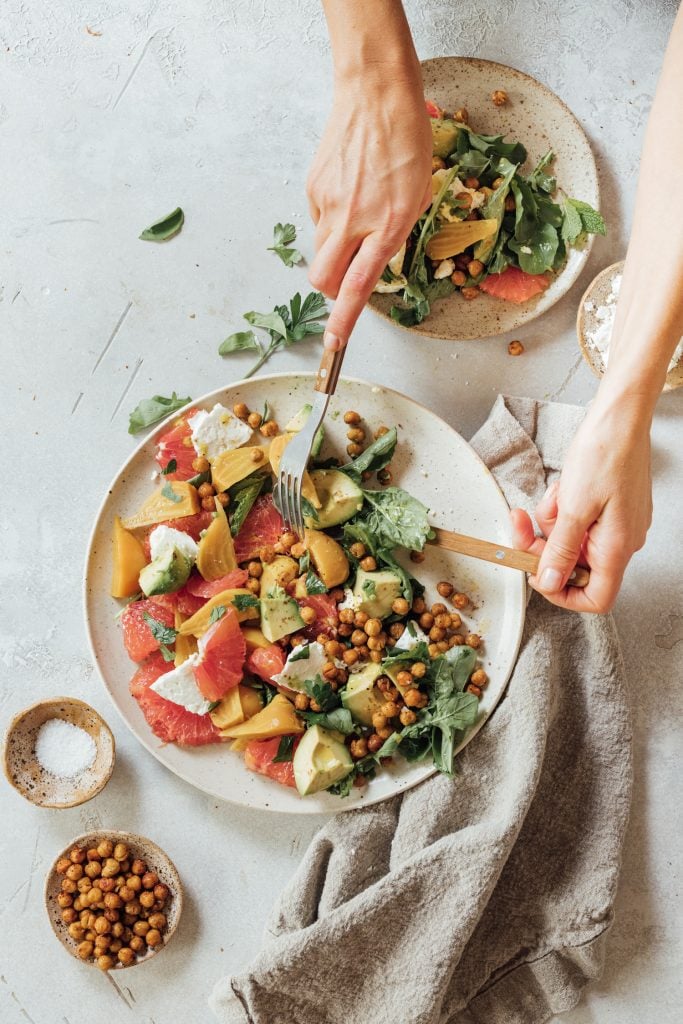 Protein Is Your Secret Weapon
Protein is your lunchtime secret weapon—and we're not talking a measly 10 grams, but 20-40 grams of satiating, quality protein. But why upwards of 40 grams? While your body can absorb all the protein you eat (certain underlying health conditions aside), it can only utilize around 40 grams of protein at a time.
All of that to say, including a sufficient amount of protein to your lunch is key. It releases feelings of fullness and satisfaction, supports stable blood sugar levels (preventing energy crashes!), and fuels your body with essential amino acids. See here to calculate your specific protein needs!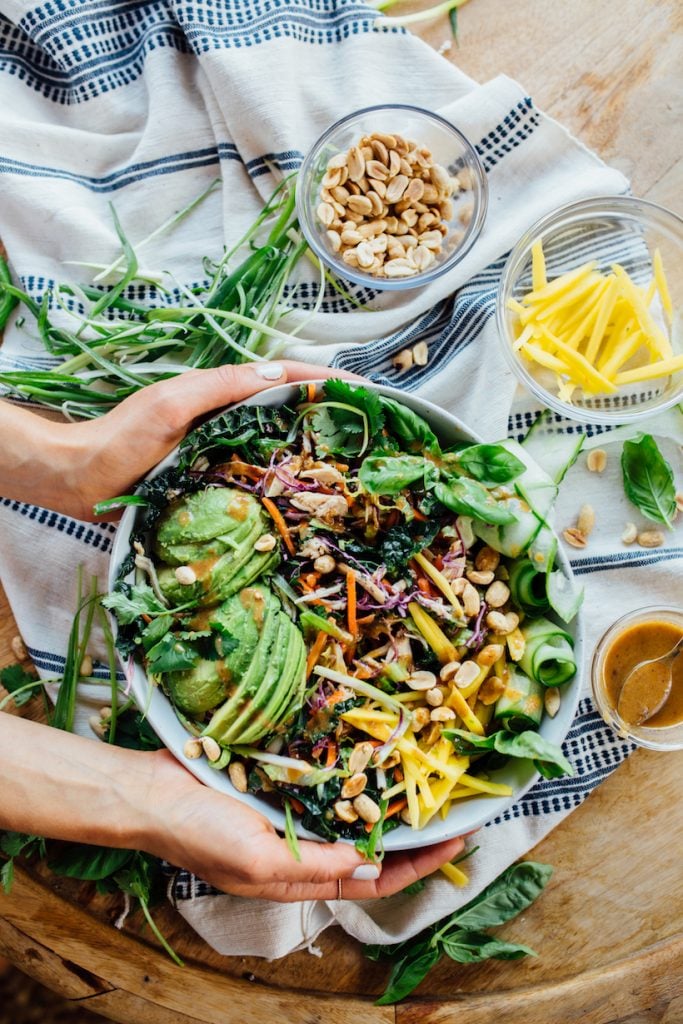 Lunch Protein Options
Inevitably, you can add these ingredients to any meal (or snack!) throughout the day—not just lunch! Below are popular animal and vegan protein sources, based on general serving sizes:
Chicken breast: one 4-oz skinless chicken breast
Deli slices: 4-5 oz deli slices
Ground turkey / chicken: 4-oz ground turkey
Chicken sausage: 1 link
Egg: 2 medium eggs
Ground beef: 3 oz
Steak: 3 oz
Tuna: 1 regular-sized can
Canned salmon: 4 oz
Smoked salmon: 5 oz
Shrimp: 30 small shrimp
Greek yogurt or cottage cheese: 3/4-1 cup
Cheese: 1 slice of cheese; 1 string cheese; 1/3 cup shredded cheese
Hemp seeds: 2 tablespoons
Tofu: 1/2 cup
Tempeh: 1/3 cup
Lentils: 1/2 cup (cooked)
Beans (black, pinto, etc.): 1/2 cup (cooked)
Chickpeas: 3/4 cup (cooked)
Quinoa: 1 cup (cooked)
10 No-Cook, High-Protein Lunch Ideas
With inspiration at your fingertips, here are high protein lunch ideas that require minimal prep (and no stove or oven—in the moment!). Sayonara, #SadDeskLunch.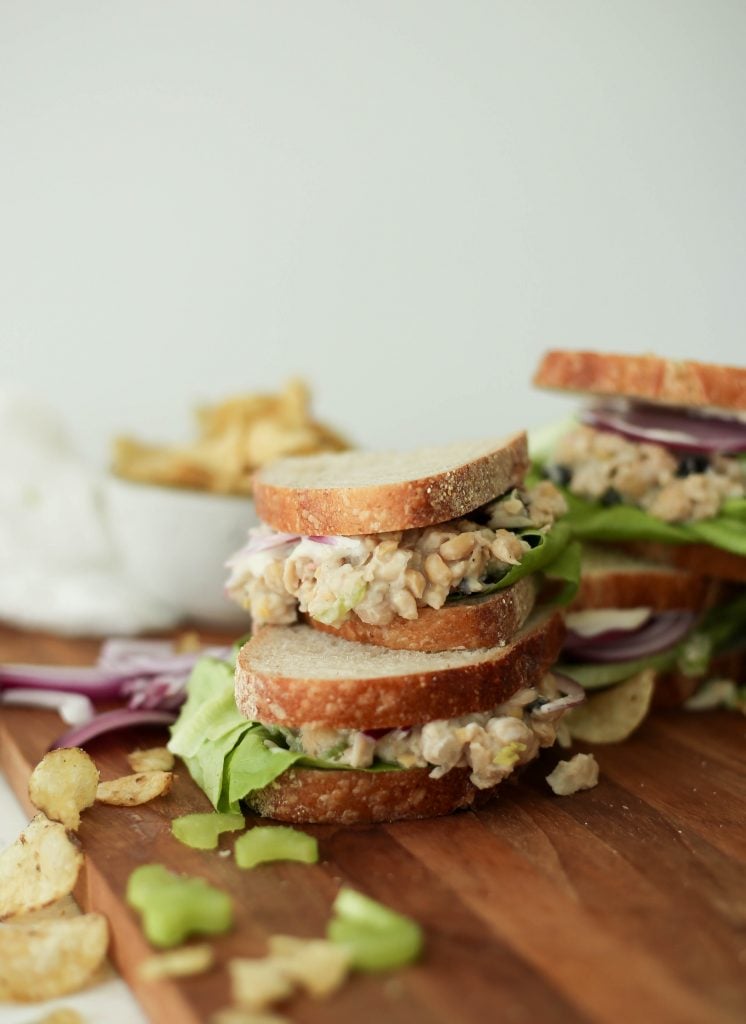 All hail pantry staples! Made with two kinds of beans and a few simple ingredients, this chickpea salad sandwich slaps. Enjoy it on sourdough, your favorite gluten-free bread, or seedy crackers for a few more grams of protein.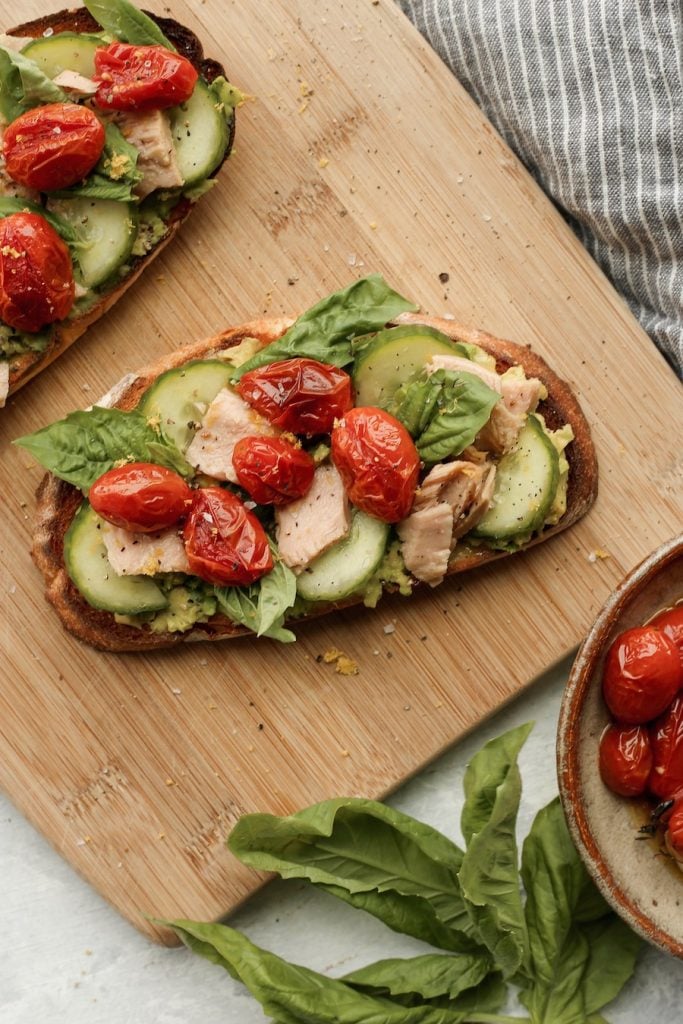 Toasted crusty bread meets kale pesto, rough-mashed avocado, crisp cucumber slices, rich and garlicky tomatoes, chunks of oil-packed tuna, and loads of fresh basil. It's divine. To keep this no-cook, sub the roasted tomatoes for fresh-off-the-vine cherry tomatoes.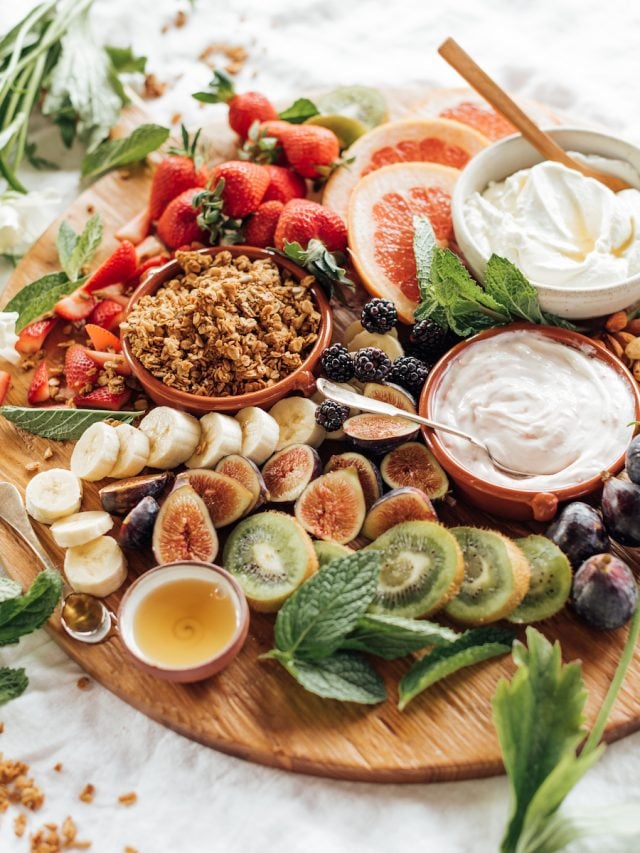 Don't let the name fool you. This grazing board—filled with protein-rich Greek yogurt, mineral-rich fruit, and hearty granola—is our idea of lunchtime heaven. Throw it all in a bowl, top with seeds, and you're good to go.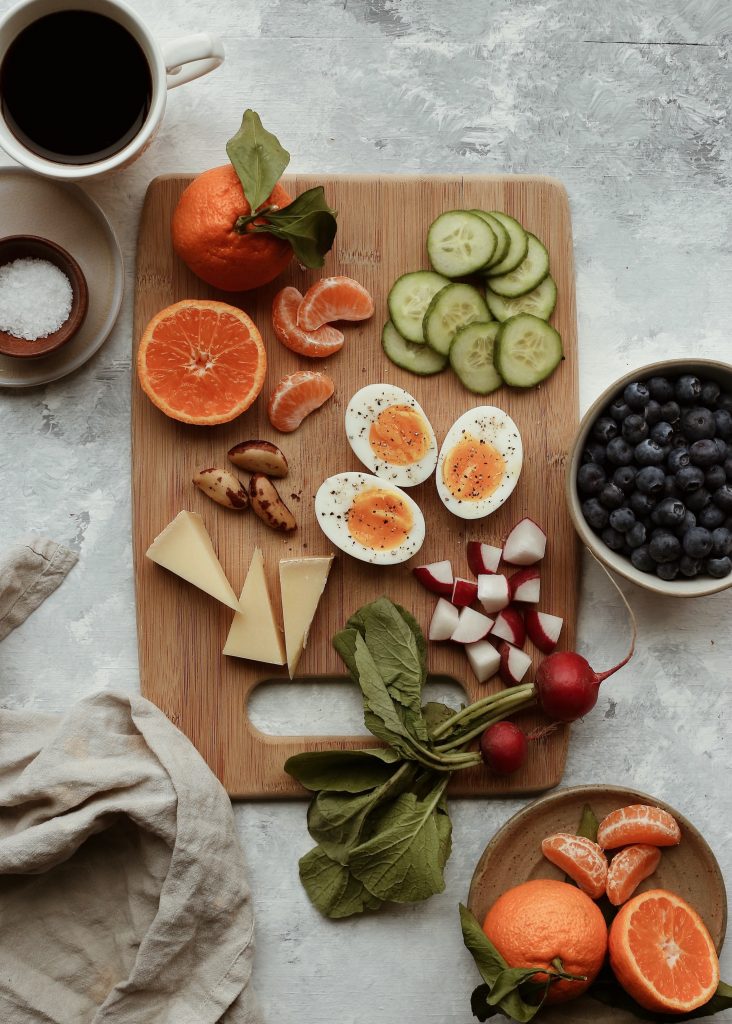 Speaking of grazing boards, this minimal-prep lunch idea is where it's at. On a wood serving board, lay out 2-3 sources of protein (meal prepped hard-boiled eggs, prosciutto, hard cheese, deli turkey, etc.), seasonal fruit, a handful of nuts, and veggies like carrots, cucumbers, bell peppers, and radish. It's a delight for all of your senses—and cravings.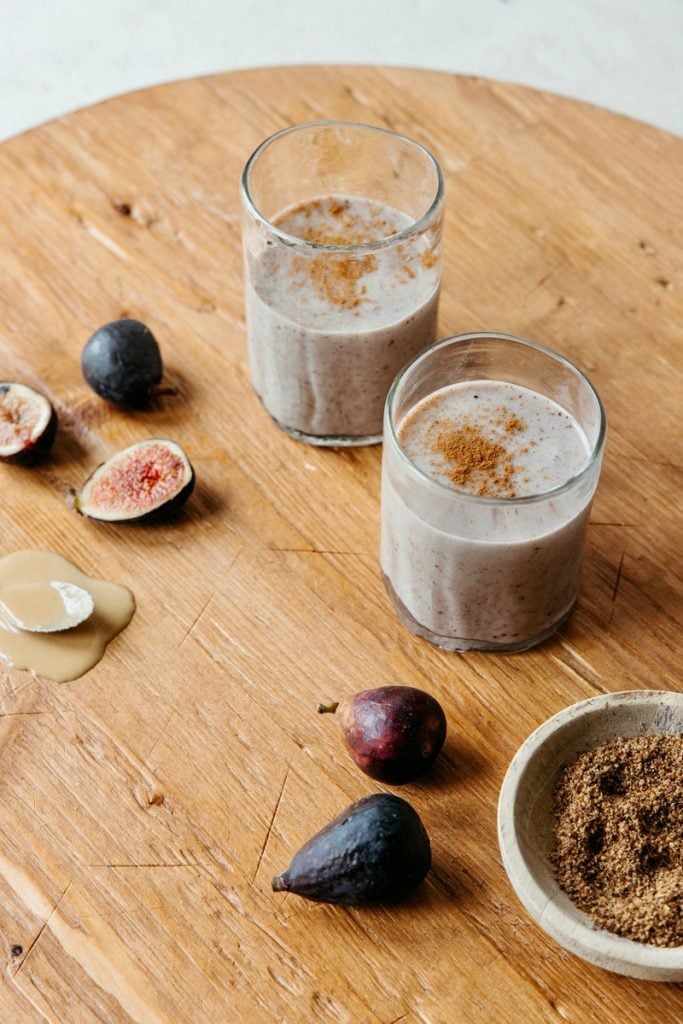 Of course, protein smoothies are a beloved no-cook lunch idea. Add protein powder, hemp seeds, almond butter, Greek yogurt, or cow's milk to your favorite smoothie base—et voilà, your lunch protein needs are met.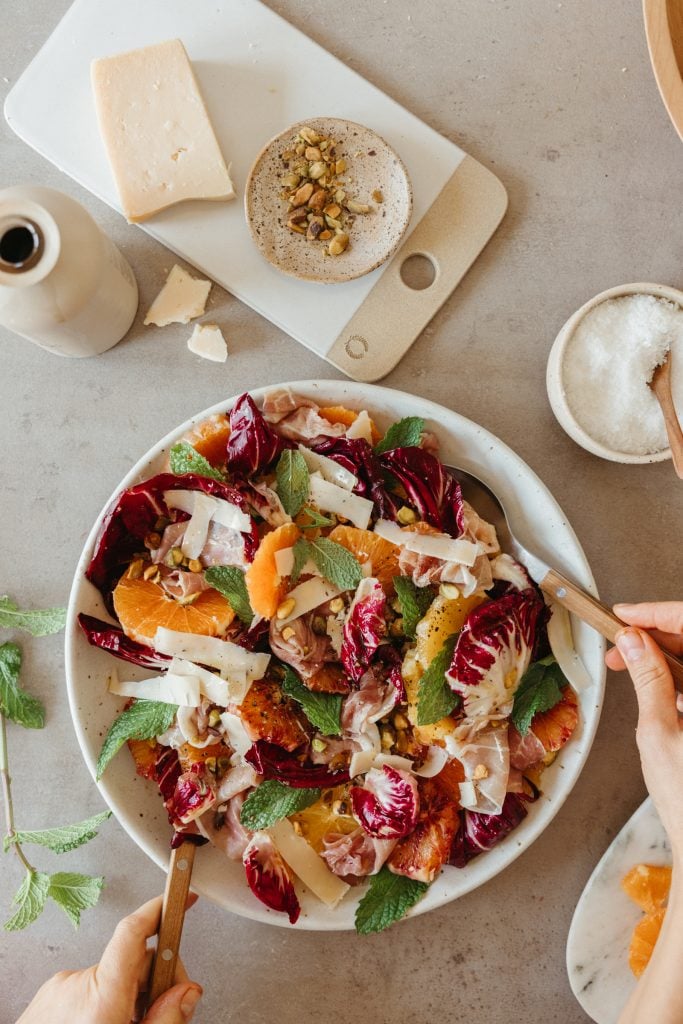 This salad may look intimidating (she's a stunner), but trust us, it couldn't be easier to make. The combination of bitter greens, salty prosciutto, earthy pistachios, fresh citrus, and shaved parm is to-die-for. Throw it in a bowl and temporarily transport yourself to Parma, Italy—you'll thank us later.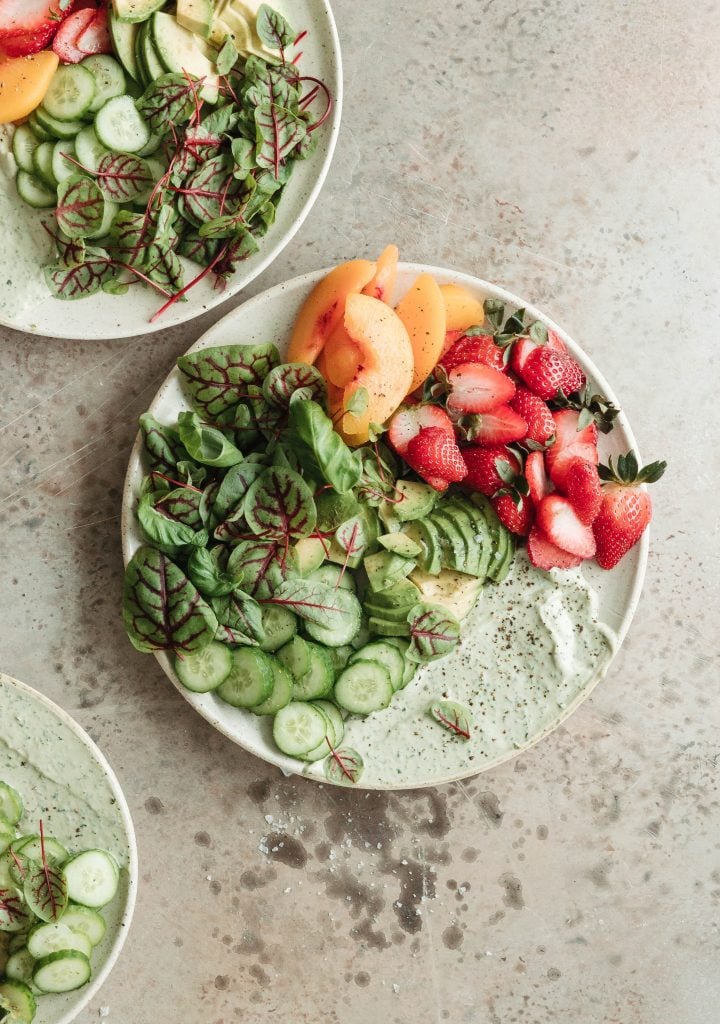 Craving sweet? This green salad with fruit will satisfy your sweet tooth. For protein prioritization, top your plate with 1/2-1 cup cottage cheese, deli ham, rotisserie chicken, a can of tuna, or meal prepped tofu.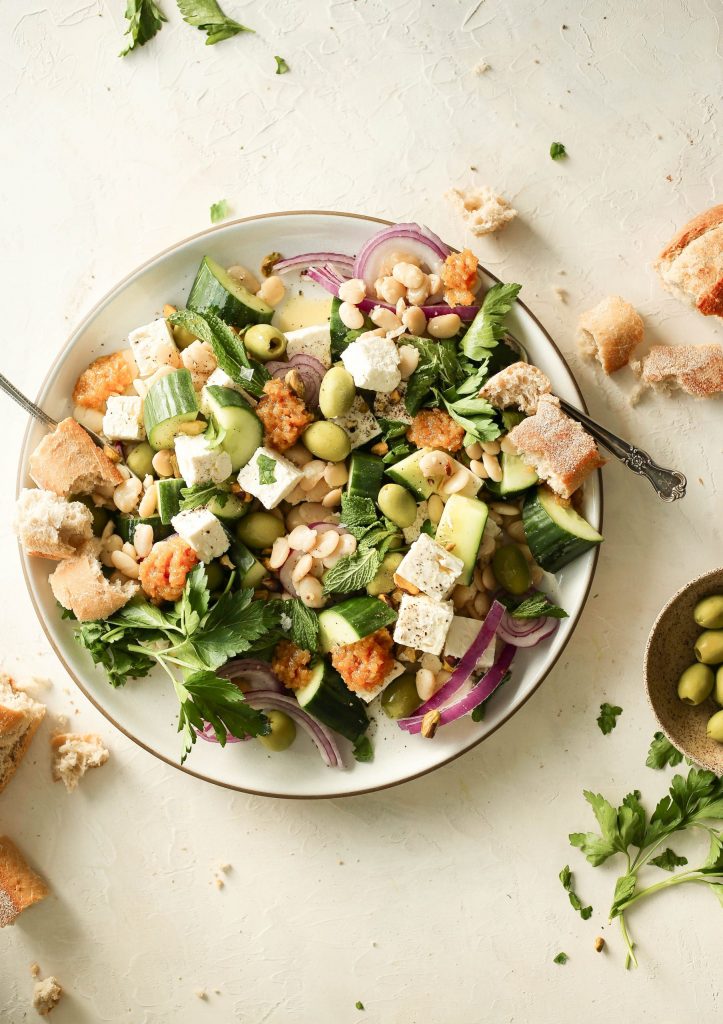 This simple salad is a true no-recipe, recipe. For a lunch that comes together in no time, make the lemon relish ahead of time. Thanks to the beans and feta, it's loaded with satiating protein!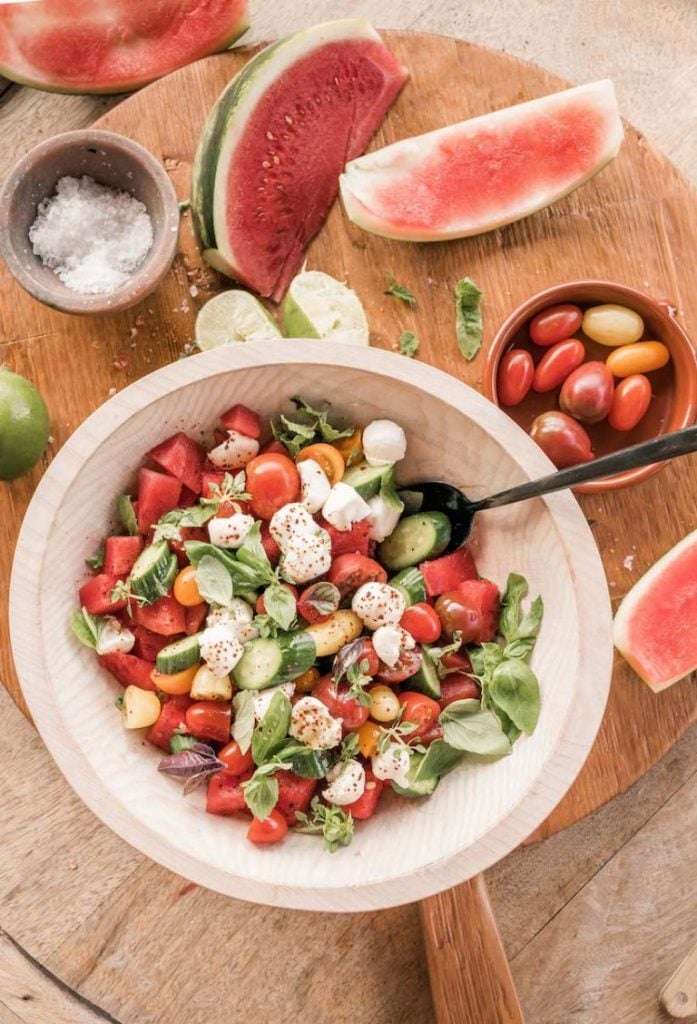 Say hello to our summer crush. Refreshing, sweet, cold, and crunchy, this watermelon caprese salad is truly what summer dreams are made of. While the mozzarella balls provide protein, enjoy this salad alongside a simple, open-faced turkey sandwich.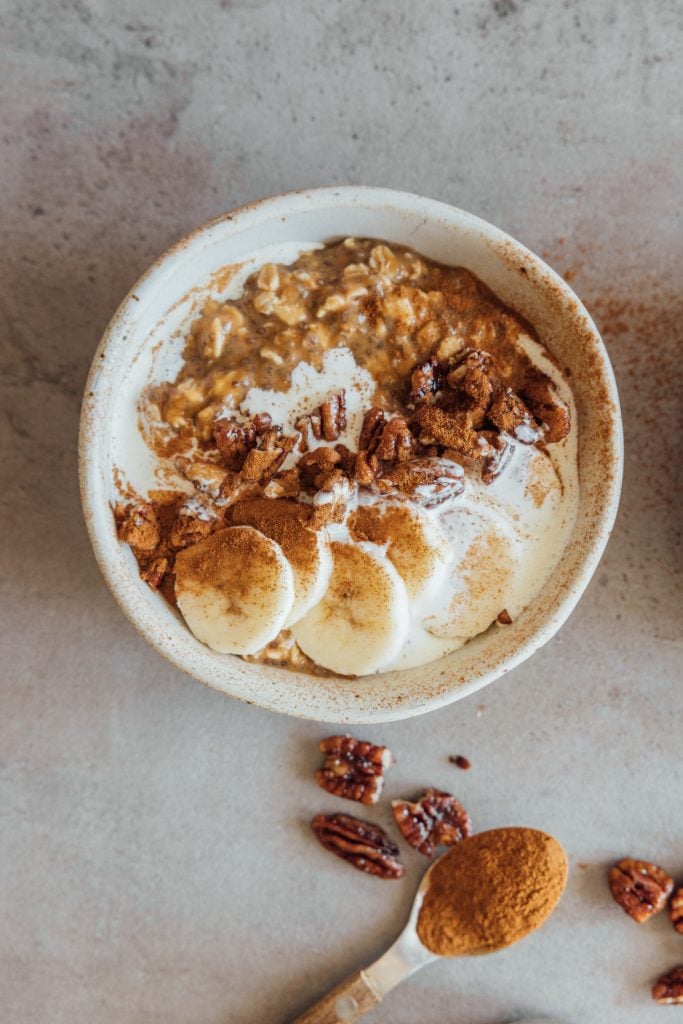 Whip this together the night before (or in the early morning), and a sweet yet satisfying lunch is served. To add a boost of protein, mix in one scoop of your favorite vanilla protein powder. This bowl of goodness is creamy, flavorful, and beautifully spiced. While this may not be a traditional lunch recipe, we're all for coloring outside the lines. And every time, these overnight oats hit the spot.