Just when you thought you couldn't look at another avocado toast in your Instagram feed, we pop up with an entire post devoted to it. Yes, there are a lot of toast recipes out there—with some venturing into savory territory, like this mushroom toast with arugula, or this slow-roasted tomato and ricotta variety. There are even some that toe the line between believable and bizarre, like the yogurt toast trend that once took the internet by storm. Despite these, avocado toast is undeniably the gold standard. Because no matter how timeless yet trendy it may be, we still really love us some avocado toast recipes.
Featured image by Michelle Nash
15 Avocado Toast Recipes That Redefine the Trend
Avocado toast has just the right amount of good-for-you fats and energizing carbs. Plus the fact that putting it together takes less than five minutes makes it pretty much the perfect breakfast. And as we've learned over the past couple of years, avocado toast recipes are here to stay. That's why we've taken time to reinvent the combo into something bold in flavor and rich in texture.
Ahead, you'll find all kinds of variations on avocado toast recipes. Whether you're looking for easy breakfast recipes, weekend brunch recipes, or a good 'ole midday snack, you'll find a new favorite or two (or three!) in these 15 avocado toast recipes. You can thank me later.
Why We Love It: Blistered tomatoes, everything seasoning, and a perfect egg walk into a bar. Kidding, but they do make a killer toast! This recipe is basic avocado toast kicked up a notch. With those juicy tomatoes, you're getting incredible flavor throughout that's enhanced by that mouthwatering jammy egg and everything bagel seasoning. I mean, just look at it.
Hero Ingredient: Definitely going to have to go with that egg. By following the eight-minute method, you're getting an egg that's perfectly set with just the right amount of runny yolk. I'm into it.
Why We Love It: As the name denotes, this avo toast packs a lot of crunch. With radishes (or cucumber!) and fresh herbs, there's no shortage of texture contrast. Again, this recipe is avocado toast with an upgrade that's welcome and appreciated. You can use any herbs you have on hand, but basil, mint, chives, and cilantro are some suggestions.
Hero Ingredient: Kale pesto tops this avocado toast with all kinds of nutty, garlicky flavor and even nutrients! It's easy to prepare and even easier to enjoy.
Why We Love It: If you're looking to change things up, try this recipe with frisée (also known as curly endive) and a great whole-grain mustard for some extra tang. It takes all the familiar avocado toast components and shakes them up with peppery frisée and spicy stone ground mustard. Plus, a classic fried egg laid over top gives this toast the perfect amount of ooze to warm your soul.
Hero Ingredient: I love the addition of mustard. It brings a lot of flavor and even a little kick to the party.
Why We Love It: Niçoise Salad meets avocado toast? Sounds like a dream. Toasted sourdough gets smeared with kale pesto, mashed avocado, crisp cucumber, garlicky roasted tomatoes, oil-packed tuna, and a handful of fresh basil to create something truly magical. On top of all that flavor, this recipe is packed with healthy fat and protein, which will help keep you satisfied longer. This one is on my weekday lunch calendar, and I highly encourage you to give it a try. You won't regret it.
Hero Ingredient: Fresh basil definitely takes the cake. Give it a smack before layering it on your toast to wake up each and every aromatic note.
Why We Love It: When our favorite toast meets hosting, all is right in the world. That's exactly the case with this DIY avocado toast bar. Make it a reality at your next brunch by choosing your favorite toppings, setting the stage, and having everyone dig in to craft their own creations. A few fun topping ideas are watermelon radishes, chickpeas, beets, sprouts, fresh lemon juice, and red pepper flakes. Only half of the fun lies in creating your own—that other half is reserved for finding out what your guests made.
Hero Ingredient: Since the toppings are so customizable, I'm going with a hero method. To make things easier on yourself, you can prep all of your toppings ahead of time so all that's left to do when you're ready to serve is slice those avocados and toast some bread!
Why We Love It: This avocado cracker/toast hybrid is totally delicious. And unbelievably easy. All you have to do is lay out a few multigrain crackers of your choosing, top with eggs and radish, and finish each cracker off with olive oil, fresh dill, red pepper flakes, and s&p. Once you've done that, you've got a crunchy and sustainable meal or snack for any time of day. The best part? It only takes about ten minutes.
Hero Ingredient: I love sprinkling red pepper flakes on my avocado toast. It brings just the right amount of kick to each tasty bite.
Why We Love It: If you thought you knew upgraded avocado toast recipes, think again. This version from Two Hands NYC takes things to the next level. At its core, it's just like any of the other avocado toast recipes you know and love, which start with a base of thick-sliced, crusty sourdough bread smeared with mashed avocado. But as we advance to the toppings, things get interesting. In addition to perfectly poached eggs, this toast houses pickled red onions, pickled or fresh Fresno chiles, salty pepitas, and a handful of mixed fresh herbs. It's a combination you won't want to miss.
Hero Ingredient: This recipe swaps red pepper flakes for thinly-sliced Fresno chiles, which bring even more heat to the table.
Why We Love It: As promised, this is where the non-toast avocado toast recipes come to fruition. Not only are sweet potatoes loaded with good nutritional properties like high fiber levels, immune-strengthening abilities, and positive gut benefits, they're absolutely delicious. Truly, I could eat them every day (and sometimes do!). For this "toast" recipe, they get roasted until they're caramelized and topped with, well, whatever you want! Fresh herbs, Greek yogurt, avocado, and sriracha make a winning team.
Hero Ingredient: I have to go with the sweet potatoes themselves. The secret is to sear the potatoes in a skillet after they finish roasting. That way, they become completely caramelized with just-burnt edges to usher in a hint of bitterness. Think really toasty marshmallow.
Why We Love It: In the scheme of avocado toast recipes, this is one tried-and-true toast. This recipe takes you back to the basics with a simple but lovable combination of toast, avocado, fried eggs, red pepper flakes, and fresh cilantro. It's a formula you can never go wrong with. Like your favorite sweater or blanket, it's comforting and constant.
Hero Ingredient: A healthy squeeze of lime over top brings a citrusy tang that complements the creamy avocado.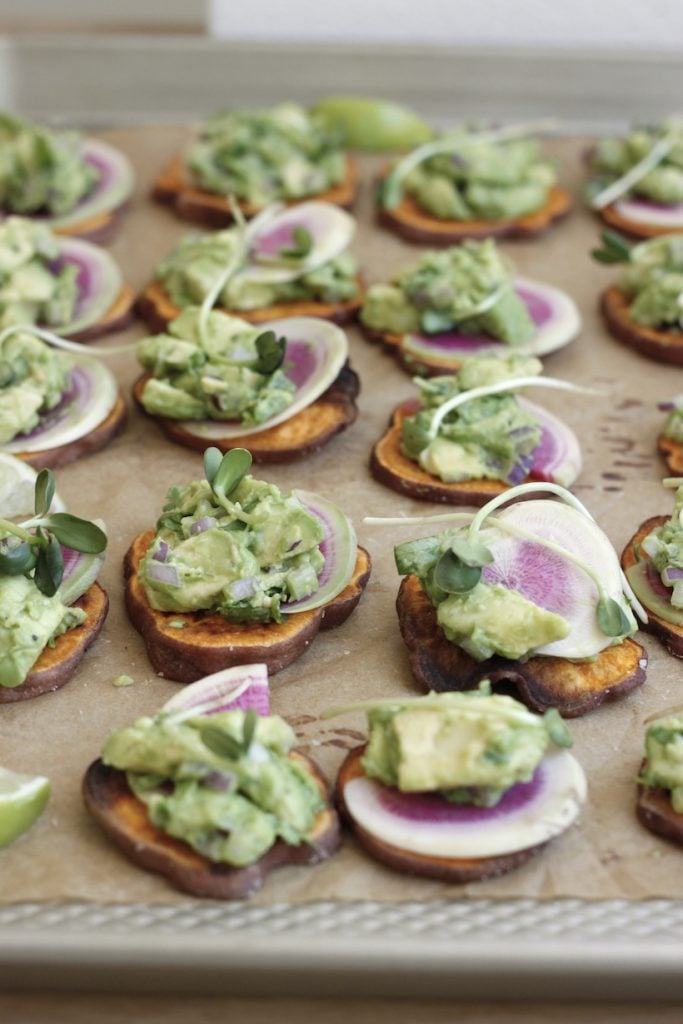 Why We Love It: And we're back with more sweet potatoes! In this recipe, they're sliced, roasted, and topped with red onion, watermelon radish, microgreens, cilantro, lime juice, and—of course—avocado. They're cut into the cutest handheld shapes that are so easy to grab and snack on. While this can definitely be breakfast or lunch, those little potato toasts make a pretty great snack, too. What's not to love?
Hero Ingredient: The warm bit of heat that raw red onion brings to these toasts is unmatched—a welcome divergence from your OG avo toast.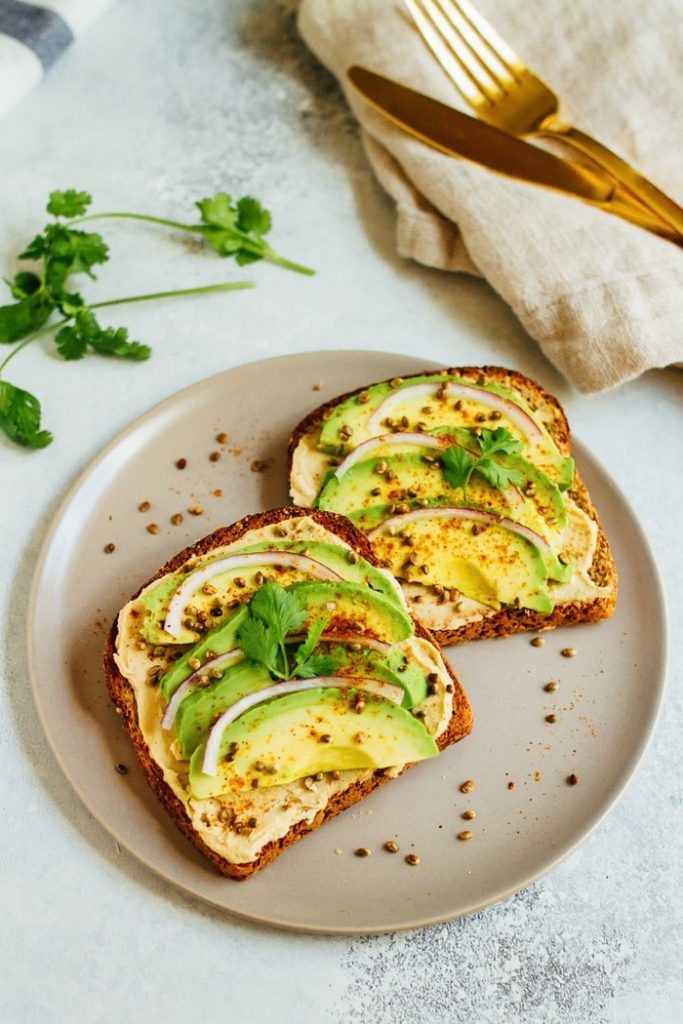 Why We Love It: Hummus in avocado toast recipes is something you don't see every day, which is what makes it so great. A good garlicky hummus to accompany that creamy avocado, red onion, cayenne pepper, and toasted hemp seeds makes all the difference. Because hummus and avocado have a similar texture, the hemp seeds bring a nice bite to the toast.
Hero Ingredient: Hemp seeds not only bring the crunch here, but they're packed with nutritional value as well. One serving, or about three tablespoons, contains eight grams of protein, nine grams of fiber, and a whole 'lotta omega-3 fatty acids. Sounds like a win-win.
Why We Love It: When it comes to the top loaded avocado toast recipes, this one is definitely high on the list. With smashed avocado laying the groundwork for blue cheese, thinly-sliced pear, toasted walnuts, and a honey drizzle, you'll want to pour a glass of crisp white as you savor each and every flavor this toast celebrates. These are perfect to serve as an appetizer, enjoy as a lunch or dinner, or snack on as a midday indulgence. However you slice it, don't miss out on this one.
Hero Ingredient: The walnuts get toasted with a hint of cinnamon, giving a warm and complex flavor to supplement the savory notes. And with a honey drizzle over top, you've created something with all kinds of depth.
Why We Love It: These little tartines get layered with avocado, watercress, chopped edamame, capers, chives, and more, which is all topped with a one-of-a-kind almondaise sauce. As Jeanine of Love & Lemons shares, almondaise is a "rich creamy vegan sauce made from almonds, almond milk, turmeric, garlic, and dijon mustard." As the name suggests, it's a great vegan substitute for traditional hollandaise sauce and keeps breakfast on the lighter side.
Hero Ingredient: There's nothing like a salty caper bringing a bit of brine to each bite.
Why We Love It: Back to the basics, this avo toast with a poached egg and parmesan is conventionally delicious. What's more, this recipe includes a poached egg hack that makes things so easy. Serve this with sliced heirloom tomatoes and fresh herbs for a classic you can't go wrong with. Simple avocado toast recipes, we salute you.
Hero Ingredient: Shaved parmesan gives this toast a nutty, salty twist that enhances everything around it.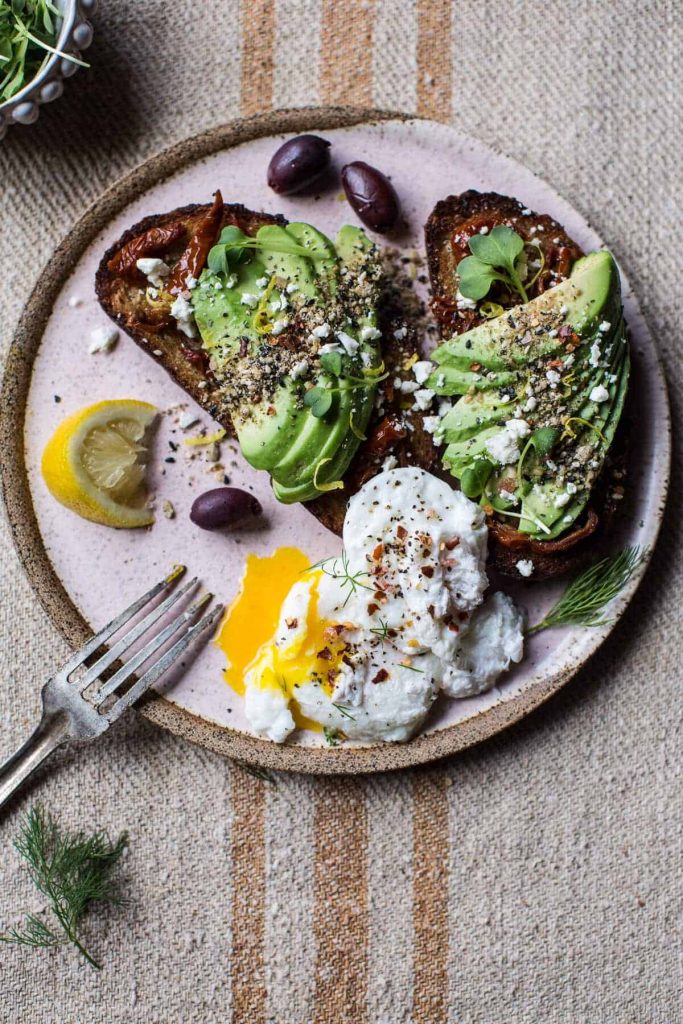 Why We Love It: As promised, this is one of the more elevated avocado toast recipes on the list. There are a ton of interesting flavors to unpack. First, the toast is topped with sun-dried tomatoes, kalamata olives, and avocado sprinkled with lemon juice. Then it's dusted with toasty dukkah and topped with a runny egg, red pepper flakes, microgreens, and feta. Heaven.
Hero Ingredient: Dukkah is a mixture of toasted seeds, nuts and spices that's heavily used in Middle Eastern cooking, but in this Mediterranean-inspired toast, it brings a ton of nutty flavor that can't be beat. I recommend keeping some extra on hand. It's easy to make and even easier to use to elevate yogurt, oatmeal, salads, eggs, roasted vegetables, fruit, and more. It can even be used to give a nutty crust to things like soft cheeses, fish, and crusty bread. Pass the dukkah, please.
This post was originally published on August 7, 2015, and has since been updated.